The glorious upward trajectory promised by eleven straight positive Aprils has yet to materialize. MLPs dropped 1.8% this week, underperforming REITs and utilities (both positive, helped by dropping interest rates) and the S&P 500. The positive backdrop of continued oil price strength and declining interest rates were overwhelmed by a large equity offering at a steep discount and what looks like unwinding of enthusiasm for certain large cap MLPs with upcoming binary catalysts (e.g. Enbridge Energy Partners L.P. (NYSE:EEP)).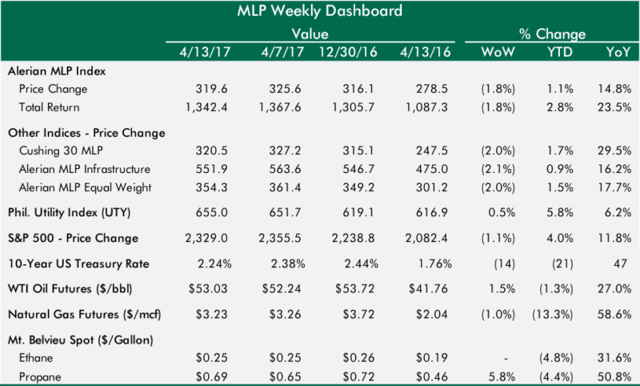 Matter of Time
Making a road trip that includes driving anywhere along I-95 between Boston and Washington is not fun, ever. What makes it worse, though, is using Google Maps and watching the expected arrival time tick higher with each upcoming traffic delay.
Take this screen shot below, for example, from this week. When I began driving what should have been 2.5 hours, the arrival time was 1:05. Traffic just continued to push the arrival time later. I had no doubts that I would eventually reach my destination, it was just a matter of time, even as the expected arrival time kept moving later, there was never a doubt that we'd end up there eventually. There was an escalating stress level along the way, however.
(please don't send me opinions about Waze vs. Google Maps, because Google owns Waze and incorporates the Waze social data into its other mapping data for us non-social drivers to use).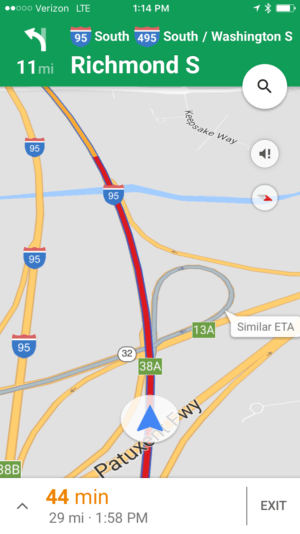 MLP investors can relate. Oil, NGL and natural gas volumes are growing in the Permian Basin. It's just a matter of time before that volume growth leads to higher utilization and healthier midstream providers. We aren't quite there yet in terms of utilization or in terms of the market being willing to pay now for growth eventually. The path has some yellow and red shading due to extreme competitive dynamics among midstream providers and aggressive private capital, but we'll get there.
Winners & Losers
The list of winners was small this week, although USD Partners LP (NYSE:USDP) did manage the only double-digit gain. Positive follow-through continued for Sunoco LP (NYSE:SUN) from last week's transformative asset sale. Cheniere Energy Partners, LP (NYSEMKT:CQP) was up slightly ahead of the highly-anticipated analyst day for Cheniere this week. On the downside, NuStar Energy L.P. (NYSE:NS) led all MLPs on the downside after its big Permian bet that wasn't met with much fanfare, although it did trade well after its offering.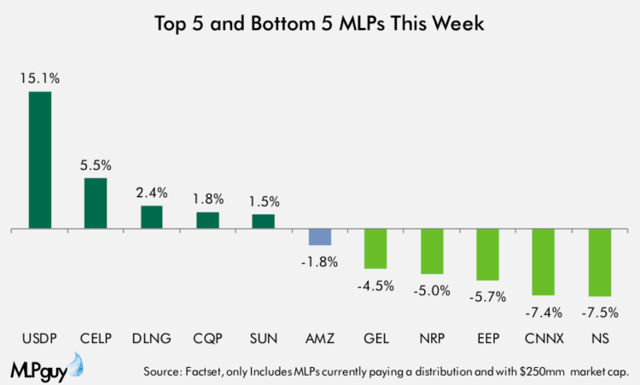 Enbridge Inc. (NYSE:ENB) management hit the road to meet with analysts and institutional investors this week, and according to reports of these private meetings, ENB management talked down hope that had been building in the market over the last month or two that ENB might have more support to offer EEP a positive outcome to its strategic review.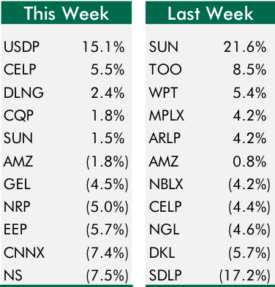 YTD Leaderboard
Interestingly, despite weakness at EEP this week, Midcoast Energy Partners (NYSE:MEP) climbed into the top 5 this week.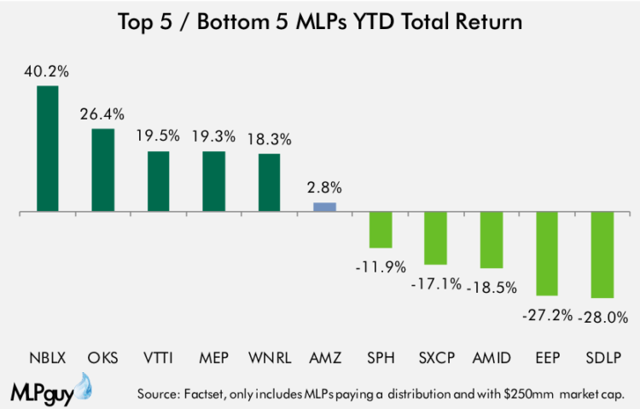 Suburban Propane Partners (NYSE:SPH) crept back into the bottom 5, while USDP's big move helped it escape its place among the worst performers last week.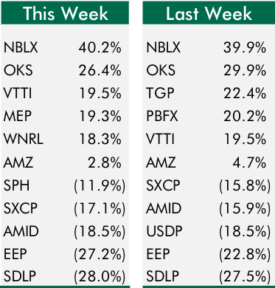 General Partners and Midstream Corporations
GPs and corporations had a slightly better week than the MLP Index, but only two were positive. NuStar GP Holdings (NYSE:NSH) was the top performer, the mirror image of its MLP at the bottom of the sector. Energy Transfer Equity (NYSE:ETE) continues to languish with a second straight week at the bottom of the group. SemGroup Corp. (NYSE:SEMG) likewise has had a rough few weeks, despite oil price strength.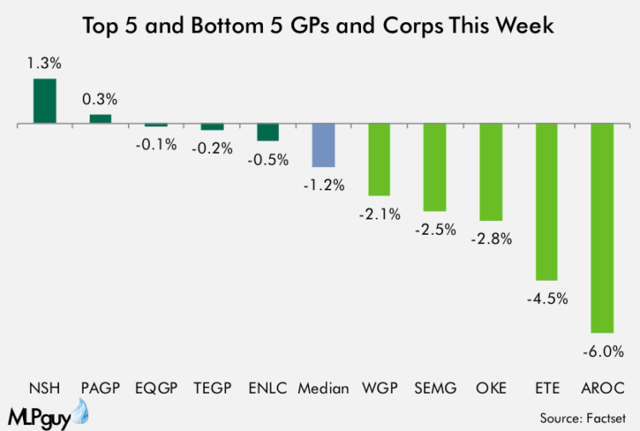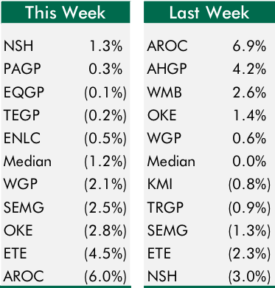 News of the (MLP) World
It was a short week, but chock full of news flow, 100% Permian news flow. The hyper-focus on the Permian that's spread from producers to midstream-ers is actually starting to get a little disturbing. Stay tuned to see if these high multiples all get worked lower.
Capital Markets
NuStar Energy priced public offering of 12.5M units at $46.32/unit, raising $579M in gross proceeds (press release)

Offering priced at 10% discount, and traded up 3.3% from pricing in the next session

Proceeds will be used to partially finance acquisition of Navigator Energy Services (below)

Offering was upsized from 10.5M units originally offered
Growth Projects/M&A
NuStar Energy announced acquisition of Permian Basin private company Navigator Energy Services for $1.5B (press release)

Navigator owns and operate crude oil transportation, pipeline gathering and storage assets located in the Midland Basin in West Texas

Management expects the acquisition's EBITDA multiple to trend towards the high single digits over time, factoring in additional growth capex

This deal comes on the heels of BPL, another sleepy MLP with downstream and refined products history, trying to add growth via Permian assets
Enterprise Products (NYSE:EPD) announced new 571-mile Permian NGL pipeline (press release)

Shin Oak pipeline, with initial capacity of 250,000 bpd expandable to 600,000 bpd, will transport NGLs from the Permian Basin to EPD's NGL fractionation and storage complex in Mont Belvieu

Project is supported by long-term customer commitments, and is expected to be in-service in 2Q 2019
DCP Midstream (DPM) and Kinder Morgan (NYSE:KMI) announced letter of intent for development of Gulf Coast Express pipeline (press release)

It is anticipated DPM will be a partner and a shipper on the proposed pipeline

The project is designed to transport up to 1,700,000 Dth/d of natural gas through approximately 430 miles of 42-inch pipeline from the Waha, TX area to Agua Dulce, TX to provide takeaway capacity for Permian natural gas

Pipeline is expected to be in service in H2 of 2019, subject to shipper commitments
Distribution Announcements
WES: $0.875, +1.7% qoq

WGP: $0.49125, +6.2% qoq