By Parke Shall
The big news last week on BlackBerry (NASDAQ:BBRY) was the receipt of an $815 million award that the company won in arbitration with Qualcomm (NASDAQ:QCOM).
Marketwatch reported,
BlackBerry Ltd.'s $815 million arbitration award in a dispute with Qualcomm Inc. is a positive for the company and it's likely to use the money to seek acquisitions to bolster its business, analysts said Wednesday.

The sum is a material win for the mobile device maker that is working to transform itself into a software company, after its once successful smartphone franchise was hammered when consumers moved to Android and Apple phones.

The binding decision means that BlackBerry will receive the entire sum, which is equal to about 20% of its current market cap, said Canaccord Genuity analyst Michael Walker.

"With BlackBerry planning to invest for growth in its software businesses, the surprising arbitration award and $815M in cash from Qualcomm will bolster BlackBerry's balance sheet and increase the likelihood of acquisitions to augment growth," Walker wrote in a note.
We have been long time BlackBerry bulls and despite the company being unable to manufacture a quick turnaround, we continue to hold out hope for its future. The process of watching revenues decline and watching the business contract until it eventually finds its bottom has been a painful one but BlackBerry stock has actually held up pretty well in the interim. The stock touched under seven dollars a couple times over the last year but for the most part has bounced between seven dollars and nine dollars as investors try to handicap the possibility of the company turning into a consistent cash generative entity yet again.
One of the things that helped put a firm foundation under the stock it was the company's cash balance. A couple of quarters ago, the company committed to trying to keep over $2 billion in cash and short-term investments and they have strategically deployed small bits and pieces of this capital to make acquisitions. In addition, the company has struck up what looks like the beginning of a serious long-term partnership with Ford (NYSE:F) to help develop systems for in dash navigation in Ford vehicles.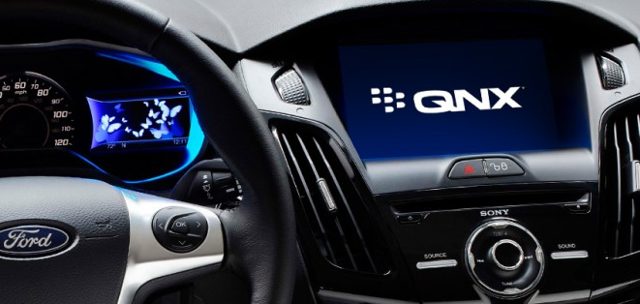 While software and licensing revenue continues to be squishy, it has started to level off and we believe that the company is finding an inflection point that is going to put it near, or at, cash flow positive for the next couple of quarters. The company even reported during its quarterly earnings report that it expects to be profitable and cash flow positive going forward from this point.
That brings us to the additional $800 million the company just won in arbitration. This adds about $1.35 per share in value to the company's stock. The day before the arbitration award was announced, the stock was trading at $7.70. Adding on the value of the new cash should have already put shares over $9 firmly.
Despite this, shares finished at what we believe to be a discount on Friday, ending the week around $8.65, about 6% or 7% lower than what we believe fair market value to be. In fact, we actually believe fair market value to already be closer to the $10 region as we believe the new cash infusion not only obviously adds equity to shares immediately but also does a couple other things.
First, the new cash horde helps reassure investors and analysts that the company's balance sheet is on extremely firm footing and that the company has plenty of cash to do its business with for many years to come. The idea that the company is somehow teetering on the brink of bankruptcy is just a fallacy. While some analysts and bears try to press this narrative, given the company's catastrophic last 10 years, the facts are that it has a relatively healthy balance sheet and there's no reasonable case for any type of bankruptcy scenario. There is certainly also no cash crunch.
Second, investors need to look at the implied value that this gives the company in terms of their ability to go out and make acquisitions. The company has already stated several times over that once it got its organic revenue steady and its cash flows steady that it would look to M&A opportunities in order to help build itself a future. $800 million is quite a bit of cash and more than adequate to go out and buy several cash generative smaller companies whose vision align with BlackBerry's. $800 million is probably enough to make a couple of these acquisitions and even perhaps retire some debt or buy back a little stock. BlackBerry has always been judicious with its capital allocation and so we would expect stock buybacks to be nominal, under $100 million, if they do occur.
As we been saying for a while, BlackBerry does not need to grow into a large massive corporate conglomerate the way that it once was. It only needs to be a specialty company that has a few major corporate contracts and fills in a small niche of security for a select group of customers. If the company can make acquisitions prudently and simply operate a business that shows that it can be cash flow positive and profitable over the course of a few years, we would expect all of its multiples to continue to expand and can easily see a $20 target on the stock going forward over the long term. Given the fact that this new cash should instantly add $1.35 per share and that it also increases the company's ability to make acquisitions, we believe fair market value for shares right now should be closer to $10.
We are long BlackBerry, and we added shares on Friday at the close when they felt to about $8.65 per share.
Disclosure: I am/we are long BBRY.
I wrote this article myself, and it expresses my own opinions. I am not receiving compensation for it (other than from Seeking Alpha). I have no business relationship with any company whose stock is mentioned in this article.