The U.S. Treasury on April 20 will auction $16 billion in a new 5-year Treasury Inflation-Protected Security (CUSIP 912828X39). The coupon rate and real yield to maturity (after inflation) will be determined at the close of the auction.
As recently as a week ago, this auction was shaping up to be fairly attractive, with the Treasury's estimate of the 5-year real yield hitting 0.22% on April 10. But since then, real yields have declined sharply, hitting 0.03% on April 13. That's a drop of 19 basis points in three days - painful for new investors.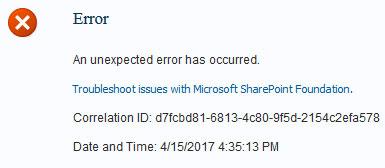 The U.S. Treasury appears to have taken Good Friday off, and its Real Yields Curve data page has been broken all weekend. Instead of Treasury data, you get this cryptic server error. I'm hoping all will return to normal on Monday, so we can track this new issue. Until then, here's the workaround: From the Treasury's Resource Center page, you can download an XML file of the current month's data by clicking on the icon next to the Real Yield Curve Rates link. The latest day appears at the bottom of the chart.
Why is this auction looking unattractive? When the 5-year TIPS yield drops to near zero, or below, US Series I Savings Bonds become the much more attractive investment. They offer equal safety and inflation protection, plus tax-deferred income, a flexible maturity and better deflation protection.
I Bonds purchased before May 1 have a fixed rate of 0.0%, and that fixed rate could rise to 0.1% (or higher - unlikely!) after the May 1 reset. But even at 0.0%, an I Bond is a more attractive investment than a 5-year TIPS yielding 0.03%. Keep in mind that if the yield on this TIPS comes in at 0.03%, investors will pay a premium for the resulting coupon rate of 0.125%, the lowest the Treasury will go.
It's surprising to see shorter-term TIPS yields falling at a time when short-term interest rates are rising. You can easily find five-year insured bank CDs paying 2.2%, which will outperform a 5-year TIPS if inflation remains muted in coming years.
A lot can happen in a few days, though, so this auction is worth watching.
Inflation breakeven rate. As of April 13, a 5-year nominal Treasury was yielding 1.77%, which created a 5-year inflation breakeven rate of 1.74% for this new TIPS. While that will be attractive to big money investors, a small investor would be looking at the much higher yields on bank CDs, where the breakeven rate is about 2.17%. Here's the long-term trend for 5-year breakevens:

Inflation expectations have been declining in the last month, which should mean less investor demand for TIPS. But the opposite has been true, probably reflecting a 'flight to safety' after U.S. military actions in Syria and Afghanistan and threats of action in North Korea.
Here is a 10-year history of the Treasury's TIPS auctions: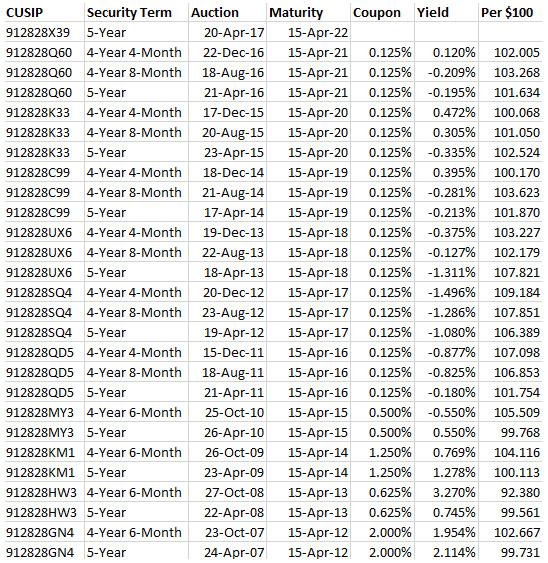 Disclosure: I/we have no positions in any stocks mentioned, and no plans to initiate any positions within the next 72 hours.
I wrote this article myself, and it expresses my own opinions. I am not receiving compensation for it (other than from Seeking Alpha). I have no business relationship with any company whose stock is mentioned in this article.