I have mixed feelings about the extended weekend. It is nice to have some extra time off where I am not staring at the markets, but live market analysis also is something that keeps me busy. However, even though this was a short week, the markets saw a lot of action. CPI and retail sales data came in. The VIX has been continuing to run hot and backwardation has been pushing VIXY higher. The S&P 500 has been on a downward trend, and bank earnings so far have confirmed my fear about the interrelationship between bank earnings and this bull run. Finally, while not directly connected to corporate earnings, first quarter GDP growth estimates are dismal. This does not bode well for the future.
News
CPI
Inflation cooled down slightly in March, a lot of that had to do with lower energy prices. At the end of February, Cushing, OK WTI Spot Price for oil was $54 a barrel. At the end of March, oil was down to $50.54 which constitutes almost a 6.5% drop.
Retail Sales
Retail sales dropped by the same rate as CPI, suggesting that in real terms, sales were flat. This was largely due to a decline in auto sales. Nominal retail sales ex-auto were flat, suggesting a small amount of growth in other areas.
Sentiment
Last week sentiment was declining, according to Rasmussen's weekly report. However, sentiment among my selected market mover demographic has been improving throughout the week. The most recent consumer sentiment report also shows improving views of the economy.
Volatility
Thanks largely to the increasing geopolitical uncertainty, VIX has managed to run hot over the last two weeks. I did cash out of most of my VIXY positions and will likely cash out of the rest on Monday if the price is comparable to Friday's close. The security could move higher, but there is too much downside risk. Even if VIX continues to climb, backwardation needs to continue in order to see further growth. I think at this point I would rather lock in some profits than risk a downturn. I am also relying somewhat on a Fibonacci retracement analysis for identifying turning points.
While I think VIX is likely to decline in the near term, its recent spike and the duration of the spike could indicate a bumpy road ahead for the stock market.
Risk Appetite
Risk appetite saw a substantial drop, coinciding with the increase in expected volatility. My eRAI has been dropping for three weeks now, reaching a low that was last seen in mid-September of 2016. This suggests that while expectations about the future of the economy are high, people are still hedging their bets through gold (GLD) and the yen (FXY).
S&P 500
Speaking of which, the S&P 500 (SPY) is providing some bearish signals, but it is also about to hit a support level at around 2322. If it manages to break through, we could see further movement towards 2300, but there is a good chance that it might bounce off support and move towards 2350 or so. Even if it does break past that level, I still see 2400 as a key resistance level which will be hard to break.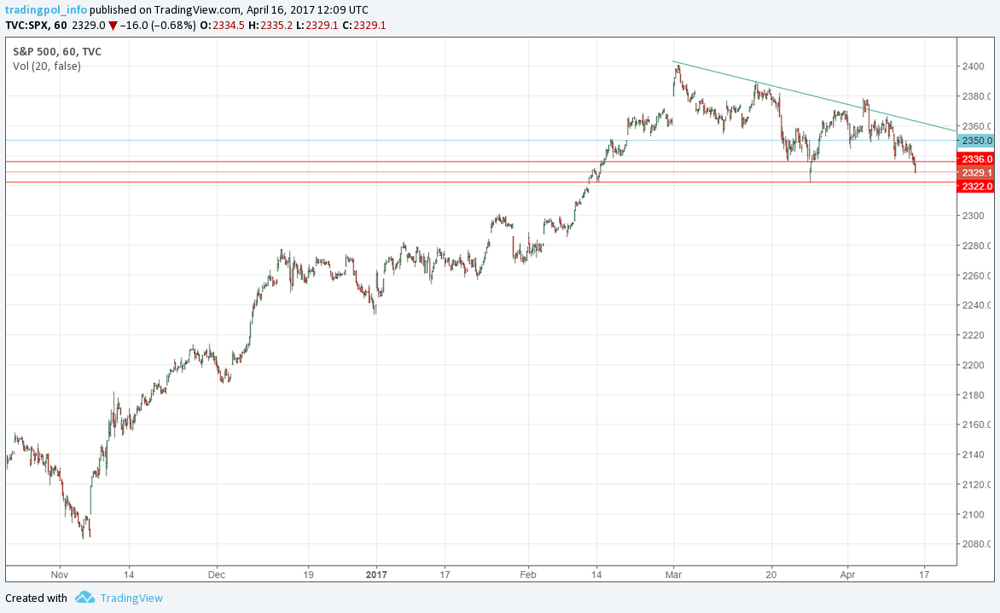 Looking to Earnings
Next week the heart of earnings season really begins. Unless earnings are really bad, we should see a calming effect as uncertainty on at least one front disappears. Sometimes even bad news is good news for the market. For investors, it is better than simply not knowing, something I mentioned in "Elliott Wave Theory and Exogenous Factors - Trading Politics."
That being said, a quick look at the earnings for JPM, C and WFC are troubling, not because the earnings information is bad, but rather because so much of the positive earnings growth was due to the influx of money in their investment divisions, which can only be sustained so long as stocks continue their bull run. A more detailed analysis is written in "Breaking Down Bank Earnings."
GDP Now
Last week's GDP Now estimate came in at just 0.5% growth, a drop from 0.6% a week earlier. While GDP Now is just one of many estimates, if actual growth is anywhere near as dismal, we might be looking at a recession within a few quarters.
Articles
I have been focusing my attention on blog articles and stocktalks/tweets; however, I did write one full article this week, which was a warning about bank earnings: "Breaking Down Bank Earnings."