In this article, I am going to compare Nike (NYSE:NKE), Under Armour (NYSE:UA) (NYSE:UAA) and adidas (OTCQX:ADDYY) (OTCQX:ADDDF) from the perspective of a long-term investor. Although it's not dirt cheap, Nike is the most attractive stock for a long-term investor, and may also be unlocked by a short-term catalyst given by the launch of several sneakers. Adidas is living an excellent period of growth, but it's difficult to justify a long case with an attractive risk/reward. Under Armour is still in trouble and we really need a strong positive signal before considering a long.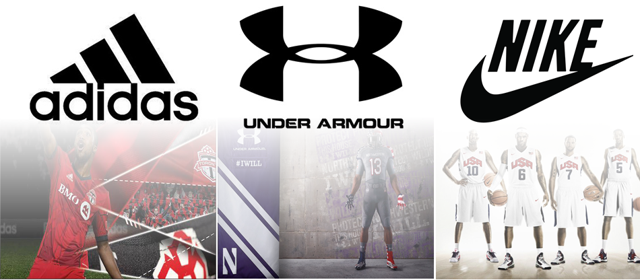 Marketing, Geographical Diversification, Growth
Comparing the companies' growth prospects is something that goes beyond comparing their performance in the last 10-12 quarters. The first thing that we have to understand is that all these companies can take advantage of favorable trends in their industry. Trends that will support growth for many years and, probably, decades. Global population growth, economic expansion in emerging markets, increasing diffusion of sporty lifestyles, increasing diffusion of sportswear as a choice of style are all trends that will support sales for these companies.
Sportswear companies have shown that their products are easily exportable, even in countries that present strong cultural differences. In theory, sportswear companies can compete globally. In practice, only a few of them have the qualitative characteristics and financial power to do it effectively.
Sportswear companies rely on massive sponsorship deals to strengthen their brand power and make their products more attractive. Nike is by far the dominant player when it comes to sponsorships and endorsements. The company has lifetime deals with athletes such as Lebron James and Cristiano Ronaldo. Other sponsored athletes include Roger Federer, Rafa Nadal, Kevin Durant, Rory McIlroy, Neymar and Maria Sharapova, to name a few. Adidas is also strong on this front, with a lifetime sponsorship deal with Lionel Messi, and numerous other contracts with athletes such as Derrick Rose and Damian Lillard. Under Armour also has important deals with athletes such as Stephen Curry or Tom Brady, to name a few. There is no rocket science here - the more money a company makes, the more it can spend on sponsorships to strengthen the brand. In 2016, Nike spent $3,278 million in "demand creation expenses", against about $2,080 million (€1,981) of marketing expenses for adidas, and $477 million for Under Armour. For all the three companies, the total amount spent for marketing seems to follow a simple rule - it's always around 10% of total sales. It's obvious that the company that has the highest marketing budget is in a stronger position, since it can spend more to endorse athletes and teams with global recognition. Nike is the global leader in sportswear and I don't think this will change. Under Armour and adidas have much lower margins than Nike and, therefore, have no interest in starting advertising or sponsorship battles with the market leader. An additional dollar spent for advertising or endorsements/sponsorships by Under Armour or adidas has a stronger impact on their profits than an additional dollar spent by Nike would have on its profits.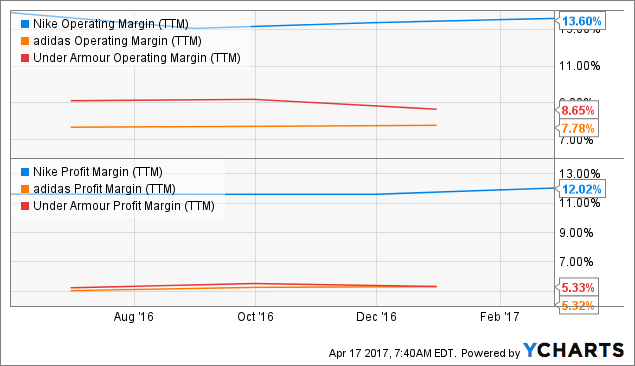 NKE Operating Margin (NYSE:TTM) data by YCharts
The second factor that we should consider is the level of geographical diversification and how sales are distributed. North America is dominated by Nike with $14,764 million in sales (excluding Converse) against $4,131 million for adidas and $4,005 million for Under Armour. Outside North America, there is basically no difference between Nike ($15,743 million) and adidas (€15,160 million, about $15,918 million), while Under Armour is irrelevant ($820 million). Outside North America, for the first time, Adidas' sales are higher than Nike's sales, thanks to favorable fashion trends that helped lift adidas' sales of footwear. I don't think adidas' growth is the result of a fad, but there are risks that should not be underestimated. As I explain in a recent article, 40% of the company's growth in the last 2 years has been an effect of the adidas Superstar line, which now accounts for 10% of total sales. Similar growth numbers may be very hard to replicate if consumers lose interest for the superstar line and turn to other fashion trends.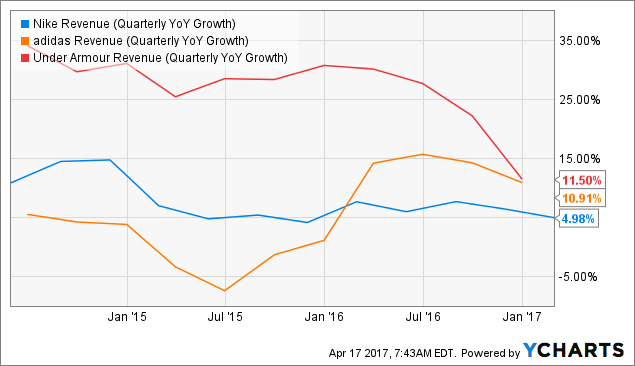 NKE Revenue (Quarterly YoY Growth) data by YCharts
Under Armour is a different story. It's obvious that the company's growth was in part a result of a fad, helped by the popularity of its endorser Stephen Curry. Sales growth in North America is declining extremely fast and, at this pace, will soon approach negative territory (see chart below). Under Armour's main problem is that it has to compete with two giants with much higher brand power and financial resources. I've heard (and read) many people compare Under Armour to the Nike of the 1990s and suggest a scenario of resurgence for UA similar to what happened to Nike. I think investors should remain realistic and consider the different contexts. Nike didn't have to face competition from two players that were 4 or 6 times bigger, while it was benefiting from favorable trends that led an increasing number of young people to adopt sportswear as a choice of style. Under Armour has a strong scale disadvantage and is not on the right side of the current fashion trends. I think the company will also find it difficult to gain market share outside the United States, due to the limited reach of its marketing investments. The endorsement of stars such as Tom Brady and Stephen Curry can be useful in North America, but have little to no effect in Europe or Latin America.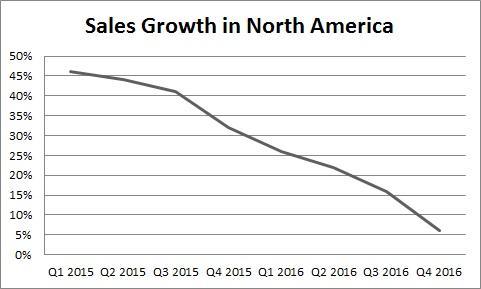 Source: Author's elaboration of quarterly data
Clearly, Nike has a scale advantage and a better geographical presence compared to adidas and Under Armour, but it's losing the position of market leader outside North America. Adidas is definitely the fastest-growing company but, as I said, a great portion of the recent growth resulted from the success of the Superstar line. Under Armour's dependence on North America limits the company's growth prospects and exposes the company to the possible negative effects of a border tax under Trump, a risk that is significant for Nike as well, but relatively low for adidas.
Valuation and Financial Characteristics
Let's give a look at how the market is valuing these companies. Nike's higher margins justify a significant premium in terms of Price to Sales. In terms of P/E, Adidas trades at a 40% premium over Nike, justified by a stronger revenue and earnings momentum. The market expects adidas to continue to overperform, benefiting from the success of its fashionable footwear. I have no particular objections about this point. The company clearly has a stronger momentum and deserves to trade at a multiple as long as it maintains the current growth rates. Whether the multiple is appropriate is difficult to say. On the other side, I find it surprising that the market still gives Under Armour such a high multiple, when its growth rate has declined so much and so fast.
NKE PE Ratio (TTM) data by YCharts
As I point out in a recent article, the valuation gap with adidas indicates significant downside risk, especially if Under Armour's growth doesn't accelerate from this point. Adidas' growth rate is basically equal to Under Armour's growth rate, and I expect the valuation gap to close in the next 12 months. Nike trades at the lowest multiples, although we can't say the stock is "cheap". The relatively rich valuation is an obvious effect of the interest rate environment, and the main risk is in the possibility that the Fed might accelerate tightening.
All the three companies have manageable levels of debt and decent balance sheets, and I will not spend time discussing this topic. I prefer focusing on another aspect. Comparing the companies' policies when it comes to dividends and stock buybacks, we can see how Nike shows the most "shareholder-friendly" behaviors.
Nike pays a $0.68 dividend per share (1.3% yield), against a €2.00 dividend per share for adidas (1.1% yield), while Under Armour pays no dividend. Moreover, Nike has been involved in effective buyback programs that have constantly reduced the number of shares outstanding. Adidas has been less active on that front, while Under Armour shareholder have suffered from a constant stock dilution.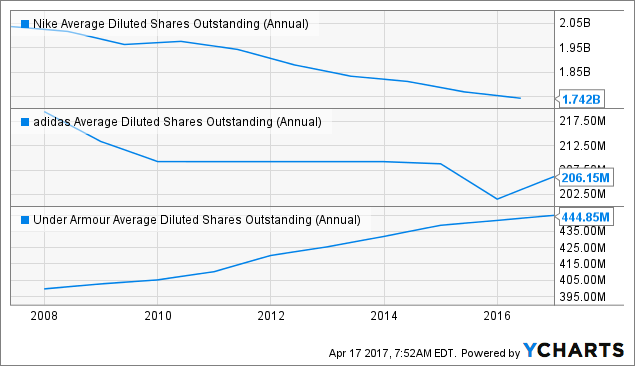 NKE Average Diluted Shares Outstanding (Annual) data by YCharts
Final Thoughts, Positions
Nike, adidas and Under Armour are three companies with interesting long-term prospects, as they benefit from factors such as population growth, economic growth, and a positive secular trend in the adoption of sportswear as a choice of style. But their stocks are not equally attractive. From the perspective of a long-term investor, Nike looks as the most attractive buy. It trades at much lower multiples, has an effective buyback policy and pays the highest dividend. The company has a scale advantage that permits rich investments in sponsorships and endorsements, and shows by far the highest margins. While it competes on equal terms with adidas in most of the regions, its dominant position in North America can grant high profitability. On the other hand, adidas has been able to grow very fast since 2014, threatening Nike's dominion in many makets. We don't know whether adidas' growth is a result of a fad. Actually, we know the company was lucky to be on the right side of some emerging fashion trends, but we don't know if there is a fad component that will fade away soon. Investing in adidas is much riskier than investing in Nike, as a deceleration in growth could lead to a significant decline, given the valuation gap with Nike. I estimated that 40% of adidas' growth was triggered by growing sales of the Superstar line, which constitutes a downside risk if consumers start to lose interest for that line. At the same time, Nike is aggressively pushing new models to compete with the German counterpart, including new series of silver sneakers to celebrate 20 years of Air Max 97 silver, one of the most successful lines in the history of athletic footwear. I shared some thoughts on the re-launch of La Silver in this article, where I also wrote:
I think the re-launch of La Silver is much more than a way to celebrate an old success and must be seen as a tactical move in a context where Nike is building its fashion offerings to compete with adidas more effectively. We could see a more widespread launch in the coming months, which would be a positive factor added to an already attractive investment case.
It looks I was right, since Nike has continued to launch a series of silver-colored sneakers in limited series (and not). You can look at Foot Locker's (NYSE:FL) window to understand what I am talking about. In addition to the 97s, Nike is also releasing the Air Max 95, Air Max Plus and air Max Zero. The re-launch of the Nike Air Max 97 can awaken sentimental memories and support sales growth with a more limited investment in advertising. I suspect it may be a tough year for adidas and its high growth expectations. I decided to accumulate shares of Nike and I am considering adding to my position. Adidas stock is less attractive, because there are several risks that could threaten the rich valuation. It's not a short, but I prefer to avoid the stock. Under Armour is the worst case. The company's growth rate in North America has fallen fast and it's clear that the company doesn't have the scale to compete with giants such as Nike and adidas. International expansion can't justify the current valuation and I still expect the valuation gap with adidas to narrow, and to close if Under Armour's growth rate doesn't improve. I am short Under Armour common shares, expecting at least a further 15% decline.
Thanks for taking the time to read the article. If you liked it, click on the follow button at the top of the page. You will get my articles as soon as they are published. I am available to further discuss the topics of this article in the comment section.
Disclosure: I am/we are long NKE.
I wrote this article myself, and it expresses my own opinions. I am not receiving compensation for it (other than from Seeking Alpha). I have no business relationship with any company whose stock is mentioned in this article.
Additional disclosure: I am short UAA
Editor's Note: This article discusses one or more securities that do not trade on a major U.S. exchange. Please be aware of the risks associated with these stocks.