Thor Industries (NYSE: THO) manufactures a wide range of recreational vehicles ("RVs") in the United States and sells those vehicles primarily in the United States and Canada. The RV market is continuing to grow and evolve. Owing an RV used to connote being older or retired, but that is changing. RV parks are starting to accommodate this new, younger demographic by adding gyms and more active options. We live in a world where consumers are spending their money on experiences rather than goods, and while RVs are goods, they are a good used to travel. Aside from this, consumer confidence is at its highest point since December 2000, which measures the degree of optimism people have on the state of the economy that consumers are expressing through their activities of savings and spending.
Thor had explosive growth in 2016, going from $55 to $100 and up to $115 in early 2017. After another positive quarter ending Jan 31, 2017, with sales up 63% from the same time a year ago, the stock price took a big hit going down to around $90 right now. The reason for this may have been because the growth was not as huge as some may have expected, so investors decided to take their profits. This pullback has made the stock extremely attractive and possibly undervalued.
Thor has seen significant growth in their less expensive, price pointed, towable trailers. (6:20 in the video) What this could mean is that there are many new, inexperienced RV buyers entering the market. Travel trailers saw an 18% sales growth from 2015 to 2016 and Class C Motorized units had a sales increase of 57% over the same period.(pg 27-28) As buyers of RVs become younger, they stay customers for longer and make more purchases.
As the RV market continues to grow, Thor continues to take more and more market share. On June 30, 2016, the company acquired the RV manufacturer Jayco. Jayco was a main competitor of Thor, with $1.5 billion of revenue in 2015. After the acquisition, Thor has approximately 50.4% for travel trailers and fifth wheels and 34.5% for motor homes. (page 21) Over time, they have become a huge piece of the RV market. Thor's revenues, EPS, and dividend have seen significant growth over the past few years, with increases of 74%, 137%, and 116% since 2012.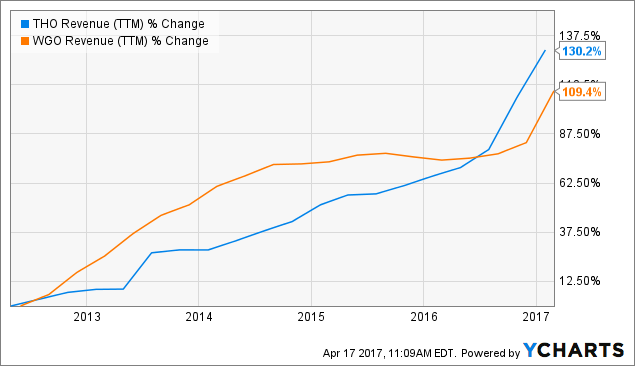 THO Revenue (NYSE:TTM) data by YCharts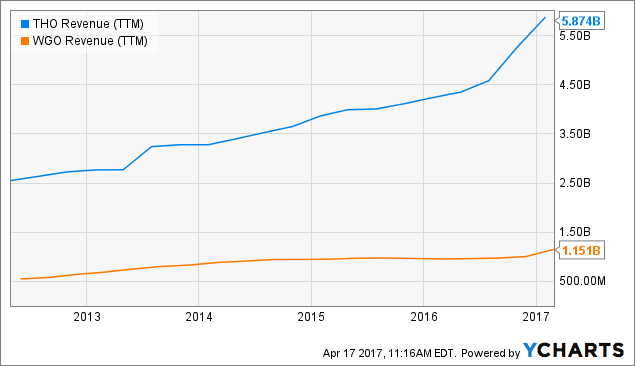 THO Revenue (TTM) data by YCharts
As you can see in the above charts, Thor has experienced huge revenue growth over the past few years. The company, which already held a large percent of market share, has continued to outpace competitors. A big reason for this huge growth is the company's continued activity in acquisitions. The most recent acquisition, Jayco, skyrocketed their market share and estimates for the current year.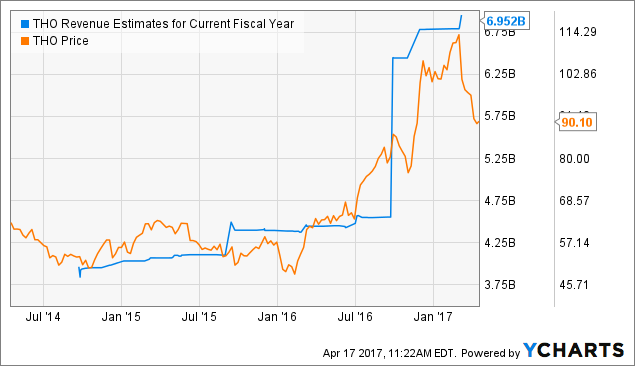 THO Revenue Estimates for Current Fiscal Year data by YCharts
Revenue estimates jumped around $2.5 billion, close to 50%, after the acquisition. The stock price did reflect these changes, but there was a drastic pullback in early March, nearing pre-Jayco levels.
As of July 31, 2016, the backlog for towable and motorized recreational vehicle orders was $735,085 and $461,762 compared to $304,005 and $269,961 at July 31, 2015, reflecting increases of 141.8% and 71.0%, respectively. The acquisition of Jayco added $223,403 and $122,535 to the towables and motorized backlog at July 31, 2016. Financing activities for the six months ended Jan 31, 2017 were $53,622 from $50,924 of capital expenditures compared to only $24,539 from the same period, a year prior. This CapEx spending is used for new property and production machinery to help with the backlogs and anticipated production growth.
Valuation
With growing popularity, revenue, market share, and a recent pullback I expect another great year for Thor from here on. Oil prices continue to be in the $50 range and not expected to rise too much more, making travel very affordable. Our economy is strong and growing, and revenues should continue to follow that path.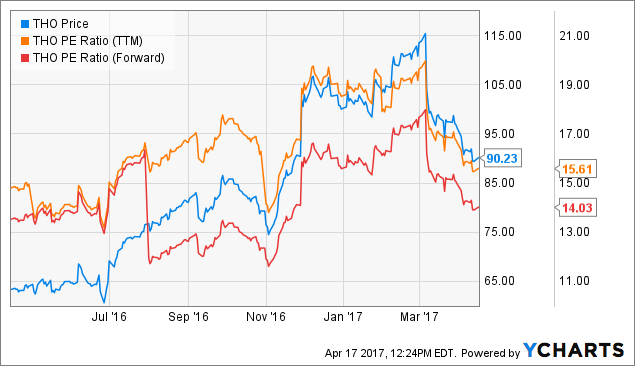 Currently trading at a 15.61 TTM P/E (under the industry average of 20) and 14.03 forward, Thor's stock looks extremely attractive. A price in the $115 range is very reasonable within the next few months. With the pullback nearing support levels, the overcorrection should end soon. I believe now is a great time to buy Thor Industries.
Disclosure: I am/we are long THO.
I wrote this article myself, and it expresses my own opinions. I am not receiving compensation for it (other than from Seeking Alpha). I have no business relationship with any company whose stock is mentioned in this article.