On Monday after the close, United Airlines (NYSE:UAL) delivered a top- and bottom-lines beat that sent shares slightly up in after-hours trading. Revenues of $8.4 billion exceeded estimates by $40 million, while EPS of $0.41 beat consensus by three cents and my own estimate by two pennies.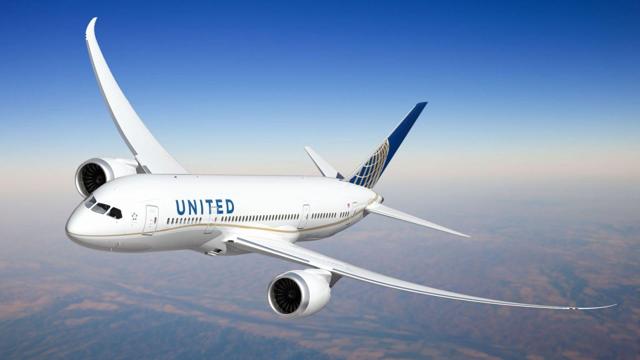 Credit: Cult of Mac
The solid results came as little surprise since the company had released relatively strong operational performance results earlier in the month. I had mentioned in my most recent article that "it (looked) like United Airlines (would) have a solid Q1 2017 to report on April 18th, with potential upside to current EPS estimates."
As a quick recap, PRASM (passenger revenue per available seat mile) stayed flat, while higher completion factor drove consolidated capacity growth of 2.6%. Cargo revenue growth of 13% came in just above the mid-point of the guidance range, while adjusted pre-tax margins that had been guided higher last week at 2%-2.5% came in at 2.3%.
Perhaps most importantly, guidance for 2Q17 and FY17 seems to have come in slightly better than expected. See table below for full details.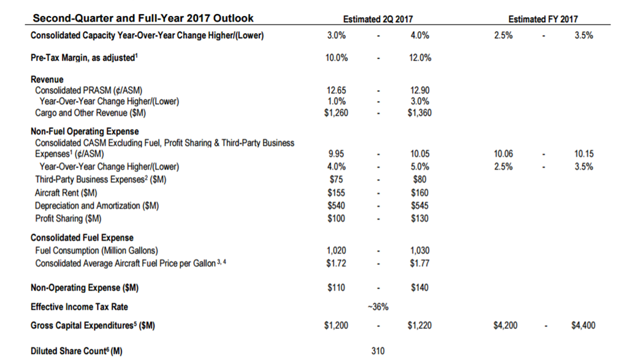 Source: United's Investor Update
On the full year, capacity growth of +3% at the mid-point is better than last quarter's +1.5% forecast. This increase could translate into higher 2017 total revenues, if the company is able to push load factor back into 80% territory, where it used to be in 2016 and 2015.
Adjusted CASM (cost per available seat mile) also came in better than previously disclosed, down about 1% vs. last quarter's projections at the high end of the range. Capex estimates remained the same, at $4.2 billion to $4.4 billion.
The table below illustrates my estimates for United Airlines' 2Q17 results. My de-risked $2.13 EPS expectation trails the Street's $2.25 due to what I believe will be a higher-than-expected tax rate of 36%.

Source: DM Martins Research. Premium subscribers can access the Excel file.
I expect further commentary on the passenger incident, including potential financial and/or operational implications from it, to be discussed during the earnings call, tomorrow at 9:30 a.m. CST.
On the stock
Following United's 1Q17 earnings release, I stand by the analysis that I published last week:
Although short-term biased investors might understandably want to avoid UAL due to recent developments (i.e. PR crisis), which could result in customer backlash and possibly cause some negative impact to Q2 2017 results, eventual price weakness across the airline services sector might open windows of opportunity.

Source: DM Martins Research, using data from Yahoo Finance and Zacks
As it pertains to United's stock, I believe it could benefit from the company staying on track to meet (or slightly beat) its previously disclosed targets for fiscal 2017. While I favor an investment in Delta (NYSE:DAL) at the moment, I believe some investors might find a place in their portfolios for an inexpensive name like UAL.
Note from the author: I invite you to follow me as I build a risk-diversified portfolio designed and back-tested to generate market-like returns with lower risk. I call it the Storm-Resistant Growth portfolio. The early results have exceeded my expectations, as the portfolio is beating the S&P 500 on a risk-adjusted basis despite the raging bull. Take advantage of the 14-day free trial (click here), and get immediate access to all the premium material that I have published so far, including my recent quarter-end report.
Supporting Documents
Disclosure: I/we have no positions in any stocks mentioned, and no plans to initiate any positions within the next 72 hours.
I wrote this article myself, and it expresses my own opinions. I am not receiving compensation for it (other than from Seeking Alpha). I have no business relationship with any company whose stock is mentioned in this article.