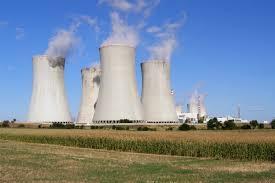 Uranium is one of those potentially 'bad press' items, which rather like Chinese business, makes investing as much a question of understanding sentiment as fundamentals.
According to several analysts the demand supply fundamentals for uranium should weigh on the demand side into 2020, with the world becoming increasingly more rather than less reliant on nuclear energy. Analysts are generally bullish, and uranium has made a solid advance from the price floor created in November 2016, but could it have 'run out of steam?'
Analyst Opinions Are Generally Bullish
David Talbot an analyst at Dundee capital markets, is forecasting a 6% annual growth in uranium demand through 2020, saying that up to 20% of demand is not covered from current production for the worlds existing 437 nuclear reactors.
Morningstar analyst David Wang predicts prices will rise to about $65 a pound by 2019.
MINING.com anticipates that:
The period from 2017-2020 to be a landmark period for the nuclear sector and uranium stocks, as the global operating nuclear reactor fleet expands.

It's impossible to find another natural resource that is so fundamentally necessary and yet has carried such negative sentiment as uranium. The market has been skewed by negative sentiments that ignore the supply and demand fundamentals," says Paul D. Gray, President and CEO of Zadar Ventures Ltd., a North American uranium and lithium explorer.

The 2011 disaster at Fukushima created an irrational disconnect between sentiment and uranium fundamentals.
As Scientific American opines:
Nuclear energy's clean 'bonafides' may be its saving grace in a wobbling global energy market that is trying to balance climate change ambitions, skittish economies and low prices for oil and natural gas.
WNA Guides Of An Increasing Nuclear Power Reliance
The World Nuclear Association WNA reports (updated Feb 2017), that there are some 440 nuclear power reactors operating in 31 countries plus Taiwan, with a combined capacity of over 385 GWe.
In all, over 160 power reactors with a total net capacity of some 182,000 MWe are planned and over 300 more are proposed. Energy security concerns and greenhouse constraints on coal burning have combined with basic economics to put nuclear power back on the agenda for projected new capacity in many countries.
That means a huge increase in nuclear power stations worldwide from 440. 160 planned, is an increase of about 37%, while 300 proposed is another 68% or an overall rise in power stations of over 100%.
With the world Nuclear Power requirements for the 'planned category' expected to be operating by the late 2020's tabled and updated March 2017, here.
Seasonal Uranium
Although a seasonal chart is hard to find for uranium itself, one has been compiled for the uranium 'Global X Uranium ETF' for 2010-2015. Seasonal URA shows a tendency towards a flat/low March, with rising Spring prices into a July high.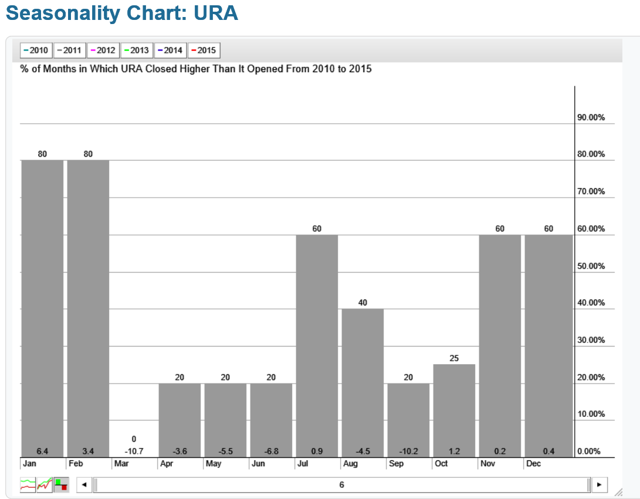 Investing in Uranium
The easiest way to invest in uranium is through the Global X ETF 'URA', since there's no concern then about which miners might be struggling with debt from past years of uranium price depreciation, options are also available for the URA. (Cameco (NYSE:CCO) could be bucking the miner trend positively so warrants further investigation).
Cameco chart source: Financial Times, (tight Bollinger bands often create volatility).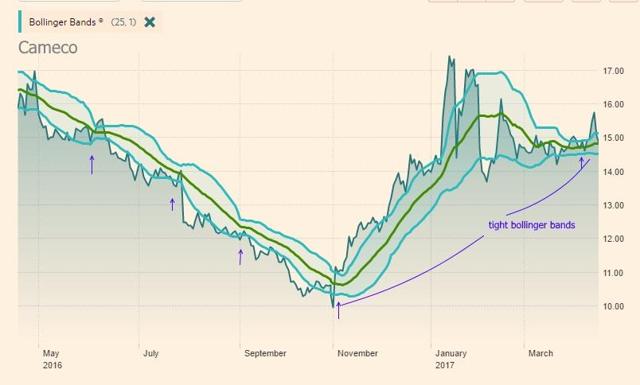 URA Sentiment
Retail sentiment chart source: Stocktwits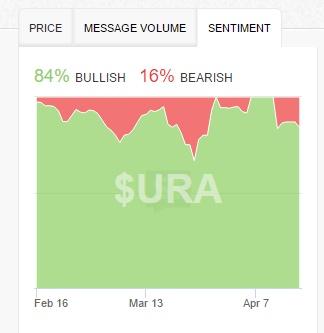 Retail sentiment appears to have dipped with the Mid March low rather than the end of March lower prices.
While Shortsqueeze.com shows a 15% fall in the short position, and less than one day to cover.
Global X Uranium ETF 'URA'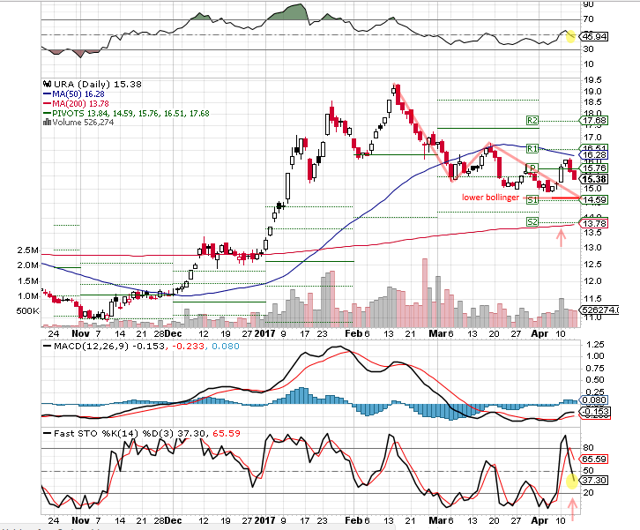 The chart above shows short term weakness from the fast stochastic, (the red line needs to catch up with the black in the lower quartile), which suggests a possibility of weaker prices ahead; however note the reversal positions for December and February.
The RSI also indicates weakness, while the MACD is positive (in the upper half) but just about falling. Although the lower Bollinger band sits just over the first level of support, which seems to be consistent with an RSI over sold scenario, there is of course the possibility that the recent April low will hold, as trading is outside the red down trend line from the March high (as illustrated). This would also create a second and potentially final correction leg.
Although an attempt at the 200ma can't be ruled out, (an approximate 61.8% correction of the February high), April for the ETF is normally stronger than March, which supports a low being put in near the current Fibonacci 50% level, with higher prices to come, and at least a bounce from over sold conditions.
While looking at recent short attempts in March, they seem to have a similar amount of length/depth to them, and none sufficiently strong to create an oversold RSI. Maybe there just isn't the negative sentiment in the ETF to create another November low equivalent, or extreme over sold level in the oscillators (March and April reversed on the November fast stochastic low).
From a risk management perspective, uranium needs to hold the April low as first support, and ideally reverse over it, but traders should allow for possible reversals from over and under the S1 level too, (a cluster of possible support near $14.40), as well as worse case fall to the S2 level (200ma), which 'could' occur following another over sold bounce.
Disclosure: I/we have no positions in any stocks mentioned, and no plans to initiate any positions within the next 72 hours.
I wrote this article myself, and it expresses my own opinions. I am not receiving compensation for it (other than from Seeking Alpha). I have no business relationship with any company whose stock is mentioned in this article.