Endeavour Silver: Time to Buy?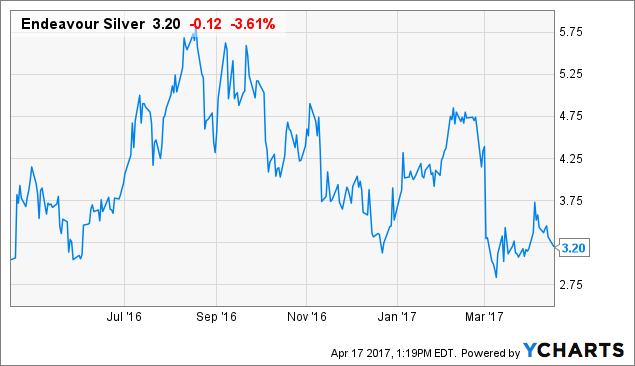 Endeavour Silver (NYSE:EXK) has not been one of the best performing silver mining stocks over the past few months. While shares have rebounded a little bit from my last article in early March, shares are still down 9.09% year-to-date, compared to an 18.19% gain in the Global X Silver Miners ETF (NYSEARCA:SIL) and a 15.99% gain in silver prices (NYSEARCA:SLV).
Endeavour recently announced its Q1 production results, and while production was down sharply, the investment case for Endeavour is still strong. Endeavour is at the beginning of a new growth period, as I'll explain below.
Endeavour says that production from its three silver-gold mines in Q1 finished at 1.9 million silver equivalent ounces. In total, silver production fell by 29% to 1.07 million ounces, while gold production fell 27% to 11,724 ounces.
This was not a strong quarter and at first glance, it may seem like Endeavour's 2017 production guidance is already in jeopardy, as the company has guided for production of between 8.9 - 9.7 million SEOs, at AISC between $14.50 - $15.50 per ounce.
However, there are a few things to take note of here. First, the company expects production to rise as the year progresses based on its mine plan. Second, while production fell sharply compared to last year, this is partly due to big differences in annual mine plans. In 2016, production was highest in Q1, but then fell later in the year, as the company cut spending on exploration and development as silver prices fell sharply.
Its three mines are still recovering from the reduced mine development and operational challenges it faced last year, so this lower Q1 production is not too surprising. At Bolanitos, the company said that silver grades were lower in Q1, but as mining picks up at the new Plateros zone, grades should improve; at El Cubo, both silver and gold grades were below plan due to excess dilution of the ore, but recent changes to mining methods will reduce dilution and improve grades and production by Q2.
Endeavour will report its Q1 earnings in early May. I am not expecting a strong earnings, given the lower production in Q1, which will likely also result in elevated cash costs. But this is temporary, as production will improve throughout the year. Silver prices have also picked up and now trade at over $18 per ounce, which should help boost earnings.
The real thing to watch for is upcoming production growth as Endeavour advances two new mines: the El Compas mine as its fourth mine in 2017, and then Terronera as its fifth mine in late 2018. Beyond that, the Parral deposit is destined to become Endeavour's sixth mine by 2019/20. With over $70 million in cash and no debt, Endeavour is in a great position to advance these projects.
Endeavour is back to being a growth story after a tough 2016 in which it was forced to cut exploration and development costs. Looking out to the future, I think the stock is going to outperform peers by a wide margin due to its organic production growth. As I stated in my last article on Endeavour, I think any price below $3 per share is a buying opportunity; I would wait to see how investors react to Q1 earnings.
Disclosure: I/we have no positions in any stocks mentioned, and no plans to initiate any positions within the next 72 hours.
I wrote this article myself, and it expresses my own opinions. I am not receiving compensation for it (other than from Seeking Alpha). I have no business relationship with any company whose stock is mentioned in this article.