Investment thesis
There is currently a unique combination of data showing home improvement and home renovation products will continue to grow in the upcoming years. The combination I'm looking at are new housing starts, consumer sentiment and existing home sales: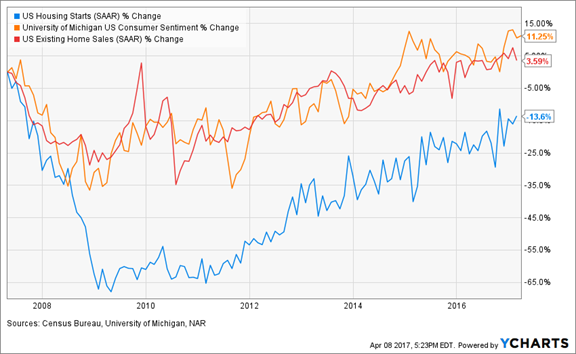 Source: Ycharts
After a terrible 2008-2009 period, the three metrics show a steady uptrend since 2010. This lead to strong years for both Home Depot (NYSE:HD) and Lowe's (NYSE:LOW). This analysis will show you there is little to no difference to hold one of the other. In fact, both companies look like good investing opportunities.
Business Overview
Home Depot is the world's largest home improvement retailers by market cap. In fact, it is more than double the size of Lowe's ($176 billion v. $70.5 billion). Founded in 1978, HD is a success story with currently 2,200 stores across the U.S. The company is known for its obsession for client service and this is probably why they have able to grow so fast since their creation.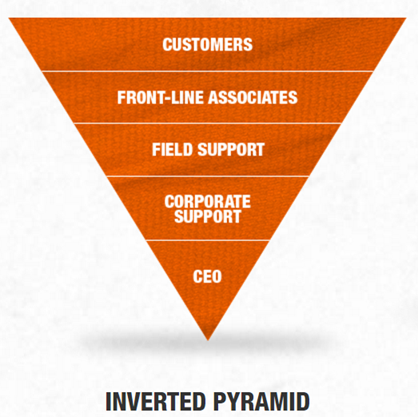 Source: HD website
In the past decade, HD has focused on creating seamless renovation services to invite more homeowners to renovate their houses. They have focused on a strong online presence using renovation pictures through social media platforms like Pinterest.
On the other side, Lowe's is much older as it was founded in 1946 and went public in 1961, before Home Depot was even founded. Their growth has been solid, but less impressive than Home Depot, as they currently have 1,840 stores in the U.S., 16% less its competitor.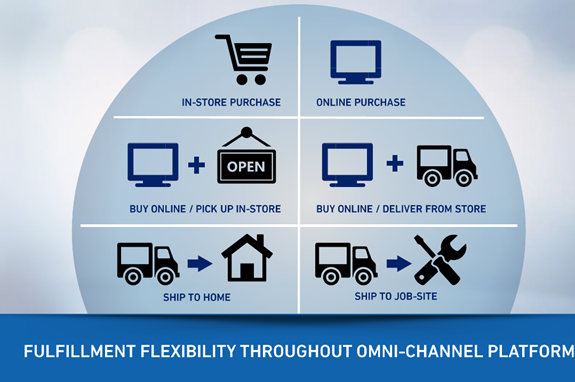 Source: LOW presentation
Lowe's is also focusing on a seamless experience through the development of the "OMNI-CHANNEL PLATFORM". While both companies target the retail business in a similar way, I sense more interest from Lowe's to target the Pro customer (contractors) as highlighted in their presentation: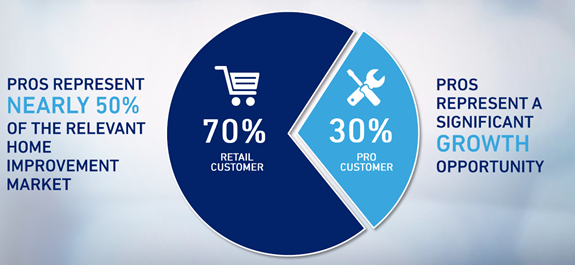 Revenue Growth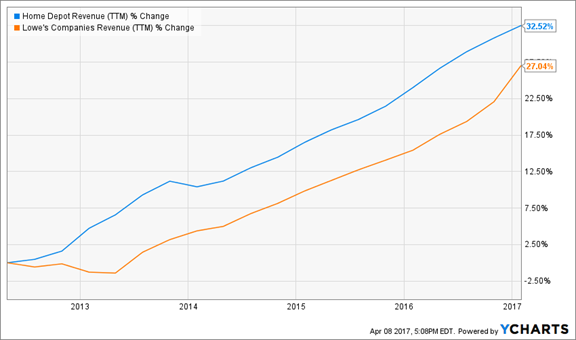 Source: Ycharts
It is important to note HD impressive sales book at $94.59 billion vs LOW at $65.02 billion (representing only 69% of HD sales). The company is not only showing stronger revenues, but Home Depot was able to benefit even more from the current strength in the home improvement market with a total sales growth of 32.52% over the past 5 years vs 27.04% for Lowe's.
One of the key element in HD growth seems to be its online success with double-digit growth over the past 5 years. HD online site is now one of the largest ecommerce site: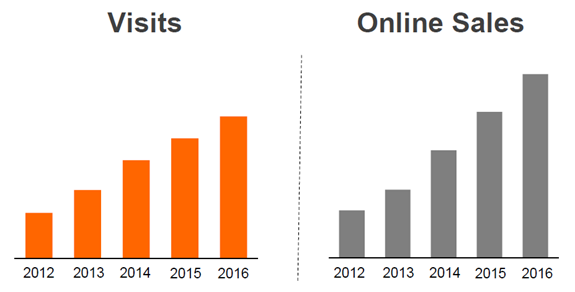 Source: HD presentation
During this period, Lowe's has applied a "growth-by-acquisition" strategy buying Orchard Supply Hardware in 2013 to expand their presence in California along with the more important acquisition of Rona, Canada's largest home improvement retailer, in 2016.
Looking for the future, HD seems to have limited space to grow on its own playground and they expect to open 5 to 7 new stores per year through 2018. They will have to look on the international market for future growth vector.
Since LOW is smaller, it could still find growth opportunity in North America, notably by creating additional synergy and applying their know-how to their new acquisition, Rona. Their recent experience in acquiring and integrating other chains may become an asset when it's time to grow internationally.
Overall, HD has a small advantage.
Earnings Growth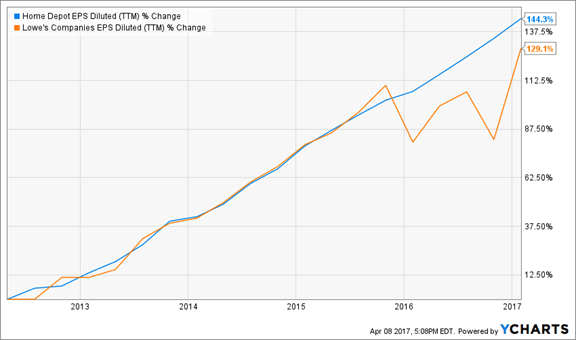 Source: Ycharts
Similar to revenues, both companies show interesting perspective, but Home Depot shows more consistency with a straight line to the top. Both companies have used massive amounts of cash, read billions, in a shares repurchase program, leading to stronger EPS.
Then again, I think HD has a small advantage over LOW.
Dividend Growth Perspective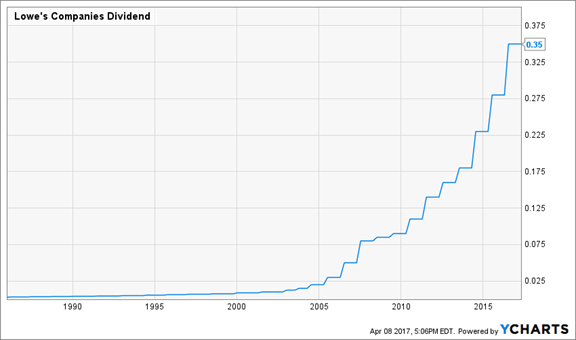 Source: Ycharts
Lowe's qualifies as a Dividend King with 54 consecutive years of dividend increases. There are only 19 companies showing over 50 consecutive years of dividend increases. It is quite hard to beat LOW on this point.
On the other side, HD has been successfully increasing its payout for the past 7 years: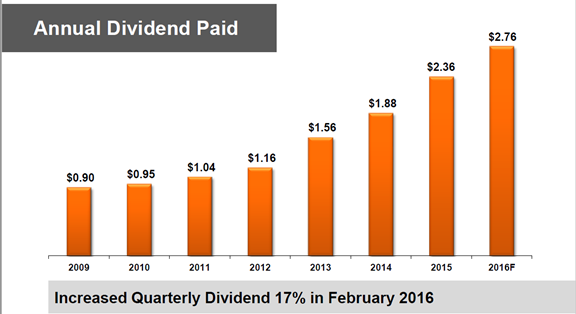 Source: HD October Australian Meeting
While this is not as impressive as Lowe's achievement, Home Depot should seriously hit dividend growth investor radar. Not to mention that HD yield is higher at 2.42% vs 1.70% for LOW.
In term of potential increase, LOW remains the winner on this one too: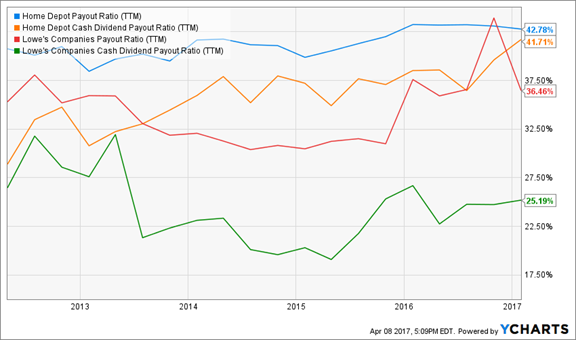 Source: Ycharts
Both payouts and cash payouts ratio are lower than HD. While both companies show an interesting profile, Lowe's benefits from more cash (relatively) to share with its shareholders.
LOW has a small advantage over HD in term of dividend growth perspective.
Valuation
The last but not the least comparison point is about valuation. One company could be stronger than the other, the current price paid will often make the difference in which is the best purchase.
In order to determine which company is the best opportunity on the market, I used a double stage dividend discount model (DDM). This calculator enables me to use two different growth rates (a 10-year dividend growth rate and a terminal rate). The DDM determine the value of a stock solely based on its ability to grow its payout through time.
As LOW is a dividend king and shows smaller payout ratios, I give more dividend growth perspective to this company. For that reason, I've run my calculator using a 10-year dividend growth rate of 10% and a terminal rate of 7%.

Here are the details of my calculations:

Source: Dividend Monk Toolkit Excel Calculation Spreadsheet
LOW shows a potential gain of +18%.
For Home Depot, I decided to keep the short-term dividend growth rate at 10%, but reduce the long term growth rate at 6%. I've kept the discount rate at 9% for both companies as they are strong player in a stable market.

Here are the details of my calculations:

HD shows a potential gain of +19%.
Final Thoughts - Everybody Wins!
Upon this analysis, I can confirm that both LOW and HD meet my 7 dividend investing principles, a meticulous investing approach for dividend growth investors. While I currently hold shares of LOW, I could easily see another investor selecting HD instead. Both companies are strong retailers with similar strategies in a growing market. In the end, both companies would qualify as a buy under my analysis model.
Disclaimer: I hold LOW in my DividendStocksRock portfolios
The opinions and the strategies of the author are not intended to ever be a recommendation to buy or sell a security. The strategy the author uses has worked for him and it is for you to decide if it could benefit your financial future. Please remember to do your own research and know your risk tolerance.
Additional disclosure: If you like my analysis, click on FOLLOW at the top of the article near my name. That will allow my articles to display on your homepage as they are published.