The only market-affecting factor that is truly constant, is Human behavior. It, never changes. Human behavior is behind sentiment readings which always show confidence at market tops, and fear as markets grind their way higher toward tops. Human psychology is also behind the fundamental underpinnings of markets; it is Humans who make the decisions that result in increasing metrics such as industrial production and GAAP earnings. All of this can be visualized as repetitive patterns throughout the past. In this piece, we present the historical patterns of both sentiment and fundamental indexes and how they correlate to the S&P 500 index.
Sentiment (Emotions)
The AAII investor sentiment survey correlates strongly with S&P 500 tops; Major tops occur when investor bullish sentiment is above 50%, and bearish sentiment is less than 30%. In other words, tops happen when investors are confident (not fearful) about the market, and at the moment, the bullish sentiment is only at 29% while the bearish sentiment is at 37%. This correlates more with the beginning of a bull market than it does the end of one (chart below).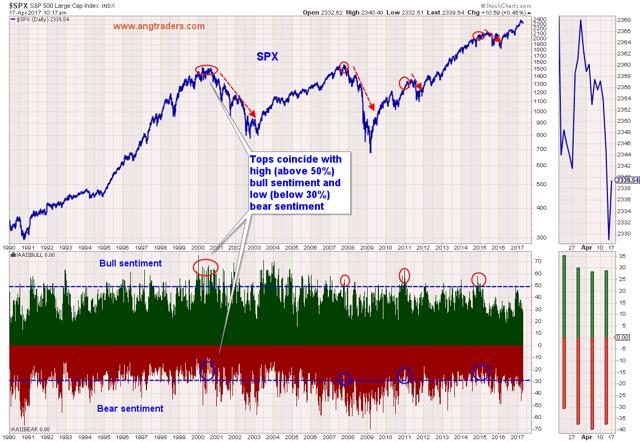 The National Association of Active Investment managers (NAAIM) survey index, although exhibiting wide short-term swings, has its 50 MA rising which corresponds with a rising S&P 500 (chart below).

These levels of investor sentiment are not normally exhibited at market tops.
Fundamentals
While current PE ratios for the equity markets have produced much fearful digital ink, the more fundamental measure, GAAP earnings, is showing a renewed surge in strength (blue-colored oval on the chart below) which has coincided with the start of bull markets going back three decades (pink-rectangles on the chart below).
The chart below also dispels the myth that rising interest rates kill bull markets. Notice how the FED rate was increased during all bull markets since 1989, except for the last one (2009-2015). The latter was certainly an anomaly, but as the chart below shows, the FED is now starting to normalize rates once again just as a new bull market gets underway.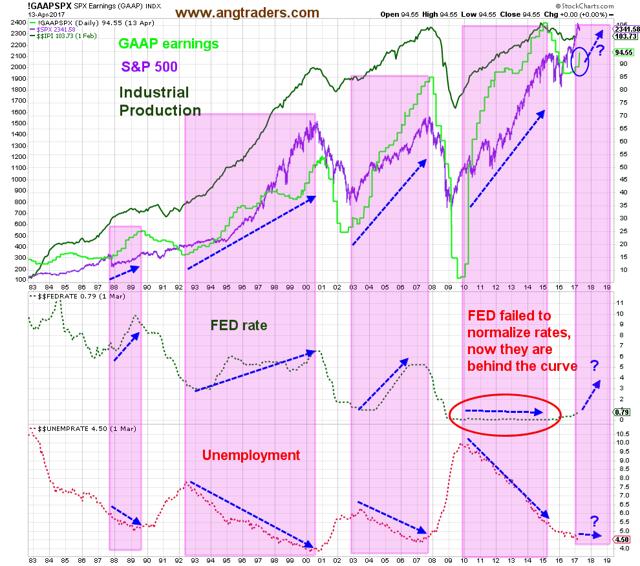 The chart above, also demonstrates how bull markets coincide with rising Industrial Production (dark-green line). Industrial production is now turning back up after a two-year slump, which is what would be expected at the start of a bull market---not at the end of one.
In conclusion, contrary to the majority of current popular market-analysis, we see evidence coming from both sentiment and fundamental metrics that point to the beginning of a bull market, not the end of one.
Disclosure: I/we have no positions in any stocks mentioned, and no plans to initiate any positions within the next 72 hours.
I wrote this article myself, and it expresses my own opinions. I am not receiving compensation for it. I have no business relationship with any company whose stock is mentioned in this article.