Bank of America (NYSE:BAC) bulls will find much encouragement in its 1Q17 results. Let's take a walk through.
The crucial factor as quarterlies role out is whether we can see evidence that the bottom up case for favoring BAC is being proven.
My bullishness for this stock is based on my expectation of strong earnings growth in BAC through the next two years, and the key driver for this is top line growth over a reducing cost base. We certainly saw this in 1Q. Revenue was up 7%, and operating costs were flat. In 1Q16, BAC ran an efficiency ratio of 71%. 1Q17 saw a 67% efficiency ratio. This lifted pre-provision income (operating revenue less operating costs) by 24%.
Here are the cost/income mechanics, indexing 1Q16 to make it easier to eyeball: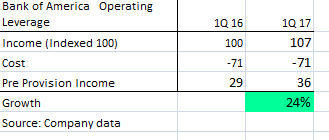 To finish this quick once over, loan loss provisions (LLP) were lower I expect for the year on an average quarterly basis, at $835m. As a result, pre-tax earnings growth was very powerful Y/Y, at 32%. Let's now look at things in a little more detail.
Revenue was good
Total operating revenue at $22.2bn was the strongest quarter in the last nine. Most pleasingly for bulls, we got some evidence of a stronger net interest margin (NIM), which given the contained LLP costs, came through on a risk adjusted basis too.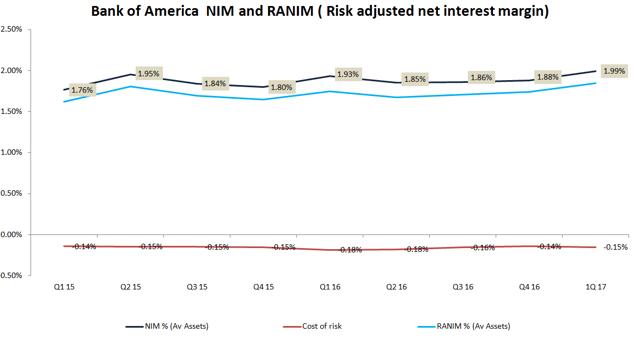 Company Data
Deposits showed reasonable growth (4.5% Y/Y), and total assets were driven off this, expanding 2.8%. Think of growth in net interest income as the product of a 32% expansion in NIM and this growth in total assets. Loans were flat, which I think will improve later in the year, but note that BAC is procuring NII growth anyway.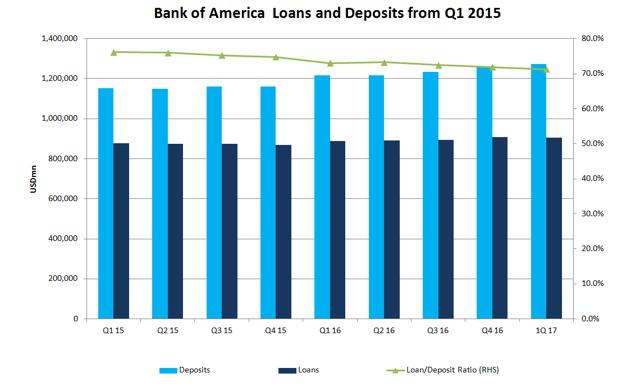 Company Data
BAC's calculation of net interest margin (based on earning assets rather than total) shows a NIM of 2.39%, up from 2.23% in the linked quarter and 2.33% 1Q16. This is consistent with the data I calculate from total assets.
The power of BAC's deposit base is evident here, given that the cost of interest bearing liabilities has in total only increased by 2bps Y/Y from 0.78%.
Non-interest income
Non II at BAC was encouraging. Mortgage banking fees of course were way down, as we've seen in other US banks. While I understand the concern over mortgage fees, investors should remember that for BAC, mortgage revenue isn't such a big part of the Non II mix. The chart below shows us how overall Non II is buoyant in comparison to the levels seen in recent quarters.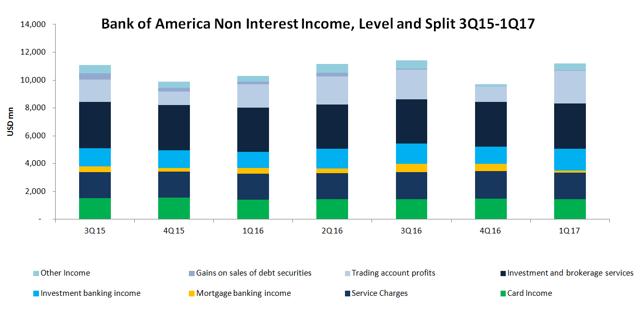 Company Data
Both 2015 and 2016 saw at least one pretty weak quarter for Non II. Before we celebrate the 1Q 17 growth of total revenue too loudly, we should note that there's an easy comp with 1Q16, so growth in Non II will soften a little in 2-3Q on a Y/Y basis. Still, it's been a strong start.
Costs
It's all good news. Overall growth in operating costs is miniscule and the composition of costs remains uniform. Eyeball the 4Q-4Q reduction last year. Coming quarters need to see something similar for BAC to be judged on course for its target $53bn in costs for 2018. However, my guess is that the business will come in a little over that level on costs due to stronger revenues.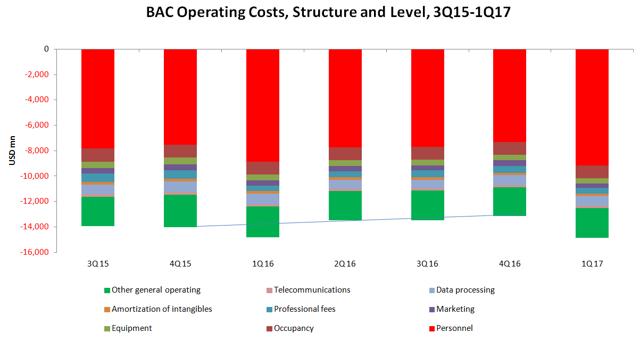 Company Data
Core economics are stronger now:
70% of core 1Q17 earnings were returned, and the outlook is for this to increase. CET1 is 11%, up from 10.3% in 1Q16. Return on assets was 0.88%, closing in on the 1% magic "normal" number and ROE (common) was 7.27%. Two ways of looking at that. No, it's not really good enough. BAC should aim for 10% minimum. But it's much better than the 5.11% we saw in 1Q16.
These numbers however confirm my forecasts so I think ROE will be over 10% by full year 2018.
Conclusion
I will be back with comments on the divisions and outlook post the conference call. At this stage, we can say that we have a strong set of numbers showing the operating leverage thesis is intact and on course at BAC. The recent pullback has to be seen in this context and the stock is a buy.
Disclosure: I am/we are long BAC.
I wrote this article myself, and it expresses my own opinions. I am not receiving compensation for it (other than from Seeking Alpha). I have no business relationship with any company whose stock is mentioned in this article.