Introduction
This article is my 49th installment in a segment called "Buy on the Drop?" in which I choose a stock that recently experienced a large decrease in price and give a recommendation on whether investors should "Buy on the Drop" or not. The recommendations are Sell, Hold, Speculative Buy, Buy and Strong Buy.
Apogee Gets Glassed
Apogee Enterprises (NASDAQ:APOG) fell nearly 13% Thursday after announcing Q4 and fiscal year 2017 earnings results. It seems likely that the sell-off can be attributed to Apogee's fiscal year 2018 outlook, which may not have been up to snuff considering the stock's valuation.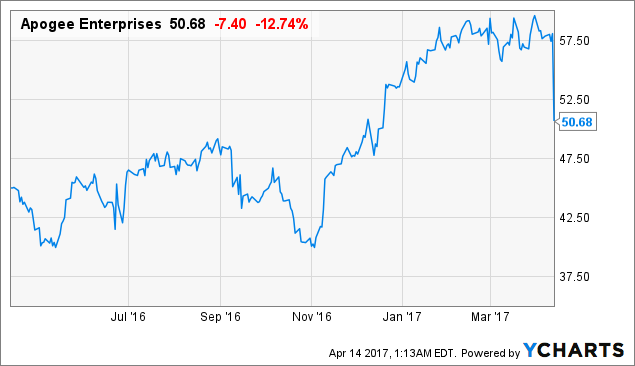 APOG data by YCharts
Despite the fall Thursday, APOG is still up a bit more than 16% over the past twelve months due to a pick-up in the construction sector, which the company services with its construction glass products and services. However, this most recent earnings disappointment might be a sign that the stock's valuation had gotten a bit ahead of itself. In this article, I'll explore the Q4 and FY2017 earnings report, the outlook for 2018, and my take on APOG's current valuation.
As most APOG longs likely know, the company's Thursday earnings report was a mixed bag. Let's start with the good.
Apogee reported fourth quarter revenue of $314 million, up 20% year-over-year ("YoY"), and EPS of $0.80, up 16% YoY, which both beat consensus analyst estimates. Q4 capped off FY2017 which saw 14% YoY revenue growth to $1.1 billion, and 34% EPS growth to $2.97. In terms of the performance of Apogee's four distinct segments, growth was relatively strong across the board (all numbers comparing FY2017 to FY2016 metrics):
| | | | |
| --- | --- | --- | --- |
| Segment | Revenue Growth | Operating Income Growth | Operating Margin Change |
| Architectural Glass | 9% | 26% | +140 bps |
| Architectural Framing Systems | 25% | 40% | +130 bps |
| Architectural Services | 10% | 58% | +200 bps |
| Large-Scale Optical Technologies | 1% | -2% | -90 bps |
Barring the Large-Scale Optical Technologies segment, annual revenue growth in FY2017 was robust and translated well to the bottom line. Despite LSOT struggling a bit to keep pace with Apogee's other segments, it is still earning modest profits for the company.
Apogee also reported $53 million in free cash flow in 2017, a passable current ratio of 1.61, a fairly small $65 million in long-term debt, and share repurchases and dividends totaling $25 million for the year.
Based on these results, I think it is fair to say that Apogee recorded strong Q4 and FY2017 performance. The growth narrative continues to have legs and margins/profits are not being sacrificed to do so (on the contrary they're improving!). However, the current quarter is not the whole story. Let's discuss Apogee's 2018 outlook (a detailed breakdown of the company's 2018 expectations can be read here).
On the whole, Apogee expects revenue to increase 10% in FY2018 to $1.21 billion, and for EPS to be between $3.35 and $3.55, an increase of 16% at the midpoint YoY. These numbers come in slightly below consensus analyst FY2018 estimates of $1.26 billion in revenue and $3.48 in earnings per share. The miss seems small, but for a company with a high valuation expectations are usually higher than the estimates may reveal.
Does this miss warrant such a substantial drop in stock price? I would argue no, but there could be countless reasons for the sell-off: profit taking, fleeing momentum investors, opportunistic traders, etc. The more important question is not "why did APOG drop Thursday?", but rather "is APOG worth buying today?"
Looking into 2018 and beyond, I am of the opinion that the answer to the latter is "yes". Architectural Glass and Architectural Framing Systems are expected to see continued growth in 2018 with operating margin improvements in the cards as well, which will more than offset a decline in Architectural Services revenue, which is expected to provide strong growth in 2019. LSOT revenue is expected to be flat yet again as the segment continues to be a stable cash generator. In total, Apogee expects a 150 bps improvement in operating margin in FY2018 over FY2017.
I agree with management's expectations of continued construction end market strength as the slow recovery out of the Great Recession picks up steam and as a comprehensive infrastructure overhaul appears likely.
As a final note, APOG does have a not insignificant amount of short interest at close to 20% of the float, though it may be lower after Thursday's decline. Short interest is usually a good indicator of a stock that has pushed a bit too far ahead of its value, and I think that was likely the case with Apogee. However, for investors with a horizon beyond a few weeks or months, I think APOG makes for a good play on the construction sector going forward. The company's robust growth and continuous margin improvements appear sustainable in sector that is currently thriving. I rate Apogee Enterprises a Buy on the drop.
If you want to stay up-to-date on my articles, you can "Follow" me by clicking "Follow" at the top of this page or by going to my author page. You can read about my previous installment discussing Palo Alto Networks (NYSE:PANW) here.
Thanks for reading!
Disclosure: I/we have no positions in any stocks mentioned, and no plans to initiate any positions within the next 72 hours.
I wrote this article myself, and it expresses my own opinions. I am not receiving compensation for it (other than from Seeking Alpha). I have no business relationship with any company whose stock is mentioned in this article.