The Reserve Bank of Australia releases its meeting minutes from the last meeting. This will be important showing the Governor's thinking from the last meet. That meeting, the RBA left rates unchanged. Most participants had factored in a rate increase. If the minutes show hawkishness then AUD will go bid. My feeling going into the last meeting was that the board would raise in May, coming up. I will be looking for information regarding that. But, I am also leery that the minutes will not disclose any future opinions. The Board may want to wait to raise rates, in which case the AUD would get more than just a mild offer. It will get knocked out.
Inflation and strong economic growth are not the reasons for interest rates to move higher in Australia. In fact, tomorrow Statistics Australia releases its inflation report for the month of March. Along with a lot of other individuals I do not expect inflation to push upward in Australia. Again, lack of economic growth is not creating demand pressures: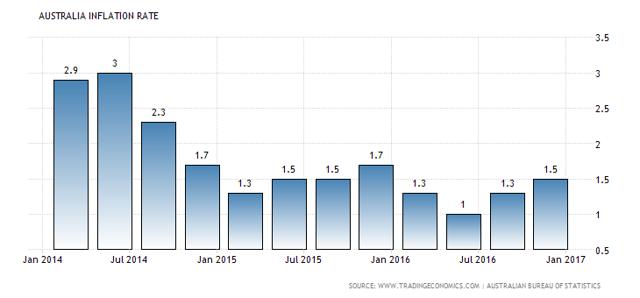 I would not be shocked if there is a rise in inflation in Australia. A few countries have seen prices head higher. I would be shocked if price pressures came in at levels that would push the hand of the Board.
Instead, the real culprit is the real estate market. In Sydney and Melbourne, home prices have moved upward some 18% and 15%, respectively, year-over-year. That is big. Considering that wage growth and economic growth do not correlate with the increased home prices, it is a way a version of stagflation.
Stagflation is typically labeled when you have a country. That has ultra-high price pressures with persistent high unemployment. Australia has unemployment, but not a level that would indicate there is stagflation. Instead, the country just has a very hot property market in an economic environment that is does not support high year-over-year price increases.
What is odd in Australia is that the construction industry has not responded to increased prices as quickly as you would imagine. In fact, looking at the new homes index for Australia, you would not necessarily see any potential bubble in the real estate market, not like what was seen in the United States back in 2005 - 2007 era that led to the real estate bubble bursting: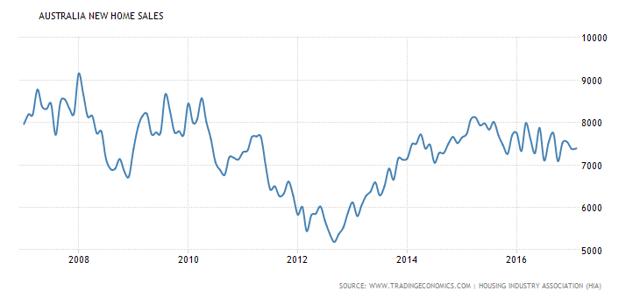 There was some deregulation that prompted big moves into the housing market. More buyers were able to enter the market and be awarded mortgages. Unfortunately, it is feared that a lot of these buyers may be on a razor's edge with their payments. It is feared that property prices may not increase into infinity. Instead, in Sydney alone, after increasing some 18% the year before, the expected increase for 2017 is a mere 4.5%.
That is far more modest and in line with the rest of the economy. That may also be something that the Board at the RBA is looking at. The RBA has basically stated to member banks that they need to reign in loan growth or the RBA will. The banks have responded. As mentioned, the economy is not firing on all cylinders. There is not much inflation to report. And, If new mortgages are not increasing at large rates while home price increases are subsiding, why would the bank raise interest rates?
That turns tonight's meeting minutes into a very big event. Did the bank elude to future rate increases or is the board interested in seeing more data before they make that decision?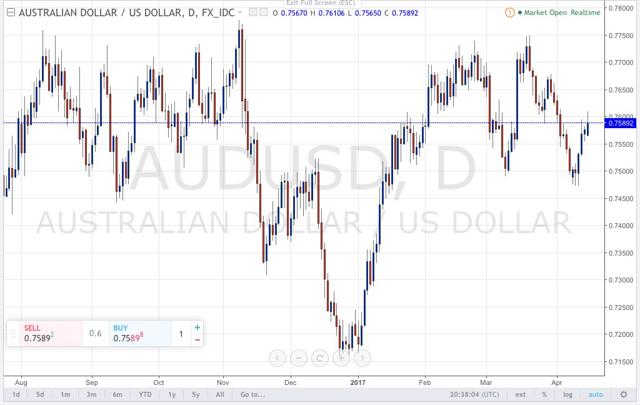 I am thinking that the bank is erring on the side of caution, that the mandate to reign in mortgage loans from banks and private lenders is taking effect. If that is the case and the RBA does not sound hawkish, AUD will be on the floor in no time. I can see an eventual break of the recent lows, .7500, and then a further move below that. It may be possible over a few months time to test the .7200 level.
While I am doubtful of hawkishness from the RBA, it is a possibility. However, I can see it happening in May and then a one-and-done move. The property market is being reigned in on its own. The rest of the economy is moderate and does not warrant increased interest rates.
In the meantime, the AUD has gotten a bid off o f the USD simply because the USD is moving lower on its own. Interest rates in America may not be heading upward as quickly as expected. I am not putting on a plain vanilla trade on this one. Instead, I am structuring a strangle, buying both puts and calls out-of-the-money with equal distance. The market will move as it moves based the data we receive. I will ride that move in both directions simply because I think this move will be impressive and a longer term move.
Disclosure: I am/we are long AUD STRANGLE.
I wrote this article myself, and it expresses my own opinions. I am not receiving compensation for it (other than from Seeking Alpha). I have no business relationship with any company whose stock is mentioned in this article.