"The way to build superior long-term returns is through preservation of capital and home runs…" Stanley Druckenmiller, hedge fund manager, former chairman and president of Duquesne Capital.
"The Big Short" was one of my favorite movies of 2015. While there was a lot that investors could learn from that movie, my main take-away was how important it is to analyze unsystematic risk (i.e. having an in-depth understanding of micro issues). Given the difficulty in predicting the consequences of macro or systematic matters, it follows that investors should prioritize micro issues over macro analysis. After all, Warren Buffett suggested that "forming macro opinions or listening to the macro predictions of others is a waste of time."
However, I do not think that investors should give up on macro analysis entirely. Investors should spend time learning about secular trends, studying the business cycle and monitoring price action across broad asset classes as this can help them allocate capital more effectively.
Accordingly, I find that combining micro and macro analysis gives us the greatest chance of success in investing. One way of doing so is by using micro issues to uncover home-runs and studying macro conditions to preserve capital. In this article, I will re-visit some key macro issues before sharing some stock ideas using more bottom-up micro analysis.
Big picture for risk appetite still looks healthy
The big picture for risk appetite hasn't changed much from what I described recently. As such, I am looking for opportunities in single stocks with a compelling risk vs. reward and would recommend that investors keep an overweight to risky assets. However, the following scenarios would make me shift my positive stance on risk assets into an increasingly negative one:
1) High yield credit spreads move above 4.2%
Higher highs in credit spreads are a signal that sentiment has shifted among high yield (NYSEARCA:HYG) investors from exuberance to concern. Such a rise in credit spreads would likely signal that investors are starting to price the rising likelihood of a recession. Depending on how badly fundamentals are deteriorating, we could see spreads widen well beyond the historical median of 5.2%*.
2) % of NYSE Stocks over their 200-day moving average drops below 55%
Lower lows in this measure would imply that investors' concerns are spreading to a wider range of stocks and, potentially, sectors. I would typically wait for this signal to drop below 45% but lower lows would already be meaningful.
3) Russell 2000 closes below 1,320
There appears to be support at 1,335, so any clear break below this level (by c. 1% or more) should clear the way for a test of the 40-week EMA around 1,300.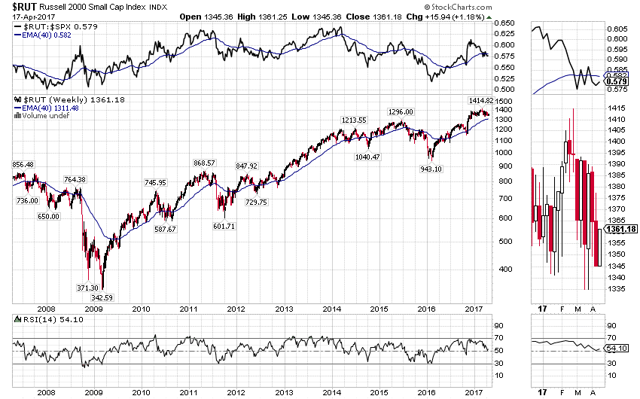 Bonus: Relative strength chart of SPDR Consumer Discretionary ETF (NYSEARCA:XLY) vs. SPDR Consumer Staples ETF (NYSEARCA:XLP) falls to 1.50
This one sounds esoteric and complicated, but it's really simple. The premise is that consumer discretionary stocks should outperform consumer staples when investors are more optimistic about the economy. A relative strength chart of two ETFs tracking each sector simply allows us to plot the relationship while the 40-week EMA allows us to determine which sector is in a trend of ascendancy.
Although I advocate a more detailed analysis of each sector to develop a more complete understanding of risk appetite, the relative performance between these two sectors is perhaps the single most meaningful measure of risk appetite from a sector performance perspective. In fact, you can see in the chart below that it acted as a leading indicator ahead of the last major bear market in 2008/2009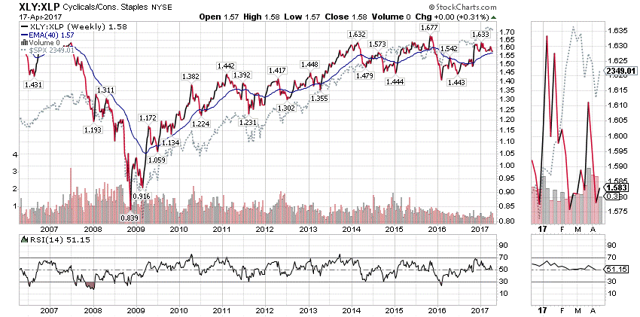 Keep a balanced asset allocation
Even if the big picture for risk assets is healthy, I still believe that investors should maintain a diversified asset allocation that reflects their circumstances and is set up with their long-term objectives in mind. Investors can reflect optimism for risk assets by maintaining a tactical overweight to cash and equities that is funded by a tactical underweight in investment grade sovereign and corporate bonds.
I prefer equities to bonds at this point because risk appetite indicators are still favorable, while the optionality provided by extra cash should allow investors to capitalize on opportunities should the current pull-back in risk assets extend further. I will change my preference for equities should some of the red flags highlighted earlier start to appear.
Look for stocks trading at a discount to their DCF value and which have had insider buying
In my last article, I stated that I am looking for stocks that offered two favorable qualities (among others): a substantial discount to their discounted cash flow value and insider buying.
These factors are important for me right now because I believe that the stock market is overvalued on a number of metrics and will struggle for large gains above previous highs in the near future. Accordingly, the only stocks I think can outperform over the next 6 to 18 months and provide a suitable risk vs. reward over the same time horizon are ones that offer a reasonable margin of safety and room for a re-rating.
Three money management rules to follow with single stock positions
Since the stock market is in a precarious position, I would recommend that investors seeking to invest in individual stocks follow three money management principles to help reduce risk: averaging down, stop-losses and prudent position sizing.
Investors can average down by accumulating shares in two or more phases. As a personal rule of thumb, I usually place my second buying price between 5% and 10% from the first buying price, usually near a technical support level for a stock if there is an obvious one.
As for stop-losses, the key is to allow a generous amount of room to account for volatility of the stock. I tend to place my stops anywhere from 14% to 20% from my average cost - this mainly depends on the stock's expected volatility and support levels. I tend to place stop-losses at least 5-10% below a support level.
Lastly, your position size in these stocks should be such that you do not lose more than 1% to 2% of your portfolio's value if any of your stop-losses get triggered. You can try this useful calculator to help calculate the ideal position size for your portfolio. Also, bear in mind as well that stocks are vulnerable to gap risk, meaning that you can lose more than what you plan for with your stops. Gap risk is particularly prevalent during earnings season, which has just started in the US.
Stock Idea 1: Target (NYSE:TGT)
All three of my ideas are rather controversial, but Target is particularly so because it's not a complete home-run in terms of favorable features.
On the negative side, earnings are expected to decline over the next 1 and 3 years. As a rule of thumb, I tend to dismiss 'cheap' stocks with limited earnings growth, let alone those where earnings are expected to decline. A 'cheap' stock with weak earnings growth is likely to end up as a value trap that just keeps falling in price until the company turns its strategy around to actually create some earnings growth or it gets bought out by a competitor or a group of investors. Also, the discount to the DCF value, derived as $61.29 using analyst estimates submitted to Capital IQ, is not particularly steep.
On the positive side, the stock boasts a 4.5% dividend yield that appears well-supported. Also, TGT is quite heavily oversold using weekly RSI, suggesting that quite a lot of negative sentiment is already priced in to the stock. Bear in mind, however, I don't view a simple 'oversold' reading as an effective buy signal. Instead, I prefer to wait for a bullish divergence' with weekly RSI since this tends to be a more meaningful indicator that negative sentiment has reached an extreme.
Most importantly, there has been significant insider buying in the last 3 and 12 months. This helps offset the negative factors to some extent as it could imply that management has a plan for turning the company's earnings growth profile around.
As an alternative to TGT within the same sector, Big Lots (NYSE:BIG) is expected to grow earnings by 20% over the next three years, has a price-to-earnings growth ratio of just 0.7x, and is trading at a more substantial discount than its DCF value than TGT (20% vs. 12%). However, there has been more selling than buying by insiders in BIG, which doesn't fill me with much confidence. Also, the dividend yield is less than half of what TGT is paying. Since insider buying is of massive importance for me, I prefer TGT to BIG at this point.
For a more complete buy thesis for TGT, I recommend this insightful article by the excellent Frank Curzio.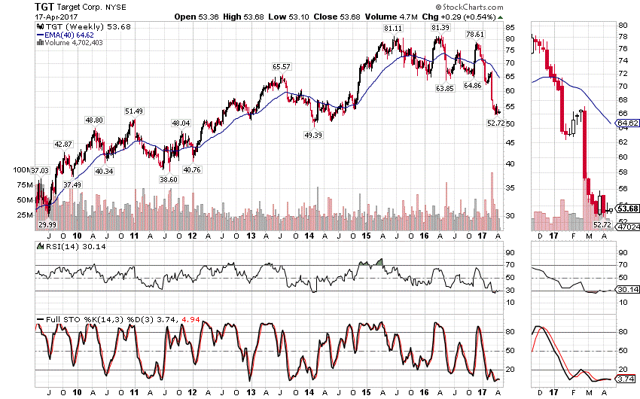 Stock Idea 2: First Solar (NASDAQ:FSLR)
First Solar is also controversial since it has some challenges facing its revenue & earnings potential and general operational competitiveness. The company is losing money and posted falling quarter over quarter and year of year sales. In its latest earnings call, it also cut its earnings forecast. Moreover, CEO Mark Widmar admitted that it is struggling with 'perpetual oversupply' of product in the market and has yet to settle on a strategy and/or product to give it an edge in the global marketplace.
On the positive side, negative sentiment may have reached an extreme given the clear bullish divergence between weekly RSI and price. Another important and favorable technical signal is the hammer pattern posted a couple of weeks ago with a long lower shadow and rather meaningful volume.
On the fundamental front, the stock is trading at a 49% discount to its DCF value according to Capital IQ data. This suggests that the stock is meaningfully undervalued - a point reiterated by a price-to-book ratio of 0.5x, price-to-sales of 0.97x, and EV/EBITDA of 1.97x (see here for the numbers). Moreover, the company boasts a healthy balance sheet, with nearly $2 billion in net cash. Finally, I have noticed some degree of insider buying according to Capital IQ data.
The revenue and earnings outlook for First Solar will be challenging given industry pressure, meaning that catalysts that will create the 'reward' in the risk vs. reward equation will be difficult to come by. However, the 'risk' part is mitigated by a number of factors (balance sheet, valuation, sentiment), creating a favorable balance.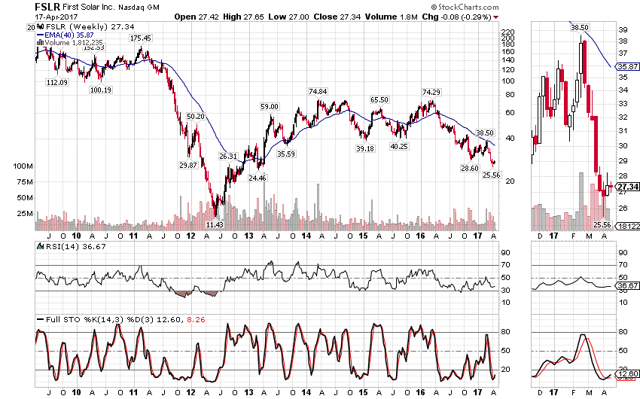 Stock Idea 3: Cameco / Qualcomm
Of course, Cameco (NYSE:CCJ) and Qualcomm (NASDAQ:QCOM) have nothing to do with each other. One is a uranium producer while the other is one of the world's largest chipmakers. The reason I've put these together though is because I couldn't decide which one to highlight since each arguably appeals to a different type of investor.
Cameco is a recovery idea that hinges on uranium prices. The negative points include that it has already recovered substantially from its lows late last year. Also, the company continues to pay a dividend despite incurring losses (something I never like to see) and boasts an expensive PEG ratio over 5 years of 6.5x.
On the positive side, it is still trading at around a 41% discount to its DCF value and at just 1.1x book value. EV/EBITDA is also reasonable at 10.65x, while forward P/E of 16.63x is favorable relative to the overall market. The balance sheet seems decent as well given, among other things, a Net-Debt-to-EBITDA ratio of 1.71x. Moreover, the company continues to see insider buying despite the massive rally in price.
Qualcomm presents a similar valuation risk in that it has also recovered after reaching a low of $40.40 (note from the chart that the recovery followed a clear bullish divergence with weekly RSI). In fact, QCOM is trading at just a 15% discount to its DCF value. Also, its expected growth figure for cash flow over the next 2 years is inferior to CCJ according to Capital IQ data.
As for positive points, QCOM's operating margins and return on equity are very high while its Net-Debt-to-EBITDA ratio of just 0.09x provides substantial balance sheet optionality. On the valuation front, it is trading at a reasonable EV/EBITDA of 9.86x and PEG ratio of 1.15x (using 5-year earnings growth expectations). I think earnings growth will rely heavily on how accretive the acquisition of NXP will be. As with the other stocks, QCOM also saw net insider buying over the last 3 months. Finally, it boasts a dividend yield of 4.15% that appears to be well-covered.
In summary, QCOM arguably offers more stability given its dividend, helping investors remain patient until catalysts emerge to create a favorable re-rating. On the other hand, Cameco is cheaper and only just starting to recover from a steep, multi-year bear market. It is therefore difficult to place a ceiling in terms of potential share price appreciation for CCJ, while the downside risk seems relatively low for QCOM thanks to its dividend yield and solid balance sheet among other factors.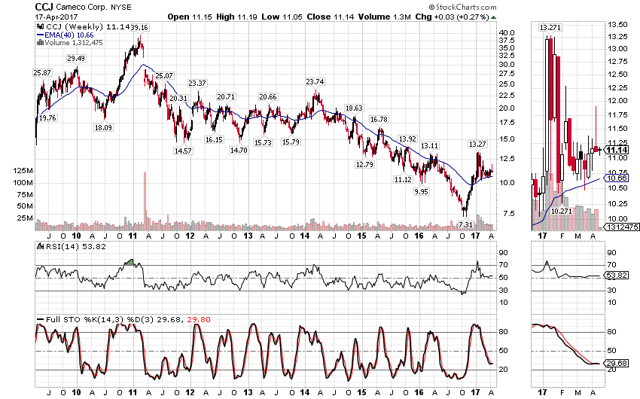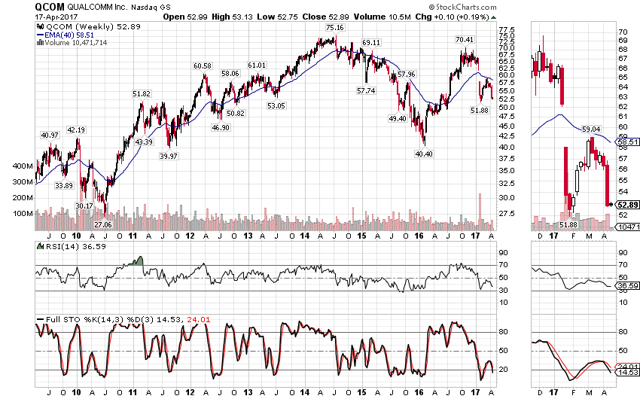 Conclusions
Despite the overvalued market and various astute observers calling for an extension in the current pull-back, I am still looking for and investing in what I find to be compelling risk vs. reward opportunities in stocks. Although opportunities are scarce, I would rather not leave potential profit on the table given that there has not been any definitive reversal in risk sentiment.
That said, I am closely watching various signals and will reduce my exposure to equities should certain red flags materialize. In other words, my policy is to react to confirmed signals of escalating risk aversion rather than anticipate a correction. Until then, I will continue to look for and share compelling opportunities and welcome you to suggest your own ideas in the comments section!
*Based on daily data stretching back to December 31, 1996
Disclosure: I am/we are long TGT, FSLR, CCJ, QCOM.
I wrote this article myself, and it expresses my own opinions. I am not receiving compensation for it (other than from Seeking Alpha). I have no business relationship with any company whose stock is mentioned in this article.