Global demand for safe-haven assets remained fluent during the April 11th trading session as geopolitical risks continue to threaten the economic outlook. The standard measure of investor concern in US equity markets reached a five-month high, driven largely by the unraveling of US relations with Russia and North Korea. US Treasuries resumed the previous days' rally, with yields/swap rates decreasing an additional 4-8 bps across the curve, bringing the yield on the 10-year note to its lowest level since last November.
This was the most recent price action in the US markets, which has seen the S&P gain approximately 11% since Trump's election. Represented by the daily bars for SPY.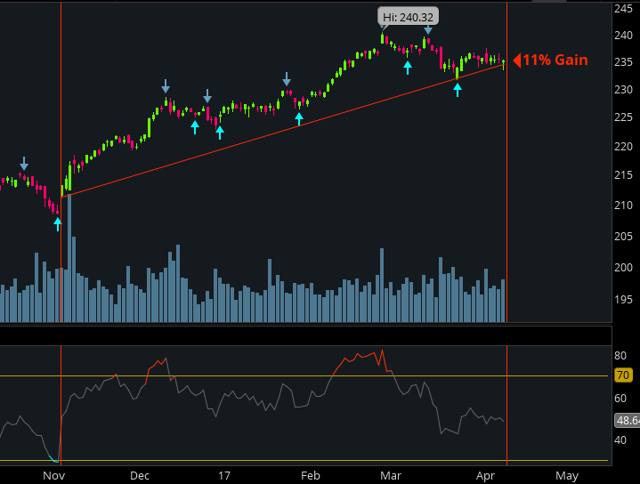 Financials led the way with 16% gain to date. Represented by the daily bars of XLF.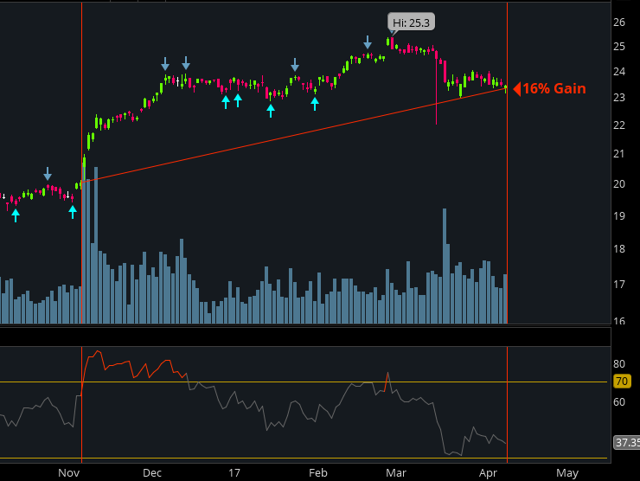 Meanwhile, we saw a ~5% decline in Treasury prices, the first ~4% on the back of Trump's win and the remaining ~1% to the Fed's 2016 December meeting where it announced a gradual increase to come in the Federal funds rate. Represented by one-month forward futures for the 10-year note.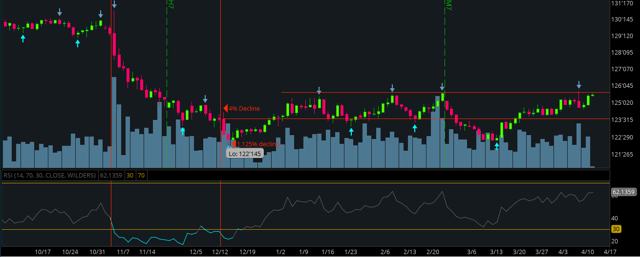 In March, Goldman Sachs's analyst noted that the cost of long-dated hedges in equity and credit had collectively reached its lowest level in six years.
The market has priced in an expectation for Trump's presidency, paying premium up until now, expecting some pretty hefty reforms coming out of this White House, things like loosening regulations of banks and delivering "the biggest tax reform since Reagan".
Quickly approaching the end of his first 100 days in office, it is clear the Trump's political capital is waning consequence of numerous scandals, an active FBI investigation, White House infighting, and inability to unite the Republican party on major reforms. Meanwhile, his geopolitical maneuvering has shifted aggressive, launching overnight missile strikes in Syria and posturing for a showdown with North Korea. Seemingly overnight Trump's foreign policy strategy has shifted from America First to G.W. Bush cowboy diplomacy.
The impact of these sudden and frequent shifts and changes in priority and commitment has already seen investors start to flock back to safe-haven assets, but the market is still well above its pre-election levels. The belief among many is that the current growth landscape, along with progress from the White House on taxes, can support the SPX at ~2,300. What if we change our assumptions for a Trump presidency? Well, we certainly might see more sudden and volatile changes in markets as Trump carelessly shifts policy and talking points, evidenced here by the 0.7% drop in the USD after recently asserting that the dollar was "getting too strong".
Volatility is here to stay, and the market is under-hedged; downshifts in the market could be exacerbated by a rapid sell-off as margin calls mount and losses compound. Meanwhile, the flight to safe-haven assets is pushing yields to their lowest levels year to date, and with rising federal funds rates, banks may see their margins squeezed.
The anti-reflation trade has already been signaled, and it's time to position for the correction.
The Anti-Trump Trade is simple:
Go long value while shorting financials
Financials have gained the most in the post-election Trump hype and have the most uncertainty with him as president. As long as Trump fails to make progress towards lessening banking regulations and tax reform and he stays unpredictable in his foreign policy, he will continue to facilitate an influx into safe-haven assets such as treasuries, inflating the price and driving down yields. Higher yields are good for banks, and stagnant yields, combined with rising borrowing costs, will squeeze banks.
I believe that is evident in the way banks traded after earnings. PNC (NYSE:PNC) was a clear winner - favorable guidance and better numbers. Citigroup (NYSE:C) performed well. Wells Fargo (NYSE:WFC) was very disappointing; headline EPS was good, but the upside was poor quality. Although all of this hardly matters as the bottom line is that the group saw a big post-election rally due to the "Trump Trade" but with Treasuries rallying, which the- financials have been slow to respond to, the sector will struggle to resume upward momentum until yields stop falling and the curve stops flattening.
Given the saber rattling regarding North Korea is now reaching a fever pitch as President Trump spoke at the White House, telling reporters "North Korea is a problem. The problem will be taken care of". The ambiguous comments come just days after Trump said that "We are sending an armada" in response to North Korean threats.
Look to go short financials up until the final run-off for the French Election on May 7th. As the race gets more heated and with several candidates strongly opposed to the European Union, the flock to safe-haven assets will be at its strongest during this period. In addition, the North Korean and Syrian saber rattling is unlikely to die down quickly.
You can express this view by buying XLF June 17 puts at strike 23 @ 0.6 limit w/ 0.56 initial stop or by with inverse S&P 500 financial sector ETFs like SEF, or if you have a higher risk tolerance FAZ.
Look to reduce short exposure around May 1st - 3rd as the Fed Meeting takes place on the 2nd & 3rd; this event will bring the Federal funds rate back into view, and in the build-up to the event, we could see treasury yields gain some upward headwind.
Pick up value stocks during market pullbacks
The long-term play of this trade is to utilize pullbacks caused by Trump's unpredictability and cavalier attitude towards controversies to pick up quality long-term stocks for discounted prices.
The baseline assumption for the S&P is that SPX can earn ~$135-137 in '18 Washington Neutral while Washington policy could add ~$5-10+ EPS depending on what passes and when.
These market shocks can provide a great opportunity to increase long-term holdings of strong value stocks. If you have a set of preferred value companies, pick those up during dips along the way, if you don't go with Berkshire Hathaway BRK.B and let Buffett handle those decisions for you.
Go long volatility
When the VIX settles down to the 10-12, look to pick up one-month forward 14-15 VIX calls at bid. Volatility will spike when Trump makes unexpected geopolitical pivots. I would recommend using small allocations and hold as a potential hedge against uncertainty.
Conclusion
Banks should underperform while volatility increases over the next couple months as domestic politics and geopolitical uncertainty heat up; French Elections, North Korea, Syria, Russia, FBI Investigations, and general unpredictability and pivoting from the White House.
Profit off the instability by going short banks and long volatility while picking up strong value positions for 2018 and beyond on the cheap.
I personally would look to reduce short positions against banks in early May as the narrative will shift towards Fed policy and the French election comes to a close; by that time, the Syria strike and North Korea saber rattling should by dying down. This is when yields should start picking up as the June hike looms and investor fear subsides. The anti-Trump trade is a momentary hitch in the reflation narrative that has persisted since November.
The bottom line is the banking industry needs yields to go up, and when geopolitical uncertainty increases, the flock to safe-haven assets drives yields down. The reflation narrative isn't dead; we've just seen that some of the underlying assumptions have been challenged recently. Positioning modestly against an industry that is live or die reflationary while building long-term portfolio value and having a little volatility hedge is the best way to mitigate downside risks during the next four years.
Disclosure: I/we have no positions in any stocks mentioned, and no plans to initiate any positions within the next 72 hours.
I wrote this article myself, and it expresses my own opinions. I am not receiving compensation for it (other than from Seeking Alpha). I have no business relationship with any company whose stock is mentioned in this article.