Background
I have become a believer of the concentrated portfolio approach or a bet your beliefs system. I read a number of books that had a profound influence on me regarding a concentrated portfolio approach:
Fortune's Formula by William Poundstone
The Dhandi Investor by Mohnish Pabrai
Poor Charlie's Almanack by Charlie Munger
But while I stood in distant admiration of the conviction approach I could not work up the courage to actually practice what I was beginning to preach.
A happy accident occurred that made the decision for me. I won't go into the details of the happy accident other than to say I decided to move brokers in December 2016. This left me in a dilemma: to actually move the shares or to liquidate my positions in one broker and buy the shares in my new broker.
Each choice had downsides and was going to leave me in limbo for several weeks. In the end I decided to move the shares but due to migration fees decided it was best to concentrate my portfolio to save on the migration costs. I had no idea how long the migration was going to take (my broker wouldn't commit to a timeline), so I thought long and hard about what five stocks I would store my portfolio in during the transition
I chose to put my portfolio in five stocks: Microsoft (NASDAQ:MSFT), Unilever (NYSE:UN), Celgene (NASDAQ:CELG), Paypal (NASDAQ:PYPL) and Amazon (NASDAQ:AMZN).
Why did I choose these companies?
I had built up nice positions in these five names already at good value over 2016. I knew them and wanted to build on them.
I wanted to own companies that are defining the future and will be relevant for the next 10-20 years.
I want to own compounding machines. I don't want income plays. I want companies that have a good chance of benefiting from the miracle of compounding over the next 1-2 decades.
I don't want to sell. Selling triggers CGT which is perhaps the biggest cost of investing these days.
The five stocks I chose are large and diverse businesses that can weather the various market conditions. I want to avoid losing capital.
I consider myself a value investor but will pay a premium for revenue diversity, growth, moats and "

compoundability.

" A lot of this stuff will not turn up in screens and one most make a qualitative assessment of all the variables to determine if you are meeting your value criteria.
I like strong leaders with a track record of good judgment. Judgment is the most important characteristic for financial success. Hard work only gets you so far and lots of people are willing to work hard these days.
How has the portfolio performed
| | | | | |
| --- | --- | --- | --- | --- |
| Ticker | Jan | Feb | Mar | YTD |
| MSFT | 3.79% | -1.49% | 2.94% | 5.24% |
| CELG | -2.19% | 6.34% | 0.74% | 4.78% |
| UN | 0.10% | 16.43% | 4.97% | 22.33% |
| PYPL | -1.17% | 5.58% | 2.43% | 6.88% |
| AMZN | 9.26% | 2.62% | 4.91% | 17.63% |
| Total | 1.80% | 5.59% | 3.23% | 10.97% |
The portfolio has added 11% since the start of 2017.
The S&P 500 has added 5.5% and the Nasdaq 100 has added 11.75% over the same period.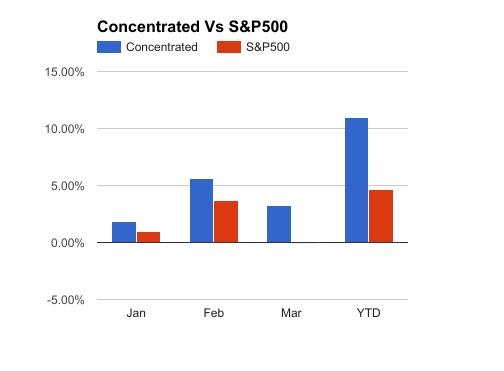 MSFT, PYPL and CELG each increased about 5%, in line with the S&P 500. I am bullish on these names and would hope they can achieve more favorable earnings reports in the short to medium term.
Unilever increased strongly on the advance from Kraft Heinz (NASDAQ:KHC) and is unlikely to experience much alpha beyond this point. In fact, one might expect the price to come back but Unilever has just announced plans to cut costs, hike its dividend, increase buybacks and divest its spreads business. So I think the price will hold so long as Unilever executes on the above commitments.
AMZN must meet expectations in its next earnings report but seems to be getting ahead of itself. It us up nearly 20% in one quarter alone. This level of price growth is not sustainable. I would be very happy with 20% in one year. I am really hoping for a strong Q1 report that will lock-in the 20% gained against weaker Q2-Q4 reports.
I'm concerned at this point that I am really just tracking the Nasdaq given the make-up of the portfolio but time will tell.
Next moves
Here's a chart showing the weightings of the portfolio by stock.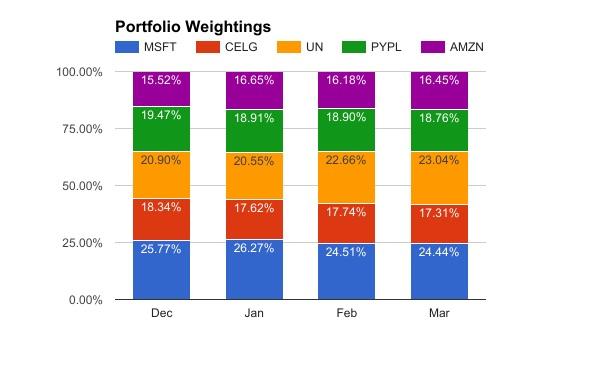 My heaviest weightings are with the less risky Microsoft and Unilever positions. Amazon has the smallest weighting since I believe it could get volatile if it misses earnings estimates over the short term.
I am little concerned that AMZN has had such a strong run in three months. Unilever has had an even better run but started from a low point and is a more fundamentally sound business. CELG and PYPL concern me a little but not in the short term as both are good value on a forward earnings basis to the end of 2017. PYPL in particular has a 6% free cash flow yield to enterprise value alongside 20% revenue growth and a powerful moat. I consider it one of the best value deals in the market today.
I would look to deploy any spare cash into the following stocks if I see value: GOOGL, ADBE, RHT, AAPL, QCOM, INTC, CSCO, EBAY, SAP, FB, HON, UTX, MMM, BRK.B or GD.
Note
The above portfolio is not my only portfolio. I also have a retirement portfolio in a tax deferred account. I practice diversity in this portfolio as well as dividend re-investment. It's far more traditional and conservative.
So I am not fully invested in this concentrated approach.
Disclosure: I am/we are long MSFT, CELG, PYPL, AMZN, UN.
I wrote this article myself, and it expresses my own opinions. I am not receiving compensation for it (other than from Seeking Alpha). I have no business relationship with any company whose stock is mentioned in this article.