One by one, the companies that make up the airline sector have been ridding themselves of the legacy problems that used to plague the industry. First, the airlines have dealt with excess capacity. Once upon a time there were a lot more carriers. For those who can't recall them all, here's a refresher: Delta (NYSE:DAL), American (NASDAQ:AAL), US Air, Northwest, Southwest (NYSE:LUV), United (NYSE: UAL), Continental, TWA, America West, and AirTran. One by one, these companies (almost) all went bankrupt, emerged from bankruptcy, and acquired or merged into each other. Today we are left with Delta, American, United, and Southwest. These four are now in control of nearly 90% of all flights in America, and without all the competition, it has become a lot easier to avoid destructive price wars and to actually make money. Second, the airlines no longer have fuel prices as a major headwind. Delta has gone as far as purchasing an oil refinery to supply its own jet fuel. In addition, debt has been reduced, and selling miles has become more lucrative than selling seats.
One legacy problem that remains for many airlines, however, is their unfunded pension liabilities. Delta has just made a giant leap this year towards resolving this issue once, and possibly, for all. Given the significant improvement in profits that we now have with Delta and the other major airlines, the debt market has become quite favorable to them. Last month, Delta was able to float $1 billion of three year notes at a yield of 2.875% and $1 billion of five year notes at a yield of 3.625%. This just happens to be some of the cheapest debt in the history of the company, as well as being the first unsecured, investment grade debt that the company has been able to issue in 20 years.
The entire $2 billion raised from the debt issuance plus $600 million of cash on hand and $350 million of Treasury shares were all placed into the pension in March. Subsequent to the close of the first quarter, Delta placed a further $610 million of cash into the pension. This combined funding brought Delta's pension contributions to more than $3.0 billion above the required minimums and it completes all mandatory minimum funding requirements through 2024.
However, this does not mean the end of the pension obligation just yet. Delta plans to make $500 million voluntary pension contributions annually for the next three years. This, coupled with a little help from rising interest rates, could allow Delta to permanently resolve its pension obligation. Management recently stated that with all of the new funds in the pension, if interest rates rise 200 basis points by the year 2020, the pension would reach a funded status of 95%. This would allow Delta to offer buyouts or to buy annuity or insurance contracts to indemnify themselves from the pension obligation once and for all.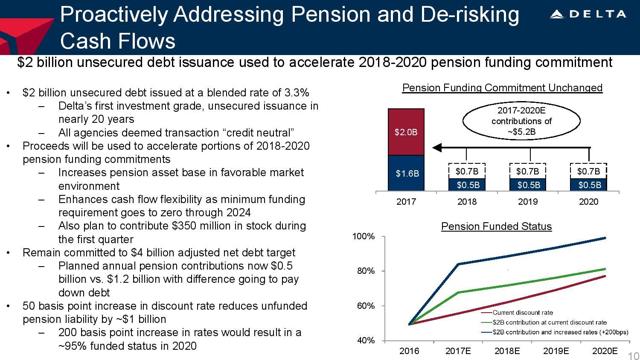 Source: Delta Investor Presentation
Should Delta succeed in resolving this issue, it will be one more step towards completely transforming them from a once uninvestable airline to one where shareholders are greatly rewarded with consistent and dependable distributions of cash. For too many years the long-term shareholders of Delta, as well as almost all the other airlines, were not able to participate in anything more than theoretical value, as the airlines swung wildly from profits to losses. Any cash the airlines actually generated was needed to buy new planes, and shareholders rarely received any cash dividends.
Going forward, Delta is managing for free cash flow. They have $1 billion less in annual interest expenses today than they did in 2009. They have made structural improvements that are driving margins in addition to the benefit of low fuel prices. Delta also now has a fantastic loyalty program with American Express (NYSE:AXP) as a credit card partner. At a recent investor conference, Delta management stated they expect $1 billion of incremental revenue from their partnership with American Express over the next few years. This, as many shareholders are aware, is a very high margin business and one that shareholders should be very thankful for.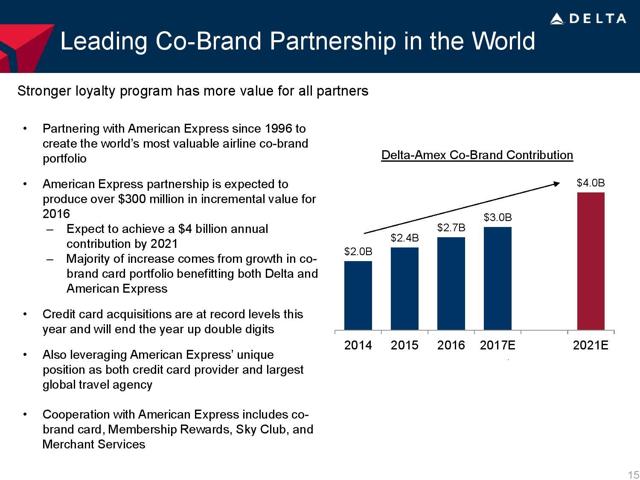 Source: Delta Investor Presentation
With the pension now mostly under control, pension funding will decrease. This will allow Delta to continue to reward shareholders with meaningful increases in cash dividends, as well as share repurchases. Even better, it is highly likely that this will all be achieved while simultaneously reducing debt, upgrading the fleet, and eliminating the pension obligation entirely. To highlight just how serious Delta has been about returning cash, investors should note that in addition to steadily increasing the dividend, Delta has repurchased 18% of its current market cap in just the period between 2013-2016. They have $1.1 billion remaining in their current $5 billion buyback authorization and they expect to complete this by mid 2017. Investors should expect a new buyback to be authorized upon completion of the current one.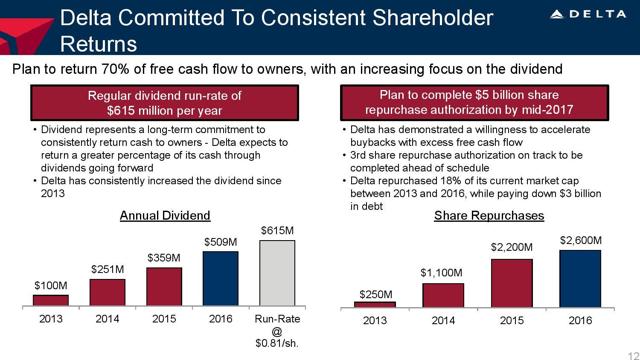 Source: Delta Investor Presentation
The entire airline industry appears to have transformed itself from being the laughingstock of the investing world into very shareholder friendly, consistent cash generators. Delta Air Lines has reduced debt, purchased an oil refinery to help control fuel costs, and finally gained control of its pension liabilities. With the required pension funding greatly reduced going forward, free cash flow should continue to ramp up, allowing the company to flood shareholders with ever increasing dividends as well as share repurchases. They should be able to achieve this all while decreasing debt and upgrading their fleet. It is indeed a good time to be a shareholder of Delta Air Lines, and investors would be wise to buy the shares before all of the remaining skeptics become believers.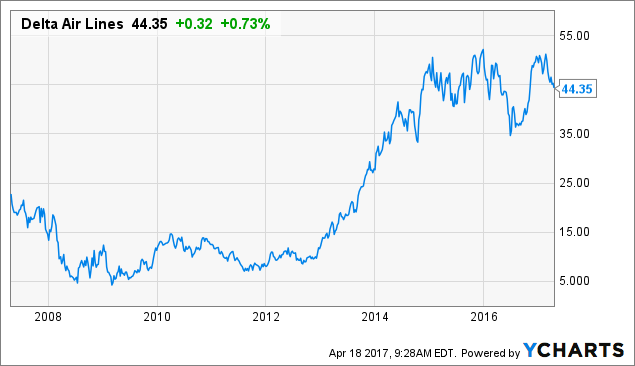 DAL data by YCharts
Disclosure: I am/we are long AAL.
I wrote this article myself, and it expresses my own opinions. I am not receiving compensation for it (other than from Seeking Alpha). I have no business relationship with any company whose stock is mentioned in this article.