When I make initial pilot purchases in a stock, I've often found some of my best winners start increasing within the same day or next few days or weeks. Seeing the green in my account gives feelings of reassurance that I was right; reinforcement of my investing philosophy.
But what about when stocks do the opposite of what we expect? Do we sell immediately, double down in hopes of making more profits on the rebound, or sit on our hands doing nothing? While the first answer most would expect is "if the thesis hasn't changed" hold or buy more, it often isn't that simple. Many times share prices react before material news comes out; if a position is causing you to not sleep well at night or simply bleeding like there's no support to be had, possibly it's time to take a partial loss to lower your position size or sell out altogether.
One such example of this is Intra-Cellular Therapies (NASDAQ:ITCI), a prior idea that has been acting weak while management has failed to meet the time frame it previously gave to investors for communicating feedback from its meeting with the FDA. While the thesis is technically not broken yet and the story still promising, I've told readers who haven't already bought positions to stay on the sidelines until further clarification is given. Sure, that removes some of the upside in the event of a positive discussion, but, at the same time, it keeps them from taking unnecessary risks until we have key information on the company's future.
In the past couple weeks, I've been answering reader questions regarding other prior ideas I've published on this medium, specifically whether or not these stocks were still "buyable". Below, I present three current losers that I believe could still turn around:
Stock #1: Aduro Biotech (NASDAQ:ADRO)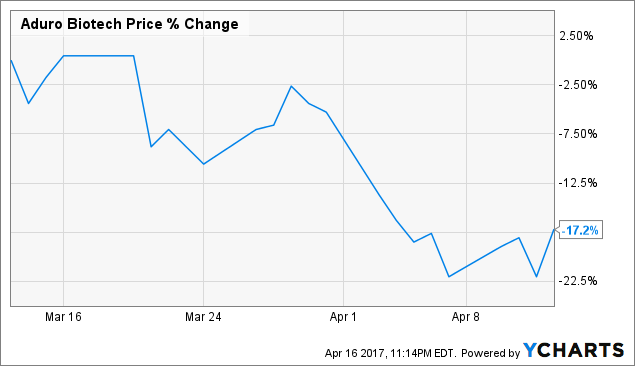 My original thesis for buying this stock was based on a run-up into three data readouts in the second half of the year while I saw longer-term potential in the company's STING platform for which Novartis (NYSE:NVS) paid $200 million upfront and is on the hook for $500 million in milestone payments. Disappointing mid-stage data for lead candidate CRS-207 in pancreatic cancer negatively impacted share price in May of last year, and I asserted I was cautiously optimistic on candidate CRS-207 in mesothelioma.
However, the big draw for me was and is the STING platform, for which preclinical results showed prolonged survival in mice with acute myeloid leukemia and resulted in massive immune responses that one researcher remarked he'd never seen before. Also seen in preclinical results, combining STING candidate ADU-S100 with anti-PD1 resulted in complete eradication of local and distal tumors.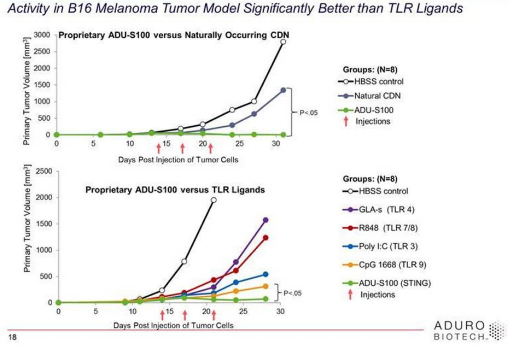 Figure 2: Encouraging preclinical data
Source: Corporate presentation
If anything I consider the thesis strengthened, as it appears we might see data earlier than anticipated, involving a phase 1 trial for cutaneously accessible tumors with scheduled readout in the second half of the year. The anti-PD1 combination trial is planned to be initiated in the second half as well. The company still has around half of its market capitalization in cash and a deep pipeline with several promising assets.
Risks include disappointing data and clinical setbacks, with investors needing to keep in mind that the company has hit roadblocks in the past in the form of a partial clinical hold after a cancer patient tested positive for listeria.
Stock #2: Eiger BioPharmaceuticals (NASDAQ:EIGR)
EIGR data by YCharts
Eiger is the story of a tiny biotech firm with decent cash reserves, an intriguing HDV program, and several key data readouts coming up. I wrote that it was my strong belief that shares could run up significantly into these events, starting with the HDV lonafarnib end-of-study data in late April. Several key institutions I follow are in on this one as well, including RA Capital and Perceptive Advisors.
The thesis appears unchanged to my eye. Management still expects lonafarnib to be utilized either as a curative or chronic therapy, with prior studies demonstrating a dose response correlated with decreases in viral load. This might be a good case study of how cheap can always get cheaper, how no matter how sure you are of finding a great stock idea with near- or medium-term catalysts, it's important to limit your position to an appropriate size. I'm not the only one finding this stock attractive, as Piper Jaffray recently set a $36 price target on shares in light of the upcoming 48-week data on three phase 2 studies.
Stock #3: Spring Bank Pharmaceuticals (NASDAQ:SBPH)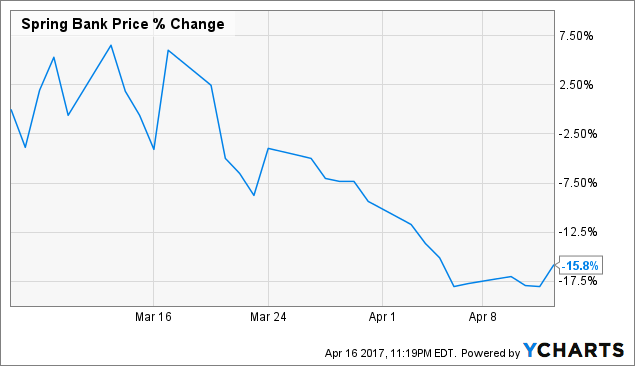 SBPH data by YCharts
On March 6th, I called Spring Bank Pharmaceuticals a potential winner in the hepatitis B market, noting that savvy management had already taken steps to partner with other compounds showing potentially complementary mechanisms of action, including Arrowhead Pharmaceuticals' (NASDAQ:ARWR) ARC-520 and Arbutus Biopharma's (NASDAQ:ABUS) AB-423. The company has a lofty goal of positioning its lead asset SB 9200 as a potential backbone immunomodulatory therapy for HBV treatment. Initial results are coming in the first half of the year for the low dose cohort, with results for higher dose cohorts coming in the first half of 2018.
As far as potential for the treatment, we pointed to the figure of 240 million patients worldwide with 14 million in the US and Europe, while GBI Research analysts believed that the HBV market could grow to $3.5 billion by 2021. With only 12% to 15% of patients in the US and EU being treated currently (around 1% in Asia Pacific region), an innovative therapy could revolutionize and grow the market. As a kicker, the company also has SB 11285, a novel STING agonist with an IND submission coming in mid-2018. Aduro received its big deal with Novartis at the preclinical stage, so it's always possible hidden value could be unlocked with this asset at some point in the near to medium term as well.
Important risks include the downside to targeting the hepatitis B market such as its current modest growth rate and low diagnosis rates as patients many times do not present symptoms. Additionally, some analysts might provide a contrary view to Spring Bank's management that current drugs are serving the needs of many patients and generic competition will be a major concern. I also noted that investors can expect dilution by year end and that the pipeline is highly concentrated.
Author's note: My goal is to identify undervalued stocks for my readers with favorable risk/reward profiles and catalysts that could propel shares higher. I categorize ideas into near-term, medium-term (months to a year), and long-term (multi-year), based on when I expect outperformance to potentially occur. I also highlight for myself and fellow investors intriguing dividend picks for my 20/20 model income portfolio. If that interests you, consider clicking the follow button at the top of the article, next to my name. For my real-time followers, on my blog I also post bi-weekly watch lists to discuss names on my radar and fielding your suggestions, as well as occasional market/sector overview pieces and interviews with corporate management.
Disclosure: I/we have no positions in any stocks mentioned, and no plans to initiate any positions within the next 72 hours.
I wrote this article myself, and it expresses my own opinions. I am not receiving compensation for it (other than from Seeking Alpha). I have no business relationship with any company whose stock is mentioned in this article.
Editor's Note: This article covers one or more stocks trading at less than $1 per share and/or with less than a $100 million market cap. Please be aware of the risks associated with these stocks.