The major air carrier United Continental Holdings, Inc. (NYSE:NASDAQ:UAL) made headlines last week when its staff had passenger Dr. David Dao forcibly removed from a flight. The video of the incident sparked outrage throughout the world. At the time several news agencies claimed that the public uproar had caused United's stock to drop. TIME claimed that UAL plummeted after the video went viral. CNN.com wrote that the stock fell 4% and lost $1 billion in market value. And Fortune claimed that Warren Buffett and other famous investors lost millions as UAL's stock fell. It all makes for a good story, but do the facts bear out the claims that UAL's stock collapsed? Let's look at the stock chart and see if any of these news stories actually hold water.
Stocks Charts Show that UAL Continues to Move Sideways
We'll start with a monthly chart of UAL to see how it's trending in the long term. The chart shows that the stock ran up nicely to a new all-time high during the Trump rally. Then it moved sideways and stepped back a little bit. Overall it looks like it could form a top, but so far sellers haven't managed to move it down below the $64 level.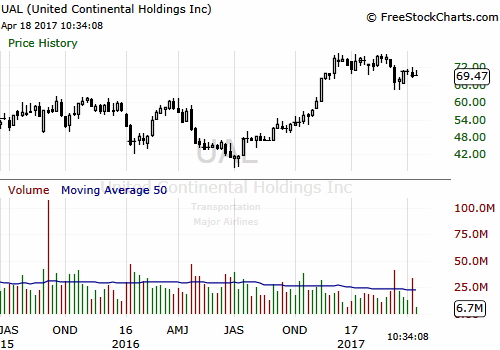 Figure 1: Weekly Chart of UAL. Chart provided by FreeStockCharts.com.
Next, let's consider the daily chart. The daily chart shows that UAL consolidated between $72 and $69 in the days before the passenger removal incident. Then on April 11th, the day after the videos of the incident went viral, UAL's stock plummeted at open. But it only dropped a little beyond $69 before running right back up. The United Airlines mishap didn't really impact the price action of the stock at that time. It's been moving up and down within 4% of it's value, and continues to do so. It just goes to show that you can't always trust the press for stock news.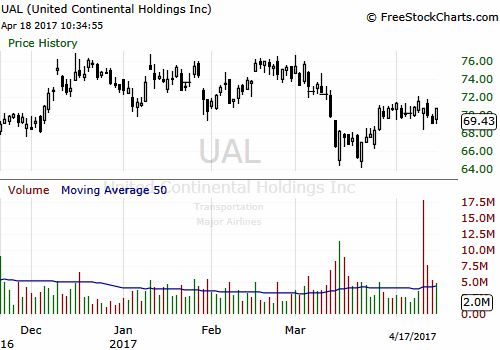 Figure 2: Daily Chart of UAL. Chart provided by FreeStockCharts.com
We can get a better idea of what happened by looking at the 10 minute chart. We can see a huge volume spike and a big drop in price at the start of the day, indicating panicking investors and high frequency traders selling the stock down on the previous day's news. Then the stock slowly clawed its way back up throughout the rest of the day. UAL continues to consolidate in the $69-$72 range. Somebody really likes this stock and wants to continue buying it.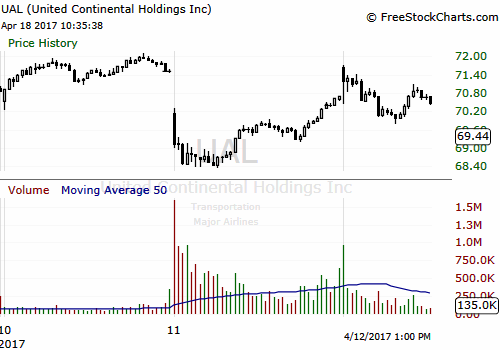 Figure 3: Chart of UAL from 4/11/17 on 10-minute scale. Chart provided by FreeStockCharts.com.
What Does the Future Hold for UAL?
United's stock seems to have settled down, but public outcry hasn't. People are rightly outraged over the treatment of Dr. Dao. We heard from the doctor's lawyer that he had two teeth knocked out and will require reconstructive surgery. United's treatment of Dr. Dao was horrific and inexcusable.
Needless to say, this has been a public relations nightmare for United Airlines. People didn't have a very favorable view of United to begin with, but now United has become the most hated airline in the world. And CEO Oscar Munoz hasn't helped things. First, he released a statement that supported his employees and seemed to put the blame on the passenger. A day later he tried to do damage control in an interview with ABC News. But when ABC correspondent Rebecca Jarvis asked if Dr. Dao was to blame, Munoz actually paused for a moment before responding, "No, he can't be." Munoz's handling of this crisis has been pathetic. He should have apologized right away, taken responsibility, and sworn to change company policy so this won't happen again. United's board should fire Munoz for his incompetence.
Now there are growing calls to boycott United Continental. It's too soon to tell if these boycotts or public disgust with the company will impact United's revenues. Any financial impact should start to show up in the company's 2nd quarter earnings report. If United can quickly take steps to improve its public image, it may mitigate any damage to its bottom line. So far the bad press and social media outrage hasn't significantly impacted the UAL's price yet.
The Passenger's Lawsuit
But there's also the looming lawsuit to consider. Dr. Dao has hired a lawyer and is moving forward to sue United. This is bad news for United for several reasons. First, it will keep the incident in the mind of the public for several more months. So it will also continue to generate bad press for the United. Second, it becomes a distraction for United's senior management. The lawsuit will keep them from focusing on their job of running the company. Lawsuits are always bad for a corporation, and usually result in their stock dropping. The same thing could happen to UAL once the lawsuit is filed.
Conclusion
So far United Continental's recent troubles haven't impacted its stock price significantly. It continues to consolidate at its current level. But there are storm clouds on the horizon. The damage to United's image and a pending lawsuit could cause UAL to turn down in the near future. If I were holding shares of UAL, I would strongly consider selling while I still could.