Thesis
IBM (NYSE:IBM) posted a 52 week high price of $182.79. It is, at this moment, trading at $160.50, 12% off the high. I believe the company presents a good entry point for the long term investor at these prices. I believe IBM has a place in a dividend income portfolio. I believe that IBM is positioned well to take advantage of a few long term trends.
The Case For IBM
IBM does trade at an attractive valuation. The company's P/E is just under 13 at 12.9 and Forward P/E is 12. This implies some growth for the company. It is worth noting that IBM trades at 2x sales and 8x book value.
IBM suffers in the growth category. Profit has been on the decline. Earnings have been on a decline as well. Gross Profit and Diluted EPS over the last ten years is shown in Figures 1 and 2. It is obvious to see the hiccup that has been happening over the past couple years.
Figure 1: IBM Gross Profit 10 Yr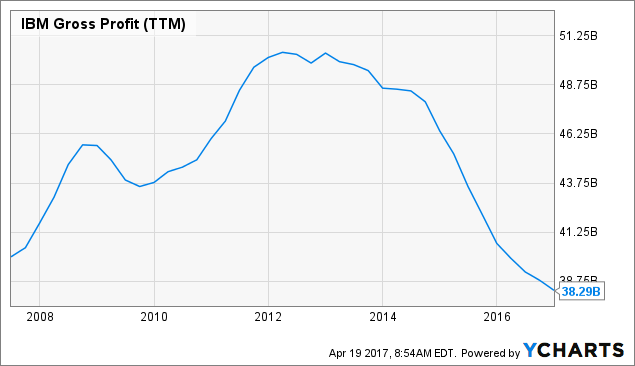 IBM Gross Profit (TTM) data by YCharts
Figure 2: IBM Diluted EPS 10 Yr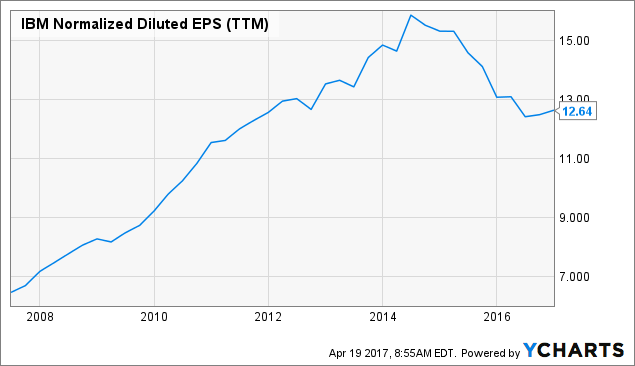 IBM Normalized Diluted EPS (TTM) data by YCharts
But is there potential for IBM to turn things around? I believe that the case for IBM in the long run is solid. I'll start by reviewing today's earnings report. I will reference the earnings call transcript found here. The biggest driver, in my opinion, is the cloud. Cloud offerings were up 35% this quarter; led by cloud as a service, which was up over 60%. I believe that growth will continue in all things 'cloud'. I believe that multiple companies across multiple industries will begin to utilize the cloud more and more. IBM is the global leader in enterprise cloud and they'll hold on to that, that is my opinion.
IBM is also a big player in the whole craze surrounding artificial intelligence and machine learning. IBM has made some extremely valuable partnerships including VISA, H&R Block, and Salesforce. IBM and Visa are working together to turn connected devices into points of sale. IBM and H&R are helping nine million tax filers (and almost certainly reaping troves of data off them). For more information on partnerships check out the earnings call or some of IBM's Investor Presentations. I believe they position IBM well for future growth.
I like IBM's dividend too. With a current yield of 3.21%, IBM is a pretty solid addition to a dividend income portfolio. I am more than happy to sit back and collect this dividend while the company's long term bets play out. The dividends paid per share over the past ten years is shown in Figure 3. Another benefit of having plenty of cash is that IBM can buy small companies that make breakthroughs in cloud, AI, or machine learning technology. Sometimes it is good to be the big guy.
Figure 3: IBM Dividends Per Share 10 Yr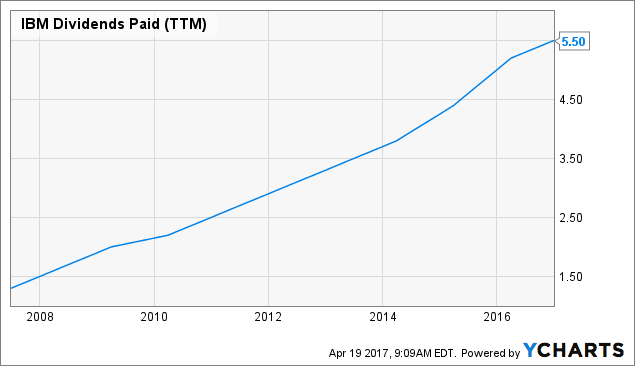 IBM Dividends Paid (TTM) data by YCharts
Risks
There are plenty of risks associated with the company. First is the risk that IBM has fallen out of favor among the tech industry. They're big, old, boring, not exciting, not Google, the list goes on. The recent decline in profit and earnings could prove to be a long term trend. The company may be starting a long bleed out that will end with its death. It may be a value trap, luring investors in with a low P/E and a high dividend only to continue to fail. This is, in my opinion, the biggest risk. However, I think it is unlikely given the company's long term plays. I view the current downtrend as a result of investing in the future of the company. Sacrifice short term profits for long term rewards.
IBM also has a lot of debt. It is spread out across a huge variety of maturity dates and interest rates. However, most of it is fairly cheap. If IBM needs more going forward, as rates rise, it will almost certainly be more expensive. Current debt/equity is 229% which is a lot more than I typically like to see. Interest on the debt is well covered by earnings and operating cash flow is greater than 20% of the debt. It is not a deal breaker at this point, but I would keep a watchful eye on the debt level and rates IBM is paying.
Final Thoughts
I believe there are multiple reasons to buy this dip in IBM. I believe that the company is investing in the long term and that is dragging down share price. I believe there are multiple growth trends that will benefit IBM in the long run. I am more than happy to collect the more than 3% dividend while the company's long term bets play out. I believe IBM to be a good investment for the long term and I believe this is a dip that should be bought.
Disclosure: I/we have no positions in any stocks mentioned, but may initiate a long position in IBM over the next 72 hours.
I wrote this article myself, and it expresses my own opinions. I am not receiving compensation for it (other than from Seeking Alpha). I have no business relationship with any company whose stock is mentioned in this article.