Canam (OTC:CNMGF) is a Canadian specialty construction company which produces steel structures. These include everything from the steel portions of bridges and overpasses to the steel structure of the Atlanta Falcon's new stadium, as well as many other smaller jobs each year. The company is based in Canada and reports in that currency (as well as trading in Canada under they symbol TSX:CAM), so all figures in this report will be in that currency. It is worth noting that the company had 69% of their backlog in the USA at the end of 2016, so the majority of their business is not exposed to fluctuations in the Canadian dollar.
The company has made a very poor showing in 2016, which has dramatically affected their share price. The company has generally had fairly consistent business performance, with two significant exceptions as can be seen in graph below.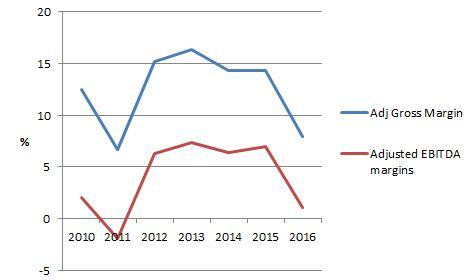 Source: Company filings, author's analysis
The drop to negative EBITDA in 2011 was caused by cost overruns on the reconstruction of BC Place, a multi-purpose stadium in Vancouver, Canada. That being said, the company was able to recover from that, and their gross and EBITDA margins were remarkably stable for the next four years. However, in 2016, another big project went off the rails, although analyst speculation is that it is either the aforementioned Atlanta Falcons stadium or the Arthur Ashe tennis stadium. Either way, the company has once again wrecked an entire year's results over a prestige project. However, given they were able to recover from a similar issue 6 years ago and enter a period of stability, it seems reasonable to assume they can do so once again.
One reason I am especially optimistic is that on their most recent conference call, the company announced they would no longer be taking on large complex structural projects under current market conditions. Their reasoning was that they weren't confident of achieving a predictable economic outcome given the human, material, and financial investments required for large scale projects. While this reduces the size of their addressable market, it also reduces the risk inherent in these projects. Aside from their unnamed project where they took a large loss, the company completes around 10,000 other projects a year, and they have indicated the vast majority are profitable. Given 2012-2015 did not have a significant amount of stadium or prestige project work (as not many were approved during the great recession and there is a lag before they get to the steel structures), they should be able to return to their previous levels of profitability.
Market Outlook
Another qualitative reason to expect results to remain strong is the current state of the non-residential construction market.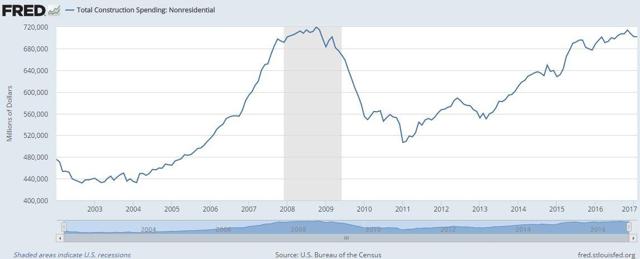 Source: St Louis Federal Reserve
As you can see from the chart above, the non-residential construction market is only just recovering to where it was at the start of the Great Recession. That suggests that under current market conditions, it should be extremely reasonable for the company to earn as much as they did in 2015. I will assume 2015 level of earnings going forward, even though construction spending is higher than in 2015. This allows for some conservatism in the analysis, even though I am projecting an earnings turnaround. Canadian construction markets have been roughly flat, with non-residential building permits between $30-$34 billion the last 5 years.
It is worth noting that they earned $48 million in 2008, slightly in excess of the $47 million figure they earned in 2015, so at current construction spending levels that appears to approximately the earnings level the business can be expected to produce. Also, the company had EPS of $0.40 in 2012, the year after their 2011 stadium job debacle, so there is a history of them recovering reasonably quickly. Also, they had more shares outstanding at the start of 2012 than they do now, so EPS would be higher on the same earnings all else equal, which brings me to my next point.
Opportunistic Buybacks
One factor that is underrated for enriching shareholders through capital allocation is the timing of buybacks. While many shareholders are always in favor of buybacks (after all, they own the stock so it must be undervalued), management teams can add a a material amount of valuing by purchasing stock at low prices. Canam has a surprisingly good record at that, which I would suggest speaks well to management's capital allocation abilities.
In the last 15 years, the company has bought back stock on three occasions. During 2008/2009, they bought back 4 million shares. It should surprise no one that the stock was down then. In 2011, they bought back another 3.2 million shares at an average price under $4. They borderline bottom-ticked the market there, and the stock subsequently went as high as $15. The company has once again started buying back stock and has bought back 2.2 million shares so far since Q1 2016, at an average price of $10.34.
That suggests that management believes the company is undervalued, and they have a history of being right about that. Also, there is material insider ownership here, with the founding Dutil family (including the chief executive) owning approximately 12% of the outstanding stock. That gives them a rather strong incentive to buy low with respect to the company's stock. I would suggest there is material signalling value to this buyback given their history.
Finally, they have a relatively strong history on the sell side of their shares as well. They have made a number of tuck-in acquisitions over the last few years, which always seem to be cash purchases. Additionally, they issued shares as part of a convertible debenture, which had a strike price of $12, compared to the current share price of $6.44. They sold the convertible in 2010, and then bought back shares in 2011 below $4. Given how good their timing has been on buybacks in the past, I would suggest the fact they were willing buyers at $10 bodes well for the future of those who buy under $7.
Management Alignment and the Kitchen Sink
I quite like the structure of their management compensation, which I believe is well designed and adds to management alignment. The company does not issue stock options, instead awarding management bonuses based on return on equity and pre-tax earnings targets. This demonstrates the same strong capital allocation I mentioned above, and incentivizes management to focus on strong metrics. It also has the effect of making management compensation counter-cyclical, with no bonuses paid to the CEO and CFO for 2016, which helps cut costs when results are poor, aside from the obvious messaging benefits.
That being said, the company's bonus structure makes them even more likely than the average public company to undertake a "kitchen-sink" year. That euphemism refers to loading a bad year (or often even quarter) with a bunch of write-downs, instead of spreading them all over time. That gets the bad news out of the way all at once. Because this year was going to be a loss-making one, the company's ROE was <10% and earnings before tax were negative, which meant the CEO and CFO wouldn't qualify for a bonus. But by pulling costs forward, they may be able to make future periods look better, thereby earning bigger bonuses. This type of manipulation isn't something I am a big fan of, and I can't prove that is what they were thinking. That being said, along with the write-down of the major product, they also other actions to put losses into 2016. One example is they reduced the discount rate on their pension plan, which increases the estimate of future pension costs, adding to the loss in this year, and potentially setting the stage for them to book a gain in a future year. That suggests at least a possibility of 2017 having better than expected results, especially if they did that with other expenses (accrued more expenses in December 2016).
Backlog
Another reason to expect a better 2017 is the company's reported backlog, which their annual report indicated was $1,139 million at the start of the year. That was 3.7% down from their backlog at the start of 2016, but still exceeded materially the $1,007 million backlog they had at the beginning of their record-setting 2015 year. Thus, my previous assumption that the company should be able to reproduce their 2015 earnings doesn't seem unreasonable based on backlog.
The other interesting piece of information about their backlog is that it is down to less than ten percent large scale jobs (US bridge and heavy projects), as compared to thirty percent a year ago. That should allow the company to have a more consistent margin profile, more consistent with their previous margins, prior to the issues with the mega projects. Another comment (from the annual report this time) that I believe portends a return to previous margin levels is:
In all of its U.S. markets, FabSouth benefitted from the high level of non-residential construction activity. This allowed it to be more selective in the projects it took on, maximize the use of its facilities and support its revenue growth.
Thus, it appears the strong non-residential construction market has allowed the company to replace its mega-project exposure with smaller and more predictably profitable jobs. Given this backlog is better than 2015, and more than double that of 2014, it portends a strong showing in 2017.
Valuation
This is a very old economy business. They take steel pieces, and make steel buildings, structures, and bridges out of them. The business is asset intensive, they have lots of big physical pieces of inventory, and use lots of big buildings and big equipment to do their work. Thus, the business is very asset intensive. That being said, they have consistently earned reasonable though not spectacular returns on the equity they have used to purchase all those assets.
I would suggest a business like the one I've described should trade right around book value. In fact, in better times (the beginning of 2014) they traded over 1.5X book value. The current book value is $12.40 per share, nearly double the current share price.
That being said, an earnings approach is also extremely relevant here. I have estimated that the business should be able to return to its 2015 earnings of $46.8 million. Applying a 10X multiple to that earnings is reasonable. The business is cyclical, and the earnings estimate I'm using implies a turnaround from a poor 2016, so using an earnings multiple well lower than the market is appropriate. That suggests a value for the business of $468 million, or $10.32.
Conclusion
On their conference call, the company has indicated they are open to strategic options for their various divisions and plants, which could allow them to sell some divisions if necessary. The company is relatively well shielded from any border-tax or buy American issues, with the majority of its plants located in the US, even though they are headquartered in Canada. The company should be able to release working capital in the upcoming quarters as those big projects finish up, which helps the balance sheet and gives them some runway to finish a turnaround.
This is an old economy business that had a bad year. That being said, none of their assets became obsolete during that bad year, and a buyer at the current price gets them at a discount to asset value as well as my estimated earnings value. My price target of $10.32 CAD equates to $7.71 USD for the OTC shares.
Disclosure: I/we have no positions in any stocks mentioned, but may initiate a long position in CNMGF over the next 72 hours.
I wrote this article myself, and it expresses my own opinions. I am not receiving compensation for it (other than from Seeking Alpha). I have no business relationship with any company whose stock is mentioned in this article.