The drug development process - from inception to approval - typically takes 10 to 15 years and can cost over $2.5 billion. Speeding up a drug's time to market, even by a couple months, not only keeps costs in check, but can translate into millions of dollars in additional revenue. Given this monetary incentive, drug makers are increasingly outsourcing their R&D to contract research organizations, or CROs, which can do the job cheaper and faster than they can. One of the world's largest CROs, and the focus of this report, is ICON (NASDAQ:ICLR).
Business Overview
Founded in 1990, ICON's core business is the planning, management, execution, and analysis of Phase I to IV clinical trials, ranging from small projects to complex, multinational mega-studies. This business, particularly the late-stage Phase III and IV business, which accounts for well over half the company's revenue, benefits from substantial competitive advantages:
Phase III trials usually require thousands of patients and frequently take place across many geographic locations. The sheer scale of these studies limits competition to an oligopoly of large CROs. In addition, ICON's access to enormous patient datasets through key partnerships and established relationships with trial sites allow the company to more quickly enroll patients than a smaller competitor.
Contracts are awarded based on a CRO's brand and reputation, giving an additional advantage to established players like ICON. Considering that even the slightest error or abnormality in a clinical trial can cause regulators to reject a drug or require a new trial, drug makers want to see a long and successful record from a CRO before putting the future of a potentially multi-billion dollar asset in its hands.
Large (and more recently medium-sized) drug makers have shifted from outsourcing clinical research on a project-by-project basis to partnering with one or two CROs to handle their entire pipeline. These partnerships have led to longer contracts and bring CROs deeper into each client's drug development process, creating stickier relationships and higher switching costs. This is why many clients have been with ICON for over a decade. Pfizer (NYSE:PFE), its oldest as well as largest client, has been with it for 27 years.
R&D Spend and Outsourced Share are Key Growth Drivers
Through a combination of small synergistic acquisitions and organic growth, ICON's revenue has increased from $45 million in 1998 (earliest available data) to $1.67 billion in 2016 - an 18-year CAGR of 22% (or ~12% on an organic basis). Though over time this growth has naturally decelerated as the company has grown larger, it's still above the industry average of 5-7%. That said, future growth should remain robust: excluding potential M&A, I expect ICON's top line to grow ~7% CAGR over the next several years, driven by favorable outsourcing trends.
To understand these trends, consider that drug makers spent an estimated $145.1 billion on R&D in 2016. Excluding costs that don't get outsourced, the portion directly addressable by CROs was $74.5 billion. Of this, less than half - or only $33.9 billion - was actually outsourced. As shown in the table below, this is expected to grow 5.6% annually, reaching $41.2 billion by 2020. On a segment basis, late-stage clinical trial outsourcing is expected to grow 5.8% per annum. Moreover, the complex clinical trial outsourcing sub-segment (not broken out below) is projected to grow at 10+% annually, which will greatly benefit ICON given its significant revenue concentration in this area.
In fact, depending on the quarter, one-third to nearly one-half of ICON's new trials come from oncology (i.e., tumors and cancer). These studies require more complicated and longer duration testing protocols than other disease indications. Given that only PARAXEL (NASDAQ:PRXL), INC Research (INCR), and a few other CROs have complex trial design expertise, demand for ICON's services should remain robust for the foreseeable future. As a result of these factors, I expect the company's growth to slightly outpace overall industry growth going forward.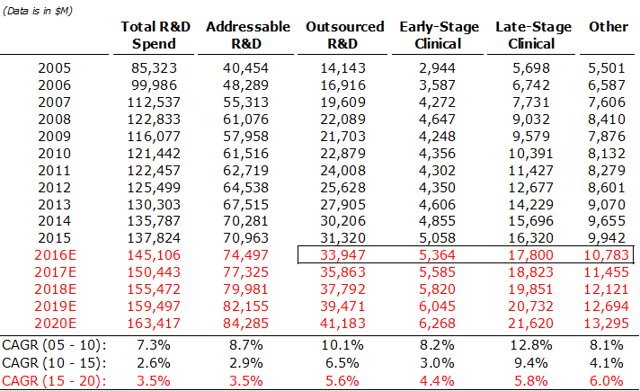 Notes: "Early-stage clinical" includes Phase I and IIA. "Late-stage clinical" includes Phase IIB, III, and IV. "Other" includes pre-clinical (i.e., animal and lab testing), which is done prior to clinical testing, as well as several other smaller outsourcing services provided by CROs.
Sources: A North Investments and Jefferies
Industry Leading EBIT Margins with Additional Expansion Potential
Late-stage clinical research is a relatively asset-light business. Unlike pre-clinical trials and some early-stage clinical trials, which typically involve extensive laboratory and animal testing, late-stage human studies require relatively minimal infrastructure investment. ICON essentially serves as a consultant, advising and helping its clients plan, set up, run, and evaluate their trials. Given this, it's easy to understand why ICON is so profitable.
In fact, its EBIT margin hit a record high 18.7% in 2016; excluding a one-time $8.2 million restructuring charge, it was 19.2%. In contrast, the industry median EBIT margin is just ~12%. Even most so-called "high-margin CROs" rarely break the 15% barrier. This margin discrepancy between ICON and its peers should continue to widen over time. A 20-22% EBIT margin is a very conservative long-term target, assuming the company continues successfully leveraging its costs over a growing top line.
Risks: Cyclical R&D Spending, Customer Concentration, Potential Acquisition Integration Problems
All investments come with some level of risk, and ICON is no exception. Here are the key risks to consider before investing in this stock:
CROs are sensitive to changes in global R&D spending rates and the outsourcing decisions of drug makers. This can cause big swings in earnings based on stages of the demand cycle, as we saw in the late 2000s and early 2010s. CROs made massive investments in 2007 and 2008 to open new research facilities, but by the time they came online, demand was falling, resulting is a huge oversupply of facilities.
Though ICON has over 800 clients, the top 25 accounted for 75% of revenue in 2016. Pfizer, its largest client, accounted for 26% of revenue. As a silver lining, Pfizer's contribution is now expected to be 15-17% of total revenue going forward, which reduces ICON's customer concentration risk substantially.
I estimate that 40-50% (or 5-7% per annum) of ICON's future revenue growth will come via acquisitions. While the company has a solid track record of successfully integrating past acquisitions, future ones might not go smoothly; any missteps could significantly hurt its financial condition and stock price.
Share Offer Substantial Upside
With an enterprise value to EBIT (or EV/EBIT) of just 13X, compared to 27x for the median peer, ICON is one of the cheapest CROs available at the moment. Though a small discount can be justified to account for the ICON's significant customer concentration, the current 50+% discount is absurd as it completely ignores the company's robust growth prospects, industry-leading margins, and numerous competitive advantages (e.g., global economies of scale, barriers to entry, customer switching costs, etc.). Taking both the positives and negatives into consideration, I believe ICON can comfortably support a 20x EV/EBIT multiple (a ~25% discount to peers). This translates to a fair value of about $115.70/share, which represents over 50% upside from recent price levels.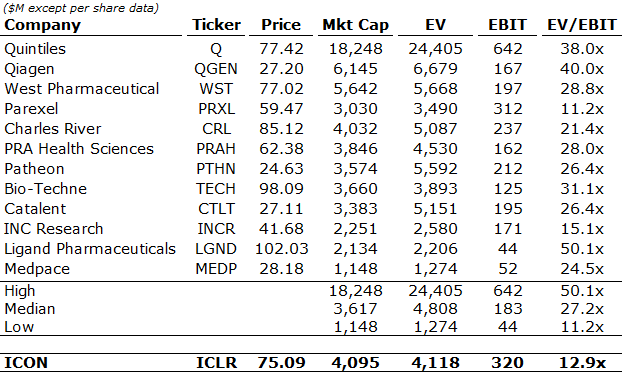 Notes: 1) EV = market cap - cash and short-term investments + total debt (including capital leases) + preferred stock + minority interest. 2) EBITs shown exclude "non-recurring" items. Costs that appear on the income statement year after year don't get excluded. For instance, most CROs, ICON included, drive a portion of their annual growth via acquisitions, meaning their acquisition-related costs are "recurring" and hence aren't added back to EBIT.
Sources: A North Investments, company reports
Conclusion
To conclude, ICON is uniquely positioned to deliver low-teens EBIT and revenue growth on the back of favorable R&D outsourcing trends and acquisitions. Patient investors who buy below $80/share are likely to reap substantial long-term gains. Valuation points to upside of 50+% over the next 12-24 months.
This article is part of Seeking Alpha PRO. PRO members receive exclusive access to Seeking Alpha's best ideas and professional tools to fully leverage the platform.
Disclosure: I am/we are long ICLR.
I wrote this article myself, and it expresses my own opinions. I am not receiving compensation for it (other than from Seeking Alpha). I have no business relationship with any company whose stock is mentioned in this article.
Additional disclosure: Although ICON is domiciled in Ireland, it reports its results in U.S. dollars and uses GAAP accounting.