Introduction
The purpose of this article is to review my investing progress in the first quarter of 2017, which marks the start of my sixth full year as a dividend growth investor. I follow a value-oriented dividend growth investing strategy that involves buying attractively valued stocks of companies that consistently pay and grow their dividends. I have two long-term goals:
Build a sustainable and rising dividend income stream that beats inflation.
Preserve and grow my capital by attaining a satisfactory total return on my investments.
I also have three short-term goals for 2017, as discussed in my annual review for 2016:
Invest a total of $25,000 in new capital.
Reach a forward 12-month dividend total of $7,500 by the end of the year.
Keep transaction fees to an average of 0.4% (or less) of my total costs.
In this article, I will provide an update on my progress toward achieving these goals. As always, I will be presenting real results from a real portfolio involving real money.
Input To The Machine
New capital represents the input to my dividend growth machine and allows me to buy stocks. The figure below shows quarterly contributions of new capital to my investment accounts since 2012: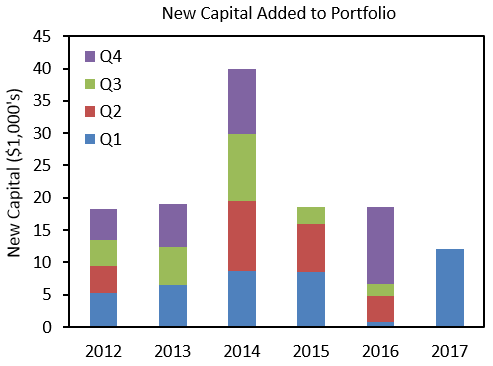 I contributed $12,000 in new capital during Q1 (of which $5,500 went into my Roth IRA), setting me nearly halfway toward my goal of $25,000 for the year. However, my contributions will taper off substantially in Q2 and Q3 as the academic year draws to a close and I enter the summer period in which I am not paid. (I work as a professor at a university where my salary is paid during the academic year. I will continue to apply for research grants that would provide summer salary.) Thus, I anticipate my Q2 and Q3 contributions will look similar to what they were in 2016, followed by a rebound in Q4.
Parts Of The Machine
Dividend growth stocks represent the parts of my dividend growth machine. The table below shows the composition of my portfolio at the start and the end of Q1 2017, with various changes highlighted.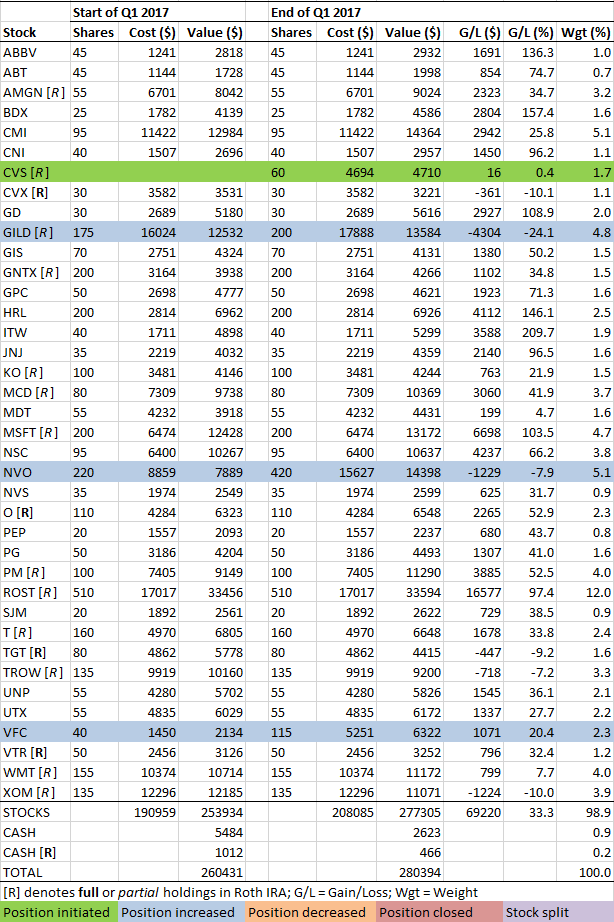 A breakdown of all transactions is provided in the following table: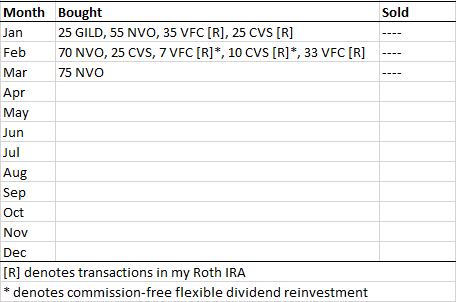 Below I will briefly discuss my portfolio decisions:
In summary, I made eight purchases (not counting two small dividend reinvestments) and zero sales during Q1, keeping with my desire to have low portfolio turnover. Transaction fees averaged 0.33% of my total costs, consistent with my stated goal of 0.4% or less.
Besides adding or removing parts from my machine, I want to make sure all the parts are running smoothly. I monitor the operating results of my companies and stay on the lookout for dividend increases (or decreases). Thus far in 2017, there have been dividend increases for 18 of the 38 stocks in my portfolio. The mean and median increases have been 8.2% and 6.3%, respectively.
Output Of The Machine
Dividends and capital gains represent the output of my dividend growth machine, all of which is selectively reinvested when sufficient funds are available. As mentioned earlier, my primary long-term goal is to build a sustainable and rising dividend income stream. The figure below shows the dividends I have received.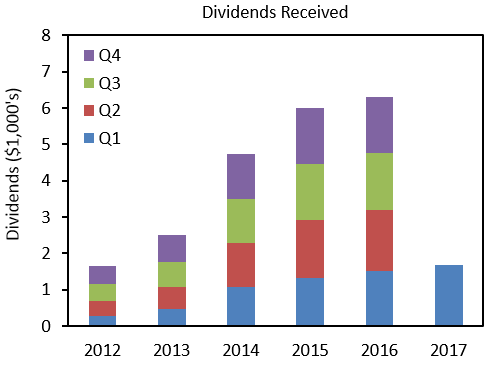 I received $1,680 in dividends in Q1 2017, which is a 10.7% increase over the $1,518 that I received in Q1 2016. The increase reflects a combination of organic dividend growth, selective dividend reinvestment, and new capital investment. At the end of Q1 2017, my forward 12-month dividend total was $7,297, and I am on track to reach my goal of $7,500 by the end of the year.
My secondary long-term goal is to achieve a satisfactory total return on my investments. The figure below shows end-of-month portfolio values and the cumulative amount of new capital added since the start of 2012.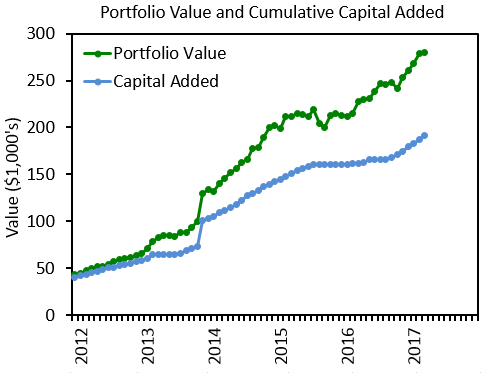 My portfolio increased in value by nearly $20,000 in Q1 to finish at $280,394 (an all-time high), although a large chunk of that increase reflects new capital. My portfolio's return (adjusted for new capital) trailed the S&P 500 index, but I do not pay much attention to relative returns for a single quarter, especially given that I have been mostly buying healthcare stocks that are out of favor.
For completeness, I will also summarize the investments outside of my dividend growth machine. I participate in two retirement plans with my employer, for which I have allocated 100% of all contributions to the Vanguard Institutional Index Fund (MUTF:VINIX), which tracks the S&P 500 index and has an expense ratio of 0.04%. The combined value of both plans was $57,686 at the end of Q1. I also have a Health Savings Account to which I contribute each year and it ended the quarter with a value of $11,238.
Outlook For Q2 2017
New capital contributions will be reduced in Q2 as I set aside money to cover expenses during the summer. I made a good-sized contribution at the start of April, but that might be it until September. Consequently, there will not be many purchases in Q2, and I currently do not have any sales planned. It is notable that I seem to be one of the few "long-term" dividend growth investors here at Seeking Alpha who has not sold a stock in 2017. Now that I am in my sixth year of this investing strategy, I find myself more patient and comfortable with my portfolio, and I think that bodes well for my future returns. Good luck with your investing and thanks for reading!
Disclosure: I am/we are long ALL STOCKS LISTED IN THE PORTFOLIO TABLE.
I wrote this article myself, and it expresses my own opinions. I am not receiving compensation for it (other than from Seeking Alpha). I have no business relationship with any company whose stock is mentioned in this article.