In the realm of biopharma, a few solid rounds of venture funding may spur an idea that micro and a new start-up may turn out to be a conspicuous player, while initial public offering (IPO) could provide it that last drive and the required capital inflow. Following record growth and IPOs in fiscal 2014, the industry trends started waning, declining from 85 in 2014 to 68 in 2015.
The FY2016 went down as an awful year for biopharma and pharmaceutical companies, as there was extremely constrained action in the essential market. Just 42 pharmaceuticals IPOs in 2016, and the first pharma IPO didn't happen until February. Final quarter of 2016 was the slowest quarter in terms of IPO in pharma industry in the last four years.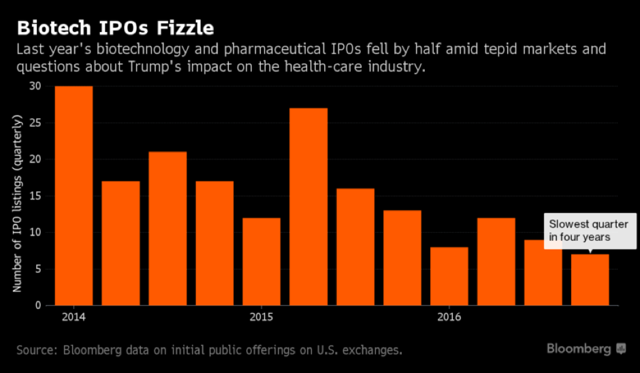 Source: Bloomberg.com
There are a few reasons impacting the sentiments of investors. The market has been in a droop: the Nasdaq Biotechnology Index (NBI) was down 22% in FY2016, the worst year since 2008 and the most exceedingly awful year since 2002 [Ref]. In addition, with another president taking office and promising to change the tax structure and update the health care framework, leading financiers and speculators adopted the wait and see strategy.
The quantity of IPOs at any specified time demonstrate a developing enthusiasm among investors for promising therapeutics or a more casual regulatory condition. This was exemplified in 2014, when the industry saw 102 IPOs, 71 of which were biotechs, including Auspex Pharmaceuticals, Sage Therapeutics, and Kite Pharma. On the other hand, less IPOs show dormant pipelines or a general absence of the degree of profitability potential.
Although, VCs have increased early investment in Series A, the performance of these companies were standing below the industry average. For instance, Axsome Therapeutics (NASDAQ:AXSM), IPO in 2015 after just two years as private raising $2.46M in one single round, is underperforming NBI by 65%. Corvus Pharmaceuticals (NASDAQ:CRVS), one year and four months from Series A to its IPO in March 2016 (raised $108.5M as private), its price dropped 50% after releasing disappointing Phase 1/1b data and is currently underperforming NBI by 37%. Cambridge-based Intellia (NASDAQ:NTLA) had just less than two years as private (raising $85M) before its IPO in May 2016 at $18/share. At present it is underperforming NBI by 46%. Early stage companies have gone through an aggressive strategy dictated by VC-backed IPOs in which investors have decided for an immediate exit strategy after rushing the management toward an inadequate IPO. How these companies have performed since their IPO will be discussed soon in a new article.
Series A Investments Are Rising
Despite overall lower investments in 2016, Biopharma Series A investments increased sharply last year, supported by the early-stage exits and newly raised venture funds [Ref]. Biopharma Series A investments were strong in orphan/rare disease and oncology led indications. In addition, Series A also increased meaningfully for device, however corporate investments dropped sharply in early-stage companies.
Series A investments were standing around 183 and seed rounds were at $3.72 billion, compared to 224 Series A and seed rounds totaling $4.58 billion last year. In fiscal 2016, venture capital investors supported 18 early-stage life science companies monthly accounting for an average investment of $20.3 million, relative to 19 companies raising $20.5 million each month in 2015.
Crossover Deals Are Falling
A 70% of the decline occurred in crossover deals in private venture-backed companies in 2016, impacted by lower IPO activity. Whereas, crossover investors moved concentration from new ventures to overseeing IPO desires for still-privately owned businesses in their portfolios. Some of those organizations opened up to the world in 2016, yet there remains an overabundance of more than 80 organizations.
In the last two years, the main 15 crossover investors drove a larger number of IPOs than all other wander financial specialists. These crossover investors look for a toehold in venture-backed companies inspired by an IPO and ordinarily are real members in the subsequent IPO. Even though, the biopharma industry declined last year, the crossover share of IPOs has developed. Almost 60% of biopharma IPOs had a main 15 crossover investor in 2016. In any case, crossover supported IPOs declined fundamentally from 11 to 5 in the second half last year.
Deal Sizes for Biopharma Soar
According to Silicon Valley data, Biopharma deal sizes have more than doubled since 2013. The strong growth in increased fund size is the key drivers for the recent surge in deal sizes, as investors are placing higher funds to work each company. Although, the growth rate slowed slightly in 2016, median deal size increased to $34 million, compared to $30 million last year. Series A added significant growth and several of the Series A deals are trenching rounds, providing 3 to 4 years' worth financing. Consequently, series A deals allow the management to emphasize on expanding investments in growth opportunities, instead of constantly looking for fundraising strategies.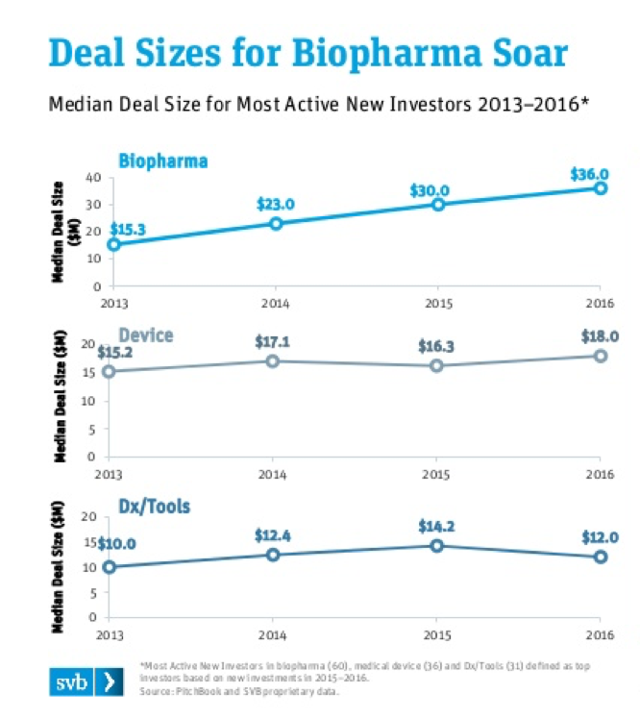 M&A Declined, but Fundamentals Are Strong
After increasing sharply between 2012 and 2015, potential distributions declined in 2016 due to the slower IPO market. In 2016, the amount of big exit M&A upfront payments outstripped pre-money IPO amounts for the first time since 2012. In 2016, the amount of big exit M&A upfront payments was standing around $9.2 billion, compared to pre-money IPO amounts of $4.4 billion, reflecting lower confidence in new start-ups.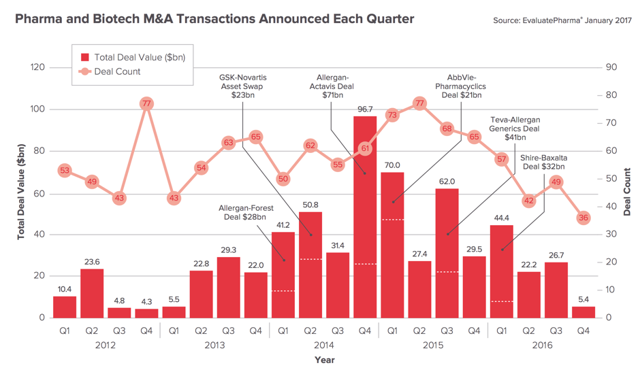 Source: EvaluatePharma
One of the culprits has been a slowdown in big-time M&A, particularly damaging for a sector that needs deal speculation to boost the share prices of companies' years away from marketing a drug. M&A transactions declined significantly last year and most the major M&A transaction came out from big players, including AbbVie paid $5.8 billion acquisition for Stemcentrx acquisition and Allergan paid $1.7 billion for Tobira. Dealmakers spent the final quarter of 2016 generally in hibernation as they endured a major US decision cycle that appeared to bring up a larger number of issues than it replied.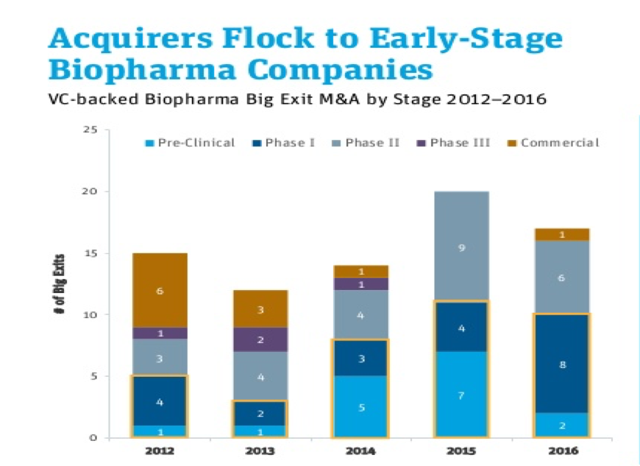 Source: Silicon Valley Data
Early-stage big exits kept on ruling in 2016, with the greater part happening in stage I and pre-clinical. These indications included orphan/rare disease, neuro, oncology, aesthetics/dermatology and auto-immune. Aesthetics/dermatology tied with oncology for the most M&A activity in 2016 (three deals). Neuro and orphan/rare disease had two deals each.
In 2016, the median upfront deal value for biopharma big exits was steady and substantial, standing around $200 million, flat with the prior year period. Both, large biotech and big pharma companies were among the big acquirers. Allergan was standing at the top, as it picked up four companies. Avalanche, which initiated public offering in 2014, acquired in 2016. In 2016, the market saw four disclosed big exits valued at more than $1 billion (including milestones). Overall, due to the slowdown in IPO, acquirers sensed less stress to act, resulting in increased time to exit.
2017 Could Be a Year of Strong Growth
Regardless of whether 2017 will keep on outpacing 2016, which only saw 42 IPOs, is hard to figure but market trends and investors sentiments appears strong [Ref].
Several investors and analysts think there is a solid case for a brighter future. According to Atlas Ventures partner, more than 30 life science IPOs are expected in the coming days. In addition, the recent momentum in the final quarter also indicates a strong momentum for IPOs. In the latest quarter, IPOs expanded in number and volume contrasted with the previous quarter - 35 bargains, up more 67%, worth a consolidated $8.15 billion - which is offering confidence that the pattern may proceed into the new year.
In Conclusion
Following a depressed business environment, global markets are strengthening and investors' confidence started improving since the start of this year; although VCs have increased early investment in Series A, only a handful of companies have gained attention from public investors and possible target for M&A after their IPOs.
Overall, despite lower than expected performance, IPO activity is likely to increase this year, as investors have a lot of cash in hand and they are waiting for major reforms to make a better asset allocation strategy according to the market trends.
Disclosure: I/we have no positions in any stocks mentioned, and no plans to initiate any positions within the next 72 hours.
I wrote this article myself, and it expresses my own opinions. I am not receiving compensation for it (other than from Seeking Alpha). I have no business relationship with any company whose stock is mentioned in this article.
Editor's Note: This article covers one or more stocks trading at less than $1 per share and/or with less than a $100 million market cap. Please be aware of the risks associated with these stocks.