As the name of this portfolio indicates, it requires minimal management, and it is passive enough that we could even call it a Lazy Man's portfolio. However, the portfolio is not short when it comes to its goals and objectives. We wanted to create a well-diversified portfolio with mostly blue-chip companies which have a history of raising dividends year after year. We also wanted to invest over an extended period of time so as to take advantage of Dollar-Cost Averaging (DCA) and create a decent enough income stream without ever withdrawing the capital by selling shares.
As a reminder, the original underlying principles of the portfolio were:
1. Select 30 solid dividend-paying, dividend-growing companies and invest the initial capital divided equally.
2. Invest additional money on fixed intervals according to a pre-determined schedule. Avoid market timing. Instead, use dollar cost average and buy in a spread-out manner on a set timetable.
3. Stay consistent, and rarely sell or replace a company.
4. Reinvest the dividends for the first 10 years or more (based on personal situation), to grow the yield on cost (YOC). Thereafter, reap the benefits!
A recap of the basic structure of the Passive DGI portfolio:
For the benefit of new readers who are not aware of the history of this portfolio, I will briefly recap what we have done so far. The portfolio comprises 30 positions weighted equally at the time of purchase with new money added per a pre-determined timetable using the dollar-cost-average approach. Purchases in the 30 selected stocks were/will be made as per the schedule outlined below:
$1,000 invested on August 1st, 2014, in each of 30 stocks (already completed).$1,000 invested on November 3rd, 2014, the first trading day of November 2014, in each of 30 stocks (already completed).$1,000 invested on February 2nd, 2015, the first trading day of February 2015, in each of 30 stocks (already completed). Thereafter, starting in 2016 (until 2025), $1000 will be invested in each of 30 stocks in the first week of February every year. (Note: February 2016 and February 2017 purchases have been completed).
The detailed rules and goals for the portfolio were outlined in my previous article. They can also be accessed here and here.
Below is the list of 34 stocks (30 original + 4 added subsequently) that were selected, with the industry/sector information for easy reference.
Sector

Company Name

Aerospace & Defense

Lockheed Martin Corp. (NYSE: LMT)

United Technologies Corp. (NYSE: UTX)

Agriculture

Monsanto Co. (NYSE: MON)

Technology

Microsoft Corp. (NASDAQ: MSFT)

Qualcomm Inc. (NASDAQ: QCOM)

Intel Corp. (NASDAQ: INTC)

Cisco Systems, Inc. (NASDAQ: CSCO)

Beverages - Non-Alcoholic

PepsiCo Inc. (NYSE: PEP)

Business Services

Automatic Data Processing (NASDAQ: ADP)

Chemicals

Air Products and Chemicals (NYSE: APD)

Consumer Goods

(Packaged products, Cleaning products)

Colgate-Palmolive Co. (NYSE: CL)

Nestle SA ADR ( OTCPK: OTCPK:NSRGY)

Procter & Gamble Co. (NYSE: PG)

Clorox Co. (NYSE: CLX)

Drug Manufacturers

Johnson & Johnson (NYSE: JNJ)

Teva Pharmaceutical ADR (NYSE: TEVA)

Pfizer, Inc. (NYSE: PFE)

ETF - International Dividend (Foreign Large Value)

SPDR S&P International Dividend (NYSEARCA: DWX)

Industrial Products

Emerson Electric Co. (NYSE: EMR)

Insurance - Life

Aflac Inc. (NYSE: AFL)

Medical Devices

Oil & Gas

ConocoPhillips (NYSE: COP)

Chevron Corp. (NYSE: CVX)

Exxon Mobil Corp (NYSE: XOM)

REITs

Realty Income Corp. (NYSE: O)

HCP Inc. (NYSE: HCP)

Omega Healthcare Investors, Inc. (NYSE: OHI)

Ventas Corp. (NYSE: VTR)

Restaurants

McDonald's Corp. (NYSE: MCD)

Retail - Defensive, Drugstores

Wal-Mart Stores Inc. (NYSE: WMT)

Walgreens Boots Alliance (NASDAQ: WBA)

Tobacco Products

Altria Group Inc. (NYSE: MO)

Waste Management

Waste Management, Inc. (NYSE: WM)
BUY Positions in 2017:
We added $30,000 of new money to this portfolio, as per our annual contribution plan to add every year in the first week of February. That meant adding roughly $1000 to 30 securities. Since we started the year with 33 securities and added one new security to expand our list to a total of 34, we skipped adding money to four securities - namely, COP, QCOM, HCP and TEVA. Instead of adding fresh money to TEVA (more on this in a later section), we added Pfizer, Inc. to our portfolio. We now have a total of 34 securities in the portfolio.
SOLD Positions since February 2016: None.
Dividends:
Dividend in 2014: $560
Dividends in 2015: $2830
Dividends in 2016: $4025
Dividends in 2017 (until 04/15/2017): $1395
Total since inception:$8810
Projected dividend in 2017:$5320
Portfolio Yield:3.04%
Yield on Cost: 3.54%
Dividend Cuts or Freezes in 2016/2017:
MON did not increase its dividend in 2016.
COP cut its dividend by 2/3rd in 2016 but raised it by 6% in 2017.
HCP cut its dividend by 35% in 2016, after ManorCare assets spin-off.
Dividend Increases declared in 2017 so far: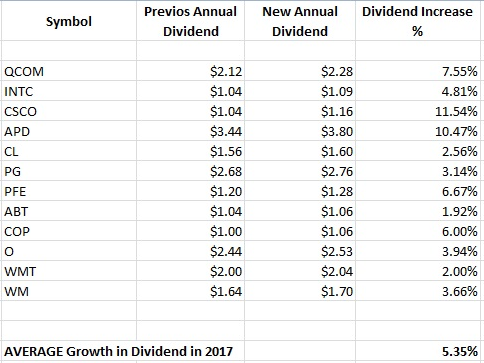 Total Return:
Here is a snapshot of relative performance as of April 17, 2017, created using the Morningstar Portfolio Tool. The DGI portfolio and Market-Index are represented by green and blue lines respectively: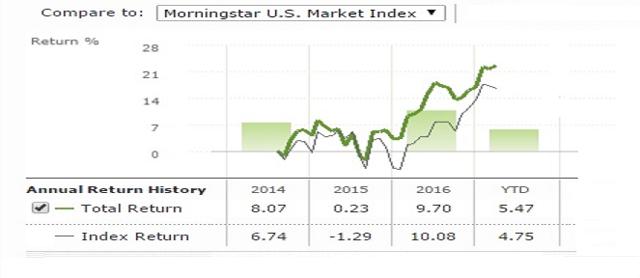 Portfolio as of 04/17/2017: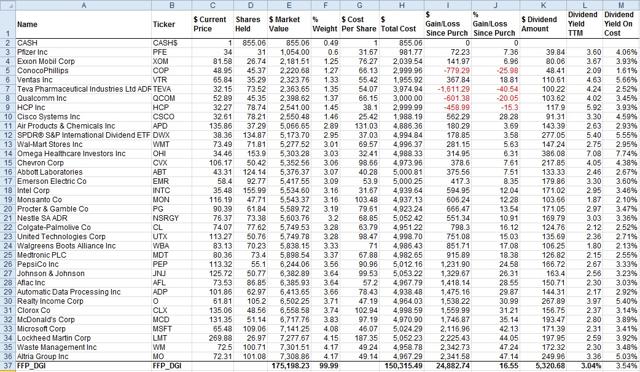 Top 5 performers:

Bottom 5 performers:

TEVA: The worst performer
In the worst-5 list, TEVA topped the list. There are some ongoing concerns about the company's dividend safety. Though it appears that the worst may be over for the company and the company's management has indicated that the dividend is safe, that does not hold much value most of the time. It would have been very tempting to add more money to TEVA at these suppressed prices and relatively high dividend yield, but this portfolio is not of the speculative nature by any means. So we voted for safety and decided to buy Pfizer Inc. with the new contribution dollars of $1000. However, we will maintain our existing position in TEVA.
COP, QCOM, HCP:
For the next three stocks in line in the list of worst-5, namely, COP, QCOM, and HCP, we will hold our current positions, but we stopped adding fresh money in February 2016. We do not have much concern with QCOM, and it has raised the dividend by 7.5% in 2017 and continues to throw above average dividend yield. COP cut its dividend by two-third in 2016 but has now increased slightly by 6% in 2017. We also need to keep a watch on HCP, as it cut its dividend by 35% subsequent to spinning off of its risky ManorCare assets into a separate entity last year. Please note that instead of adding fresh money to COP, QCOM, and HCP, we added to XOM, CSCO and OHI.
Concluding Remarks:
We feel this portfolio offers slightly better performance than the broader market, lower volatility, and much higher dividend yields, and it requires only minimal management. The portfolio offers > 3% current yield and the yield on cost of about 3.54%, compared to 2% yield from S&P 500. In five year's time, we expect this portfolio to throw in excess of 5% yield on cost, which could be decent enough income during the withdrawal phase without a need to sell any shares.
The average growth in dividend income has been decent at 5% during 2016, as well as in 2017 so far, which is satisfactory to counter inflation.
Other Portfolios:
Please see my other portfolios with unique goals and risk levels. I look forward to providing updates on other portfolios soon.
6% Income with Lower Risks - CEF's Using Risk Rotation Strategy.
Full Disclaimer: The information presented in this article is for informational purposes only and in no way should be construed as financial advice or recommendation to buy or sell any stock. Every effort has been made to present the data/information accurately; however, the author does not claim 100% accuracy. The stock portfolio presented here is a virtual portfolio for demonstration purposes; however, the author holds many of the same stocks in his personal portfolio.
Disclosure: I am/we are long ABT, CL, JNJ, MO, O, CLX, MON, WMT, COP, HCP, MSFT, MCD, CVX, INTC, NSRGY, PG, PFE, WBA, VTR, XOM.
I wrote this article myself, and it expresses my own opinions. I am not receiving compensation for it (other than from Seeking Alpha). I have no business relationship with any company whose stock is mentioned in this article.
Editor's Note: This article discusses one or more securities that do not trade on a major U.S. exchange. Please be aware of the risks associated with these stocks.