Chipotle Mexican Grill (NYSE:CMG) has been hitting fresh 52-week highs in the past few trading days. Amid the clash between the bears and the contrarians last year, readers on Seeking Alpha were delighted with the extensive coverage from both camps. Similarly, I had the pleasure of reading the myriad views and decided to join the contrarians, buying in at $428. I surmised that having fallen from the $700s level and the $400 psychological level had apparently held up quite well for the past months, the upside potential vastly exceeded the downside risk. Alas, soon after my purchase, the share price began its adventures to test the mid-$300s. I bought a second batch at $368 and decided to just wait for a price recovery to the high-$400s before pondering the next step. It was comforting to read a news snippet from Seeking Alpha on Chipotle achieving its 52-week high together with a note from Wells Fargo stating their expectations of Chipotle providing a better-than-consensus "2017 "stretch" guidance across EPS, SSS and margins" during the earnings call next week. The snippet also included a link to a Barron's article showing a Chipotle price chart with a nice technical setup. I looked at several key developments and remains convinced that the upside potential continues to outweigh the downside risk due to improved circumstances.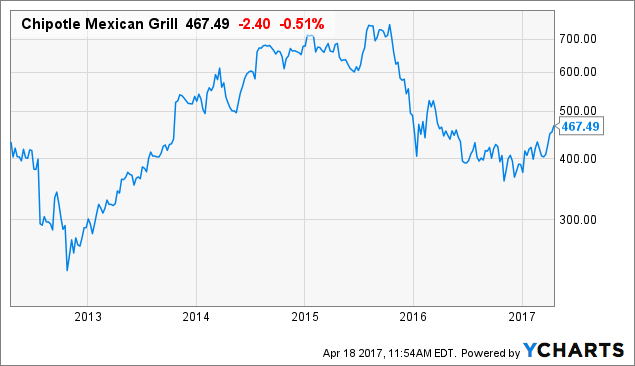 CMG data by YCharts
Pershing Square Purchase and Free Cash Flow
Since Bill Ackman's first purchases of Chipotle on August 4, 2016, Pershing Square continued to add on to its position. In its Annual Update presentation, it was revealed that the average cost through January 20, 2017, was $405. On fundamentals, the presentation summarized the Chipotle business succinctly as "high quality, simple, predictable, unlevered, free-cashflow-generative". The latter two descriptive phrases are still valid at the time of statement though you would see for yourself from the chart below that the trend is unfavorable and teetering on the brink of becoming untrue. Therefore, if the quarterly report next week shows a reversal coupled with an improvement in cash position, that should be very well received.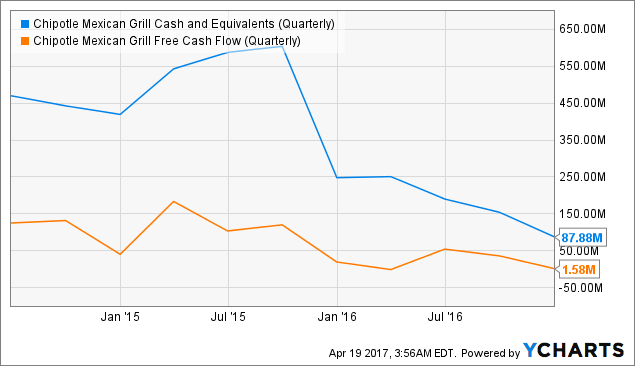 CMG Cash and Equivalents (Quarterly) data by YCharts
Besides, as stated in the presentation, the business is "simple" and "predictable", perhaps relative to Valeant (NYSE:VRX) which Pershing Square unloaded recently. Thus, I would expect Bill Ackman to be more willing to work on making his Chipotle investment more profitable and crucially, to burnish his reputation following recent setbacks. Bears were quick to point to the shelf registration in early March by Pershing Square of its entire Chipotle holdings as an indication that Bill Ackman had gotten his thesis on yet another holding wrong again and was looking to exit. However, the hedge fund management company also filed a 13D alongside the shelf registration that it had not planned to sell any shares in Chipotle. My take on this shelf registration is as follows. Bill Ackman believed the company's share price had been unfairly beaten down and the market remained highly pessimistic regarding the outcome of the turnaround. This is reflected in the short interest at around 16% which despite falling from a peak of around 21%, it is still way higher than the 5% in the last quarter of 2015 before short interest started to climb steadily (see chart below). The share price remained more than 37% off the historical peak even after a run-up the beginning of the year. Once there are positive "surprises", such as event-driven ones in the form of quarterly earnings releases, the sentiment on the shares could quickly reverse. The price might subsequently overshoot the progress made in fundamentals and become substantially overvalued as a result of exuberance and short-covering. At this point, it would be foolish for Bill Ackman, or any active investors/traders for that matter, to not take profit. However, if Pershing Square has not done any shelf registration, it would not be possible for him to take action. Thus, the filing itself is not something to be of concern but a reminder for shareholders of Chipotle to consider taking profit in the event of such overshooting unless you have great confidence in the prospects and prefer not to "time" the market.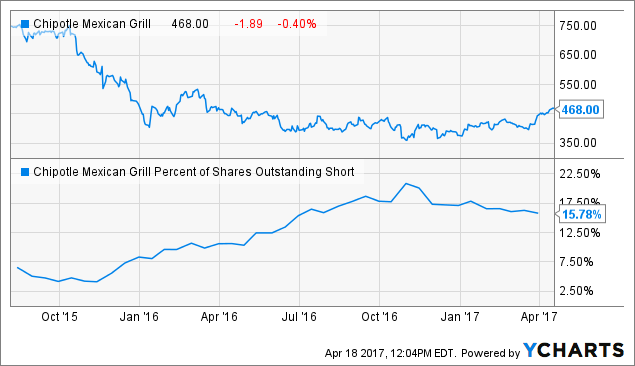 CMG data by YCharts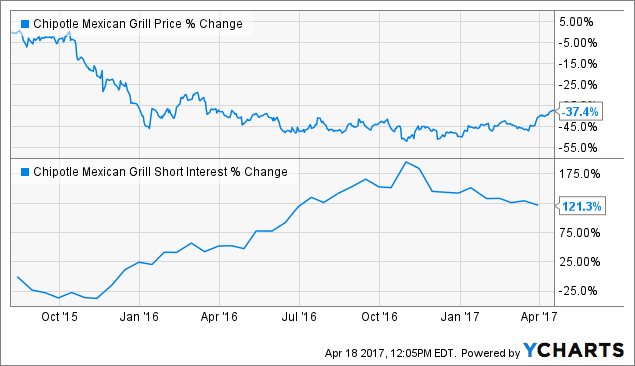 CMG data by YCharts
Streak of Positive Developments
In March and April thus far, there were already numerous developments which were deemed positive. On the legal front, Chipotle won a shareholder lawsuit over the accusation that the management downplayed the impact of the food-borne illness outbreaks. It also won an overtime pay class action lawsuit filed by management trainees. On operations, investment firms reported that their channel checks revealed favorable Q1 comparable sales growth. This was followed by the news that the lead director position was strengthened following a deal to boost oversight of executive compensation. A few days ago, Chipotle was listed by Goldman Sachs (NYSE:GS) as one of the 21 companies which were expected to improve margins by 50 basis points or more and grow sales by at least 4% in both 2017 and 2018. The bank credited its string of management actions and favorable consumer trend for healthier food offerings as the reasons for optimism. A table (see below) from Pershing Square comparing the recipe of Chipotle's steak versus its competitors sums up the differences best. A survey conducted on U.S. teenagers by another investment bank, Piper Jaffray (NYSE:PJC), revealed Chipotle to be third in place for the favorite restaurant chain, losing only to Chick-fil-A in the fast-food category [Starbucks (NASDAQ:SBUX) was second]. One would expect a worse ranking given the flood of negative news in the past year, such as the food poisoning outbreak and the arrest of its former Chief Marketing Officer, Mark Crumpacker. Finally, just on Monday, April 17, 2017, Chipotle confirmed that it has hiked prices by about 5% at around 440 of its restaurants, or about 20% of its total chain. The price raise is an indication of its pricing power and demonstrates its confidence in passing on labor and ingredient inflation to its customers.


(Source: Pershing Square Annual Update Presentation 2017)
Given Chipotle's high effective tax rate of 41%, the company would greatly benefit from the oft-mentioned corporate tax reforms proposed by President Donald Trump, if it indeed materializes. I have previously highlighted such possible tailwind in articles on Build-A-Bear (NYSE:BBW) and Coca-Cola (NYSE:KO). Since a tax cut is still regarded as a remote possibility at this juncture, when it becomes a reality, that would be a powerful catalyst for the bottom line growth and consequently the share price.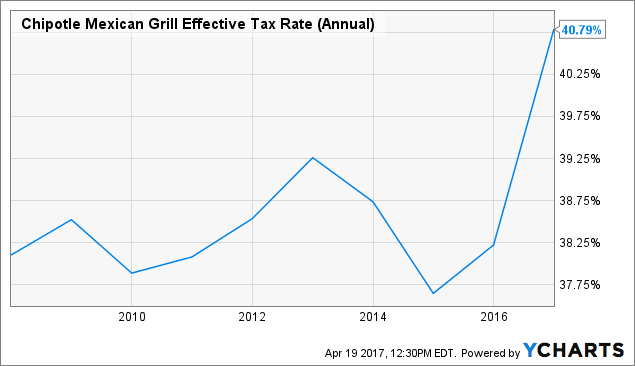 CMG Effective Tax Rate (Annual) data by YCharts
The Move Towards Digital Ordering and Catering
The company demonstrated its resolve in improving its digital ordering experience through the hiring former Starbucks CIO Curt Garner in November 2015. Mobile and online ordering are clearly important platforms for serving Chipotle's key customer group as the earlier mentioned survey on teens by Piper Jaffray suggested. Notably, the fact that Chipotle owns 100% of its store base meant it could easily deploy a common technology platform to all its restaurants for a seamless experience. Rather than go it all alone, Chipotle has also teamed up with leading delivery partners such as Postmates, OrderUp, and Tapingo.
In addition, Chipotle also offers catering services which typically brings in higher margins due to the high-volume, pre-order nature which gives the company time to prepare the food without unduly taxing the kitchen during crunch time. Incidentally, the product range of Chipotle is well suited for catering purposes.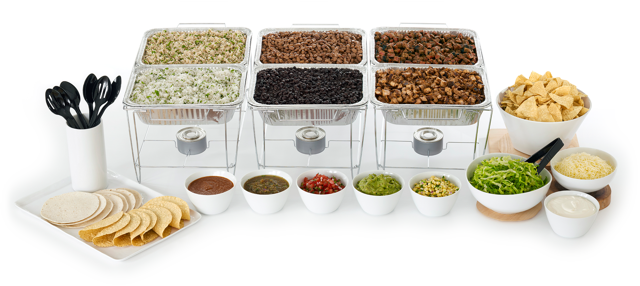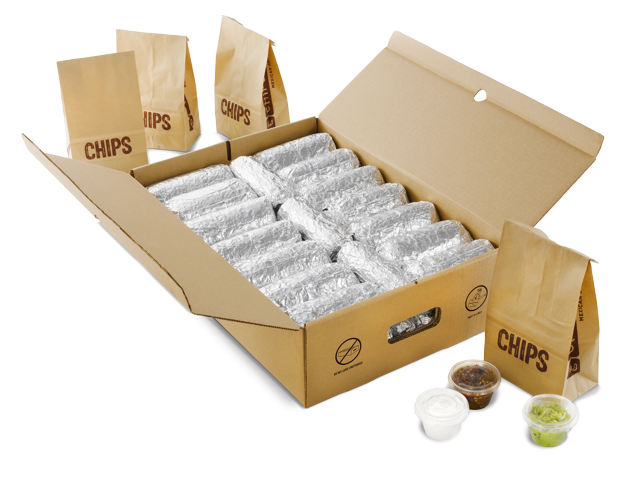 (Source: Chipotle Catering)
Conclusion
Chipotle seems to have moved past its checkered history to hit new 52-week highs. The 25% jump YTD in its share price have apparently factored in the positives going for the company. However, a quick comparison with its peers in the fast-food category shows that its price appreciation is not excessive and unique but perhaps a reflection of the industry's fortune. Its 19% share price rise since October 2016 is just slightly ahead of McDonald's (NYSE:MCD) 18% and below Wendy's (NYSE:WEN) 24%. With the short interest in Chipotle still at a high level and some analysts' EPS estimates for the current quarter still far lower than consensus (see the table from Yahoo Finance below), there is potential for positive surprises. When that happen, the tendency is for the share price to skyrocket to above the $500 psychological level. On the other hand, if the company reports another ho-hum quarter, it would unlikely cause much harm to the share price since much pessimism has already been baked into the stock.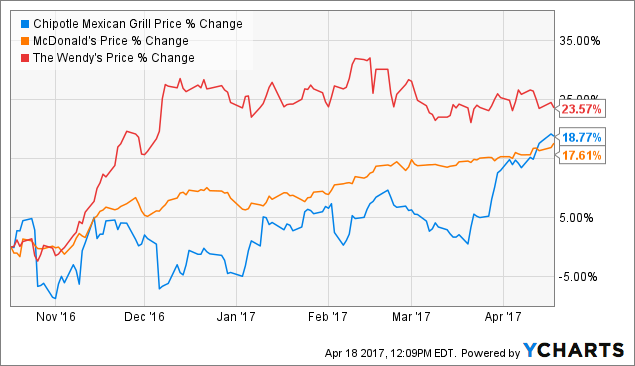 CMG data by YCharts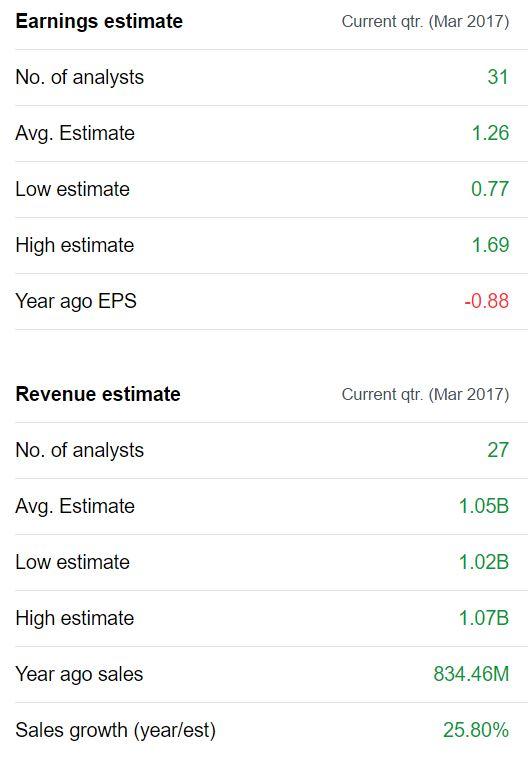 (Source: Yahoo Finance)
Note from author: Thank you for reading. My articles revolve around a subject or angle that I feel might have been overlooked. If you would like more of such articles, please click on the "Follow" button below the title near the top of this page and check the "Get email alerts." If you have additional insights on the topic or contrasting views, please kindly share them in the comments section.
Disclosure: I am/we are long CMG, KO.
I wrote this article myself, and it expresses my own opinions. I am not receiving compensation for it (other than from Seeking Alpha). I have no business relationship with any company whose stock is mentioned in this article.