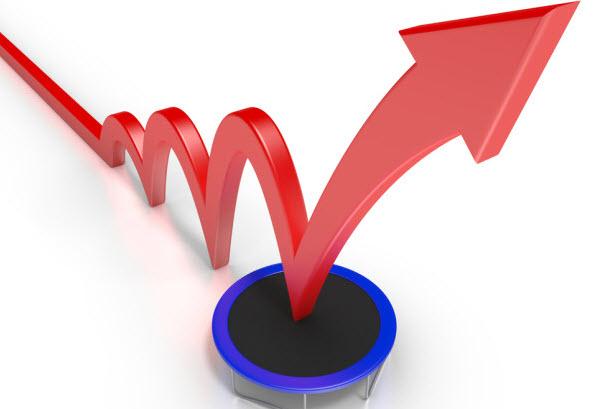 What Happened?
It appears Verizon (NYSE:VZ) is considering several merger and/or acquisition possibilities at present. Chief Executive Officer Lowell McAdam recently stated he would be open to talks with Comcast Corp. (NASDAQ:CMCSA), Walt Disney Co. (NYSE:DIS), or CBS Corp. (NYSE:CBS).
McAdam stated:
"A merger with any of these companies would serve to reset the course of the company given the fast-changing structure of the industry."
I tend to agree. In fact, this is exactly what I stated the company needed to do to keep pace with AT&T (NYSE:T) in a previous article. Let me explain.
Current Chart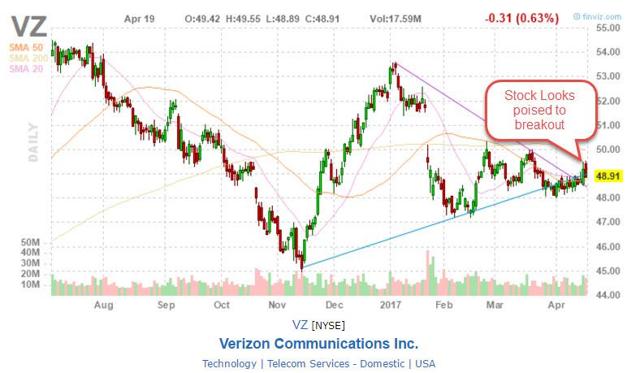 Source: Finviz.com
Vertical Integration Necessary
The wireless business will always remain the primary cash cow for telecom companies. As Senior Seeking Alpha Editor Michael Hopkins states:
"Wireless rules, everything else is icing on the cake."
Even so, the 4G wireless business is a mature one. The 4G wireless market is now effectively commoditized. So the company is investing heavily in fifth generation, or 5G, services. Comcast would be the best fit for the company in this regard. Here is why.
Verizon's 5G Aspirations
The one constant with technology is the fact that things are always changing. While it may appear that wireless technology is standing still and becoming commoditized, the next thing you know, the game has completely changed. Such is the case with 5G technology. Verizon states regarding its 5G efforts:
"5G will open up a huge new set of products and mobile trends for our customers. A few of the benefits are high-speed data - connection speeds that are 30 to 50 times faster than 4G - responsiveness and unparalleled video quality. We're working with our 5G Technology Forum partners to accelerate 5G for our customers. We believe that 5G will be the foundation for creating more internet-connected devices, making cities smarter, energy grids more efficient, and transportation safer."
I feel those who are down on the stock are focused on the past, not the future. The future for Verizon looks bright to me. Comcast has the best-in-class fiber assets as well as a massive media business in NBCUniversal.
So while it may be true many have caught up to Verizon with regard to current 4G technology, the entire game is about to change in my opinion. Furthermore, the company should be able to keep premium pricing in its wireless business going forward, according to the CFO.
The fact that so many are down on the stock based on past and short-term issues, I believe a major dividend growth and income buying opportunity has come to fruition.
Verizon Trading At Bargain Basement Price
Verizon is currently trading at bargain basement prices on a historical and relative basis. Verizon's primary business may seem to be heading for commoditized status, yet it still came through with strong cash flow in 2016. This is where the rubber hits the road for me. As a dividend growth and income investor, I love getting a stock with such predictable cash flow for bargain basement prices. The stock is currently trading at a forward P/E of 12.50. Other stocks with comparably predictable cash flows, and the entire market for that matter, are trading at much higher valuations. Now is exactly the time to buy, not sell.
The Bottom Line
Fear creates opportunity for savvy income and dividend growth investors. Think of stocks just as you would when going to the supermarket. You want to buy groceries and stocks when they are on sale, not when they are in demand and priced at a premium.
The market is current trading at all-time highs, and most stocks seem overvalued at present. This makes finding buying opportunities akin to finding a needle in a haystack. I say never look a gift horse in the mouth. Verizon's stock currently presents a golden dividend growth and income investment opportunity. I am holding strong into earnings. If the stock sells off on earnings tomorrow, I am looking to add to my position. Nevertheless, there are always downside risks to any investment thesis. Please use this information as a starting point for your own due diligence. If you do choose to start a position I would layer in over time to reduce risk. Those are my thoughts on the matter. I look forward to reading yours.
Your Participation is Required!
The true value of my article is derived from the prescient insights made in the comments section by Seeking Alpha members. Do you think Verizon currently presents a buying opportunity? Which company do you believe is the best merger target for Verizon? Thank you for your participation.
Final Note: If you found this article interesting, please hit the follow button by my name above. It would be greatly appreciated.
Disclosure: I am/we are long VZ.
I wrote this article myself, and it expresses my own opinions. I am not receiving compensation for it (other than from Seeking Alpha). I have no business relationship with any company whose stock is mentioned in this article.