Update: Most like the company's chances.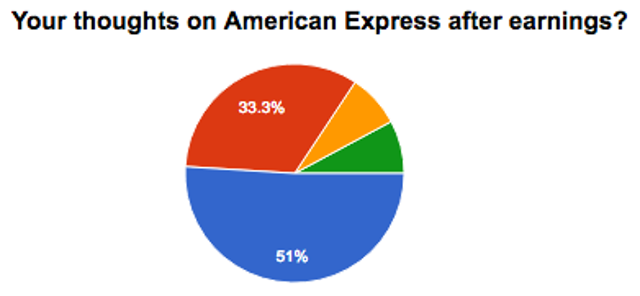 Buy - This well-run company is headed higher - 51%
Hold - American Express is in good position to grow its business - 33.3%
Avoid - This space is competitive - 7.8%
Sell - It could be time to take profits - 7.8%
Thanks to everyone who participated in today's poll. We're back tomorrow with more Market Challenge!
*****
American Express (NYSE:AXP) delivered strong results after the bell Wednesday.
The company beat on both EPS and revenue in its first quarter report. And management said it's confident it will deliver on its full year EPS outlook. The stock is off its 52-week high.
The good news comes as American Express continues to face growing competition in the credit card space.
Your thoughts on American Express? Is the stock a buy or sell?
Offer your perspective below!