A few days ago, I read an article by Matthew Utesch titled Healthcare Trust Of America Vs. Healthcare Realty Trust: Which One Should Be In Your Portfolio?
While I believe the author did a good job articulating the differences between Healthcare Trust of America (HTA) and Healthcare Realty Trust (HR), I wanted to provide a more attractive opportunity in the pure play Medical Office Building REIT space.
First off, let me say that I agree with the author in that "HTA has the upper hand in several metrics," and I have covered the company extensively, beginning with the companies listing back in 2012 (see article HERE).
In fact, HTA has been one of my top performers in the Durable Income Portfolio, the company has generated annualized returns of 20.9% since December 2013 – far better than Ventas (VTR) – returning an average returns of 9.3% - and a tad better than Realty Income (O) – returning average annual returns of 20.8%.
In an upcoming article, I am writing about the importance of "SWAN" investing in building a durable REIT portfolio, and HTA fits squarely in that box.
The problem, though, is that HTA is a bit pricey, and I have always been less attracted to HR due to the company's riskier development focus.
There's another way to play the game, instead of waiting on HTA shares to dip, Physicians Realty Is Just What The Doctor Ordered.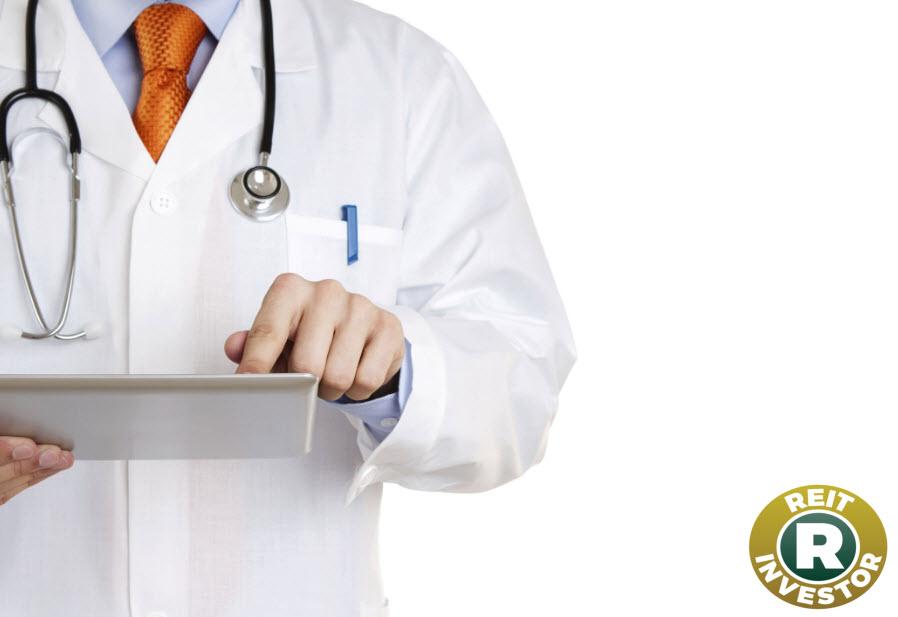 A Growth Machine
I started covering Physicians Realty (NYSE: DOC) almost three years ago, after the Milwaukee-based REIT listed shares on the NYSE (on July 18, 2013).
As a public company, DOC exploded out of the gate, having completed its IPO, and more recently closed on the majority of the $700 million Catholic Health Initiatives portfolio acquisition, and new investments in 2016 over around $1.3 billion. So far, DOC has closed in $131 million in Q1-17 and has another $146 million under contract to close.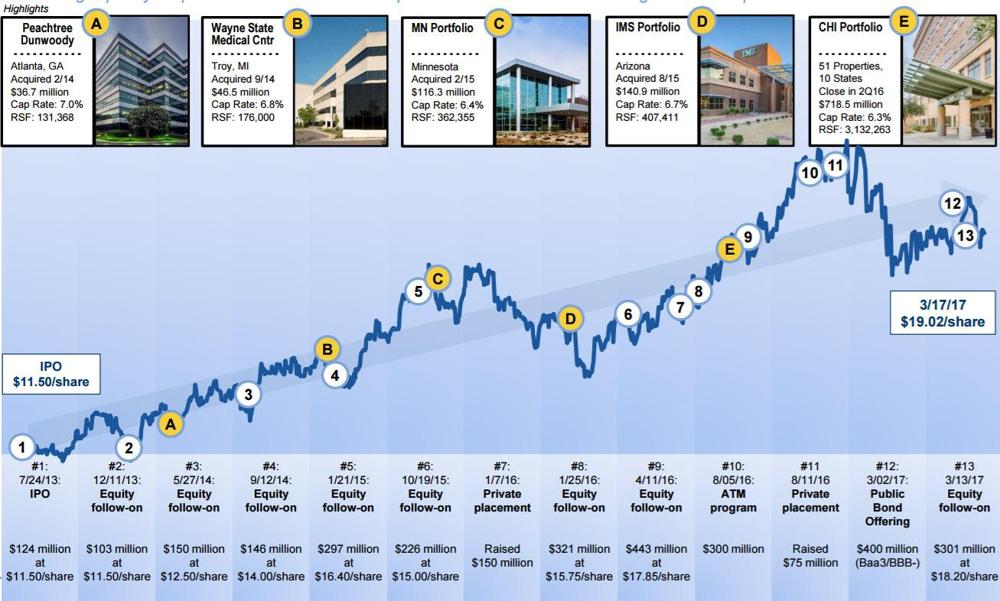 The company has grown its real estate investments to approximately $2.9 billion, from $124 million at the time of the IPO. The company has increased its net leasable square footage to ~11 million from .5 million at IPO. Here's a snapshot of the growth in investments: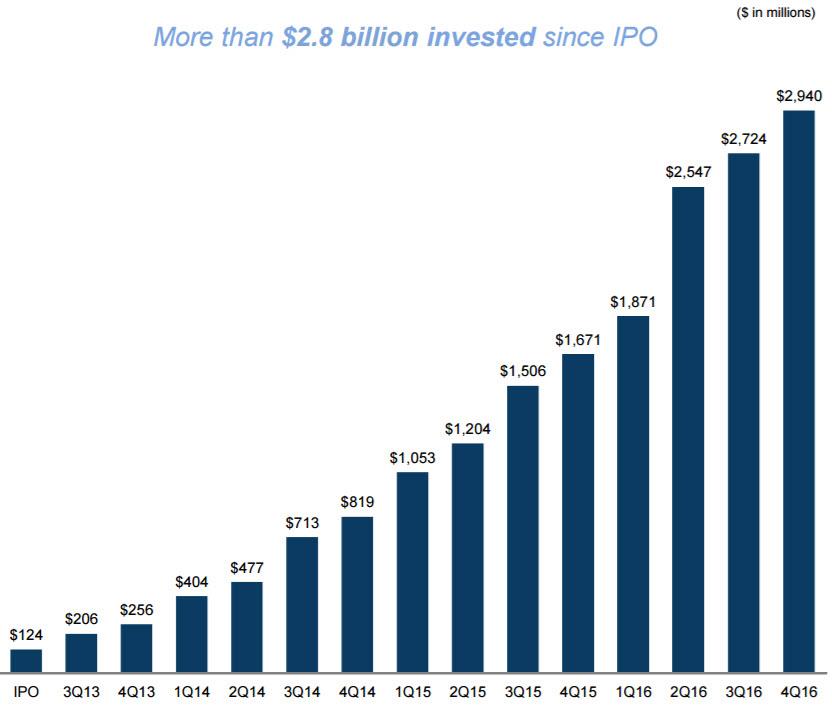 As of Q4-16, DOC owns 246 properties across 29 states, consisting of 10.9 million square feet. Here's a snapshot illustrating the company's geographic diversification: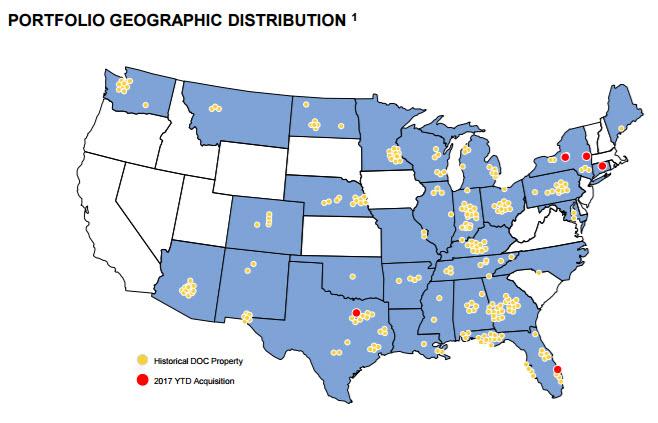 DOC is a medical office building-focused Health Care REIT that seeks to acquire, selectively develop, own, and manage healthcare properties that are leased to physicians, hospitals, and healthcare delivery systems. As you can see below, the company has a well-balanced portfolio: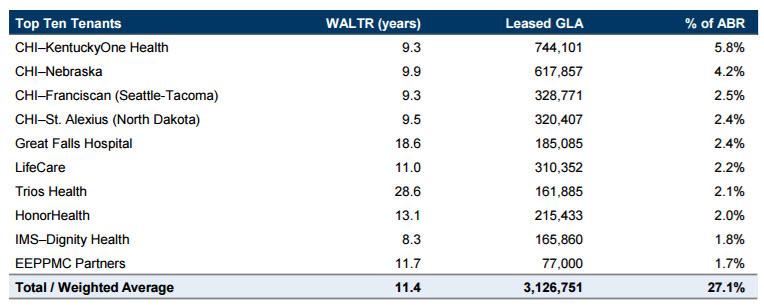 As noted, DOC has acquired almost $1.3 billion in high-quality medical office facilities in 2016 and increased its percentage of assets that are on campus or affiliated with the hospital system to 79% from 74% at the beginning of the year.
2016 has been a transformational year, and the company has crossed several milestones, including two separate long-term unsecured investment grade debt private placements and completing the largest direct monetization of medical office facilities in U.S. history.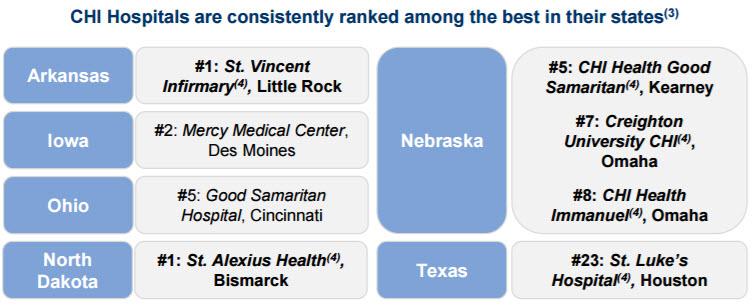 CHI – the largest tenant – operates 12 regional affiliates across the US, with 8 regional affiliates included in the acquisition. CHI is the nation's 5th largest non-profit hospital system and the company operates in 19 states and comprised of over 103 hospitals. In 2015, CHI's revenue was $15.2 billion, and the company has investment grade ratings from S&P (BBB+) and Moody's (A3).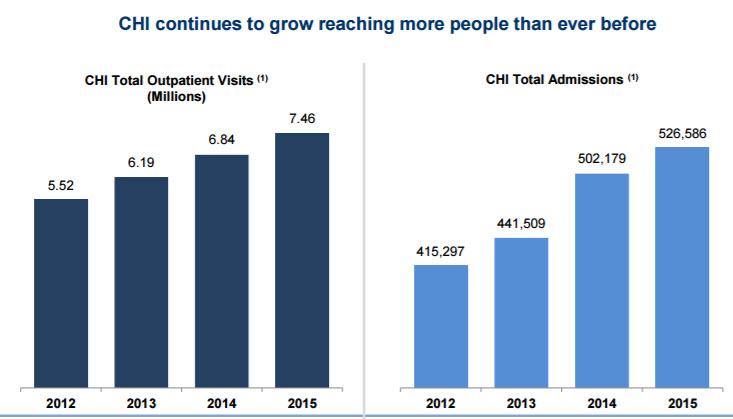 DOC has continued to diversify, and as illustrated below, the company generated 55% of NOI from the Top 50 MSAs in the US: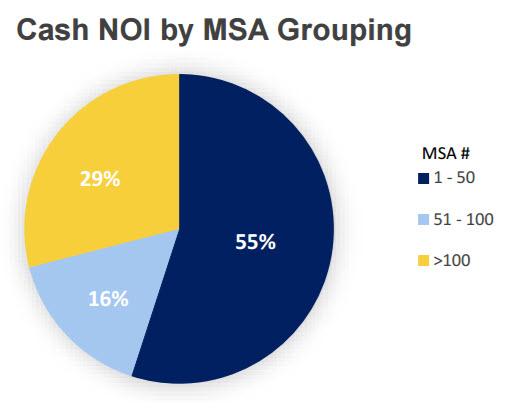 The diversified tenant base consists of over 684 tenants with 1,040 distinct leases. No one tenant represents more than 5.8% of total ABR. The portfolio has an average lease term of 8.5 years and average forecasted rent bumps of 2-3%.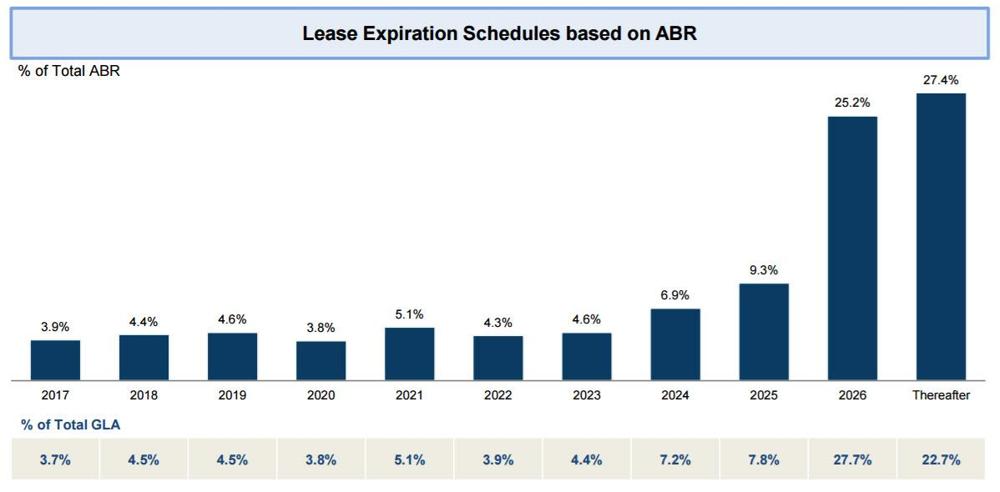 The Improved Balance Sheet
DOC maintains an exceptionally strong balance sheet, as the company ended the quarter with a debt to total capitalization around 27% and net debt to adjusted EBITDA of 5.1x.
DOC currently has access to an $850 million line of credit (balance is $401 million), $400 million of unsecured bonds, $225 million of unsecured notes, and $250 million 7-year bank term loan. The unencumbered value of the portfolio is $2.7 billion (as of Q4-16).
DOC expects to convert much of this balance to long-term fixed rate debt in 2017, to align with its strong ratings from Moody's (Baa3) ad S&P (BBB-).
DOC's growth is largely driven by accretive acquisitions. The recent investment grade ratings should meaningfully lower DOC's cost of debt, and this should widen investment spreads. Given the high fragmentation in the MOB sector, DOC should be able to capitalize on the continued consolidation.
Here's a snapshot of DOC's well-balanced banking relationships: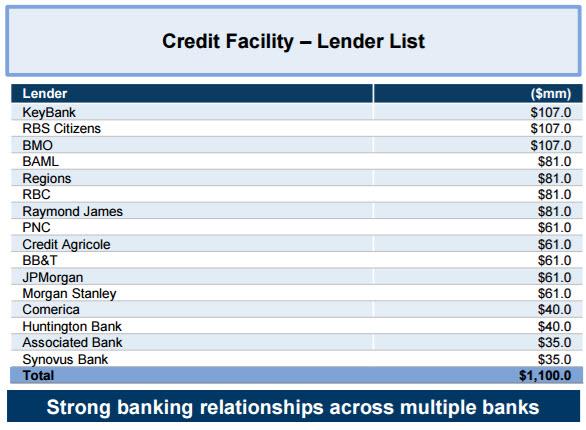 A Perfect Storm
DOC is well positioned to capitalize on the strong demographics that are driving the US healthcare industry. Between 2015 and 2060, the US population over 65 years is projected to more than double from 47.8 million to nearly 98.2 million. As illustrated below, there has been a drastic increase in doctor visits with the older population.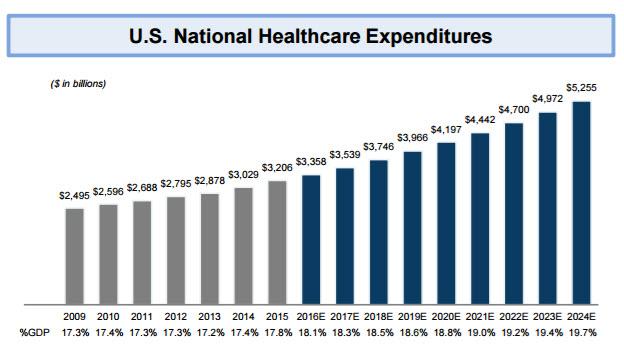 Consumer choice and government policy are driving healthcare providers to purpose-built, clinically-efficient real estate solutions.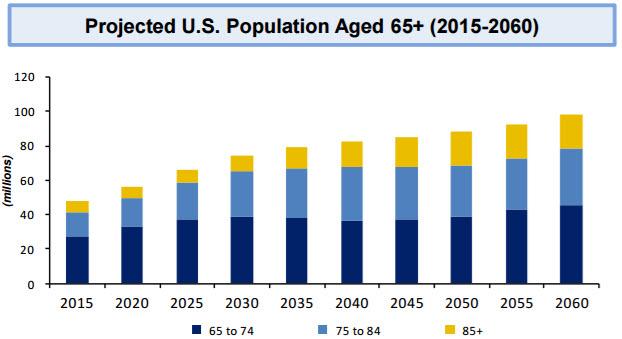 The aging demographics and the strength of the U.S. employer-based insurance market will continue to drive strong demand for outpatient medical care delivered in outpatient medical office facilities. The vast majority of DOC's physicians' hospitals continue to perform very well with high volumes.
In Q4-16, DOC generated funds from operations of $34.6 million (or $0.25 per share), normalized funds from operations of $38.2 million (or $0.27 per share), and normalized funds available for distribution of $34.2 million (or $0.24 per share).
For the full-year 2016, DOC generated normalized funds from operations of $128.5 million and normalized FFO per share of $0.98, which is roughly 7% over 2016.
Here is a snapshot of DOC's and the peers' FFO actual and forecasted (consensus) results: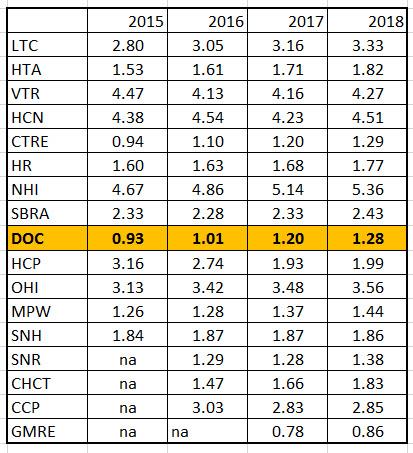 As you can see below, DOC is forecasted to generate strong FFO growth in 2017, as a result of the transformational CHI and disciplined capital management practices.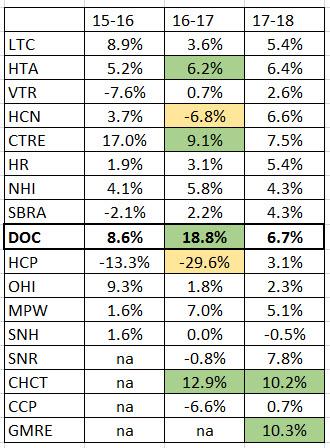 DOC is not slowing down, as the company remains active, deploying capital into new MOB deals driving solid earnings growth. The record FFO suggests that DOC will continue to drive earnings growth and begin to ramp up its dividend. I'm pleased to see DOC's payout ratio decline substantially since last year.
(The two MOB peers are shaded in black)

Physicians Realty Is Just What The Doctor Ordered
As I alluded above, HTA is fairly valued today, and I consider DOC the better buy, based on dividend yield:
(The two MOB peers are shaded in black)

Also, DOC is cheaper based on its P/FFO multiple:
(The two MOB peers are shaded in black)

The catalysts to drive DOC's price appreciation include: (1) lower cost of capital (recent investment grade rating), (2) continued portfolio growth, and (3) continued focus on higher-quality markets. As a result, DOC should begin to trade in line with the two sector pure play peers.
It was also pointed out on DOC's recent earnings call that:
CHI is exploring discussions with Dignity Health to align their organizations. If the organizations were to merge, the joint organization would have $27.8 billion in combined annual revenue and would create the nation's largest not-for-profit hospital company, ahead of Ascension with $20.5 billion in annual revenue. The geography of CHI and Dignity Health locations complement one another with no geographic overlap of acute care facilitates."
This could be another catalyst for DOC.
In summary, DOC is hitting all cylinders, and I believe that the most defensive way to invest "new money" in the MOB sector is DOC. The dividend is much safer today (lower payout ratio), and there is a good chance for a dividend hike in 2018.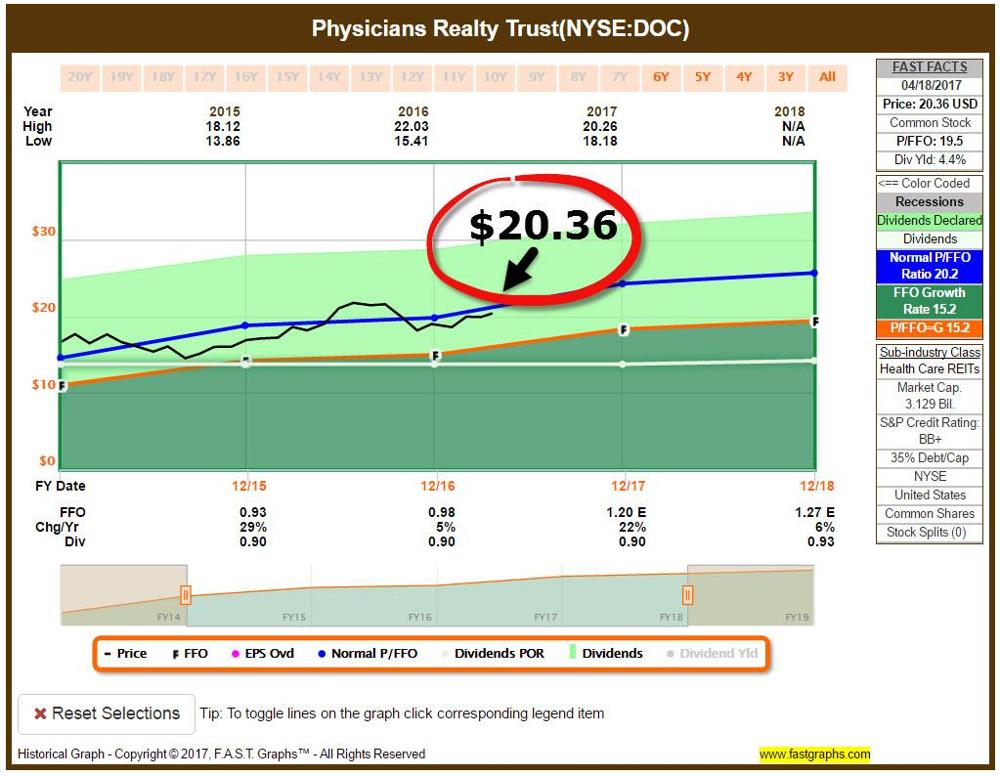 Here's my forecast, assuming DOC moves in line with HTA and HR: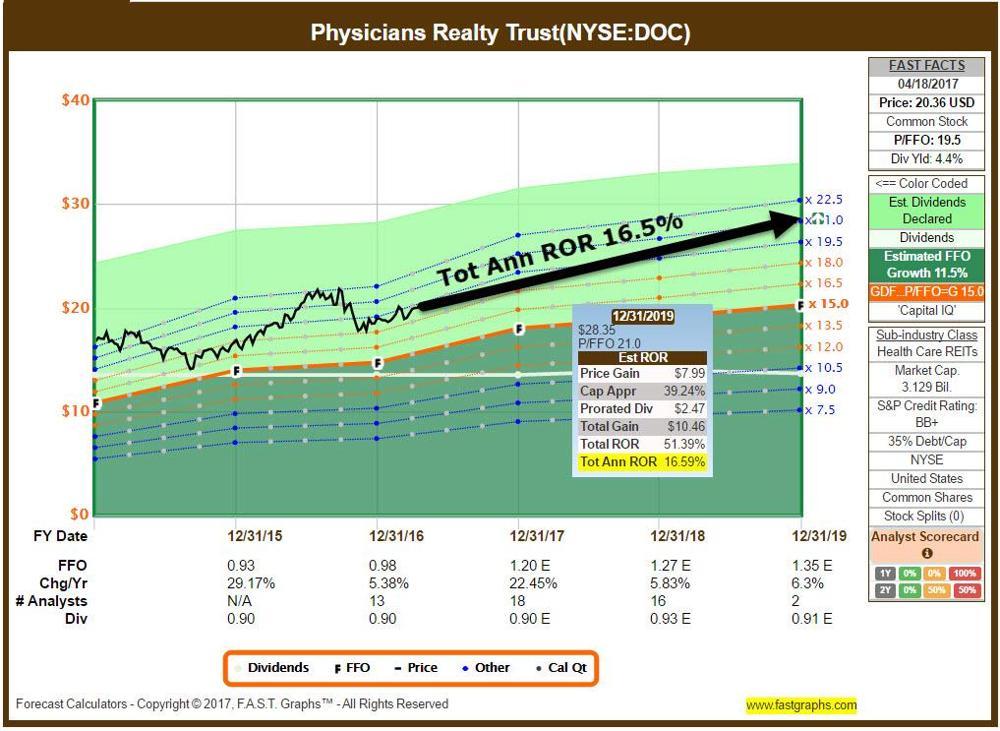 My Rhino Rating: As you can see below, DOC compares favorably in the Rhino REIT Scoring model.

You can view all of my Rhino REIT Ratings by subscribing to REIT Beat HERE.
Author Note: Brad Thomas is a Wall Street writer, and that means he is not always right with his predictions or recommendations. That also applies to his grammar. Please excuse any typos, and be assured that he will do his best to correct any errors, if they are overlooked.
Finally, this article is free, and the sole purpose for writing it is to assist with research, while also providing a forum for second-level thinking. If you have not followed him, please take five seconds and click his name above (top of the page).
Source: FAST Graphs and DOC Investor Presentation. Latest Earnings Transcript HERE
Disclosure: I am/we are long VTR, APTS, ARI, BXMT, CCI, CCP, CHCT, CLDT, CONE, CORR, CUBE, DLR, DOC, EXR, FPI, GPT, HASI, HTA, KIM, LADR, LTC, LXP, O, OHI, PEB, QTS, ROIC, SKT, SNR, SPG, PK.
I wrote this article myself, and it expresses my own opinions. I am not receiving compensation for it (other than from Seeking Alpha). I have no business relationship with any company whose stock is mentioned in this article.