Earnings per Share
For the quarter ended March 2017, U.S. Bancorp (NYSE:USB) reported EPS growth YoY of 7.9%, the largest increase since QE 3-31-13 of 9.0%. The first quarter has traditionally been cyclically flat, low growth, or even negative QoQ. Earnings per share was $0.76 a year ago, for the QE 3-31-16. The benchmark earnings per share of $0.80 has been exceeded 4 consecutive quarters and 7 of the 8 past quarters.
Analysts' Estimates for earnings per share for next quarter, the QE 6-30-17, are a record-breaking $0.87. This would be an increase of 4.8% YoY and 6.1% QoQ. The record EPS is $0.84 for the QE 9-30-16.
The cyclical nature of earnings per share and the overall trend can be seen in the charts below. Earnings per share have been increasing at a decreasing rate. However, this latest QE 3-31-17 earnings per share of $0.82 has reversed the annual March dip.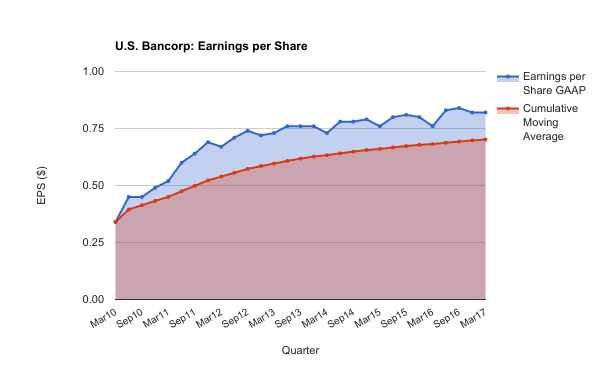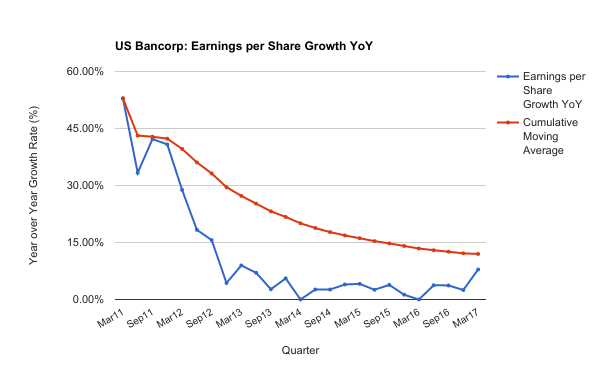 Net Revenues, Operating Income, Net Income
For the quarter ending March 2017, net revenues, operating income, and net income were $5.27B, $1.99B, and $1.49B, respectively. These are all exceptional totals for this historically lowest financial performance quarter. This is reflected in the year-on-year increases of +5.8%, +4.2%, and +6.1%, respectively. The all-time records for net revenues, operating income, and net income are $5.40B (QE 6-30-16), $2.08B (QE 9-30-16), and $1.54B (QE 6-30-16), respectively.
The analysts' estimates for net revenues in the next quarter, QE 6-30-17, is a record-breaking $5.52B, which then projects to a record earnings per share of $0.87.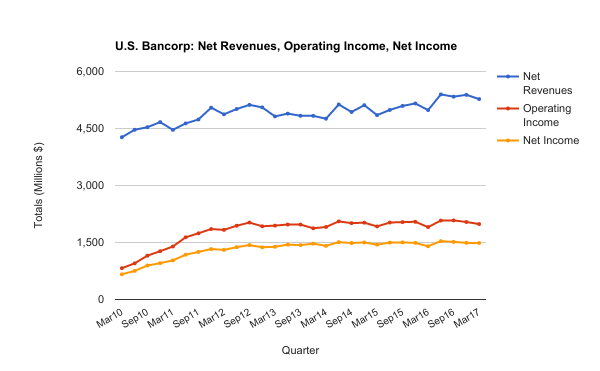 Return on Assets
The diminishing returns of U.S. Bancorp have leveled off with this most recent quarter. Return on assets has been 1.36% for 2 consecutive quarters. The peak was the QE 12-31-13 at 1.60%. The slow decline began QE 3-31-14. Though ongoing financial performance has been strong, deployment of assets into higher yielding loans has become increasingly difficult. There is only so high financial performance can reach without expansion or acquisitions.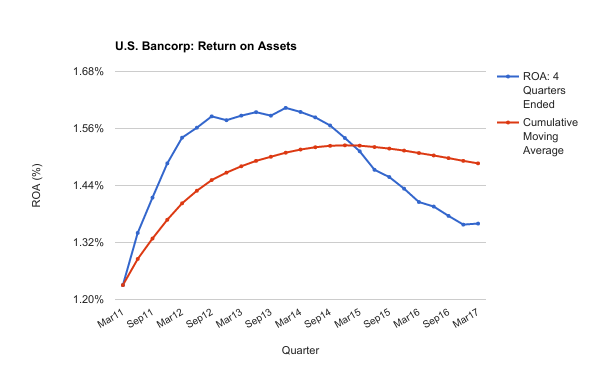 Asset Mix
The limitation in asset yield, and therefore return on assets, can be seen in U.S. Bancorp's asset mix. Net loans are the highest yielding asset, have hovered around the profitable 60% level, and growth has been negligible for many quarters. Currently, net loans are 60% of total assets for the QE 3-31-17. Cash and investment securities of 29% of total assets provide a lower yield.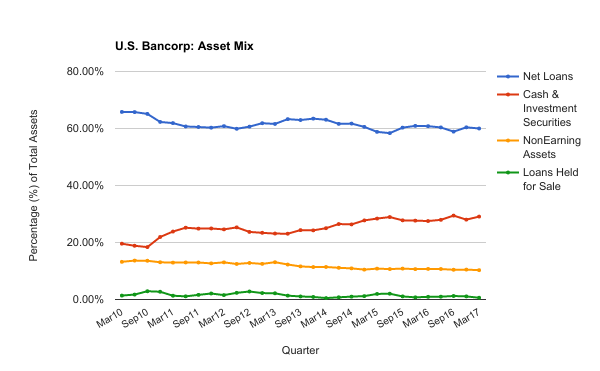 Operating and Net Margins
What is driving the strong financial performance of U.S. Bancorp are the operating and net margins. Both are outstanding at 38% and 28%, respectively. These metrics have peaked but remain at excellent levels.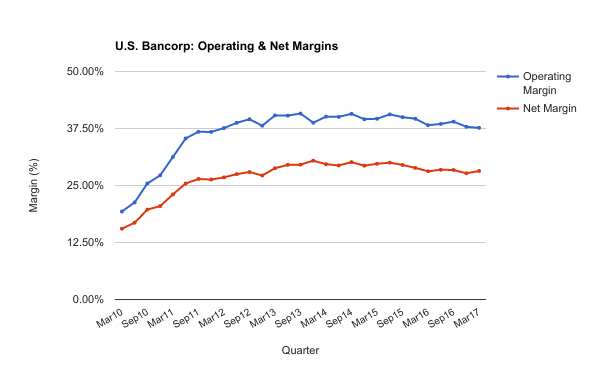 Conclusion
Financial position and performance continue exceptional for U.S. Bancorp. Former CEO Richard Davis and team have left an amazing, even legendary, legacy of financial management before, during, and after the 2008-2009 financial crisis. A continuation of this strong financial performance is expected under new CEO Andrew Cecere, the former CFO, COO, and President.
Analysts' estimates for the next quarter, QE 6-30-17, are record-breaking net revenues of $5.52B and all-time high earnings per share of $0.87. Continued growth and consistency in earnings per share, along with stock buybacks, should maintain the stock price. The stock bottomed during the Great Recession at less than $10. An all-time closing high of $56.41 was reached on March 1, 2017.
I expect the next quarter, the quarter ending June 2017, to be an exceptional quarter for U.S. Bancorp, especially after the incredibly strong quarter ending March 2017 results. U.S. Bancorp has and should continue to outperform its peer average, the large bank segment. From my perspective as a mostly intermediate-term to long-term investor, I consider USB stock to be a Hold and/or a Buy for the long term.
(Graphs created by author using data from U.S. Bancorp)
Disclosure: I/we have no positions in any stocks mentioned, and no plans to initiate any positions within the next 72 hours.
I wrote this article myself, and it expresses my own opinions. I am not receiving compensation for it (other than from Seeking Alpha). I have no business relationship with any company whose stock is mentioned in this article.