Kinder Morgan (NYSE:KMI) reported first quarter results on Wednesday afternoon, missing earnings estimates despite revenues coming in higher than expected. Among other things Kinder Morgan reported lower distributable cash flows, whilst not making any new statements regarding possible dividend increases in 2018. Let's look at what's important.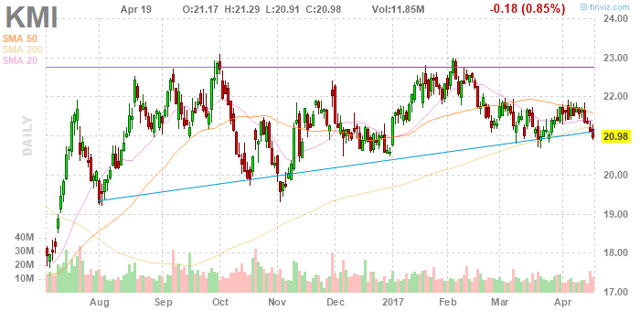 Kinder Morgan trades at $21 right now, which is ten percent below the 52 week high, but well above the lows we have seen through the last twelve months. Kinder Morgan trades below the 20 day, 50 day and 200 day moving averages.
For the first quarter of 2017 the company reported revenues of $3.4 billion, up seven percent year on year. This was a better result than analysts had expected, thus it is surprising that earnings came in below the consensus estimate, at just $0.17 per share (missing estimates by six percent). The $220 million revenue increase was more than offset by a $350 million increase in the company's costs of goods sold, which means that gross profits actually declined despite the top line coming in at a higher level compared to the prior year's quarter. Lower impairment losses allowed the company to report higher operating profits nevertheless, although it is questionable whether that will be replicable in the future.
Another line from the income statement that is important are the company's interest expenses, which increased by 5% to $465 million compared to the prior year's quarter, the company's advances regarding tackling its debt levels are not yet beneficial for the company's bottom line and cash flows.
When we take a closer look at each of Kinder Morgan's segments, we see the biggest contribution once again came from the company's natural gas pipelines (where EBITDA increased by 6% yoy), but the highest growth came from the company's product pipelines (up more than 60% yoy). The CO2 business has improved as well, which is not surprising since that part of Kinder Morgan's operations is very dependent on high oil prices -- the fact that oil prices are substantially higher now than they were twelve months ago allows for better earnings from that segment.
Despite these positive results from Kinder Morgan's segments, distributable cash flows declined in comparison to the prior year's quarter: DCF totaled $1.215 billion, down 1.5% yoy (although management prefers the term essentially flat). DCF per share totaled $0.54, which is ample compared to the dividend that stands at $0.125 per share per quarter.
Kinder Morgan had about $935 million in excess cash after paying its dividend, which was used to lower the company's debt level further. Over the last three months the company's long term debt position declined by $1.8 billion (to $34 billion), which was partially offset by a higher short term debt position (up $1.2 billion). The combined debt position thus declined by $600 million, which is not bad for three months worth of trying to lower the company's debt -- if the company were to keep that pace, the annual debt reduction would be about $2.5 billion. In a couple of years the company could significantly lower its debt levels to $20 to $30 billion, which would improve the company's credit rating and which should also lead to lower interest expenses (which in turn would increase earnings and cash flows).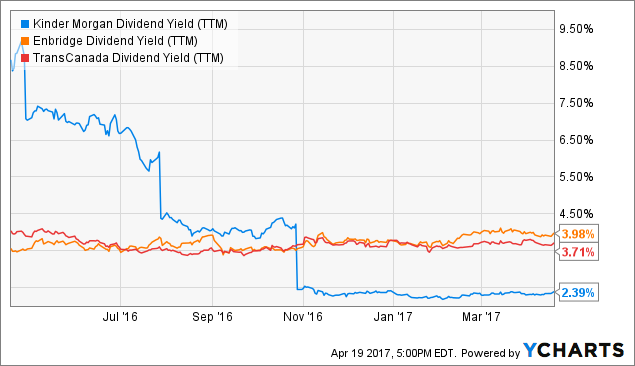 Kinder Morgan's dividend yield is 2.4% right now, which is about 60% of the yield of the two other big pipeline operators, Enbridge (NYSE:ENB) and TransCanada (NYSE:TRP), which yield 4.0% and 3.7%, respectively.
Kinder Morgan's dividend yield is a little higher than that of the broad market (2.0%) and also a little higher than the yield investors get from 10 year treasuries, but a 2.4% yield that will not be increased any time soon is not enough to attract income investors who need the income right now.
With its huge cash flows Kinder Morgan could finance a vastly higher dividend in the future, once management has brought down debt levels to a more appropriate level. If Kinder Morgan would pay out 50% of its distributable cash flows, investors could be looking at a 5.0% dividend yield from today's share price -- there thus is some attractiveness for very long term oriented income investors who do not rely on their dividend income right now.
Management has stated that it will announce its dividend guidance for 2018 later this year, so far we can only guess when Kinder Morgan will make its first dividend hike, and by how much the dividend will be increased. I believe that a payout ratio of 50% or more is unlikely in 2018, but a dividend increase to $0.15 per share per quarter (which would mean a dividend yield of 2.9% based on today's price) does not seem unlikely. That would leave about 70% of the company's distributable cash flows available for other purposes, thus debt levels could be reduced by a meaningful amount in 2018 as well, but at the same time such a dividend increase would show investors that they are not wrong in owning Kinder Morgan's shares for a dividend growth investment.
In a couple of months management will announce their plans and we can see whether the assumption many investors make (that Kinder Morgan will get back on a dividend growth track) will turn true or whether Kinder Morgan will not be suitable for income seekers (a focus on growth projects or share repurchases is possible as well).
Takeaway
Kinder Morgan's earnings miss is not a huge problem, the declining distributable cash flow is more concerning, investors should keep an eye on that. Cash generation remains high though, and Kinder Morgan can easily finance its dividend whilst lowering its debt levels, which could allow the company to raise the dividend significantly in the coming years, once debt levels are where management wants them to be.
As the current yield is not very compelling, Kinder Morgan is only interesting for those income investors with a very long term horizon, as significant dividend growth potential exists.
Disclosure: I/we have no positions in any stocks mentioned, and no plans to initiate any positions within the next 72 hours.
I wrote this article myself, and it expresses my own opinions. I am not receiving compensation for it (other than from Seeking Alpha). I have no business relationship with any company whose stock is mentioned in this article.