Over the past 20 years, the ME3 or Emirates, Etihad and Qatar have made tremendous strides developing their airlines into global brands with global reach. The chart demonstrates a growth curve not seen at other airlines. When one considers the majority of this growth has been from long-haul, wide-body aircraft it is even more impressive.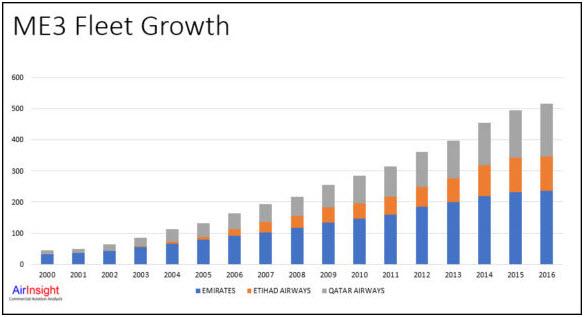 Bear in mind this fleet of some 500 aircraft does not serve any local traffic - it is virtually all connecting traffic through its regional hubs. As the next table illustrates, the growth is recent and amazing.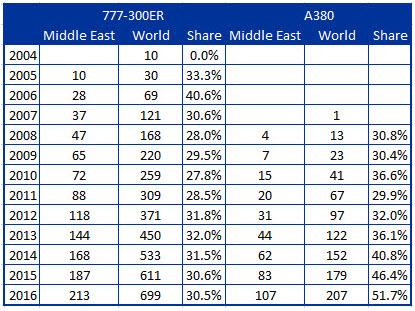 The two most frequently used long-haul commercial aircraft are the Boeing 777-300ER (NYSE: BA) and Airbus (OTCPK:EADSY) (OTCPK:EADSY) A380. The column showing the percentage shows just how much of the global fleet is based in the Middle East. The ME3 accounted for 12% of the fleet in 2000 and by 2016 accounted for 36%. All the Middle East-based A380s belong to these three airlines. Over half the world's A380 fleet belongs to these three airlines.
If we look at the next generation long-haul aircraft coming from Boeing, the 777X (777-8 and 777-9), we can understand that Boeing has been dependent on these three airlines for the program's success so far.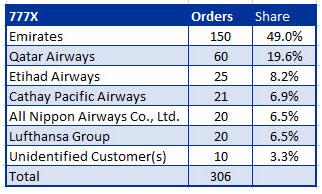 More than three-quarters of the 777X orders are in their hands. That is some risk profile.
And it is not just Boeing that has to watch for risk from dependence on the ME3. Of the 317 A380s ordered, Etihad has two more to be delivered, while Qatar seems in no hurry for its last three. Emirates has 93 deliveries to go. Emirates is keeping the A380 program alive.
Airbus has another flagship program in the A350. The aircraft has sold very well - but 18% of the orders are with Qatar (10%) and Etihad (8%). Emirates had an order but canceled. Emirates has said it will reconsider the A350 again.
It is, therefore, clear that Airbus and Boeing are exposed to these three airlines. Wednesday's news about Emirates' decision to cut back flights to the US is, therefore, of some concern. It will be no surprise to hear similar news from the other two.
To make matters worse, even without the US market, the ME3 are running out of places to develop air traffic. Their days of keeping the order books plump at Airbus and Boeing are waning.
Airbus and Boeing are sitting on big backlogs. But where will the next engine for industry growth come from? Iran is not enough to make up for the slowdown. Replacement of old aircraft has slowed with lower oil prices. American (NASDAQ:AAL), Delta (NYSE: DAL) and United (NYSE: UAL) are possibly going to slow down deliveries. It looks like a tough time ahead.
Disclosure: I/we have no positions in any stocks mentioned, and no plans to initiate any positions within the next 72 hours.
I wrote this article myself, and it expresses my own opinions. I am not receiving compensation for it (other than from Seeking Alpha). I have no business relationship with any company whose stock is mentioned in this article.
Editor's Note: This article discusses one or more securities that do not trade on a major U.S. exchange. Please be aware of the risks associated with these stocks.