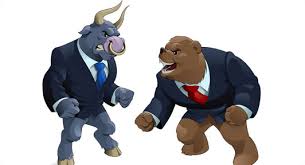 Bulls vs Bears
In my previous article, I had listed 3 top reasons to sell Valeant (NYSE:VRX). Since my sell rating on March 15, 2017, Valeant has dipped from $11 to $9 - about an 18% drop. The company continues to be hampered by its massive debt - paying close to $2 billion in interest, while posting a $2.4 billion loss - clearly not the best position to be in. The company can't move forward without reduction of its massive debt, unless new products are introduced and generate more revenue.
Interest Expenses vs Net Income (Loss)
As we can see from the below chart, in the last five years (except 2014) the company has been continuously posting higher losses year over year. Interest expenses have risen, while debt of about $30 billion has remained the same since 2015. This tells us that something is out of control.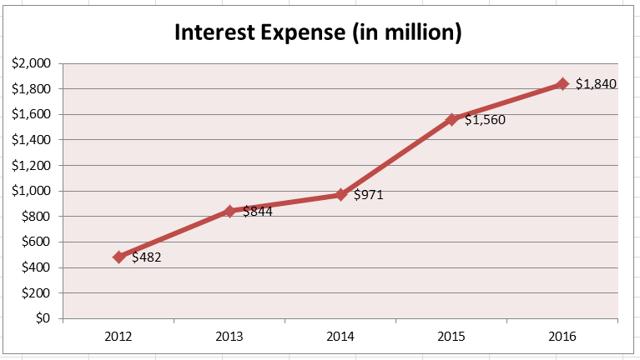 Source: Created by Author (data obtained from Market Watch)
2012 : $482 million - Loss $116 million
2013 : $844 million - Loss $866 million
2014 : $971 million - $881 million
2015 : $1,560 million - Loss $292 million
2016 : $1,840 million - Loss $2,410 million
Debt vs Net Worth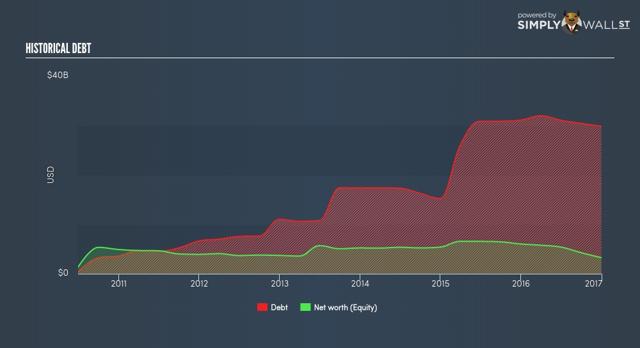 Source: Simply Wall St.
Valeant said in its earnings report that it intends to reduce its debt by $5 billion within 18 months. The company has about $30 billion in long-term debt, so if it reduced its debt to $25 billion within 18 months, that would be equivalent to about a 17% debt reduction. In the past 8 months, the company has reduced its debt by 0.5% only, leaving 16.5% to go in the remaining 10 months, a feat that is not realistically achievable.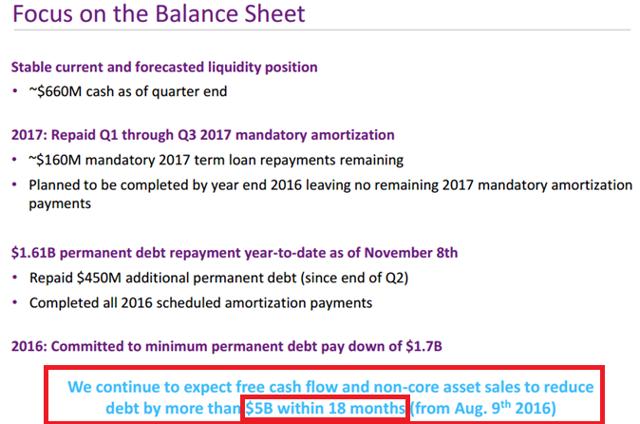 Source: Valeant
Conclusion
Although the company is aware of the problems facing it, their debt reduction program is moving at a snail's pace. With revenue expected to decline for fiscal 2017 according to Estimize, and its largest fund holder jumping ship, the company is continuously losing money. Unless they can react quickly and are able to reduce debt by $5 to $10 billion within 6 months, stock will continue to trade in the downward direction. The short interest has been climbing gradually, which tells us that sentiments are negative. If you have long positions, it would be a good idea to protect those using put options with a 6 month expiry.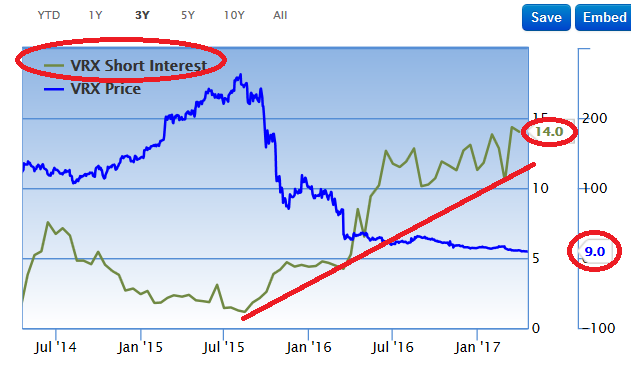 Source: Gurufocus
Based on my analysis, I recommend Valeant as a SELL.
Author's note: Get my articles as soon as they are published by clicking the big orange "Follow" button at the top of this page.
Disclosure: I/we have no positions in any stocks mentioned, and no plans to initiate any positions within the next 72 hours.
I wrote this article myself, and it expresses my own opinions. I am not receiving compensation for it (other than from Seeking Alpha). I have no business relationship with any company whose stock is mentioned in this article.