The semiconductor company Maxim Integrated Products (NASDAQ:MXIM) reports its fiscal Q3 2017 results on April 20, and while the auto market in Europe showed decent gains, MXIM should demonstrate solid results. Since the company is reasonably valued and the primary customer markets bring hope, Maxim looks attractive for investment.
Business State
Maxim Integrated Products is a corporation that produces a broad line of integrated circuits that are used in five major markets worldwide: automotive, computing, consumer, industrial, and communications and data center.
The corporation has experienced a decrease in revenues over the last years, but it seems MXIM found a way to effect a turnaround. Thus, in fiscal Q2 2016, the company reported a 10% increase in revenues for the three months ended December 31, 2016, in comparison with the numbers of Q2 2015. This growth was made possible due to 30% increase in automotive products and 10% growth in consumer segment.
Additionally, Maxim Integrated decreased its reliance on such end customers as Samsung (OTC:SSNLF): the semiconductor company expects sales to Samsung account for about 10% of net revenue in fiscal 2017, while in 2014, this number amounted to 20%. At the same time, MXIM is a supplier of Apple Corporation (NASDAQ:AAPL), and it is estimated the development of Apple Watch and Airpods is a potential source of future profits for Maxim. The diversity of products and customers now remains an advantage for MXIM.
MXIM And The Automotive Market
One of the markets that should drive Maxim Integrated's profits in the future is the automotive market. Currently, the company produces a list of products that enable integrating technologies into cars. At the end of 2015, MXIM achieved a significant goal in the automotive sales: a billion units of automotive integrated circuits (IC) sold. It is reported that automotive is the fastest-growing segment of the company today.
The company states:
We supply a wide variety of automotive qualified ICs with a focus on power management, RF products, keyless access, and high speed serial links.
The important partner of MXIM in the car market is such a leader in the car infotainment technology as Nvidia Corporation (NASDAQ:NVDA). Thus, Maxim supplies power management components for Nvidia PX, the computer responsible for self-driving technology. Other products that Maxim sells to Nvidia include solutions that provide data transfer from camera inputs to Nvidia's system-on-chip and aggregate data from cameras to make ADAS (safety) system possible.
Kent Robinett, Managing Director of Automotive Sales and Marketing at Maxim Integrated comments:
Maxim develops the high-performance analog ecosystem required to drive NVIDIA's supercomputer platform...Our collaboration enables new possibilities for infotainment and ADAS markets within automotive, and is a platform for ongoing developments in automotive-grade USB, power management, high-speed video transfer, precision MEMS, and wireless radio tuner RF-to-Bits® solutions.
The collaboration promises to be beneficial for both parties as Nvidia already counts Audi (OTCPK:AUDVF), Porsche (OTCPK:POAHY), BMW (OTCPK:BMWYY), Tesla (NASDAQ:TSLA), and other huge companies as its customers, which increases the demand for Maxim's unique products.
At the same time, the automotive market itself shows a good performance. In the fourth quarter of 2016, overall automotive revenues rose by 19.7% sequentially, and MXIM reported 3.7% sequential growth in automotive revenues. Moreover, European Automobile Manufacturers' Association reported 11% jump in car registrations in March, which led to the growth of the European automakers' stocks.
The situation seems to be beneficial for many semiconductors, as the increasing adoption of ADAS systems and self-driving solutions attracts more players like Intel (NASDAQ:INTC), Texas Instruments (NYSE:TXN), and Qualcomm (NASDAQ:QCOM).
Financials
As I have mentioned earlier, the company has experienced a decline in revenues from 2011 to fiscal 2016. However, the state of things should change significantly in fiscal 2017. MXIM went through a series of reorganizations of "certain business units and functions," and the positive results are seen in the company's numbers. Thus, net income for six-month period rose from negative $4 million in 2015 to more than $268 million in 2016. Operating margin rose from 10% in fiscal 2014 to more than 26%.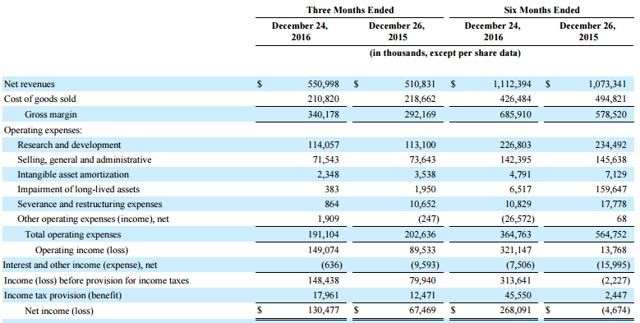 Moreover, the company seems to be reasonably valued in comparison with its peers: a P/E ratio of 25.5 is lower than the industry average, while ROE, ROA, and operating margin are all significantly higher. EV/EBITDA multiple is currently 14.3.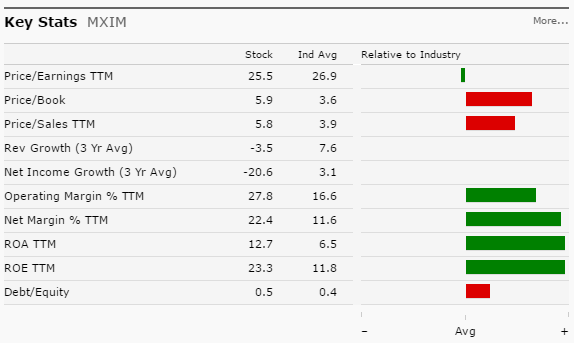 (Source: Morningstar.com)
DCF Analysis
To strengthen the analysis, I use discount cash flow model to value the company. The model shows that under the base scenario (13.3x EBITDA terminal value), the fair stock price is $45.1, which is just slightly higher than the current price level ($44.6 as of April 19).
(Source: Finviz.com)
My analysis is based on certain assumptions:
1. The average annual revenue growth rate over the horizon period of 5 years is estimated to be around 13%, with 8% increase in fiscal 2017. The growth will be primarily driven by the automotive and consumer segments.
2. The average EBITDA margin will be around 30%.
3. I capitalize a decrease in gross PP&E in fiscal 2017, with a subsequent average increase of 3%.
4. The after-tax cost of debt is 2.4%. The cost of equity capital (17.8%) is computed using CAPM, with 1.13 beta, 2.3% risk-free rate, and 16% market premium. The WACC is, therefore, 16.7%.
As a result, the model shows $12757 million equity value under the base scenario, which assumes EV/EBITDA multiple will decrease to 13.3 by the end of the horizon period (fiscal 2021). In this case, the fair value of the stock is $45.
The sensitivity analysis shows a range of possible outcomes that will be driven by actual results of the corporation. Therefore, the fair price range is $42.5-47.5.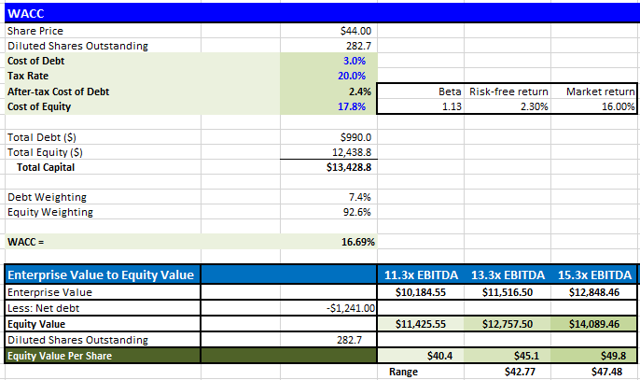 Conclusion
Maxim Integrated Products looks attractive for investment now, as the development of the automotive and consumer markets should drive the company's profits. After a period of declining revenues, the corporation seems to affect a turnaround and promises a solid growth in the near future.
An analysis of the company's financial performance shows reasonable pricing of MXIM stock. Thus, a P/E ratio of 25.5 is lower than the industry average, while such indicators as ROE and ROA are higher than those of competitors. The suitable price range for the stock is estimated to be $42.5-47.5.
Supporting Documents
Disclosure: I/we have no positions in any stocks mentioned, but may initiate a long position in MXIM over the next 72 hours.
I wrote this article myself, and it expresses my own opinions. I am not receiving compensation for it (other than from Seeking Alpha). I have no business relationship with any company whose stock is mentioned in this article.