The first quarter did not exactly deliver a continuation of the post-election rally. Equities beat bonds, but leadership within equities rotated back to defensive sectors. The US led other developed markets, but emerging markets (EM) came out on top overall. Meanwhile, yields barely budged in the US; after rising earlier in the quarter on fears that the Federal Reserve (Fed) might tighten aggressively, they fell back after the Federal Open Market Committee indicated a gradual approach at its March meeting. Returns of interest-rate sensitive sectors such as consumer staples and utilities beat those of financials and industrials. Energy slumped as oil fell below $50 per barrel in early March. Politics also played a role. Concerns about the timing and magnitude of US fiscal stimulus and the risk of a Marine Le Pen victory in France stalled many risk-on trades.
All of that said, I think the reflationary trend remains in place, and I see signs of a synchronized uptick in growth around the world (FIGURE 1). I maintain a pro-cyclical bias and continue to favor equities over bonds, though I have tweaked my regional views: from bullish to moderately bullish on US equities, and from neutral to moderately bullish on European equities. I remain bullish on Japanese equities in light of economic fundamentals and supportive policy.
FIGURE 1
Global synchronized expansion
Composite purchasing managers' indexes,1 January 2010 - February 2017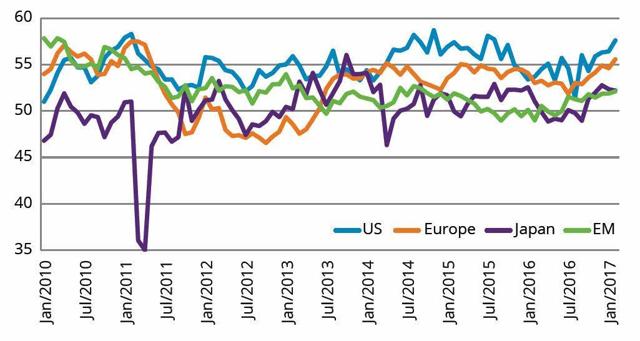 Sources: Haver Analytics, Markit, ISM
I expect government bond yields to drift higher as global growth and inflation expectations percolate. The Fed is in the lead in terms of monetary-policy tightening with interest rate hikes already here and balance-sheet slimming to come later. Higher US interest rates should support the US dollar versus developed and emerging market currencies (in many emerging markets, inflation is falling and central banks are cutting rates). The European Central Bank is downshifting its bond-buying in April, from 80 billion euros to 60 billion euros a month, but accommodative policy remains in place. Still, stronger growth should cause European yields to rise, particularly if higher core inflation materializes as I expect. Given that the Bank of Japan (BOJ) owns close to half of all Japanese government bonds, it should be able to maintain the target 10-year yield of around 0% despite higher global rates. I expect the US dollar to rise modestly versus the euro and to make more significant gains against the yen.
FUNDAMENTALS AND MY TAKE ON POLITICS
US
I remain bullish on the US economic cycle, as data and leading indicators for the consumer and manufacturing are robust. Consumer and business optimism may be excessive, but I think they're directionally correct and expect US growth to expand in the second half of 2017 (FIGURE 2). While legislative efforts have been complicated by party divisions in Washington, I think some type of tax reform bill will pass in the coming year and expect deregulation efforts to ramp up. Wellington's analysts' meetings with company managements corroborate the business optimism and suggest that lower taxes and less regulation, along with an improving cycle are likely to unleash capital spending. That said, the failure to even vote on the healthcare bill augurs poorly for the depth of tax reform likely to pass Congress. I also remain concerned that President Donald Trump's protectionist and anti-immigration policies could hurt growth. Taking these factors and rich valuations into account, I have lowered my recommendation for US equities from bullish to moderately bullish.
FIGURE 2
Business leaders are optimisitic
2Q 2005 - 1Q 2017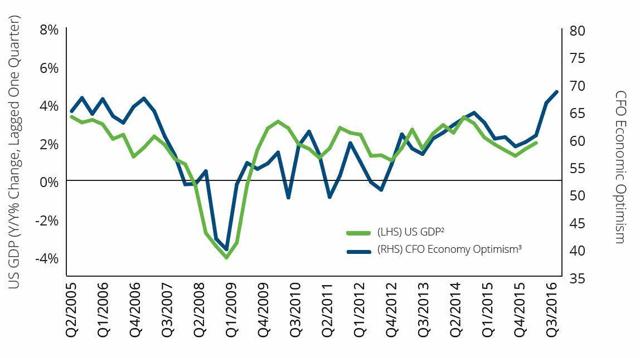 Sources: Duke, Haver Analytics, Wellington Management
EUROPE
Economic growth has advanced, and leading indicators suggest further momentum in coming months. Employment gains have been solid, and consumer confidence is high. Business investment is improving, and the latest purchasing managers' index is consistent with growth of around 3%. I am mindful of the upcoming French election at the end of April. While I view the odds of a Le Pen victory as quite low, that outcome would be decidedly negative for European equities and the stability of the EU. I am reassured by the fact that Le Pen's polling deficit is well outside the margin of error, unlike the polling in the run-up to Brexit or the US presidential election, and am thus comfortable with a moderate overweight in European equities (FIGURE 3).
FIGURE 3
Le Pen's deficit is materially worse than what Trump and Brexit faced
Poll averages 100 days prior to referendum/election (%)4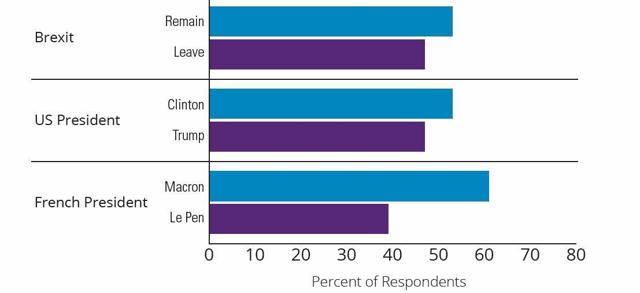 Sources: UK polls - Ipsos MORI, YouGov, ComRes, ICM Unlimited, and Survation; US national polls - NBC, Reuters/Ipsos, and USC/Los Angeles; French polls - Ifop-Fiducial, Ipsos, and OpinionWay.
JAPAN
Economic growth and fundamentals are improving, supported by a tightening labor market, corporate profits at all-time highs, and burgeoning consumer confidence. The monetary policy backdrop is quite supportive, as noted earlier, which, in the context of the Fed tightening, should put downward pressure on the yen and upward pressure on inflation. The latter would pressure yields higher and force the BOJ to purchase more bonds to maintain its target. Prime Minister Shinzō Abe, whose popularity is unprecedented, is deeply committed to reflation. His reform programs are resulting in improved corporate governance and higher returns for shareholders.
EMERGING MARKETS
Chinese data have remained firm, but I am not confident that the pace of growth can be sustained, and I foresee a mild slowdown in the second half. Although property data has stayed strong, I see the recent increases in interest rates as ultimately slowing the economy. Other emerging economies are improving, but not enough to tempt us into an overweight position given that growth in developed economies is better, and I expect a stronger US dollar.
I believe US financials are in a regime change that will underpin a bull market in the sector this year. The sector is a direct beneficiary of improved economic activity and higher interest rates, and banks are experiencing solid loan and deposit growth and positive credit conditions. The sector will also benefit from regulatory relief. Executive orders have already postponed additional capital requirements, and changes in key leadership positions under the new administration bode well for further relief. In addition, Daniel Tarullo's resignation from the Fed's top bank regulation role could mean easier lending standards and more bank reserves entering the economy.
European banks also seem to be at an inflection point brought on by the long overdue recognition of bad loans and repair of weak balance sheets. This change has been particularly evident among the Italian banks, the region's weakest link. Add to this a pickup in economic activity in the euro area, and conditions seem set for improvement.
Investment Implications:
Favor equities over bonds - Growth in the developed world is picking up, and deflation risks are de minimis. A Le Pen victory could be a disaster for markets globally, but this is a known risk and even with a victory, exiting the euro would be very difficult for France. I continue to recommend sectors most sensitive to a pickup in growth, including financials and other cyclicals, as well as US small/mid-caps.
Favor Japanese equities over US and European equities - I continue to think Japanese equities are the most underappreciated given that the economy has escaped deflation risks, government policy is the most aggressive in the developed world, and valuations are attractive. The US economy remains the strongest in the developed world, though concerns about the ability of the new administration to deliver on the promised business-friendly policies and rich equity valuations increase the risk of disappointments. European growth is accelerating, the banking system is recovering, and getting past the French elections with a more centrist candidate would present upside for European equities. In Japan, I favor export-oriented sectors that benefit from a weak yen. I favor financials and small/mid-caps in the US, and financials, industrials, and healthcare in Europe.
Mixed picture in emerging markets - China's property market, the country's growth engine, looks strong. However, China's cycle is probably peaking, with the effects of stimulus from a year ago fading and the central bank raising interest rates. Higher developed-market rates and a stronger US dollar remain hurdles for other emerging markets. I favor a neutral weight and differentiating among countries and companies.
Favor US credit over government bonds - Improvements in growth and inflation are leading to reduced accommodative monetary policy in the US and will eventually do the same in Europe. Barring a risk-off event, I expect developed government bond yields to rise and think European yields are vulnerable. Credit fundamentals are healthy-leverage is not excessive and supply could be reduced substantially with US tax reform. I expect high-yield spreads to benefit from stable oil prices and bank loans to benefit from higher interest rates. I favor duration-hedged4 credit exposure.
Favor inflation protection - Even if Trump's policy efforts disappoint, I think inflation risks are tilted to the upside. Unemployment in the US, Europe, and Japan is at cycle lows and wages are rising. Central banks are leaning into tightening, but they will likely allow their economies to "run hot" and inflation to creep up above target levels before pulling the trigger on rate hikes. Therefore, I favor hedging portfolios with inflation-sensitive assets such as TIPS,5 natural resource equities, and industrial metals.
Hedge against tail risks - While growth and inflation is my base case, I continue to see numerous risks that could be disruptive. Stagflation6 is one potential scenario. Though gold will struggle in an environment of higher real rates, it has substantial upside in a stagflationary environment. I favor gold-mining companies that have restructured and have higher sensitivity to gold prices. Political, geopolitical, and economic risks also have to be considered. Diversification is the key. Fixed income shouldn't be abandoned, as high-quality sovereign bonds could still rally in a risk-off scenario.
1 Purchasing managers' index is an indicator of the health of the economy. Readings over 50 suggest economic growth should rise from its current pace, while readings under 50 suggest economic growth should fall from its current pace.
2 Gross domestic product (NYSEMKT:GDP) is the monetary value of all the finished goods and services produced within a country's borders in a specific time period.
3 Duke/CFO Outlook: Optimism Index, US economy (scale: 0 - 100, 100 = most optimistic).
4 The polling numbers are based on data available 100 calendar days prior to the referendum/election. In each case, multiple polls were released and so we applied a simple average. French presidential elections typically consist of two rounds and so we use polls for the expected second round of voting between Marine Le Pen and Emmanuel Macron.
5 Duration is a measure of the sensitivity of an investment's price to nominal interest-rate movement.
6 TIPS, Treasury Inflation-Protected Securities, are Treasury bonds that are adjusted to eliminate the effects of inflation on interest and principal payments.
7 Stagflations is a condition when growth is falling but inflation is rising.
All investments are subject to risk, including the possible loss of principal. Foreign investments can be riskier and more volatile than U.S. investments due to the adverse effects of currency exchange rates, differences in market structure and liquidity, as well as political and economic developments in foreign countries and regions (e.g. "Brexit"). These risks are generally greater for investments in emerging markets. Fixed Income risks include credit, liquidity, call, duration, and interest-rate risk. As interest rates rise, bond prices generally fall; these risks are currently heightened due to the historically low interest rate environment. Small- and mid-cap securities can have greater risk and volatility than large-cap securities. The value of inflation-protected securities generally fluctuates with changes in real interest rates, and the market for these securities may be less developed or liquid, and more volatile, than other securities markets. The value of inflation-protected securities generally fluctuates with changes in real interest rates, and the market for these securities may be less developed or liquid, and more volatile, than other securities markets. Bank loans can be difficult to value and highly illiquid; they are subject to credit risk, bankruptcy risk, and insolvency. Risks of focusing investments on the natural resources and industrials sectors include regulatory and legal developments, competitive pressures, pricing and rate pressures (utilities), rapid technological changes, potential product obsolescence, and liquidity risk. Diversification does not ensure a profit or protect against a loss in a declining market.
The views expressed here are those of Nanette Abuhoff Jacobson. They should not be construed as investment advice. They are based on available information and are subject to change without notice. Portfolio positioning is at the discretion of the individual portfolio management teams; individual portfolio management teams and different fund sub-advisers may hold different views and may make different investment decisions for different clients or portfolios. This material and/or its contents are current as of the time of writing and may not be reproduced or distributed in whole or in part, for any purpose, without the express written consent of Wellington Management or Hartford Funds.
200987 MFGS_041517
Disclosure: I/we have no positions in any stocks mentioned, and no plans to initiate any positions within the next 72 hours.
I wrote this article myself, and it expresses my own opinions. I am not receiving compensation for it. I have no business relationship with any company whose stock is mentioned in this article.