Overview
Crude oil has faltered again after a move toward $55 was yet again complicated by inventory builds and the prospect of greater US shale production. WTI crude has posted solid gains coming into Q2 after briefly revisiting the $47 handle.
The dip in crude was envisioned in our models as we had expected crude to average below $50 in Q1 and ~$50 in Q2. We are putting the current dip in perspective and examining the quarterly outlook.
Current Rally: Unsustainable from the Beginning
There is one major point that stood out to us during the current crude rally: lack of sector momentum. After OPEC announced its supply cut, energy names moved dramatically higher on the prospect of a sustained increase in prices that would carry through 2017. The XLE has sold off substantially and now lags the S&P 500 since its post-OPEC cut breakout.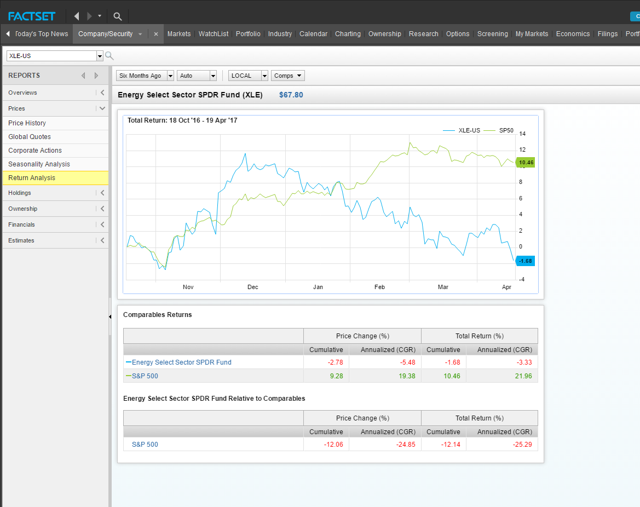 Source: FactSet
This underperformance comes as expectations for a quick and steady rebound in oil prices have faltered in the short-term. In our view, the run-up in XLE in Q4 2016 was overdone; however, the fact that recent divergence has occurred between crude oil and XLE post-Q1 WTI sell-off denotes the lack of fundamental support to the Q1 rally.
Much of the run-up in crude prices has been attributed to heightened geopolitical risks. It seems that the oil market is viewing the current geopolitical risk premium as a short-term bump. Below is a detailed technical analysis of crude and XLE to illustrate this point.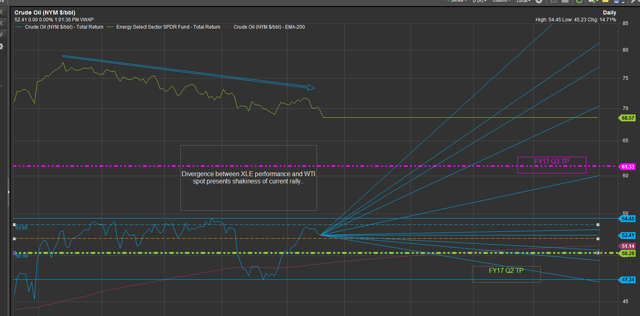 Source: FactSet
Our Q2 and Q3 target prices are embedded as well as support and resistance levels for WTI. Please note this chart contains Tuesday's data.
It seems that the price action seems to be aligning with our Q2 estimate of ~$50/bbl with potential downside to the $47 handle. This sell-off may weaken the XLE further as large downward moves in crude will only exacerbate XLE's current underperformance. Given the potential for fundamental upside risks for WTI in late Q2 and Q3 considering (a.) the likelihood of an OPEC cut extension, (b.) higher seasonal demand for petroleum products, and (c.) stronger 2H economic growth, large selling pressure may create attractive entry points for high quality E&P names such as YPF and GPRK.
Gasoline Inventories Rise
One primary factor benefiting crude prices is seasonality, particularly in relation to the summer driving season. Refiners typically come back from maintenance and boost production for petroleum products. Improving global economic growth coupled with low gasoline prices may prove supportive to crude oil demand in the summer driving season.
The most recent inventory data suggested that crude oil inventories declined by 840 tb/d while gasoline inventories unexpectedly rose by 1.5 mmb/d. This created uneasiness around the seasonality argument. In our view, this may have been caused by larger import volumes of motor gasoline. On a sequential basis, gasoline imports rose by 72.7%, which is well below the 5-year April average of 11.1% and 5-year average of 5.8%. We would attribute the spike in imports as a result of heightened demand expectations from refiners heading into the summer.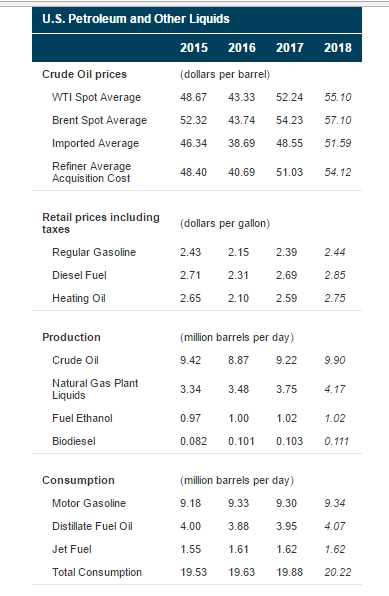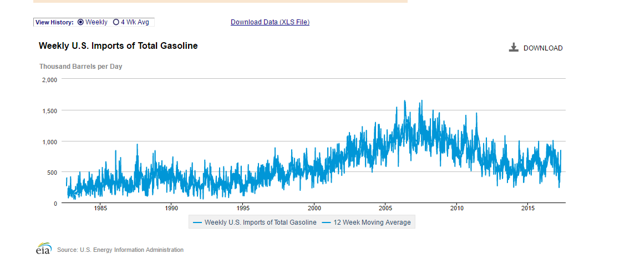 Source: EIA
Gasoline consumption has been expected to fall y/y since the middle of the decade, and is expected to remain roughly flat from 2016 levels - 9.3 mmb/d vs. previous 9.33 mmb/d. The current forecasts seems conservative given the fact that the economy has improved since 2015-2016 and that current vehicle fleets remain heavily slanted toward larger cars that tend to consume more gasoline. We are expecting yet another year of better than expected gasoline demand thanks to stronger economic growth on a y/y basis as well as heightened % of SUVs and trucks in current vehicle mixes.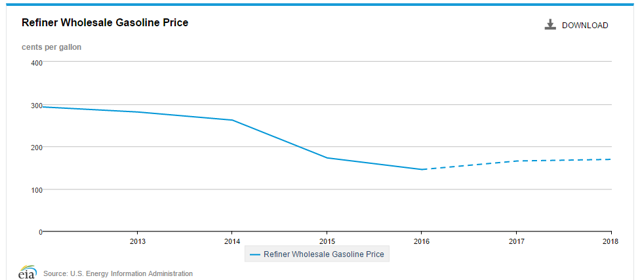 Source: EIA
Conclusion
The current sell-off in crude prices comes as the geopolitical risk premium to crude prices is called into question amid a backdrop of mixed inventory reports. Our analysis suggests that crude oil will hover around the $50 level in Q2 2017 and potentially trek higher in Q3 as inventory draws become more consistent.
We would also note that XLE has remained in a downtrend despite crude's brief late Q1 rally and has been hit with greater selling pressure in the recent days. Further declines in underlying upstream names may present attractive entry points for energy investors. We continue to favor a mix of US shale E&Ps with improving capital positions as well as LatAm producers with favorable economics and balance sheets.
Crude oil's stubbornness at the $50 level has forced some investors to question the long-run trajectory of crude prices. Ironically, the longer that oil remains weak, the less investment occurs thereby greatly increasing the likelihood of a potential supply shortage in the long-run. This will continue to substantiate our logic that the energy cycle has reached an inflection point and is in its early stages of an improving earnings cycle that will support valuations in the long term.
Disclaimer
This article contains the opinions of BlackVault Investments and in no way is acting as an offering and/or solicitation of securities or investment advice.
If you have any questions feel free to leave them in the comment section or message me directly. Thank you for reading and good luck to all.
Disclosure: I/we have no positions in any stocks mentioned, but may initiate a long position in YPF, GPRK, WLL over the next 72 hours.
I wrote this article myself, and it expresses my own opinions. I am not receiving compensation for it (other than from Seeking Alpha). I have no business relationship with any company whose stock is mentioned in this article.