Introduction
President Trump has declared that his administration is anti-regulation. Yellen has committed, finally, to returning to a sustainable interest rate environment. Understandably financial institutions (NYSEARCA: XLF) who attributed their woes to tightening regulations are jubilant.
The limelight will surely fall on financial institutions a sector fraught with nonlinear factor risks. Thus there is no better time to uncover non-linear factors and highlight the importance of conditional portfolio optimization. For part one of my series please refer to "Yellen Is Raising Rates. Should You Be Raising Your Stake In Banks?" It however is not required reading.
This article examines the relationship between bank loan delinquencies and bank charge-offs vis-à-vis credit spreads. I will examine 30+ years of macroeconomic data through the Great Recession and beyond for the United States economy, with a particular focus on whether these links (if any) have predictive characteristics that remain constant in different states of the world. The analysis indicates that explanatory power of credit spreads change become decoupled from the macro environment, indicating that banks profits, and therefore loan betas, may exhibit nonlinearity.
Which should give most asset-allocators pause. I then estimated multi-factor regressions in the search for the answer to why nonlinearity of profits pervade the financial sector. Instead I found evidence of mechanical decoupling! Buttressing the importance of conditioned analysis when constructing an optimized portfolio.
Methodology
Since the Fed data for bank charge-offs and loan delinquencies has been available since 1985, I attempted to find data over the same period for the other independent variables. To test my hypotheses, I relied on two forms of analysis. First, I plotted charge-offs and loan delinquencies against each of the macroeconomic factors to develop a view on the how changes in each variable track changes in the other. Second, I regressed each indicator on the others to determine the statistical and predictive strength of each indicator. Overall, the results tend to show how bank charge-offs and delinquencies exhibit different sensitivities to certain macro drivers in different states of the world. Using Federal Reserve data, I define bank loan delinquencies as those loans that are past due thirty days or more and still accruing interest as well as those in nonaccrual status. Whilst, I define bank charge-offs as the annual value of loans and leases removed from banks' books and charged against loss reserves, net of recoveries.
Bank Loan Delinquencies vs. Credit Spreads
Credit spreads are defined as the spread between Moody's Baa 10 Year Yield over 10-year U.S. Treasury Notes. Figure 1 shows that bank loan delinquencies generally have a positive relationship with credit spreads. Macro credit risk is reflected in these spreads-widening spreads indicate growing concern about the ability of corporate borrowers to service debt, while narrowing spreads indicate falling credit risk. Since credit spreads may predict future economic activity, it is not a surprise that high bank loan delinquencies follow increases in credit spreads (for example, the widening of credit spreads in late 2007 is followed by a spike in bank loan delinquencies). As credit spreads fell from around 6% in late 2008 to around 3% by mid-2009, delinquencies followed suit.
Figure 1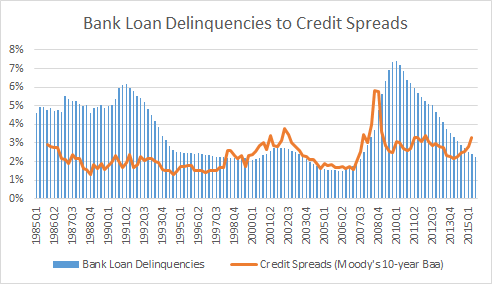 Source: Duke academic data, Federal Reserve databases
Figure 2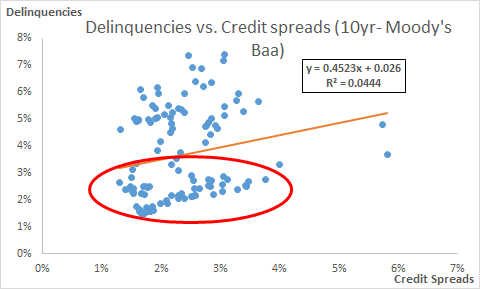 Source: Duke academic data, Federal Reserve databases
Theory suggests that widening credit spreads should result in an increase in delinquencies. However, in my regression of bank loan delinquencies to credit spreads, I find that the R-squared is only 0.04, though its t-stat is 2.33. While the coefficient of 0.45 supported my beliefs (more on this later), the R-squared for the regression was very low. Nonetheless, a visual inspection of the data suggests that credit spreads might have more explanatory power at lower delinquency rates. Consequently, I split data into two sets: periods with delinquency rates below 3% and those above 3% (the average over the entire period was 3.66%). I then reran the regression above, the results of are listed in Figure 3.
Figure 3

Source: Duke academic data, Federal Reserve databases
It appears that credit spreads explain delinquency rates at low levels. However, credit spreads are a poorer explanatory factor of delinquency rates above 3%. Therefore, my regressions appear to support hypothesis that credit spreads over a certain level, overstate the risk of delinquencies, mitigating its accuracy as an indicator in extreme environments.
Bank Charge-offs vs. Credit Spreads
Similar to bank loan delinquencies and credit spreads, bank loan charge-offs and credit spreads are closely related. For example, in late 2007, both variables spike.
Figure 4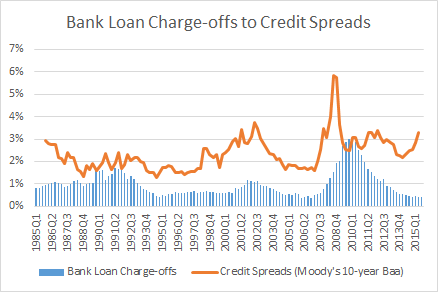 Source: Duke academic data, Federal Reserve databases
Figure 5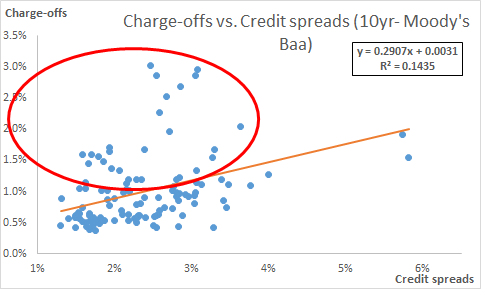 Source: Duke academic data, Federal Reserve databases
Once again, I observed a decoupling between spreads and charge-offs in periods when charge-off rates were relatively high. Therefore, I separated the data into two sub-groups, over and under a level of 1%. The results of my regressions are in the table below.
Figure 6

Source: Duke Academic data, Federal Reserve databases
Credit spreads alone cannot account for high levels of missed payments on loans, which appears to support my findings with delinquencies. My regression model predicts that the charge-offs (in normal environments) would be near zero in the absence of credit spreads. One interpretation of the coefficient value is that almost all firms rated at Baa are capable of generating cash at the risk-free rate in normal business environments. Another is that firms have structured their net interest payments so that they are immune to increases in the risk-free rate. If the latter was correct, then I would expect the coefficient to be zero in the comparable regression on delinquency rates-I did not. One could also attribute the difference in coefficients to a measure of hedging ineffectiveness.
Thus, an allocator who believes that banking stocks have reached a trough as credit spreads tighten may find that she is in the eye of the storm; charge-offs and delinquencies become decoupled with credit spreads in extreme environments. In such environments an unknown-unknown is likely on the horizon. The prudent allocator should stress test her models for the impacts of non-linearity- Caveat emptor!
This term paper is part of a series that examines the relationship between bank loan delinquencies and bank charge-offs vis-à-vis credit spreads, bank stock returns, the unemployment rate, housing prices, and other macroeconomic variables. Please click the follow button so you won't miss out on new material and please visit my author page in case you missed an article in the series. Thanks for reading!
Disclosure: I/we have no positions in any stocks mentioned, and no plans to initiate any positions within the next 72 hours.
I wrote this article myself, and it expresses my own opinions. I am not receiving compensation for it (other than from Seeking Alpha). I have no business relationship with any company whose stock is mentioned in this article.