Investment Thesis
EPR Properties (EPR) continues to find its way into my life, whether it's on Seeking Alpha or having a conversation with my 22-year-old cousin about how amazing Topgolf is. Over the last two years, EPR's stock has flourished and the growing monthly dividend payments have been the icing on the cake. With the stock price sitting close to an all-time high, EPR still has all the right stuff to push its share price higher and continue growing its favorable monthly dividend payments.
EPR's Diversification Just Keeps Getting Better
The most significant concern about EPR's business model is that it is dependent on non-essential services such as Topgolf, movie theaters, water parks, etc. While investors should be aware of how these items are impacted during an economic downturn, EPR has done an excellent job of diversifying away from a business model that derives too much revenue from any single source.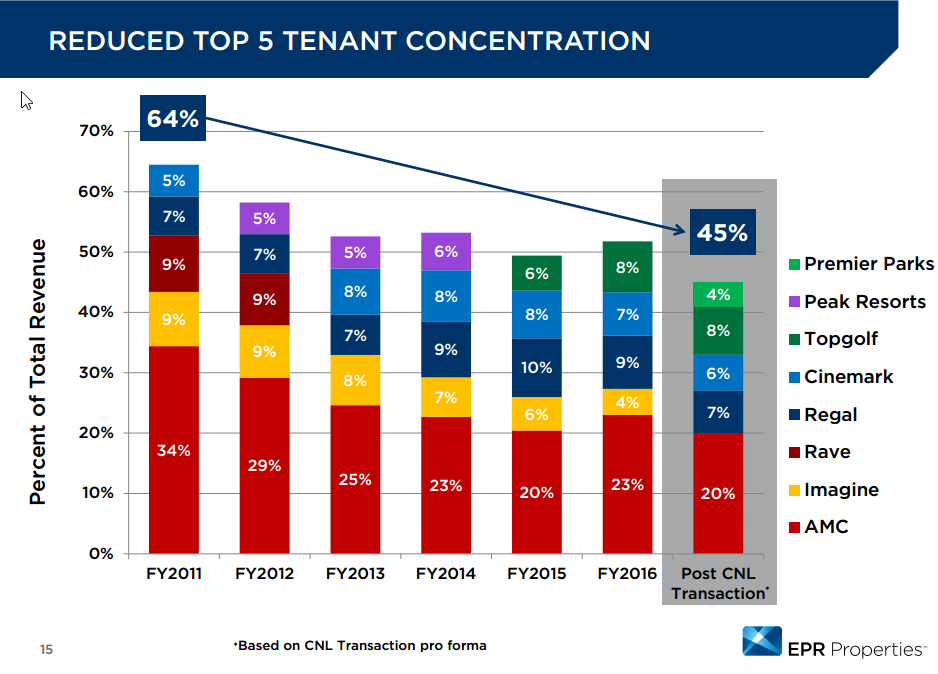 Source: EPR Properties 2017 Investor Presentation
As early as 2011, 55% of EPR's total revenue was dependent on the movie industry. During this time, four of their five primary revenue sources were movie theater operations. Since then, their dependence on AMC alone has decreased dramatically, and with their movie operations now concentrated on Cinemark, Regal, and AMC only 34% of their total revenue comes from that industry.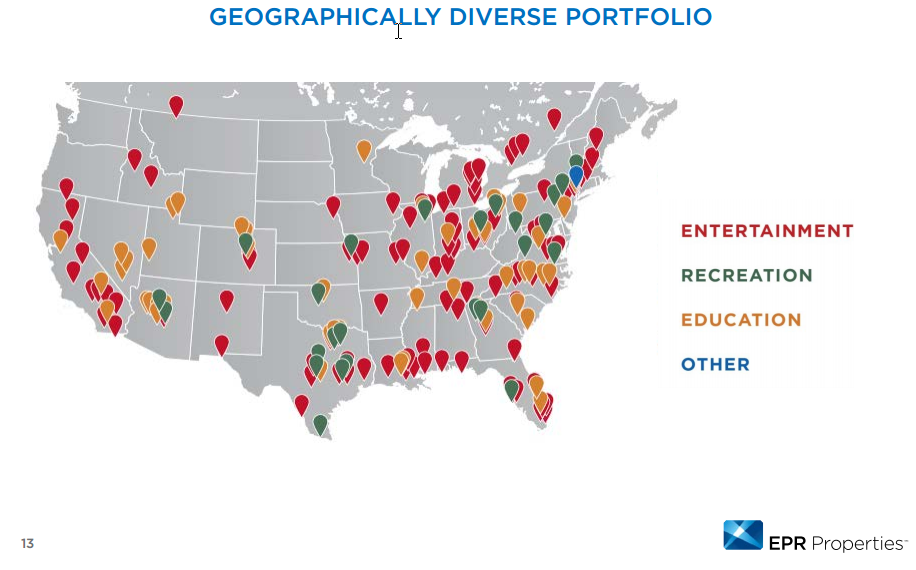 Source: EPR Properties 2017 Investor Presentation
Couple these improvements with a geographically diverse portfolio and properties located in some of the fastest-growing metropolitan areas of the US and Canada and it's easy to see why EPR's stock continues to increase at such a dramatic pace.
Long-Term Lease Portfolio
Many traditional REIT's have a difficult time maintaining a weighted-average lease portfolio more than six or eight years, but because of the unique nature of EPR's properties, they are able to create long-term leases that make their average lease expiration only 3% per year over the next decade.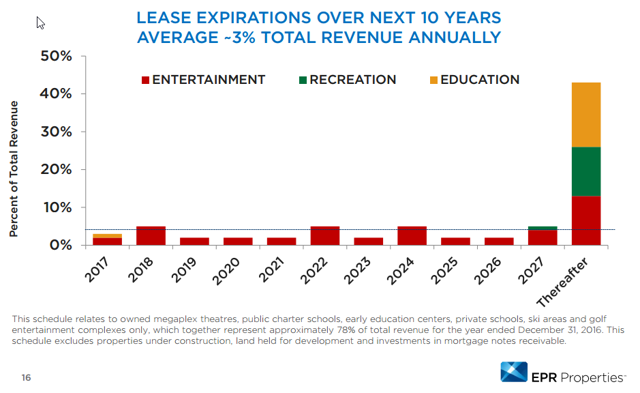 Source: EPR Properties 2017 Investor Presentation
Additionally, many of these businesses are located in centralized areas where it would be difficult to achieve similar foot traffic if they were to move. For example, very few successful stand-alone movie theaters still exist and most are now anchored to a mall or busy shopping centers. All of EPR's businesses it leases to are dependent on being conveniently located for the consumer, which makes it difficult to replicate elsewhere.
So Much More Than A Movie Theater REIT
Although the box office is still the core of EPR's portfolio, I want to focus on the significant growth being generated by EPR's education segment and its Topgolf leases. The demand for better education and choice has created a significant opportunity for EPR to provide properties that fit the changing landscape of childhood education.
Charter Schools
Charter schools have been adopted by 42 states and Washington D.C.
Serves 3.1 million students, with a waiting list of 1 million students
6900 schools in operation

Source: EPR Properties 2017 Investor Presentation
Charter schools represent the largest tappable segment in the field of education with a market opportunity of $2.5 billion and an estimated transaction size between $5 - $25 million. At this point, EPR has 67 charter schools in its portfolio with 1 under development.
Private Schools
Private schools have also experienced strong growth trends as non-sectarian private schools offering services >$15K tuition have seen double-digit growth since 2008.
Targets mid to high affluence families in high-income cities
Over 26,000 K-12 private schools in the US Market serving approximately 4.5 million students.
Private schools are estimated to have a market opportunity of $2 billion comprised of transaction sizes between $20 - $50 million. EPR currently leases properties to 12 private schools.
Early Childhood Education
15.1 million children under the age of 6 that require childcare
Dual-income affluent families demand more than daycare services and they can afford to pay more to obtain these services
Early childhood education has a current market opportunity of $1 billion and estimated transaction sizes range from $5 million to $20 million. EPR's portfolio has 41 existing early childhood education centers and has another 16 new facilities under development at this time.
Golf Might Be Dying, But Topgolf Sure Isn't

As a millennial, I can honestly say I have never resonated with the priorities and thinking of my generation. While I may not care for the millennial mindset, I have learned to accept that I am the exception and not the rule.
At our annual Easter family gathering, my cousin was raving about Topgolf and how she thoroughly enjoyed her experience even though she can't stand golf. Without intruding on the conversation, I began to listen closely as she sold my other cousins on how the Topgolf experience "is nothing like golf."
If you think about this for a minute, the creator of Topgolf has a goldmine on their hands. Topgolf has a broad appeal from teenagers all the way to senior citizens, and from this vast appeal come outstanding revenues and profits.
EPR is the direct beneficiary of this trend as 8% of its overall revenues comes from Topgolf and they only began carrying these leases since 2015. Here are some of EPR's stats from Topgolf:
Topgolf's 2016 attendance grew over 30%
Currently manages 25 Topgolf facilities, with 5 more under development.
Dividend

I used Dividend.com to get a better idea of EPR's overall dividend history, the illustration below demonstrates that EPR's has a lot to offer.

Source: Dividend.com - EPR Properties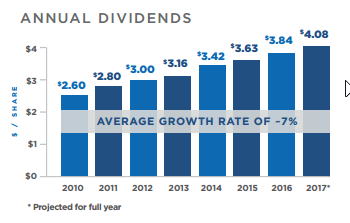 With an average growth rate of 7% since 2010, EPR has a lot to offer the income investor.
Financials
Sifting through EPR's 10-K can be quite an ordeal because the document is in excess of 140 pages, but there are some key takeaways to be had from its income statement.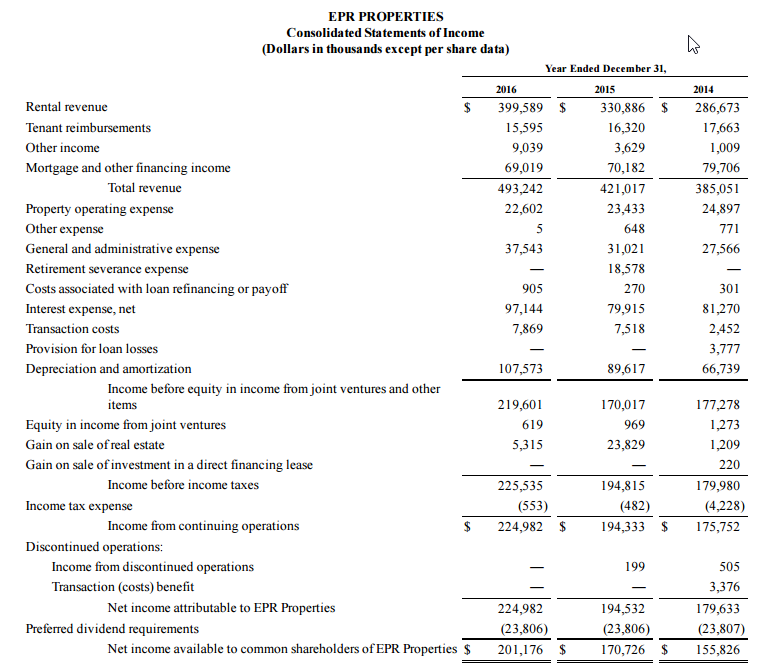 Source: EPR Properties 2016 10-K
Here is a different look at some of the key points: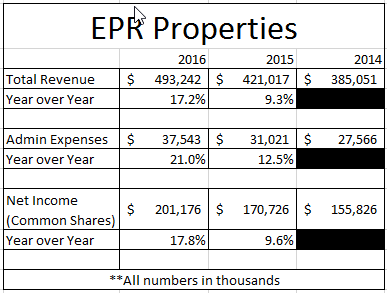 The main point of looking at the information this way is to see that net income is actually increasing at a slightly faster pace than total revenue. I believe this is extremely important because it means that management is not just adding revenue for the sake of revenue.
Another important metric is the expected maturities of debt and the 10-K shows major improvement from 2015 to 2016.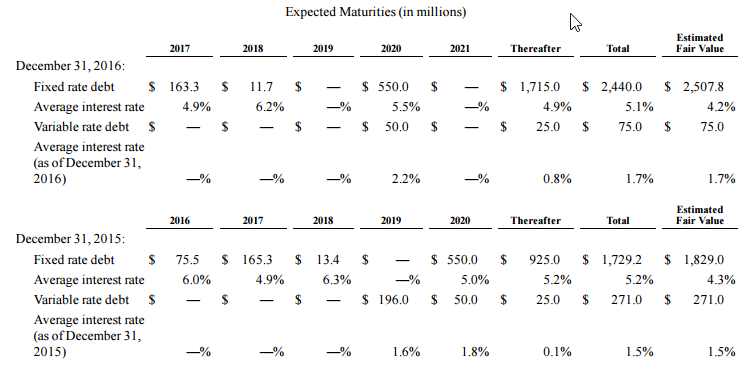 Source: EPR Properties 2016 10-K
Almost all of EPR's new liabilities aren't due until after 2021 and this is at a slightly improved interest rate. Most importantly, EPR has reduced its variable rate debt from $271 million at the end of 2015, to approximately $75 million in 2016. Outside of the $75 million, all of EPR's other debts are fixed interest rates.
Conclusion

If you are like me, you might be trying to decide how to classify EPR's portfolio. Arguments could be made that it is an entertainment REIT, or maybe it's an education REIT. Instead, I would like to propose that it is an "experience REIT" because the properties it manages are all based on consumer-driven needs and desires. With this in mind, EPR has positioned itself to benefit from the growing prominence of millennials.
Even at its current valuation, I believe that EPR's best years are to come now that it has established a more diverse base of services. EPR stands in a league of its own because it has assembled a differentiated portfolio unmatched by any competitor.
Final Note: If you enjoy my articles please take the time to follow me. While I enjoy performing analysis, following me is the best method for showing me that SA subscribers are finding my work useful.
If you have any suggestions to improve my articles or if you would like me to perform analysis on a stock please feel free to message me and I will do my best to make it happen.
Disclosure: I/we have no positions in any stocks mentioned, and no plans to initiate any positions within the next 72 hours.
I wrote this article myself, and it expresses my own opinions. I am not receiving compensation for it (other than from Seeking Alpha). I have no business relationship with any company whose stock is mentioned in this article.
Additional disclosure: This article reflects my own personal views and is not meant to be taken as investment advice. It is recommended that you do your own research. This article was written on my own and does not reflect the views or opinion of my employer.