Back in March, I wrote in an article that the REIT sell off was an opportunity. At that time, REIT investors only had one thing in mind: the risk of potential interest rate increases. The sentiment of the market quickly changed and investors got increasingly pessimistic on the prospects of REITs in periods of rising interest rates. Consequently, the market sold off with the broad US REIT index (NYSEARCA:VNQ) dropping by 6% and many individual REITs suffering even sharper sell-offs: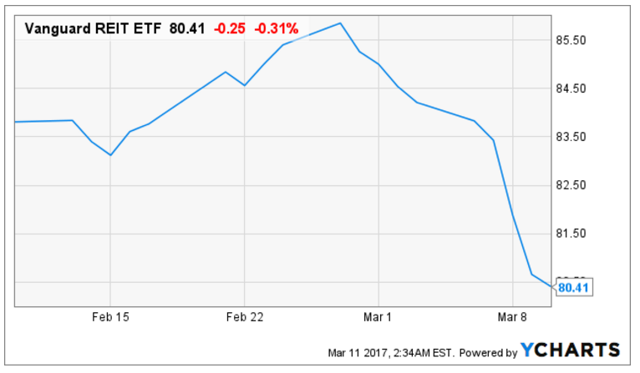 Was this an overreaction of the market? To answer this question, have a look at the same chart only one month later: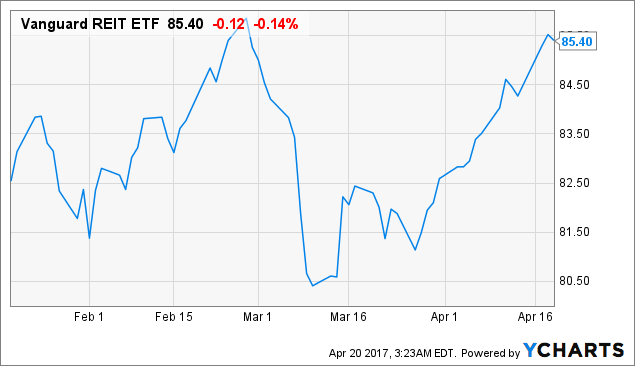 All the losses have practically been recovered. It took only one month for the market sentiment to reverse and those who followed me on this trade have earned a quick and nice return. This was an easy call for me and I was confident that a recovery was around the corner simply because that is what history has thought me.
The March rate hike was not the first neither the last one. We have experienced many other hikes in the past and REIT investors seem to always react the same way: they sell off leading to the hike and quickly forget about it and buy back soon after the hike. This makes no sense, but it is clearly what is happening.
Have a look at how REITs performed leading to and after the second last rate hike of December 2016: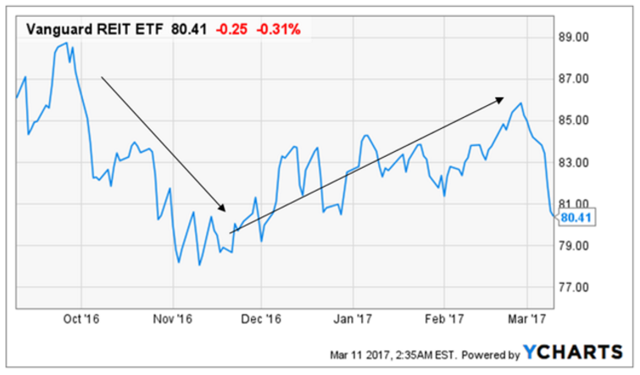 Can you recognize a similar pattern? A sell-off followed by a quick recovery… This has happened 10s of times in the past in a surprisingly consistent and repeatable manner. I have profited from this market overreaction at many times in the past and did once again last month.
Conclusion: Interest Rate Concerns are Overblown and Investors Overreact
I always find it laughable at how investors pay so much attention to such small macro events. How does a 25-basis point interest rate hike really affect your long term real estate investment? Is it really going to have a material long term impact on your investment? Fearing interest rate hikes is simply an irrational behavior in my opinion and perhaps one of the largest misconception when it comes to REITs.
Studies from NAREIT have demonstrated that share prices of listed Equity REITs have more often increased than decreased during times of rising interest rates. In the 16 periods since 1995, when interest rates rose significantly, Equity REITs generated positive returns in 12 of them. The reason is that changes in the level of interest rates often reflect changes in the level of economic activity. A better economy then results in a higher occupancy, rent growth and overall superior business fundamentals for REITs. So, on one hand, increased interest rates result in less demand for real estate investments and higher increased cap rates which then lead to lower real estate values and lower NAVs for REITs. But on the other hand, REITs may be able to increase cash flow as a result of the stronger economy, so the effect tends to often balance itself out. Therefore, a conservatively financed REIT with low levels of variable interest rates is likely to do just fine over time, regardless of small changes in interest rates.
This does not mean that REITs will never suffer from interest rate increases. If interest rates are increased too fast, it can cause a whole country to go into recession and that would certainly harm REITs as well. But this is not a REIT-specific risk. All income-producing assets, including stocks, are affected by higher interest rates.
Final Thoughts
There are today many quality REITs that trade between 10-15 times their FFO including W.P. Carey (NYSE:WPC), Gramercy Property Trust (NYSE:GPT), Medical (NYSE:MPW), Omega (NYSE:OHI), Chatham (NYSE:CLDT) and Stag (NYSE:STAG) to name just a few. If you own one of these REITs and earn a mid-to high single digit dividend yield, you really do not need much growth to get to double digit returns. Even if interest rate hikes cause the FFO multiple to contract a bit, your long-term returns would still look very compelling.
The perceived risk is higher than it really is in my view. Investors are famous for being overconfidence and for overreacting to macro events. Despite being very stable investments, REITs often become the victim of these irrational behaviors; causing abnormal volatility in the market.
I always load up on REITs when this cycle occurs. During last March, I was for instance aggressively buying shares of Medical Properties Trust which are now up about 15% since then. From my experience, this pattern is surprisingly consistent and I already look forward to the next rate hike. I hope that investors become irrational again so that I can pick up quality names at bargain prices.
If you enjoyed this article, please scroll up and click on the "Follow" button next to my name to not miss my future articles on other undervalued REIT. I have experience working in Private Equity Real Estate and aim to identify the best risk/reward opportunities within my field of expertise. My articles are free here on Seeking Alpha, and following me will allow you to receive all my research at no cost.
Disclosure: This article is for informational purposes only. It is not a recommendation to buy or sell any security and is strictly the opinion of the writer. Readers are expected to conduct their own due diligence or seek advice from a qualified professional.
Disclosure: I am/we are long WPC, GPT, OHI, MPW.
I wrote this article myself, and it expresses my own opinions. I am not receiving compensation for it (other than from Seeking Alpha). I have no business relationship with any company whose stock is mentioned in this article.