Axon Enterprise, Inc. (NASDAQ:AAXN), also known as Taser operates in two segments, Taser electroshock weapons for police and consumer markets and Axon camera systems. The company has shown a keen ability to grow revenues, generate profits and has sustained the capacity to produce extremely attractive gross margins, furthermore, the fundamental, technical, and political factors surrounding the company have the potential to create a significant upsurge in AAXN's stock price by year's end.
A Fundamental Snapshot
As of April 19th 2017 the stock was trading at around $22.50, had a forward P/E of 29.64, a market cap of $1.2 billion, had an average 64% gross margin (last 3 years), had a 46.5% yoy quarterly revenue growth, had $89 million in cash to $118 thousand in debt, produced a profit of $17.3 million on $268.24 million in revenues, and had a short interest of 26.65% of float. In other words, the company appears to be in phenomenal financial shape, yet has an unusually high short interest.
These fundamental elements indicate that Taser has a remarkable ability to sell its products at a significantly higher price than its cost to produce them. In addition, the company is growing revenues at a fast rate and has demonstrated the ability to produce real profits. Yet, many speculators remain skeptical of Taser's potential and are actively betting against the stock, as is demonstrated by the unusually high 26.65% short ratio.
Technical View
The 1 year chart shows that the $22 price is a key support level for Taser, and the stock appears to be building a concrete base here. In addition, the RSI, CCI, and full stochastic appear to be trending upward, indicating improving momentum in this name. Overall, the technical picture appears sound and this looks like an attractive price point to possibly accumulate stock at.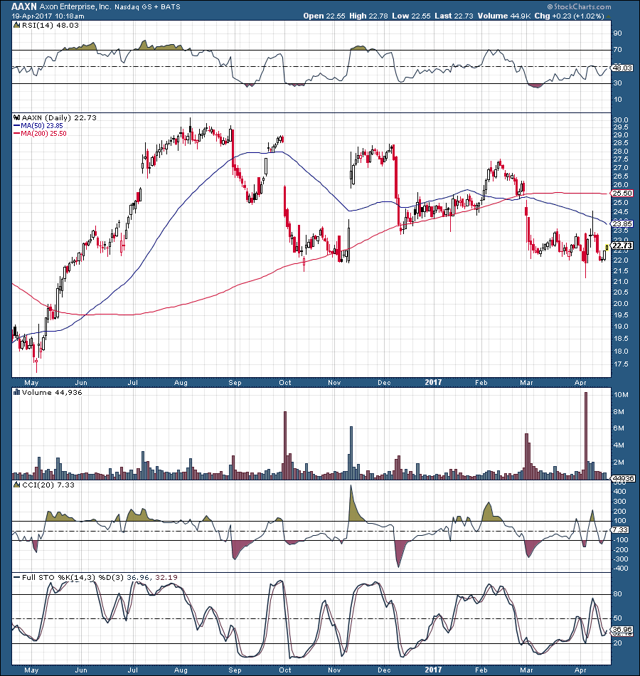 Does Taser Have a Near Monopoly on Supplying Police Departments?
The once small Arizona based company which was founded in 1993, in 2016 was supplying 107 countries around the world with its Taser products, as well as around 17,000 law enforcement agencies in the U.S. alone (total U.S. law enforcement agencies around 18,000). In 2015 Tasers were used more than 900 a day in the U.S. and have prevented death or serious injury more than 135,000 times between 2000 and 2014, according to the company.
Competitors Find it Extremely Difficult to Compete With Taser
Taser has become synonymous with electroshock weapons, similar to what Kleenex are to tissues or what IPods were to MP3 players. In other words, it is not easy to compete with Taser, as its last competitor Karbon Arms found out in 2014. Karbon lost a patent court case to Taser, and the company was forced to pay Taser nearly $2.4 million, which lead to the small company's demise. Taser is not a particularly big company by traditional standards, with $268 million in revenues, however, in its sector as a provider of electroshock weapons to police departments it is the big elephant in the room, with no real competitors in sight.
Taser's Axon Camera Segment
In Q4 2016 Axon bookings grew 62% to $72.5 yoy. This is an extremely lucrative segment for Taser. For example, the company recently locked in a deal with the LAPD worth $28 million to equip over 6,000 police officers with Axon's latest wearable camera technology.
Like Taser and Karbon Arms in 2014, Axon's side of the business also has a lone competitor in the wearable police camera segment, a Kansas based company called Digital Ally, and just like Taser's prior battle with Karbon, Axon is currently in a patent dispute with (NASDAQ:DGLY).
DGLY is a much smaller company and is in rather bad shape financially. Its revenues were down 20% yoy, its gross margin eroded from 41% to 31% yoy, and the company's operating losses accelerated from $7.6 to nearly $12.5 million yoy 2015-2016. These are quite large losses for a company with a market cap of around $22 million. By many measures the company is on the brink of bankruptcy and may not have the firepower necessary to beat out Taser in court, given Taser's relatively aggressive tactics and large cash reserves.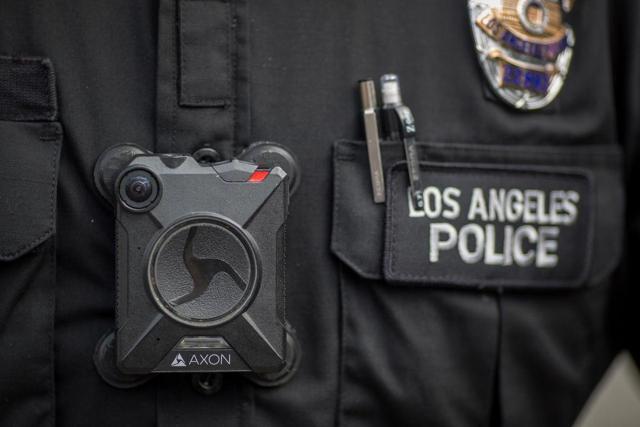 So, Why the High Short Ratio?
There are at least two plausible reasons for the abnormally high short interest in Taser's shares. First, is the fact that the company is currently in the midst of a court battle with DGLY which could impact the stock negatively if the court decision goes Digital Ally's way.
The second major reason investors may have concern for the stock may have do with the unfortunate cases involving deaths due to the use of Tasers by police. As in the cases of Dalian Atkinson, Calvon Reid, Mathew Ajibade, and hundreds of others victims Taser's products have been blamed for the untimely demises of such individuals. However, a direct connection to Taser is often difficult to draw as many of these unfortunate cases occurred due to secondary factors such as drugs, police negligence, falling from high places, improper use of the weapons, and other reasons.
It doesn't appear likely that police agencies are going to stop using Tasers any time soon, to the contrary most of the evidence suggests that electroshock weapons save many more lives than they might contribute to taking. Once the court dispute gets settled and as Taser continues to capture market share and increase profits a short squeeze could become inevitable, which would in turn lead to a sharp upsurge in Taser's stock price.
The Bottom Line
Tasers have been responsible for saving countless lives, as with their use, police officers have been able to subdue numerous criminals without using lethal force. They play an indispensable role in today's fight against crime. Furthermore, with Donald Trump's tough stance against crime in U.S.'s inner cities, police budgets should be increased which could translate into lucrative contracts for Taser as the company expands its operations and continuously supplies police departments with new units in both the weapons and camera sectors.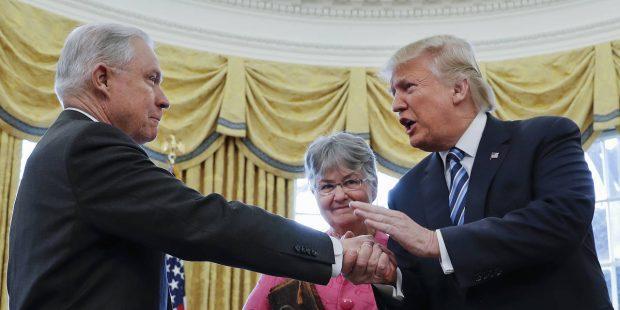 Taser dominates in markets it operates in, has extremely strong pricing power, and has the potential to have an unparalleled advantage in the U.S.'s electroshock weapons and wearable camera segments. Thus, the company could then concentrate more on improving its operations in other countries. Given the current underlying fundamental, technical, and political conditions surrounding Taser, the company has the potential to significantly increase revenues by consolidating and capturing new market share in the coming years. Due to the elements brought forth in this analysis we believe that Taser's/Axon's stock could increase by 30-50%, conservatively over the next 12 months, therefore, our price target is $32 for the stock by year end 2017.
Disclosure: I am/we are long AAXN.
I wrote this article myself, and it expresses my own opinions. I am not receiving compensation for it (other than from Seeking Alpha). I have no business relationship with any company whose stock is mentioned in this article.
Editor's Note: This article covers one or more stocks trading at less than $1 per share and/or with less than a $100 million market cap. Please be aware of the risks associated with these stocks.