Description
PT Fast Food Indonesia (US OTC Ticker: OTC:PTFDF) (FAST.JK) is the only franchise holder of the KFC brand fast-food chain in Indonesia. The KFC brand is the market leader in the QSR industry in the country, with 575 outlets across >100 cities (including Jakarta, Bandung, and Surabaya).
We like the fact that the firm has historically grown its business via its operating cash flows. The firm has a strong financial position, evident by its net cash balance of IDR581bn as of December 2016.
Highlights
Attractive growth profile of the Indonesian food service industry
With a 258m (fourth largest globally) and a young population (median age of 29.9, with c.42% of the population between 0 to 24 years old), Indonesia presents a compelling market opportunity for food service companies in the next few years.
Furthermore, urbanization rate is only 54%, lower than neighboring Southeast Asian countries such as Malaysia (75%) and Singapore (100%). While urbanization is likely a gradual process, a 1% increase in urbanization translates to an additional c.2.6m urban population, which bodes favorably for FAST.
Furthermore, the growth of the industry enjoys tailwinds from various trends within the Indonesian cities. Firstly, urbanized Indonesian consumers have a tendency to dine out, especially during weekends. Secondly, an increasing proportion of women joining the workforce (including both formal jobs or freelancing jobs such as Uber (UBER) driving) will encourage families to dine out. Lastly, lifestyles of cities are comparatively more busy and hectic (versus rural areas), resulting in city dwellers opting for outside food for the convenience. We believe the above factors partially contributed to the 7.4% to 7.8% growth rate estimated for 2017.
The Quick Service Restaurant (QSR) industry remain underpenetrated in Indonesia
As mentioned earlier, the Indonesian food service and QSR industries enjoy various tailwinds that are supportive of the industry growth going forward. Furthermore, the vast gap (in terms of QSR spending) between Indonesia and leading nations suggests the significant growth potential of the market.
This would support increasing penetration rates in the country, which is currently amongst the lowest in Southeast Asia, with only 5,915 fast food chains servicing a 258m population.
FAST is the #1 player in a fragmented industry
The Indonesian QSR industry is fragmented, with the #1 player (FAST.JK) only having a 12% market share (based on number of outlets). We expect FAST to continue growing its market share further in the next few years due to the following reasons.
Firstly, chicken-based fast food is by far the most popular type of fast food in Indonesia. Due to the above rationale, Euromonitor expects chicken-type fast food to record stronger growth than burger fast food and Asian fast food, despite the fact that it is already a considerably larger category in value sales and transactions volumes terms than both of them.
Furthermore, we expect FAST to benefit from the strong brand equity of the KFC brand in Indonesia. Due to its attractive growth potential, the Indonesian QSR market is highly competitive, with >10 multi-national brands competing.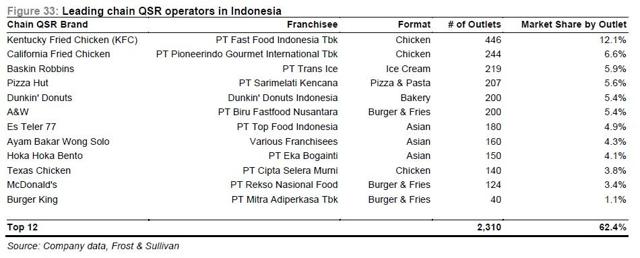 *Note: The chart is based on Frost & Sullivan data in 2013
A highly recognizable brand heightens the barriers of entry. With its strong brand recognition, high-growth product portfolio (chicken-type fast food) and competitive pricing, we believe that FAST is in a good position to further grow its presence in the industry.
Strong operating cash flow generation supports organic growth and dividend payouts
From 2012 to 2016, FAST has consistently expanded its KFC fast food outlets in Indonesia (34 outlets on average). This has been funded via its operating cash flows and has supported its c.10% CAGR revenue growth during the same period.
With its strong cash flow generation, we are confident that FAST will be able to sustain its current pace of expansion in the next few years to benefit from increasing fast food consumption. Furthermore, a solid balance sheet (net cash of IDR581bn as of December 2016) provides FAST the optionality to step up its pace of organic expansion should it see the opportunities. This could translate to further revenue growth in the next few years.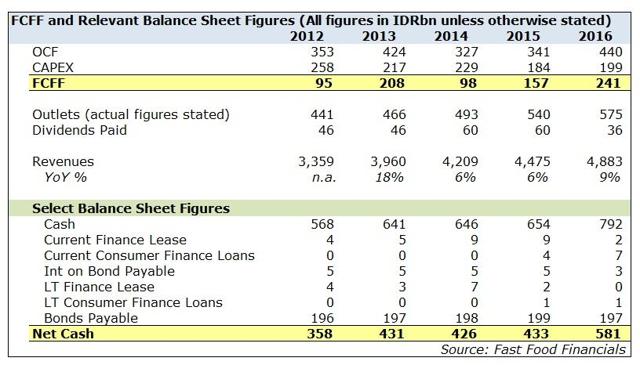 Experienced management team and board of directors
FAST has an experienced management team which has been with the firm for >20 years. We have provided more color on two of its key members.
Its President Commission (Indonesian equivalent of Chairman), Mr. Anthoni Salim, is the head of the Salim Group, one of the largest conglomerates in Indonesia. The Salim Group has presence across multiple industries, including consumer, resources, and distribution. With his multi-faceted industry experience and strong understanding of Indonesia, Mr. Salim is well equipped to provide the strategic leadership that FAST requires to grow its business going forward.
Its CEO, Mr. Ricardo Gelael, has been with the firm since 1990. Prior to his promotion as CEO, Mr. Ricardo was in a supervisory capacity with regard to the operational aspects of FAST. During the period which he was with the firm, FAST had grown into the #1 QSR player in Indonesia. We attribute part of this to his strong understanding of local consumers and, more importantly, an ability to execute the corporate strategy.
Going forward, we believe that the stability of the management team (we do not expect key members to leave the firm) as well as its strong insights, supported by a proven track record in execution, would be beneficial to FAST growing its presence.
Potential for foreign investors to invest in FAST and grow the firm
We believe that foreign PE firms are bullish about the middle-term future of the Indonesian F&B industry. We base our opinion on the fact that leading PE players (General Atlantic and Everstone Capital) have invested in multiple F&B operations in the country.

While we note FAST may not need capital from the financial investors as it has a strong balance sheet, we believe that these players could potentially improve the operational efficiency of FAST operations to further improve their margins as they leverage on their prior transaction experiences. Furthermore, we believe that FAST could be an attractive acquisition opportunity, given its leading position and favored product portfolio. However, we would highlight that this is only an inferred possibility from our own analysis and that no news or rumors have been released pertaining to any transaction related to FAST.
Select Risks
Stiff competition could affect FAST's expansion plans
As discussed above, the Indonesian QSR industry is highly competitive. The competition is on multiple fronts, including for customer traffic and securing prime location for outlets. Outlet openings in less ideal locations, such as in highly competitive areas or those with low consumer purchasing power could drag down SSSG, slow down sales ramp-up in new stores, and result in lower profitability. Subsequent store closures could result in loss provisions and diminished scale of operations. However, we believe the management's experience and network would mitigate the risk of opening new outlets at poor locations.
Adverse developments in Indonesia affecting consumer confidence
FAST's operations are only in Indonesia. Any negative events which affect Indonesian consumers negatively (e.g. high inflation, volatile policies) could translate to lower dining out frequency. This would translate to lower sales at FAST's stores.
Volatility in poultry prices
There have been bouts of volatility in poultry prices in Indonesia due to imbalanced demand-supply situations in the last few years. In addition, developments in other animal protein (e.g. live cattle import cuts) and commodities (which affect feed costs) have impacted broiler prices as well. In addition, outbreak of disease (e.g. avian influenza) could translate to a spike in chicken meat price. During these periods, FAST's margins could be affected as the stiff competition may result in it being unable to fully pass on its costs.
FX risk and risk of non-renewal of franchising right with KFC
FAST has signed an agreement with Kentucky Fried Chicken (KFC) to open and operate KFC outlets in Indonesia.
Under the agreement, new outlets and existing outlets have to pay a franchising fee to KFC in addition to a monthly royalty fee of 6% of revenue (net of tax).

All new outlets opened are given a franchise to operate for 10 years and an option to renew the franchise period for another 10 years. Existing outlets that renewed the franchise period would be treated as new outlets after the second 10-year term and will be subjected to higher franchising fees.
The initial and renewal fees are payable in US$ and thus significant depreciation of the IDR versus the US$ would affect FAST's margins adversely as the fees are fixed and will be higher in IDR terms.
Furthermore, should KFC decide not to continue its franchising agreement with FAST in Indonesia, it will affect the company's growth profile materially. However, we do not view this event as highly likely as FAST has demonstrated a proven track record in expanding the KFC franchise in Indonesia and has strong financial resources to further grow the brand.
Conclusion
FAST's share price have fallen by approximately 50% in the last five years. We attribute it to both macro factors (significant IDR depreciation, which translated to high inflation and thus eroded consumer confidence, which affects the Indonesian fast food industry) and company-specific factors (falling net margins due to FAST's increased promotional and sales expenses to encourage consumers to spend at its outlets).
In 2017 YTD, though, its share price has increased c.6%, partially on various positive news for the Indonesian consumer F&B industry, in our view. This includes news on the macro conditions improving consumer confidence) and industry (>7% growth expected for 2017, news of leading PE players investing in Indonesian F&B business) front.
However, we argue that the share price increase has not fully priced in company-specific factors (that is the growth potential of FAST in the next few years, strong cash flow generation that supports its organic growth). We attribute this partially to the limited coverage of the company by the sell side (only one as of April 2017).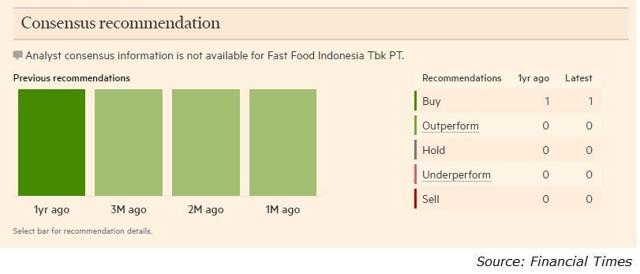 We are bullish on FAST's fundamentals in the next few years, as the firm continues to grow its store outlets and benefit from the secular growth of the fast food industry in Indonesia. This is backed by its strong cash flow generation, strong brand equity, and experienced management.
Note: Target price is converted from IDR at an FX of US$1:IDR13,500
This article is part of Seeking Alpha PRO. PRO members receive exclusive access to Seeking Alpha's best ideas and professional tools to fully leverage the platform.
Disclosure: I/we have no positions in any stocks mentioned, and no plans to initiate any positions within the next 72 hours.
I wrote this article myself, and it expresses my own opinions. I am not receiving compensation for it (other than from Seeking Alpha). I have no business relationship with any company whose stock is mentioned in this article.
Additional disclosure: Thank you for your time in reading the above article. I write on a wide range of companies on a regular basis. If you are interested in obtaining the latest updates, you could do so by following me on a real-time basis by clicking "Follow" button near the title. This article is intended to provide information to readers and does not constitute investment advice. As I have no knowledge of individual reader's circumstances, goals, and/or portfolio concentration or diversification, readers are expected to complete their own due diligence before purchasing any stocks or other securities mentioned. This post is illustrative and educational and is not a specific recommendation or an offer of investment product or services. Past performance is not an indicator of future performance.