Foreword:
Welcome back to the next article in my series with a more macroeconomic focus on Latin American economies. Today we'll look at the current situation in Peru, a country recently slammed by a coastal El Niño that at last count has killed more than 113 people and left near 700,000 homeless. It is with this in mind that we wish for a speedy recovery for those affected by the recent flooding.
El Niño and Economics:
As you may have seen in the news this past month, this year's El Niño event has been harsh on South America and particularly so on the nation of Peru. The social impact in the way of houses destroyed, infrastructure damaged, and people displaced is still being determined, but it is thought to be in the range of other "mega-Niño" like those in '83 and '98.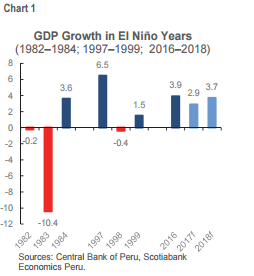 While those events ravaged the country - and by extension GDP growth - the total economic and meteorologic situation surrounding this year's phenomenon is markedly different than in years past; as such, growth expectations are only mildly affected.
Speaking meteorologically, this current "El Niño" is quite strange. The situation hasn't met NOAA's technical definition for declaring an El Niño, but extremely warm waters off the coast of Peru have nearly mimicked the effects, leading many models to predict that the phenomenon will actually rear its head again in the coming months. But, this brings some good news to Peru as the actual mega-Niños of the past have killed off anchovy schools and brought with them a crippling drought that affected agriculture in the southern regions of the country, a fate that seems to have been avoided this time.
In terms of economic differences, the '98 El Niño occurred in the midst of the Asian financial crisis and the '83 El Niño happened during what would later be deemed as "La Década Perdida" or the Latin American debt crisis, both of which compounded the effects of the devastation on the economy. This coastal Niño occurs at a time where the global and national economic outlook is much healthier in part due to rising metal prices and increased governmental spending. This allows the country to have sufficient funds for emergency and reconstruction spending, a benefit not afforded in previous years.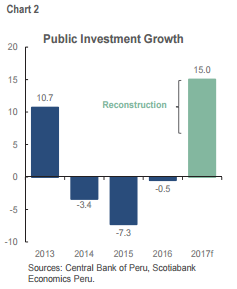 Major industrial disruptions due to the storms should come in the mining and retail areas as supply chains by way of roads and railroads have been damaged to a yet unknown degree. Peruvian mining company Volcan and Chinese-subsidiary Chinalco have declared force majeure at their respective mines and are stockpiling the ore that they cannot transport back to coastal ports. The main risk to retail and manufacturing comes in the form of unemployment as some small businesses in the more heavily affected regions might be totally destroyed. All in all, the pseudo-Niño is only projected to have knocked 0.5% off of the 2017 GDP growth.
Infrastructure Delays:
Infrastructure has long been a hampering factor on Peru's economy; with only one major port, one major airport, and an undersized system of highways and railroads, the issue has been in the spotlight for the past few years. If you've been following Peruvian politics (I forgive you if you haven't) you would know that one of the major selling points of now-president Pedro Kuczynski's campaign was a promise to boost infrastructure spending through large projects billed as joint public-private partnerships. But, two of these projects (the Chavimochic irrigation system and a large oil pipeline in the south) have been put on hold due to recently uncovered past corruption. Brazil-based construction company Odebrecht, the company that was granted the contracts, was discovered to have bribed former Peruvian president Alejandro Toledo to secure government contracts, including the two mentioned above, from 2005-2014. Among those projects also put on hold are an airport and even a national aquarium, bringing the total amount in delayed projects to around USD 9bn. While the government is still dispersing more than 8.89bn Sols (USD 2.7bn) to public projects and local governments for infrastructure spending to make up for these lost projects, this "Odebrecht effect" and related delays have reduced GDP growth expectations by 0.8%. The impact from these setbacks is expected to last well into 2019, a concerning point to consider; though, these points have been factored into expectations for quite some time and can only get better from here.
Fiscal Spending, Inflation, and a Stable Exchange Rate:
Now we get to some good news. In addition to that cash disbursement mentioned above, the government also announced a USD 1.3bn increase in fiscal spending on March 9th. Due to the recent flooding and general destruction, some of this will be going to emergency aid and eventual reconstruction, but most will eventually find its way into irrigation, roads, schools, and housing in federal districts. All in all, the government targets a 15% increase YoY in public investment in 2017, up from 5% in 2016. This should add 0.3-0.4% to GDP, not enough to cover the effects of El Niño or the delays in infrastructure spending, but definitely still significant. For those of you keeping track, original growth was projected at ~4%; subtracting projections from El Niño and infrastructure problems and adding back stimulus, we get to a figure around 3% growth, still very healthy in a Latin American region plagued by political and economic strife. For 2018, growth expectations remain at 4%.
Inflation will also be affected by temporary transportation disruptions of agricultural and consumer goods due to the effects of the heavy rains, driving it to 1% MoM for the month of March alone. As the shocks eventually fade, the Peruvian Central Bank expects yearly inflation to return to an achievable ~3% closer to the end of the year as it did in 2016. Relative stability in prices for the last 12 months has led those at the Central Bank to leave the policy rate at 4.25%; while unlikely, that rate might see a bump up if damage to roads and businesses is worse than expected.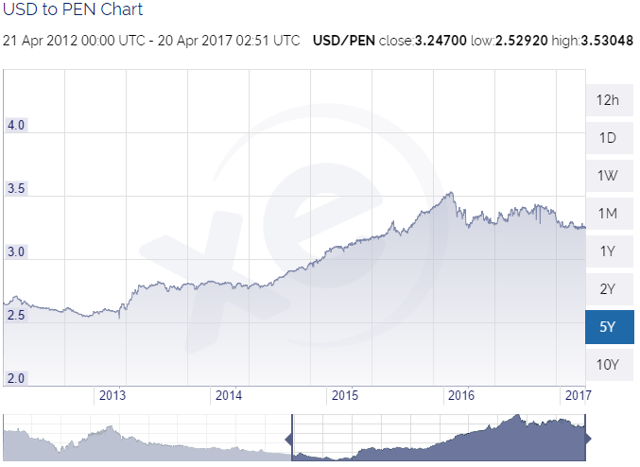 (Source: XE.com)
The global investing community also appears to be little concerned with the effects of the coastal El Niño as the value of the PEN (the Peruvian Sol) has seen little change in forex markets as have overall bond rates. While exports may take a shot due to losses in March and April, improving fundamentals (namely higher than average metal prices and growing monthly trade surpluses) behind the PEN make quite the bullish case for the future. Emergency spending and reconstruction might drive the fiscal deficit up, but nothing that savings and even some potential short-term debt can't compensate for.
Endnotes:
This article merely attempts to describe the potential effects of the recent pseudo-Niño, delays in infrastructure spending, and increased fiscal spending on the Peruvian economy. It would take much more than this brief amount of writing to describe the total case for growth in Peru, a task I leave for another day or to other SA authors. This was meant to keep investors (both those directly invested in Peru and those invested in the iShares MSCI All Peru Capped ETF (NYSEARCA:EPU)) informed to the current situation and their expectations more grounded as we move into an exciting period of swift and (hopefully) stable economic growth in the Andean nation.
Disclosure: I/we have no positions in any stocks mentioned, and no plans to initiate any positions within the next 72 hours.
I wrote this article myself, and it expresses my own opinions. I am not receiving compensation for it (other than from Seeking Alpha). I have no business relationship with any company whose stock is mentioned in this article.