CNBC: 9:00 EST
ES futures (NYSEARCA:SPY) pointed bullish in the overnight market, posting session lows almost immediately at 2332.50, with highs currently at 2341.50. Big news gets out of the way early today, with the Philadelphia Fed Business Outlook Survey number hitting the wire before the US session open (it came in at 22.0, at the low end but still within the consensus range). Dallas Federal Reserve President Robert Kaplan said in an interview earlier this morning that "three rate increases this year is still a good baseline."
Crude oil futures (NYSEARCA:USO) for May delivery had their worst day since March 6 yesterday, falling as far off as 4% after EIA inventory news came out with a slightly smaller draw than expected. Oil's volatility index (OVX) was up as high as 14% during trading. In the overnight session, oil is up a touch.
After posting gains at around 3.50% and temporarily breaching the 15-handle during Wednesday's US session, the spot VIX is back down that same 3.50%, currently sitting around 14.40.

CNBC: Wednesday Close

Stocks (NYSEARCA:DIA) were led lower yesterday with help from the energy sector (NYSEARCA:XLE), which fell 1.47% as crude oil futures took their worst beating in almost two months. With the majority of S&P sectors closing the day lower, health care (NYSEARCA:XLV) shone as a small bright spot, logging gains of 0.30%.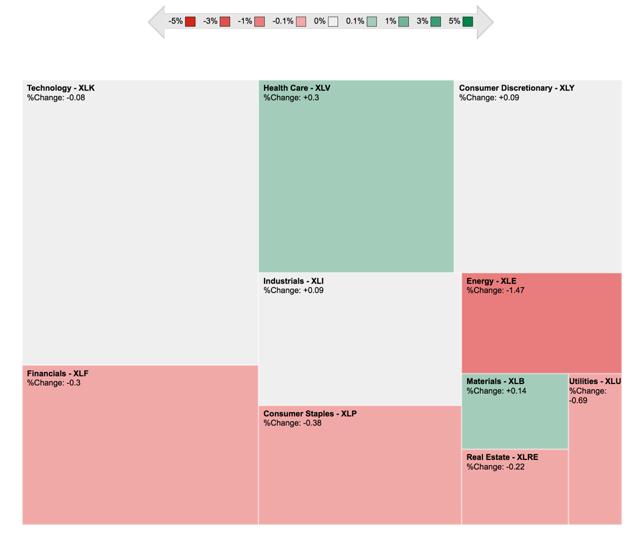 Source: SectorSPDR.com
Shout-Out
With many Americans struggling to save enough for retirement, readers may often hear from those in the financial industry that our next big financial crisis will be a retirement crisis. To help expand on that subject, today we feature work from Seeking Alpha contributor Regarded Solutions. We'll focus on his Wednesday morning piece, "Retirement Strategy: Will You Crash Into The Retirement Crisis Ahead?"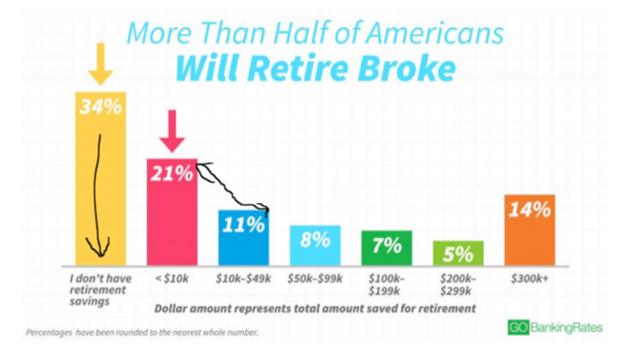 Citing research from a recent study on Baby Boomers, Gen X'ers, and Millennials, the author notes that Americans of all ages are simply not saving enough for retirement. Regarded Solutions points out a few startling facts:
Less than half of adults ages 55 and older have more than $50,000 saved. Only 22 percent of baby boomers ages 55-64 have $300,000 or more saved. About 1 in 3 (29%) seniors 65 and older have $0 saved for retirement.
Though some seniors are counting on pension payments for their retirement, another recent study found that only about one in four are expecting to use them as significant retirement income. Social Security on the other hand, is expected to be a major contributor towards retirement income for approximately 60%.
Based on a report from gobankrates.com, the author offers the following as signs you are likely to not have enough saved for your retirement:
1. You Don't Have Enough Cash in Your Portfolio
2. Your Portfolio Is Overweight With Employer Stock
3. Balances Are Growing on Your Credit Cards
4. The Majority of Your Net Worth Is Tied Up in the Home
5. You Forget About Inflation
6. You Are Still Waiting for the Right Time to Invest
7. You Load Up on Bond Funds
8. You Take Distributions From a 401k Plan When Leaving an Employer
To close, Regarded Solutions presents the following as closing thoughts:
There are different approaches towards building a retirement portfolio, and thousands of equities to choose from. If it works for you, then who is to say that it is not the right strategy. For my money however, the dividend growth investing strategy, with super elite stocks, minimizes my risk while getting to where I want to be.

If you spend less than you make, forever, you will be just fine with any strategy!
Thoughts on Volatility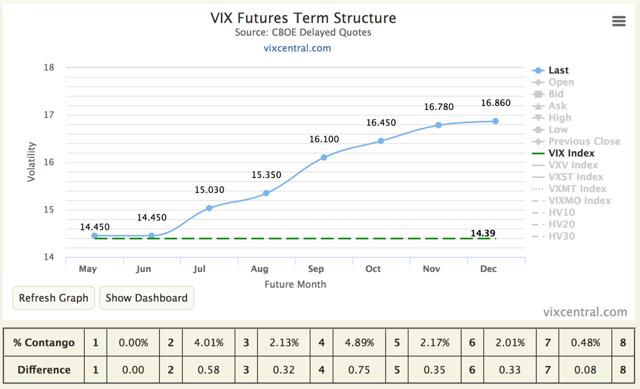 In contrast to when we noted the term structure yesterday, today's F1-F2 (May-June) spread has now shown some willingness to invert. While currently about even, over the last 24 hours the F1-F2 spread has moved in and out of slight backwardation, maxing out around $0.15. This is obviously not the close to $2.00 backwardated spread we saw from the April-May spread at times during the past few weeks, it marks the first time in backwardation for these two contracts. Spot VIX currently sits at 14.39, while F1 and F2 are each at 14.45.
Compared to spot VIX over the last week, the positively exposed volatility ETPs we follow have performed better than usual over this time period.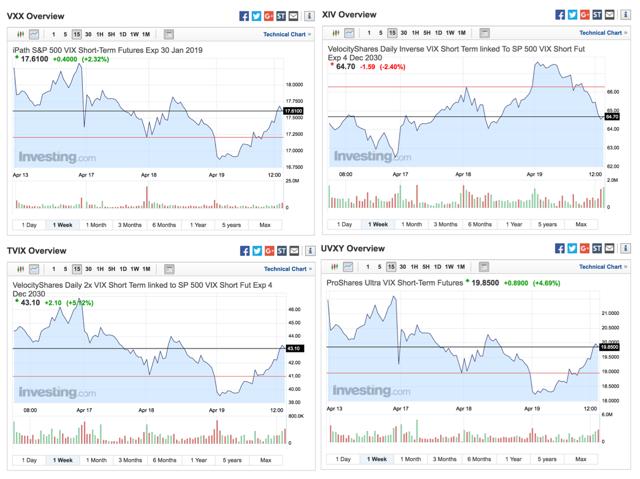 Clockwise starting top left: VXX, XIV, UVXY, TVIX
To quickly recap the products above: the VXX is a non-leveraged, short-term exposed product, the UVXY and the TVIX are both short-term focused as well, though with 2X exposure to the VIX. For a more in depth look at the products above, click on the links below the visual for our articles including specific product overviews. Except for XIV, these products seek a positive directional exposure to the VIX.
Consider that spot has fallen somewhat over the last 5 trading days, and you are likely to find the roughly flat performance from VXX as much better than expected. When the VIX futures curve is in its "normal" structure of contango, a flat performance from near-month VX futures generally means a slow melting off of VXX value. With a flat-to-backwardated futures market though, exchange-traded products like VXX are free to more closely follow the movement of VX futures, without interference from the roll yield issues these products typically run into. If the front-end of the futures term remains backwardated for any meaningful amount of time, short-term VIX ETPs are even likely to benefit from a slight tail wind.
As always, we urge readers who participate in the volatility market to fully research their chosen product, and consider how it will operate under different dynamics than the spot index.

Implied volatilities for ATM ES options remained fairly flat from yesterday's trade at the monthly and quarterly expirations, while tightening up at the weekly.
It was interesting to see the monthly hold its ground and the weekly and quarterly hinge up around it. It appear to us that if vol remains steady at the one-month, rather than take the beating VIX longs are used to, then other expirations can advance further.
Normally we think of the front end as leading the action of the VIX; ditto for ES options. And with French elections coming up, certainly weekly vol is going to run on its own dynamic. But what volatility traders need to see in order for a rally to hold is that the front end does not remain isolated, and that down moves in near-dated contracts are not confirmed by further-dated contracts.
Please share your thoughts! If you use ES option vol to gain your own insights that you'd like to share, please let us know.
Tracking the Trade*(please read disclosures) - Trade Initiation:
Last Monday we began a new sim trade. Specs are as follows:
Trade End Date: Apr 22 (tomorrow)
Trade Instrument: ES (e-mini futures contract on S&P 500)
Trade Strategy: muted short call
Strategy: Thesis (Set out on Apr 10 at trade initiation - read to see what our thoughts were on entry)
There appears to be resistance at around 2370 on the S&P. If the market is going to melt up, we do not see it doing so soon. Still, strong earnings reports over the next couple weeks could provide the fodder for a rally, even if it does not hold.
Furthermore, the fact that bulls were able to hold on so well last week in the wake of the air strikes on Syria, the write-down to Q1 GDP, and the weak jobs number, tells us that at least here as we initiate, bulls are not ready to throw in the towel quite yet. The visual from last Friday morning's market action demonstrates this reality.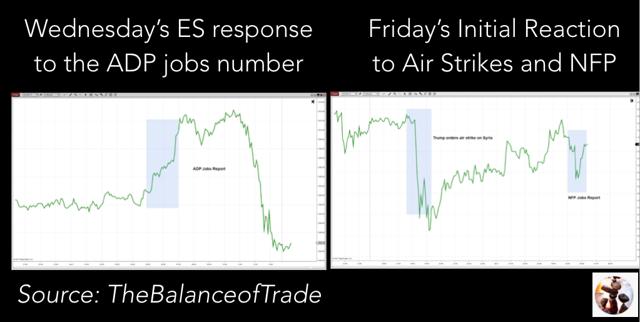 Finally, we want to pick up vol where it's fairly cheap (to the upside) and sell it where it's a bit more expensive (to the downside). This practice is known as selling 'skew'.
With all this being the case, we will sell an in-the-money call, and hedge with an out-of-the-money call diagonal.
As we analyze this trade today, ES sits at 2342; the range for the trade since initiation has thus far been 2323-2360. All told, S&P is down about 13 handles from where we sold the call last Monday, and vol is about flat from yesterday, up since inception.
Tactics
The particular legs we will opened with on Monday were:
Sell the May5 2340 call
Buy two of the Apr28 2380 May5 2410 call diagonal
Let's take a look at the payoff diagram at the point of trade initiation:

Source: Interactive Brokers
The solid line shows P&L for varying levels of this trade as of the day of initiation, whereas the dotted line shows the "final" P&L as of the Apr28 expiration.
We'll discuss the Greeks in greater depth below. But for now, we will point out that this is a pretty ambitious spread to trade. There is no max loss, whereas the max gain is $1175 (we limited in at credit of $23.50). This was especially dicey given that when we initiated it appeared we were closer to the bottom of the recent trading range than the top.
One thing we will say is that when you are learning to trade, getting in a little over your head (in a sim account) can be a good thing. It's not a bad thing to learn early how to manage a losing position. So far that is not the issue on this particular trade, seeing as it has earned us a profit. Still, it could have very easily gone the other way: it still may!
"Can you give us an update on your options sensitivities (your "Greeks")?"
Sure. But rather than showing you the Greeks across multiple ES levels as usual, we'll show you what this position looks like with the extra modification (traded twice yesterday) for the current level.
The first column represents the current state of our base trade (taken last Monday), and the second column represents the current state of the new mod.

This is a fairly balanced position. A large blow-up into tomorrow certainly would not do us any favors. Still, we've pushed out the expiration by a week at the 2370 level, in turn accepting more exposure at the 2400 level by pushing our short calls out to May 12 from May 5.
"Tell us more about the trade mod"

With our core position sporting a modest profit, we wanted to ensure that a push up to the 2370 region that the S&P has tried for would be damaging in the event that we still held Apr28 strikes balanced by short May 5 handles. In order to reduce (but not eliminate) the problems associated with this outcome, yesterday we scaled in on two calendar spreads, financed by selling two higher-strike calendar spreads.
The net effect is that this spread cost us little (average of $.65 - very close to the current mid of $.55), but it boosts our theta nicely and reduces our risk as we head into trade wind down tomorrow.
"What are the current gains?"
With the spread's current mid at $18.00, the spread currently enjoys a $5.50 gain; this is attributable to a combination of delta and going our way, with vega moving against us. With a 50x multiplier, that is $275, scaled to what is roughly a $50,000 sim account. Not a huge gain to be sure, but implied volatility since we initiated last week has moved stubbornly higher. The May5 calls definitely want to hang in there, and that's just the way it is.
"Do you want to do anything about that?"
Yes. We will take another trade here:

We will purchase the Apr26 May5 2340 call calendar for $5.00, if we can get it. This would reduce our exposure to vega, and would kick up our positive theta by $.50. This trade works well as long as there is not a large move (up or down) by the time we wrap up our position tomorrow. By no means is that some kind of sure bet, but given the churning we've experienced down here over the last couple weeks, we think the ES stands a pretty decent chance of hanging out.
Mechanics
We do not need this last trade mod. It's garnish. We'll put in a limit below the mid, and if we get filled then so be it.
We are only going to trade this once, and so there is no scaling in to consider. It's a very run-of-the-mill trade, so we do not need to be particularly careful about entering in the legs just right.
The trade is 60x100 when we screen-shot it (see upper left segment in visual above).
Limit in to this trade once for a $5.00 debit.
Closing Thoughts
We'll close today's piece with a response to a reader comment from yesterday:

Spot VIX is indeed just an index, calculated based on the implied volatilities of a a basket of thirty-day options. If there were no VIX futures, then we agree with elmono that it would be a disconnect to speak of "beating down VIX".
However, VIX futures (and futures options for that matter) are very actively traded. Market makers take the opposite side of whatever trade "paper" (retail or commercial traders) want. But market makers look for ways to hedge. There is no tradable spot VIX, and so they have to look for proxies.
Furthermore, in certain cases the same market makers who trade VIX products also trade ES, SPX, SPY, SP options (all various underlyings for the S&P 500); VX and SPX trade in the same building, very close to one another. Point being that VX market makers are generally intimately aware of the option opportunities that live over in the SPX pits, and exploit those opportunities to iron out their own exposure.
If "paper" comes in and wants to sell the heck out of the futures, market makers will accommodate them, but they will also do some selling of their own. This may include their own proxies within the underlying basket of options that the spot VIX tracks. It is the tradability of index futures (combined with the inability to trade the underlying index) that causes such mechanics.
Good question elmono - thank you for asking!
Have any questions or suggestions? Let us know! We really enjoy reader comments, and post strong comments from our readers with regularity. We appreciate that.
Please consider following us.
Disclosure: I am/we are short SPY.
I wrote this article myself, and it expresses my own opinions. I am not receiving compensation for it (other than from Seeking Alpha). I have no business relationship with any company whose stock is mentioned in this article.
Additional disclosure: We actively trade the futures markets, potentially taking multiple positions on any given day, both long and short. It is our belief that the S&P 500 is meaningfully overvalued. As such, we typically carry a net short position using ES options and futures.