A common misconception plaguing Fitbit (NYSE:FIT) is that the wearables industry is too competitive to generate meaningful returns, and that Fitbit is essentially the next BlackBerry (BBRY). Nothing could be further from the truth. True, FIT shares are down 68% over the past year, but the myriad troubles ailing the company are management-induced. For FIT to recover, Fitbit CEO and Chairman of the Board James Park needs to see the light.
Fitbit is not the next BlackBerry. Yes, shares of FIT are trading pennies above its all-time low. But this should not be viewed as an indictment on wearables. Shares of rival Garmin (NASDAQ:GRMN) are faring much better (+16% over the past year, with an EV/EBITDA multiple of 12.2x on consensus 2017 EBITDA. Fitbit's last EV/EBITDA multiple was 3.5x, before consensus 2017 EBITDA estimates turned into negative territory following the company's January announcement).
Why the disparity? It is quite simple: One company is destroying value, while the other is a prudent steward of capital. Consider this: Entering 2016, Fitbit enjoyed significant scale advantages over Garmin. Indeed, Fitbit's 2015 sales exceed Garmin's Fitness segment sales by 2.8x ($1.86b compared to $661.6m), and operating profit at Fitbit was 2.6x that of Garmin's Fitness segment. So far, so good. Yet despite commanding dominant market share, economies of scale, and legions more loyal followers, Fitbit managed to generate an operating loss of $112.5m in 2016, while Garmin's segment generated $160.6m in operating profit.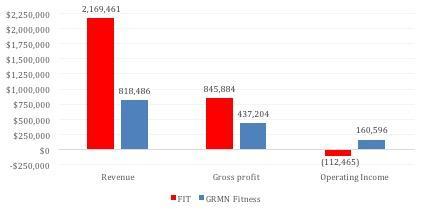 Put another way, Fitbit's 2016 gross profit exceeded Garmin's Fitness revenues, yet Fitbit managed to generate $273 million less in operating income due to profligate spending. Fitbit is being managed under a growth-at-any-cost strategy, with dire consequences for shareholders. And given Fitbit's 2017 guidance, it appears management has not yet learned its lesson.
Fitbit management is destroying value.
While a capable entrepreneur, Fitbit's CEO is struggling as a steward of capital. Fitbit has attractive assets (active users grew 37% in 2016 to over 23 million, and the company boasts an underutilized balance sheet with $3.15/share of cash), but these assets are not generating returns. Moreover, smaller rivals' ability to generate attractive returns indicates Fitbit's woes are self-inflicted. Fitbit spent a combined $811.4m on research & development and sales & marketing last year, compared to Garmin's $276.6m.
The payoff? Fitbit expects 2017 sales to decline 22-31% in 2017, while Garmin expects its Fitness sales to increase 5%. In other words, Fitbit's track record of generating a positive return on sizable investments in R&D and marketing is checkered, at best.
Meanwhile, Fitbit sees fit (no pun intended) to spend $850m on operating expenses in 2017, while the company expects to generate considerably less than that in gross profit (Fitbit has guided to $637.5-748m in gross profit, resulting in implied 2017 EBIT in the range of -$212.5m to -$102m). Having not changed course after its troubling 2016 performance, Fitbit's growth-at-any-cost spending spree continues.
Adding insult to injury, Fitbit expects to increase stock-based compensation expense in 2017 by 34%-47% (to $100-110m), despite plans to lower 2017 headcount by 6%. The company has also proposed that employees' underwater stock options be exchanged for restricted stock units. The company does not yet understand that the reason for FIT's decline is based on poor stewardship of resources.
A more prudent management team, inheriting a 2017 sales outlook of $1.5-1.7 billion, could expect to generate $330m-370m of EBITDA in 2017, and shares could be trading at ~$13 (assuming FIT traded at half of GRMN's current 2017 EV/EBITDA multiple (6.1x vs. 12.2x), and generated 19.6% operating margins (equivalent to Garmin's 2016 Fitness segment)).
Going forward, Fitbit's Board of Directors can take the following steps to turn the company around:
1. Scale back operating expense. R&D is critical, but the company's growth-at-any-cost strategy is destroying value. It's not how much, but how well the money is spent.
2. Scale back stock compensation. With fewer employees and poor execution, stock compensation expense should be lower than in 2016, not higher.
3. Address Fitbit's misaligned capital structure. With $0 in long-term debt, Fitbit's capital structure is confusing. Shares represent a dearly expensive alternative to debt funding.
4. Repurchase shares. Shares represent a compelling return on investment at this low level. Tapping into the debt market to repurchase shares would generate a compelling return on invested capital.
5. Vote AGAINST management's misguided initiative to exchange out of the money stock options. The only long-term solution for employees to unlock value from shares is increase the value of the company, which in turn requires more prudent stewardship of the company's assets. Failure to do so will result in stock awards perpetually underwater.
6. Focus on generating recurring revenue. The company should shift its emphasis away from upgrading its free app and instead work to migrate users to Premium-based, monthly subscriptions. Revenues from premium-based offerings have represented less than 1% of company revenues each of the last three years, despite repeated claims in its annual report for plans to increase the contribution from premium content.
Taking the above actions would unlock significant value.
To be clear, we fully appreciate the role elevated R&D and marketing spend plays in leveraging Fitbit's strategic advantages. But adopting steps 1 and 2 above can yield ~$400m more 2017 EBITDA than current guidance implies, with little adverse impact to the company's lead over rivals.
With respect to steps 3 and 4 above, Copernican believes raising long-term debt, such that the company achieves ~25-30% debt to total capital ratio, would be a prudent initiative to undertake. We estimate raising $500 million in long-term debt would lower Fitbit's WACC ~165 basis points, to 8.44%, from 10.07%.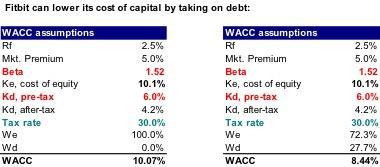 Our estimate assumes a cost of debt of 6.0%, a 50bp premium to current US issued high-yield debt. Our estimate of beta is based on a regression of weekly stock performance since FIT's IPO against the performance of the Russell 3000 index.
As detailed earlier, we believe reining in spending to protect operating margins can lead to shares more than doubling to ~$13. When combined with a debt-funded share repurchase program, the returns to Fitbit would prove compelling.
Finally, generating recurring revenue, as opposed to relying solely on product sales, will greatly enhance what investors are willing to pay for FIT. We hope Fitbit makes tangible progress generating recurring revenue, and that this progress is communicated with statistics to investors. We believe investors will be more likely to pay 1.5x-2.0x Fitbit's sales, as opposed to the current 0.6x, once the company demonstrates an ability to generate more meaningful recurring revenue contribution.
The problem isn't Fitbit, but rather its current growth-at-any-cost strategy. Alas, if the Board chooses to remain complicit, this will prove to be a distinction without a difference.
Supporting Documents
Disclosure: I am/we are long FIT.
I wrote this article myself, and it expresses my own opinions. I am not receiving compensation for it (other than from Seeking Alpha). I have no business relationship with any company whose stock is mentioned in this article.
Additional disclosure: Eric R. I. Crawford, Founder and CIO, Copernican Capital Prior to founding Copernican Capital in 2016, an intrinsic-value based long/short equity hedge fund, Mr. Crawford was an equity research analyst at UBS Investment Bank. He holds an MBA from the University of Notre Dame and a BA in Philosophy from Trinity College.