It's difficult to watch one of your favorite companies struggle. Such is the case for me with Hornbeck Offshore Services (HOS). The offshore service provider is led by its co-founder, Todd Hornbeck. Mr. Hornbeck and other company leaders consistently provides a wealth of transparent data to guide investors – even when the news is less than palatable.
When Hornbeck reported 2016 third quarter results, it shared less than palatable news.
"The Company has engaged the advisory firm of PricewaterhouseCoopers Corporate Finance, LLC to begin the process of independently reviewing its capital structure and assessing strategic options."
In other words, the company's level of concern about its future debt obligations had escalated.
"The next logical step is to proactively consider how to address our unsecured long-term debt if this downturn continues through the period of their planned maturities."
Hornbeck has three tranches of debt maturing in 2019, 2020 and 2021. The debt obligation maturing September 1, 2019 is $300 million of 1.5% convertible senior notes. On April 1, 2020, $375 million of 5.875% senior notes mature. Then, $450 million of 5% senior notes mature March 1, 2021.
Total revenue in 2016 was $224.3 million. Operating cash flow in 2016 was only $53.1 million. For the first time in the company's history, Hornbeck experienced negative EBITDA in the final two months of the year. The full-year net loss was $63.8 million. Hornbeck's cash decreased $42.8 million in 2016. At year-end 2016, Hornbeck had $217 million in cash and cash equivalents.
The company's commitments in 2017 for cash include capital expenditures of $9.5 million, maintenance capital of $8.4 million and $26 million for the fifth OSV build program. Hornbeck is projecting its G&A expenses and operating expenses will range from $158 million to $178 million. Interest expenses will near $55 million. Hornbeck will be forced to use even more of its cash in 2017 if the operating conditions in the offshore industry remain the same.
In the fourth quarter earnings call, management was bleak.
"We see no signs that these conditions will change any time soon."

"The facts are that as bad as 2016 was, 2017 will likely even be worse."
In a nutshell, Hornbeck will most likely burn through more than $43 million of its $217 million cash balance in 2017. The reality makes it difficult to imagine a scenario where the company could possibly rebuild enough cash from January 1, 2018 to September 1, 2019 to meet its $300 million obligation. And, then, just seven months later, $375 million will be due.
In the past, Hornbeck has simply refinanced the notes. Justifiably, market circumstances will probably not allow more notes to be issued at favorable conditions. The company does have a $200 million revolving credit facility that is undrawn. But, that still falls far short of the $675 million looming.
While the air is filled with gloom and doom, there are wee glimmers.
First, Hornbeck's current enterprise value is primarily tied to its MPSV (Multi-Purpose Supply Vessel) fleet.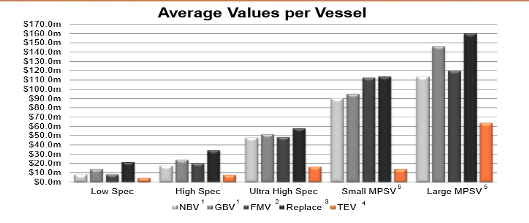 By deadweight tonnage, 89% of Hornbeck's fleet is considered high-spec and 61% is considered ultra high-spec (OSVs with cargo-carrying capacity greater than 5,000 DWT, built since 1991 with dynamic positioning class 2). Half of the fleet, when viewed by deadweight tonnage, is less than five years old.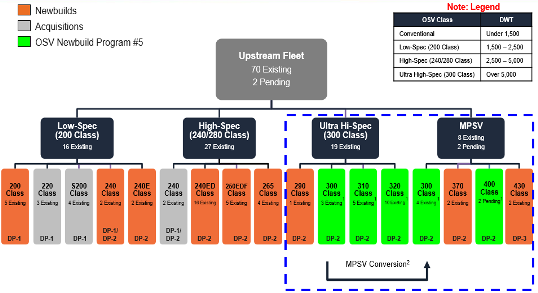 Hornbeck has stacked 44 OSV vessels. Of the 43 low-spec and high-spec vessels, 39 are stacked. Of the 19 remaining ultra high-spec vessels, 5 are stacked. Hornbeck intends to stack two more ultra high-spec 300 class vessels in 2017.
Hornbeck is the top operator of ultra high-spec vessels in the Gulf of Mexico. It is also the top operator of MPSVs in the Gulf of Mexico. The company currently has 8 MPSVs – 6 active and 2 stacked. An additional 2 MPSVs will be delivered in 2018. Of the 6 active vessels, 5 are operating in the Gulf and 1 is operating in Trinidad. Seven of its vessels are U.S. flagged and one is foreign-flagged.
Since 2014, over half of the floating rigs in Hornbeck's core markets are hi-spec rigs. Deeper wells drilled in deeper water require high-spec support. High-spec support demands higher rates. Hornbeck is centered on providing this support and sparks a glimmer.
In these market conditions, Hornbeck and its competitors are all being forced to provide support below their operating costs.
"We are now willing to capture market share by working our downsize fleet at whatever rates the market will give us."
With each subsequent quarter, Hornbeck's competitors find their cash dwindling and are facing profound liquidity issues. Based on the data available from publicly-traded competitors, many are more likely to run out of cash before Hornbeck does.
Gulfmark Offshore (GLF) has less than $10 million in cash and cash equivalents. It owes over $483 million in long-term debt. Gulfmark attempted a tender offer in late 2016 for $300 million of 6.375% senior notes due 2022. The offer was terminated. On March 15th, 2017, Gulfmark elected to enact a 30-day grace period for its interest payment on its 2012-issued senior notes. The payment was not paid by April 14th. Gulfmark then entered into a forbearance period until April 28th.
As of its 2017 third quarter ending December 31st, 2016, Tidewater (TDW) had approximately $650 million in cash and cash equivalents. But, it also had over $2 billion due in long-term debt. The company has been in restructuring discussions with its creditors for the majority of 2017.
Seacor Holdings (CKH) is a bit of a different bird. It realizes revenue through additional marine transportation and logistics sources beyond offshore supply services such as inland river services, shipping and logistics services and commodities distribution. Seacor reported full-year results on March 28th. Its cash and cash equivalents totaled $673.6 million and its long-term debt obligation was just over $1.03 billion.
Seacor's approach to 2017 and beyond differs from Hornbeck's.
"I do think 2017 offers better prospects for activity on the shelf, more dollars for maintenance, and attention to regulatory obligations. I also believe that by the end of 2017, or early 2018, activity will increase in Mexico. The potential is mostly in shallow water. Unfortunately, the prospects for deep water and frontier drilling are still bleak."

"In short, I think there is reason to be somewhat optimistic now, although I make this statement with considerable trepidation, particularly because a swoon in oil prices could easily destroy confidence and suffocate a recovery. Based on our assessment of opportunity, we are activating some equipment which has previously been idle, adding reactivation and operating expenses to future periods. There is no guarantee that day rates in the short run will justify this decision as current market rates are unrewarding."
Hornbeck's management has a clearly-defined and markedly contrary opinion on how to navigate survival.
"We think the first flick that has to happen is the competition has to stack a lot more boats and get where we are on a stacking strategy. And then consolidation has to happen after that."
And, where does Hornbeck see itself in a consolidation picture?
"It's not like there's a lot of companies that can be consolidated together. But I think of the public companies, for sure, those probably should be consolidated together."

"We believe value creation in the offshore vessel space cannot begin, again, without meaningful acquisitions of high-spec assets and businesses over the over-leveraged industry players. Given our ultra high-spec fleet profile, successful operating track record, ample cash position, and public company platform, we think we are the natural acquirer in such a transaction, especially in the domestic Jones Act market." (emphasis added)
If competitors naturally fade away and Hornbeck's cash can outlast such a process, its fleet is already best-outfitted to service the market. If Hornbeck, then, naturally acquires more and more market share, it may just be possible for the company to refinance those upcoming notes before the fall of 2019.
Yes, there are wee glimmers in the gloom and doom.
Disclosure: I am/we are long HOS.
I wrote this article myself, and it expresses my own opinions. I am not receiving compensation for it (other than from Seeking Alpha). I have no business relationship with any company whose stock is mentioned in this article.
Additional disclosure: I belong to an investment club that owns shares in HOS.
Editor's Note: This article covers one or more stocks trading at less than $1 per share and/or with less than a $100 million market cap. Please be aware of the risks associated with these stocks.