After IBM's (NYSE:IBM) earnings report on Tuesday evening, the company's shares sold off significantly on Wednesday. Let's look at the key factors of IBM's first quarter and what to like and not to like.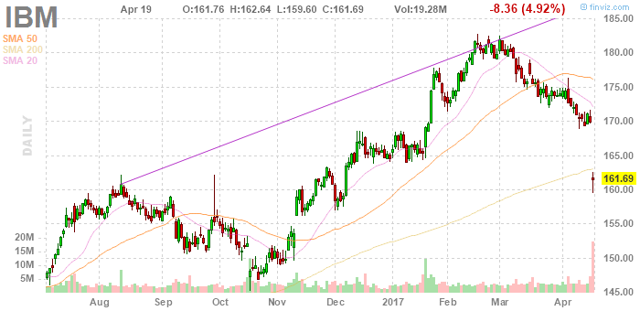 IBM's shares dropped to $162, which is roughly in the middle of the company's 52-week trading range from the 140s to the 180s.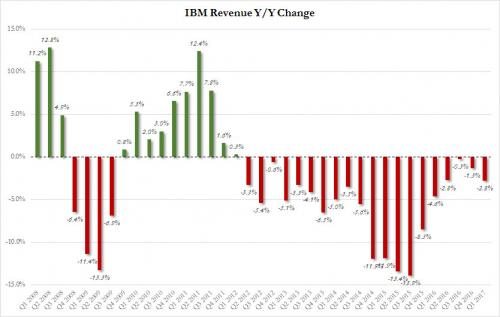 The sell-off came after IBM reported the 20th quarterly revenue decline in a row, something investors have surely not foreseen in 2012. IBM nevertheless was able to beat earnings estimates, although there are a couple of things that allowed for that earnings beat which seem rather special and not necessarily likely to happen again.
The best thing about the first quarter was that IBM kept its guidance for the current year unchanged: The company still expects GAAP earnings per share to come in at $11.95 or more, non-GAAP earnings per share to come in at $13.80 or more, and free cash flow is expected to be relatively unchanged from the 2016 level, which means that free cash flows should come in around $12.5 to $13.0 billion. Raising the guidance would have been better, of course, but the fact that management was confident enough to keep this year's guidance flat still shows us a couple of things:
- The next three quarters will very likely be more successful than the first quarter. In order to hit the $11.95 EPS target, IBM will have to earn $3.37 per quarter in the next nine months - roughly twice the $1.85 IBM earned in the first quarter.
- IBM's forward valuation is not really high: If GAAP earnings come in at $11.95, this means IBM is trading at 13.5 times this year's earnings -- in a market where the S&P 500 index is trading at almost twice that amount (P/E of 26.2), this looks like a valuation that leaves just a very small downside risk. IBM after all remains very profitable and will likely not trade at less than half the market's valuation in the near future.
- IBM's huge GAAP to non-GAAP discrepancy will likely decline in the future. IBM has made huge adjustments to its GAAP earnings for years, but if those adjustments will be less severe, this should strengthen investors' faith into the company's reporting and this will also make it easier to value IBM. GAAP and non-GAAP EPS numbers varied by $0.53 (about 30%) in the first quarter. When we look at the company's guidance, we can expect that discrepancy to decline to roughly $0.44, or about 15% in each of the next three quarters.
There were a couple of negatives in this earnings report as well. The first one being the company's reliance on extremely low tax rate in order to get to the earnings IBM reports. The company's tax rate during the first quarter was a negative 23.1%, which meant an income tax benefit of $329 million. Even the ongoing effective tax rate (not affected by any discrete tax benefits) was just 12%. This is still well below the income tax rates other major IT companies are paying:
If IBM would pay tax rates between 16% and 22%, thus in the high teens to low 20s, IBM's earnings would drop by as much as ten percent from the current level. Thus, there is some potential for a big earnings hit from a higher tax rate going forward.
IBM's cloud business keeps growing at an attractive pace, although the growth rate has come down considerably over the past years, but IBM's other so-called strategic imperatives are not doing very well:
| | | | |
| --- | --- | --- | --- |
| | SI | Cloud | non-Cloud |
| Q1 2016 | $7.0 billion | $2.6 billion | $4.4 billion |
| Q1 2017 | $7.8 billion | $3.5 billion | $4.2 billion |
IBM likes touting its Strategic Imperatives as big growth drivers that will help build the future of the company. But when we break up the Strategic Imperatives into the cloud business and the non-cloud business, we see that the non-cloud business is not providing any growth at all - quite the contrary, the non-cloud strategic imperatives revenues are falling, just as IBM's total revenues. Cloud revenues grew 33% in Q1, whereas the non-cloud revenues dropped by four percent, which lead to a total SI growth rate of a little above ten percent.
The fact that IBM fully relies on its cloud business in order to generate revenue growth is a big negative. I believe, as a decline in the cloud growth rate (or possible market share losses in the cloud market) would hit IBM's top line hard.
Another big negative is how the company keeps spending more cash than it generates, which hurts the company's balance sheet. In Q1, the company's free cash flow totaled just $1.1 billion, yet the company spent $2.6 billion on dividends and share repurchases during the first three months of the year. Since IBM also keeps spending money on acquisitions at the same time (which, so far, are not having positive effects on the company's top line), IBM's debt levels are growing (short-term debt up $800 million over the first three months).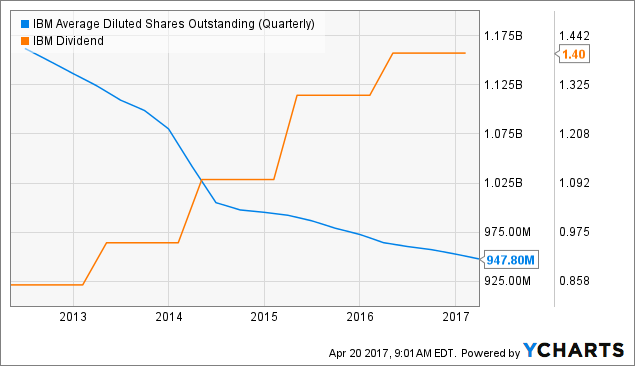 IBM's share buyback pace has come down over the last year, and the recent dividend increase has been smaller than most previous ones (on an absolute as well as on a relative basis), but IBM's dividend growth rate and share repurchase pace will likely have to come down further if the company does not grow its cash generation in the near future.
Takeaway
We can summarize that there are positives and negatives in IBM's earnings report: The company's next three quarters should be better than the first one, the valuation is rather low (using GAAP numbers), and the dividend yield is a lot higher than what investors are getting from treasuries or the broad market.
On the other hand, the company relies on a very low (or even negative) tax rate to make its numbers, the strategic imperatives (excluding the cloud) are not the growth drivers investors want them to be, and the company spends more money on acquisitions, dividends and share buybacks than it can afford.
Until the company's management turns this ship around and generates some top line growth, IBM is only interesting for income investors, I believe.
Disclosure: I/we have no positions in any stocks mentioned, and no plans to initiate any positions within the next 72 hours.
I wrote this article myself, and it expresses my own opinions. I am not receiving compensation for it (other than from Seeking Alpha). I have no business relationship with any company whose stock is mentioned in this article.