Summary and Conclusions
We are witnessing an historic time in history. Canada, a G7 country, has initiated the process of legalizing and regulating the use of cannabis. Given the Liberal majority, short of a force majeure type of event, legalization of cannabis in Canada is simply a matter of time.
The government has promised the legalization steps will be concluded no later than Canada Day, July 1, 2018. This target is consistent with our long standing expectation that legalization is a 2018 event. We think it will happen earlier than Canada Day and our forecast continues to be the spring of 2018.
This timing might be a negative surprise to existing dispensary operators and some investors who had been unrealistically hoping/expecting it would happen sooner.
The major problem facing Canadian governments with respect to cannabis is to keep a lid on costs resulting from regulation and taxation so legal growers can sell their product profitably at reasonable prices. If black market prices substantially undercut legal suppliers, the goal of eliminating the criminal element may not be achieved. Tobacco is a good example. As governments blithely raised "sin taxes" on tobacco, a black market exploded. There is a limit consumers will pay for assured quality from a legal source.
The legislation says the Cannabis Act is separate from the Access to Cannabis for Medical Purposes Regulations (ACMPR) that currently regulates medical marijuana. The proposed legislation also specifically states Licensed Producers under Access to Cannabis for Medical Purposes Regulations become producers under the Cannabis Act. This means the major winners under the new legislation is the Canadian LP group. The longer it takes new legal competition to get started the more time there is for existing legal operators to extend their lead.
This legislation only applies to dried cannabis and oils. It does not apply to edibles. But it acknowledges edibles will be allowed in the future but does not specify a possible timeline.
Under Canada's three tiered system of government (Federal, Provincial/Territorial, Municipal), each level has certain governance responsibilities. It operates through the interaction of law and regulation. The Cannabis Act will be the law that is put into effect by regulations framed by all three levels of government. For example, the Cannabis Act says the minimum age is 18 and that is the law. The regulation, however, might set the minimum age higher (not lower) and how much higher might differ from province to province.
The Cannabis Act does not address some issues it must determine before legalization takes place. The most important is taxation. This has a major impact on all levels of operations and governance except the criminal enterprise. Buyers, sellers, producers and governments must be able to determine the level of taxes that will be in effect. From an investment point of view, there may be some disappointment at the lack of detail provided. This information will be released over the next several months.
Here are some related thoughts:
Since the announcement, the market has been correcting lower. I sense this is not a "sell on history" response. I believe it reflects disappointment and dissatisfaction with the lack of detail in the bill. The market hates uncertainty and it did not get the clarification it expected. Unfortunately, at about the same time as the legislation was introduced, insider trading reports for Canopy Growth and Aurora Cannabis were also released and showed sales of millions of dollars in stock. I do not see the introduction of the legislation and the sales linked in any way but the market probably does. This likely exacerbated the selloff.
I have spoken frequently about the importance of "managing expectations" of investors. I think this is one positive fallout for the markets. It is clear that legalization will not happen until 2018 and the government has provided assurance it will not take longer than Canada Day, July 1, 2018. A major factor behind the price adjustment of marijuana stocks is an investor epiphany regarding timing. This is positive because the re-pricing of marijuana stocks to a new timeline is finite. In other words, when this correction ends, and that may be soon, the adjustment will be complete and the markets can move forward from that point. Specifics on the Licensed Producers and Low-Priced Stocks follow below.
The Cannabis and related Act
The Canadian marijuana legalization legislation was introduced as promised/expected on April 13, 2017 and there was a surprise from the outset. It came in the form of a second document. The first was a 143 page bill outlining what will become the "Cannabis Act."(The Cannabis Act bill) The second unexpected document was a 79 page paper described as "An Act to amend the Criminal Code (offenses relating to conveyances) and to make consequential amendments to other Acts." I will explain this in more detail below.(read An Act to Amend the Criminal Code)
Basically, the Federal Government is legalizing marijuana on the one hand and laying out the penalties for not obeying the law on the other. In a rather obvious political move, the amendments make it much easier for law enforcement to test for alcohol impaired driving.
Upon reviewing this package, I was reminded of a quote by Notre Dame football coach Lou Holtz who said, "When all is said and done, more is said than done." This is the case with the Cannabis Act but we should not overlook the critical fact that the process to legalize marijuana in Canada has begun.
However the politics have also started so I want to explain a few things about Canadian governments. If you hear a politician say the Federal Government has dumped all the heaving lifting in the Cannabis Act on the Provinces that is politics. Provinces have jurisdictional rights and the same politicians would have been saying the Federal government is riding roughshod over Provincial/Territorial rights had the Federal government tried to leave the Provinces and Territories out of it.
In Canada, we have three levels of Government with jurisdictions for the Federal and Provincial levels outlined starting in 1867.
The Fathers of Confederation decided the Federal Government should be responsible for matters that affect the whole country. This has come to include national defense, foreign affairs, banking, federal taxes, the post office, Aboriginal lands and criminal law.
Provincial/Territorial Governments were given jurisdiction over matters of a particular interest to a province or territory including direct taxation, municipalities, school boards, hospitals (now includes regional heath care), property/civil rights and administration of civil and criminal justice.
Over time, Provinces handed down authority to cities, towns and districts for local matters such as libraries, parks, water systems, local police, roadways and parking. Municipal governments, for example, will have a role in determining matters relating to marijuana dispensaries.
In Canadian government, a new bill such as the Cannabis Act, must first pass three readings in the House of Commons and three in the Senate before becoming law.
To clarify, a bill is draft legislation that requires the assent of the House and Senate to become law. Legislation is written law in the form of Acts or statutes that are enacted by Parliament pursuant to a bill. Regulations are a form of law that defines the application and enforcement of legislation. Regulations are created under the authority of legislation and enacted by the party to whom this authority has been delegated in the legislation.
It is also important to examine the process at work here. Here is a much abbreviated summary of an article that first appeared in the Let's Toke Business newsletter for the week ended April 29, 2016 that illustrates how the legislative process can function.
The purpose of First Reading in the House is to allow a bill to be printed and distributed to members of the House of Commons so it is automatic. By Third Reading the haggling is over and Third Reading together with passage of the bill is almost always made as one motion. This means all the debate occurs between First and Third Reading.
The Liberals have a strong majority so the bills will pass but the Opposition can determine how loud and boisterous the process becomes. Once adopted by the House, the bill goes to the Senate for consideration in a process similar to the House. The Senate usually makes amendments of an administrative nature but Senators have political affiliations and can delay the process. When the House and Senate agree on the wording, the bill moves to receive a largely ceremonial Royal Assent and becomes law.
It is difficult to say how hard the Opposition Conservative Party will fight the bill. However we should not forget, anti-marijuana was a major plank in their last election campaign and in the current process of selecting a new leader, at least one candidate has vowed to reverse legalization. (read article here)
Making a major battle less likely is the fact that recent polls show 68% of Canadians favor marijuana legalization. (read article here) In an argument you're going to lose anyway, it is more politically savvy to choose one where you are on the side of the majority.
From an investor point of view, the key question is how long will it take? Fortunately, there is an excellent recent example that should provide guidance and that is Bill C-14, a bill to allow medically assisted suicide. The bill was proposed by the Liberals, it was highly controversial and there was a disagreement between the House and the Senate. Bill C-14 had First Reading on April 14, 2016 and received Royal Assent on June 17, 2016. Given the House of Commons is scheduled to start its summer recess this year on June 24, 2017, the Marijuana Act will likely be passed by then.
Rather than force you to read all the details in the bill, here is a summary of what The Cannabis Act proposes that is important to us:
General:
The Access to Cannabis for Medical Purposes Regulations remains in place and is separate from the Cannabis Act.
The Cannabis Act initially only allows dried marijuana and oils for consumption and seeds and plants for growing. This appears to be out of step with society that is moving away from smoking marijuana to vaping.
Approval of edibles is planned for the future. Persons of legal age can make edibles at home for personal use.
Glamorous and celebrity advertising is not allowed including lifestyle and health claims. This applies to the recreational market that is separate from the medical market.
The taxation of recreational cannabis and licensing fees are not addressed at this time.
The government continues to stress that until the law is changed, the existing law remains in effect. You ignore this fact at your own risk.
Age/Possession:
The Federal minimum legal age for cannabis is 18 years. Provinces may set the minimum at a higher level if they so choose but they cannot set it lower.
In public, up to 30 grams (approximately one ounce) of cannabis or non-dried equivalent by persons 18 or older is allowed.
Restrictions similar to where tobacco can be used apply with respect to smoking marijuana.
Four plants up to one meter in height can be grown in a residence of one adult 18 or older.
Dispensing:
If a regulated retail system is lacking, a person can mail/courier order from a Licensed Producer.
Products such as water pipes or accessories cannot be sold to people under 18.
Under no circumstances can cannabis be sold using vending machines (or other unattended sales approaches).
The Task Force report recommended cannabis and alcohol not be sold at the same location. There is no prohibition against liquor stores selling marijuana.
Edibles:
Production and sale of edibles will be regulated by future legislation.
Adults 18 or older can produce edible cannabis food or drinks for personal use at home.
Penalties for marijuana offences:
A new offence will be created for selling cannabis to minors.
A new penalty for conviction of drug impaired driving will be imposed.
Persons under 18 will be fined up to $200 for possession of under 30 grams (approximately one ounce) of cannabis.
Exports of marijuana without approval will remain a serious criminal offence.
Violations of the new regulations will be punishable by prison and fines to as much as administrative fines up to $1,000,000.
Serious criminal penalties for selling to youth or advertising cannabis to youth: up to 3 years in prison, $5,000,000 in fines, or both.
Prison terms of up to 14 years can apply for offences such as selling cannabis to minors, illegal distribution or sale of cannabis and for using a youth to commit a cannabis-related offence.
Allowable drug levels in drivers' blood tests are set at THC levels between 2 and 5 nanograms.
If you exceed 5 nanograms, it is a $1,000 mandatory minimum fine on the first offence and up to 120 days in prison for a third offence. The penalty can range up to life in prison if you are driving impaired and are in an accident where you cause loss of life.
Penalties outlined in the second document:
This document is "An Act to amend the Criminal Code (offences relating to conveyances) and to make consequential amendments to other Acts." What this means is the document is full of groups of words without context that are to replace words in a certain section or subsection of a certain act.
I have not gone through this in detail. However, I did watch some Ministers being interviewed and this material has been presented based on extensive legal advice. Of course, none of these changes have been enacted (have no doubt, most will be) and none of the penalties have been tested in court.
Here are some of the interpretations from news reports:
The philosophical approach is to combine the liberalization of marijuana laws with much tougher punishment and enhanced police powers, especially for alcohol abuses.
It aims to make alcohol impaired driving easier to prosecute by restricting or eliminating some defenses. Initially, the thrust is directed more toward alcohol related offenses.
The government states its goal is to have one of the world's strongest set of impaired driving laws.
There is an approach in this document that makes it easier for law enforcement to require people to provide bodily fluids for testing when it comes to alcohol.
An officer will no longer require "reasonable suspicion" that a person has been drinking to require a breathalyzer test. They will no longer have to smell alcohol or see beer cans.
When various Ministers were asked about the Charter of Rights and Freedoms, their replies indicated they had thought carefully about it before the fact. They said words to the effect that the imposition on an individual citizen's rights must be measured in the context of the public harm that might be prevented and there is serious damage and loss of life due to impaired driving. Still this will be tested in court. (read article here)
For drugs, an officer still requires a "reasonable suspicion" as the basis for taking "oral fluid samples."
The legislation acknowledges these tests will not establish drug use but a positive result will allow law enforcement to require additional tests.
There is a concept inherent in this approach that the more serious the offence, the more serious the penalty. For example:
If you are impaired by drugs under their definition, you might be subject to a fine but if it's a third offense you might go to prison for up to 120 days.
If you are impaired by both drugs and alcohol, the penalty is more serious than if you are impaired by only one or the other.
If you are impaired and are in an accident, the penalty is more severe and if you kill someone, the penalty could be life in prison.
There is a clear effort to use penalties to discourage people from involving youth in crimes related to cannabis and other drugs.
For example, if you involve someone who is over 12 and under 18 in a drug related crime, the penalty can be up to 14 years in prison. The same penalty can apply to someone who provides cannabis to a minor.
Some of this might be politically motivated, especially making it easier for law enforcement to gather evidence and increased penalties for alcohol related offenses. Not everyone in Canada is in favor of marijuana and one outspoken group has been Mothers Against Drunk Driving (MADD). Some of these proposals might be designed to reduce the marijuana backlash.
The Markets: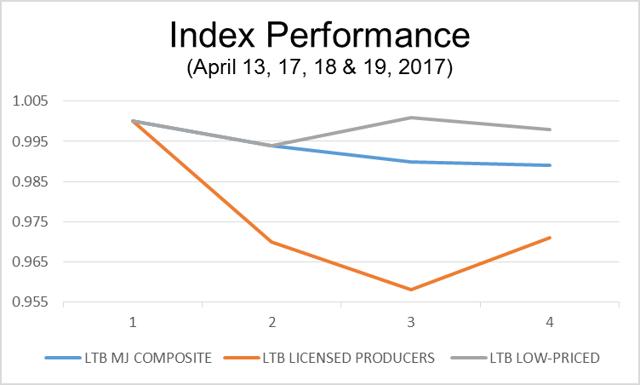 This chart shows the performance of the three major Let's Toke Business Stock Indexes since the Cannabis Act bill was introduced. It illustrates a couple of points:
The overall decline has been relatively mild. The LTB Marijuana Composite Index is down less than 2%. If it was a "sell on mystery" reaction, it was confined to the Licensed Producer stocks. But even this group declined less than 4%. The Low-Priced group dropped only 0.2% which is virtually unchanged.
It looks more like a reaction prompted by disappointment and dissatisfaction as the impact was felt mostly by the Licensed Producer stocks. As we mentioned above, it appears expected legalization date of mid-2018 caught some investors off guard the lack of details on important matters such as taxation, edibles and dispensary operations was frustrating.
Nonetheless, we should not lose sight that the march to legalize marijuana in Canada has started and our destination is now just over a year away.
The delay favors the Licensed Producers. Right now the LPs have access to mountains of cash and each day that passes without new competition allows them to get farther ahead. So as I said before, we are likely to see more mergers and acquisitions, expansion into international markets and a buildup in revenue and EBITDA from medical marijuana sales.
I liked the group before and I like them even more now. My focus would be on Organigram (OTC: OGRMF), Aphria (OTC: APHQF) and Canopy Growth (OTC: TWMJF) but most of the LPs offer some uniquely attractive characteristics.
There were no large negative surprises in the material released by the government. So the smaller cap companies with the flexibility to progress, adjust and expand should be able to forge ahead in this climate. I like Lexaria (OTC: LXRP), Namaste (OTC: NXTTF) and Radient Technologies (OTC: RDDTF). Recent experience leads us to provide this caveat: some small cap companies do not trade well in the U.S. LXRP trades well, NXTTF is improving and RDDTF investors should use limit orders or transact on Canadian markets.
Disclosure: I/we have no positions in any stocks mentioned, and no plans to initiate any positions within the next 72 hours.
I wrote this article myself, and it expresses my own opinions. I am not receiving compensation for it (other than from Seeking Alpha). I have no business relationship with any company whose stock is mentioned in this article.
Editor's Note: This article covers one or more stocks trading at less than $1 per share and/or with less than a $100 million market cap. Please be aware of the risks associated with these stocks.