Royal Dutch Shell (NYSE:RDS.A) (NYSE:RDS.B) has long been a go-to stock for long term investors. With a current dividend yield of over 7%, the stock seems as attractive as ever to long term investors. But a lack of cash flow along with an uncertain operating environment have been cause for concern among investors about whether the company will be able to keep paying out its current dividend without damaging balance sheet too much. There are definitely risks associated with investing in this stock, but I believe that Royal Dutch Shell is making the right moves to improve its business and keep its dividend safe.
Lack of FCF
While Royal Dutch Shell has seen a steady uptrend in its dividend per share, its FCF has been lacking for years with an extra difficult time because of the downturn in the energy markets since 2014. As FCF has worsened, the company decided to still improve or maintain its dividend per share. This has caused the company to see a quite negative FCF after cash spent on dividends: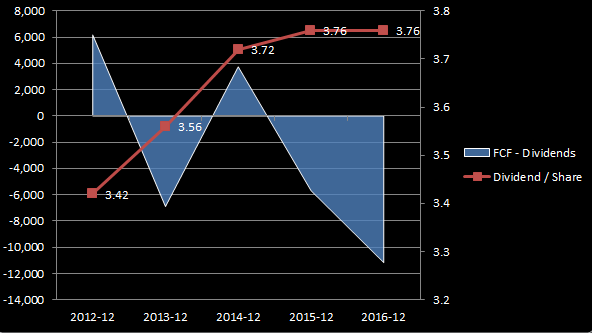 While it might keep shareholders somewhat happy, if it goes on for too long more and more shareholders will ask themselves whether the company is not destroying its balance sheet with these actions. I have seen multiple titles on Seeking Alpha stating exactly this, and believing that the dividend yield simply is not sustainable. However, I believe that the company is actually steering in the right direction in terms of generating more and stable cash flows.
Lower cost and expenses
While Royal Dutch Shell's CFO has declined quite a bit these last few years the same goes for its CAPEX, causing FCF to be fairly close to breakeven.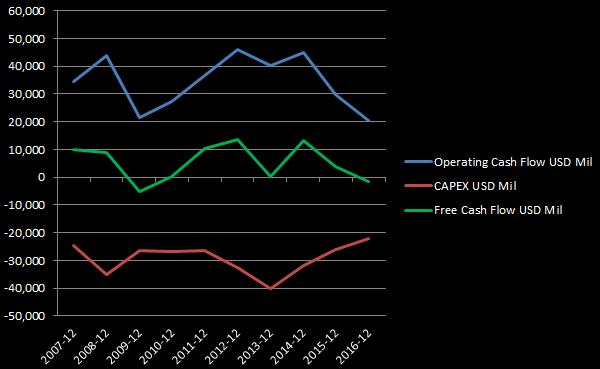 Management has been able to lower its CAPEX thus far that it is currently seeing lower CAPEX for Royall Dutch Shell and BG combined than Royal Dutch Shell had two years earlier on its own. The same goes for the operating cost. An example of the cost cutting efforts are the 6,500 reduction in number of employees. Management had this to say on the matter during the most recent earnings call:
"Compared to 2014, and that's including BG, our underlying operating costs have been reduced by $10 billion on an annual basis, and our capital investments have been reduced by $20 billion on an annual basis. end of 2016, we are running the underlying operating cost of the combination of Shell and BG below $40 billion, so that is lower than what we used to run Shell on as a standalone company less than 24 months ago. In 2017, it's expected to be lower again."
This lower cost and expenses structure lowers the impact that the troubled energy market has had on the company. But in order to survive and thrive, Royal Dutch Shell needs more than just cost cutting.
Raising cash
Another way that management is currently trying to improve its financial health is by selling assets. The goal is to raise $30 bln between 2016 and 2018. So far management seems to be very positive about the progress that has been made. $5 bln of the $30 bln has been completed in 2016 with more to come:
"We just announced in the last few weeks a further $5 billion, and we are making very significant progress on yet another $5 billion of divestment and then a bit more to come on top of it."
Investing in growth
Investing in future growth opportunities is also something that Royal Dutch Shell deems to be very important. Despite lower CAPEX, the company is still positioning itself for medium and long term growth.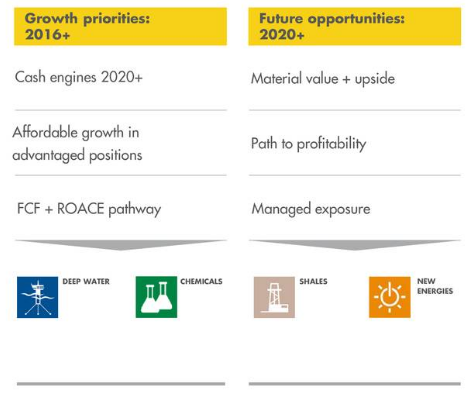 One of the ways that management attempted to achieve this goal was by the acquisition of BG. The integration of BG was completed last year. This acquisition is expected to accelerate the growth strategy in both Deep Water and in LNG. Thus far, BG has improved FCF while creating a platform from which the entire company can be reshaped. Last year BG was FCF positive as expected. From now on this acquisition is expected to see strong growth going forward:
"BG was free cash flow positive for us last year. As a result, two years ago we said $2.5 billion. We actually pretty much did that last year in 2016. We now expect $4.5 billion pre-tax basis by 2018, so we did the three-year target in one. And this year in 2017, we should get to around $4 billion for the synergies delivered."
Industry conditions
Since 2014 a big reason for the company's troubles has been the decline in energy prices. Now that this has been making a comeback since the beginning of next year, the company is already seeing improvements in its current business, with more expected as the oil price remains above $50. The most troublesome thing about this company, according to investors, was whether it could keep paying its dividends because of the low FCF. These past two quarters have actually seen so much improvement that the company was able to pay its dividends from its FCF and still have some cash left. Combined over these two quarters, the company had a positive FCF after dividends of $1.5 bln So we are already seeing that this does not have to be a real problem anymore if the company keeps continuing the same course.
Now that the cost and expenses structure has improved along with relatively more stable energy prices, the company can increase its production once again. This is exactly what has happened recently. In the fourth quarter of 2016, a strong 28% yoy increase in production was realized. With this growth, the average daily production rate was 3.9 mln boe. It is expected that this rate will increase to 4.0 mln boe per day in the near future.
Conclusion
So the company is already FCF positive after its dividends. Now, it is in a position where its operating environment is improving, which will result in even higher cash flows in the future. Therefore I believe that the current high dividend yield of the stock is safe. And because a dividend yield of 7% that is sustainable is more than enough return over the long term, investors should seriously consider buying this stock.
Disclosure: I/we have no positions in any stocks mentioned, and no plans to initiate any positions within the next 72 hours.
I wrote this article myself, and it expresses my own opinions. I am not receiving compensation for it (other than from Seeking Alpha). I have no business relationship with any company whose stock is mentioned in this article.