We're reducing our revenue/earnings estimate on Netflix (NASDAQ:NFLX), and we're revising our price target lower to reflect discrepancies in reported actuals versus estimates. Also, we're revising our buy rating to hold and would avoid accumulating shares in NFLX as we're expecting a broad market correction and sustained weakness in share price following the less-than-spectacular earnings report.
Notwithstanding, we like the long-term upside potential of NFLX despite its recent Q1'17 hiccup. We've seen numerous instances where NFLX has dropped following the announcement of q/q weakness relative to consensus estimates, and even with NFLX not delivering the type of figures we had anticipated going into the quarter we like the optionality of buying shares at reduced levels (later in the year).
We believe NFLX's guidance implies more meaningful subscriber growth in 2H'17 with more subdued comps in Q2'17 given timing of content slate, promotional activity, and geographic ramp in some of the emerging economies.
So, what happened?
Netflix reported a revenue/subscriber miss, but delivered above consensus dil. EPS. Going into this quarter, I was fairly certain of a dil. EPS beat, but was less certain on revenue growth, as I wasn't certain of the channel/survey commentary when pertaining to Netflix, as it didn't imply meaningful upside above consensus estimates, hence I adjusted my revenue estimate to move in-line with the prior consensus view.
Notwithstanding, I believe the reset to expectations is healthy and will be supportive of the stock price once we move into 2H'17. As such, we anticipate the stock to pull back on near-term weakness but to recover on the Q2'17 financial outlook, as subscriber figures will likely pick up given the timing of the content slate and continued penetration into certain geographies like Japan, India and so forth.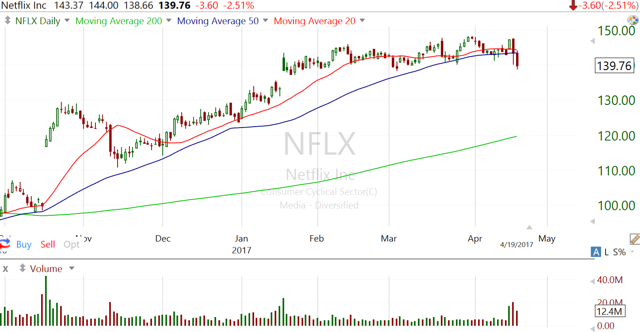 Source: TC 2000
Given the weakness in quarterly earnings, and diminished sentiment when pertaining to U.S. equities, we're going to experience some drawdown in NFLX. We think NFLX remains a long-term core holding for growth oriented investors, but with heightened geopolitical risk in Q2'17 diminished prospects of tax reform in FY'17, we expect multiple compression in the next two months.
So, if you're an investor looking for a more favorable re-entry into Netflix, we'd wait a couple months so you can move through market cyclicality and usual selling following a weak quarterly earnings report. We're revising our rating lower in light of this, but remain optimistic on long-term upside as we believe management has multiple levers to international penetration and revenue/margin expansion, which contributes meaningfully to our multi-year thesis on Netflix when compared to other Internet stocks.
Notwithstanding, we acknowledge the near-term risk to owning shares as we anticipate the stock to pull back to trade in a range of $120 to $130. The stock is retreating from $150, and we wouldn't be surprised if the stock were to correct by 13% to 20%.
This would reflect NFLX's assumed correlation to the S&P 500 (0.77 beta), with expectations of a broad market pullback taking the Dow Jones to 19,000 (most optimistic scenario), which would imply 7% downside from market volatility plus weakness in Q1'17 pricing in 5 to 10 percentage points of added weakness.
Netflix remains a long-term hold for those with a cost basis below $100, and those looking to initiate or add positions should wait on the sidelines until the market prices in market volatility and implied sequential deceleration in revenue/earnings comps.
Financial model revision
We're revising our financial model following the announcement of earnings to reflect management outlook on subscriber additions and trends in profitability.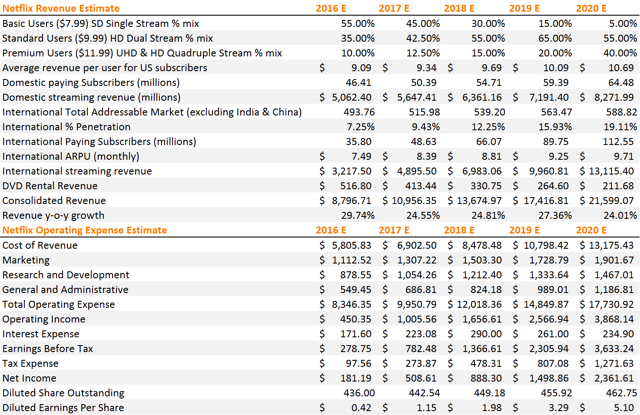 Source: Cho's Tech Research
In light of NFLX's financial report, we've revised our subscriber growth figures to reflect more modest net additions by 2H'17. As a result, our revenue estimate is $10.956 billion for FY'17, which is below consensus figures of $11.235 billion.
As such, our revenue estimate is 2.48% below current consensus figures for revenue. Furthermore, not all members of the analyst consensus revised estimates by the morning cut-off for Thomson Reuters First Call. As such, we'd imagine sales estimates trending slightly lower, as analysts readjust estimates to reflect management commentary on subscriber net additions.
Furthermore, we also noticed Netflix is transitioning toward a profit-driven narrative, which will result in multiple compression, but not to an extreme extent, as ARR (annually recurring revenue) models, or annuity like revenues, trade at much higher premiums when compared to hardware, legacy IT and so forth.
The profit-driven investment narrative reduces beta or implied volatility, as NFLX's beta has trended lower following sustained contribution margin ramp. Hence, we expect NFLX to trend higher over the next five years with fewer swings, and should be bought on dips and corrections.
We continue to value Netflix at a premium and anticipate gross margins to trend higher, as content cost ramps at a slower pace. Given these factors, we expect Netflix to report dil. EPS of $1.15 in FY'17, which is $0.04 to $0.05 above revised consensus figures at $1.10 to $1.11.
In light of this, we're more optimistic on bottom line beats, as opposed to top line in the current fiscal year. That being the case, we're not saying NFLX subscriber trends won't re-accelerate or international penetration will slow. We're just not willing to model y/y acceleration in EM penetration until we gain further clarity following Q2'17 earnings.
Furthermore, we can acknowledge that the business is quite attractive, but from a tactical perspective it's more prudent to buy shares at a later point in the year. Those who have a much lower cost basis should hold on to their positions whereas those on the sidelines should remain on the sidelines.
Final thoughts
Coming out of the quarter, the consensus revised estimates on revenue (modestly) lower. The current consensus could be too optimistic on NFLX. Hence, we have to revisit the likelihood of expectation risk, which took Apple (NASDAQ:AAPL) lower following its disastrous iPhone outlook from Q1'16. Also recall Qualcomm's (NASDAQ:QCOM) FRAND (fair, reasonable, and non-discriminatory) licensing disaster in Q1'15 or BlackBerry's (BBRY) disaster Q2'15 as BES software licensing growth dropped-off.
Sometimes, bad things happen to deep value or momentum stocks due to worse than expected inflection in revenue/margins. Due to these facts, we have to acknowledge that Netflix's current prognosis is a bit difficult to articulate. Management communicated a compelling strategy yet headline risk can drag Netflix even lower.
As such, we're revising our 12-month price target from$160 to $155. The modest reduction in our PT is due to our adjustment to FY'17 subscriber net additions/revenue estimate.
We value Netflix at 45x FY'20 dil. EPS and discount our valuation using an 8.3% discount rate. As such, we value Netflix at 30.39x FY'20 dil. EPS, which seems conservative/reasonable when compared to other internet peers.
Also, we're revising our recommendation from Buy to Hold. We re-rate NFLX lower on near-term volatility, but we anticipate Netflix to recover, and trade at much higher levels over the next five-years.
About Cho's Technology Research
Cho's Technology Research is SA's premier technology research package This service comes at a low annual subscription cost of $20/month. The promotional price period will end on May 1 st, 2017! For more information click here.
Disclosure: I/we have no positions in any stocks mentioned, and no plans to initiate any positions within the next 72 hours.
I wrote this article myself, and it expresses my own opinions. I am not receiving compensation for it (other than from Seeking Alpha). I have no business relationship with any company whose stock is mentioned in this article.